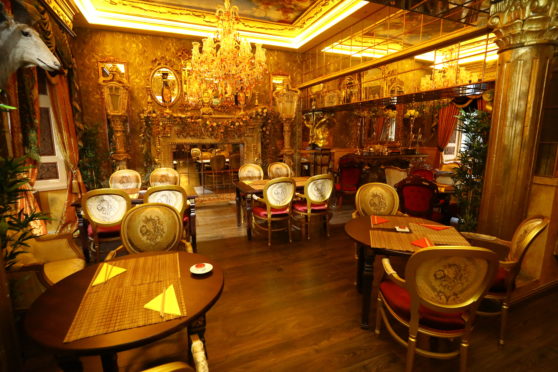 The transformative power of great architecture and spatial design to make the spirits soar is inarguable, from the grandeur of the Baroque to the understatement of Le Corbusier.
In contemporary commercial terms, this is brought home most forcefully in restaurant and café design, where even the right colour scheme can mean sink or swim for a new business.
And here in Dundee, where so many great buildings were shamefully demolished and building control seems to err on the laws of the Wild West, the purity of brilliant architecture and design is something to be cherished – and possibly metaphorically nailed to the ground before more of it disappears. This makes entering one of Dundee's grand buildings a thrill we should be thankful for.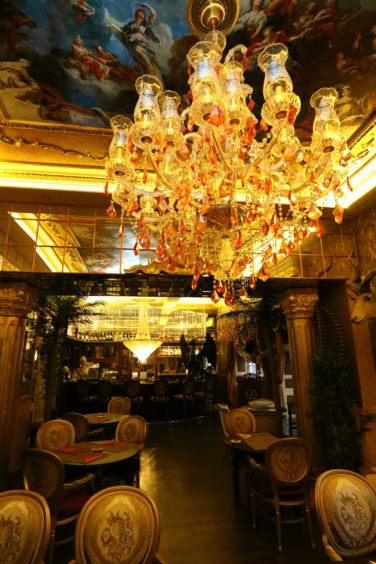 Somewhat unfashionably, it has to be said that there is nothing understated about Tang's Chinese Table, so much so that were you to send its owner and designer Usman Malik a bunch of lilies he'd probably have them gilded and hung from the ceiling before you had time to fill a vase with water. Maximalism is at work here.
Tang's is the latest incarnation of Dynasty, the restaurant that opened to some fanfare on Dundee's Nethergate a couple of years ago.
Some PR puffery made a big deal of the fact that the restaurant served brain curry which I think was more of a turn off than an aphrodisiac to most; the menu itself was unwieldy, unfocused and crossed continents with the air of the most blasé global traveller, taking cultural appropriation to new levels.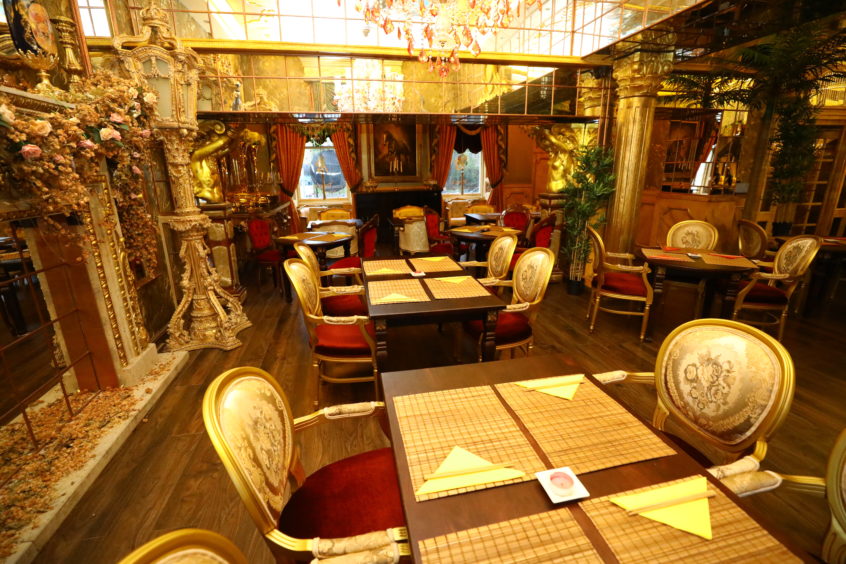 And, amongst the talk of this being Dundee's Ritz, there was a strict dress code – no sportswear or trainers. I never went, put off by the belief that it's totally impossible to cook so many different types of food in a manner that is anything other than perfunctory. Also, much as I love glamour, I don't like being told what to wear.
But what I was intrigued by was the décor, which looked like someone on a space trip had devised it whilst shuttling between Venus and Mars without a seatbelt, linked to an endless intravenous drip of absinthe.
It wasn't so much that they had tried to shoehorn Versailles into a b listed two-storey Dundee mansion, it was the fact that the main elements seemed to be components held together by putti as opposed to putty, an interior wonderfully transformed by a lot of theatrical smoke, mirrors, frescoes and gaffer tape.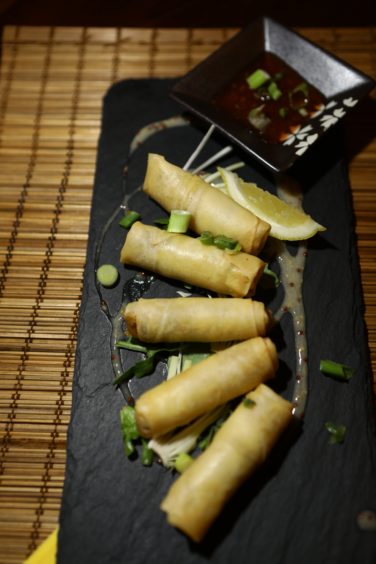 A photo of the opening night showed a waiter with a silver salver held aloft, as if about to serve the first guests with vintage champagne from a velvet slipper. The fact that the tray happened to hold a solitary can of coke, gleaming pillar-box red against the silver patina, was somehow fabulous.
The building itself is handsome, dating back to 1790. I imagine repurposing it as a restaurant was a nightmare and that's before they tried to condense the Sistine Chapel onto the ceiling. It feels grand and the dining room is completely breathtaking, a tribute to the maxim that anything worth doing is worth overdoing.
I really admire this singular vision which is so out there, so completely bonkers in its yearning for glamour that it raises an immediate smile on arrival. This is a romantic, bold and assertive space, so much so that Oscar Wilde's advice to 'be yourself; everyone else is already taken' has never seemed more true.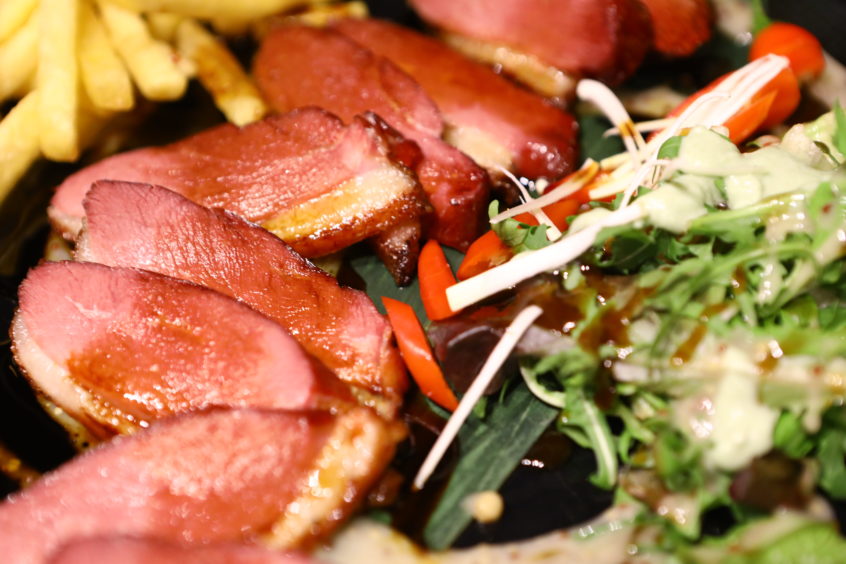 The food was good, although it has to be said that a visit here isn't just about food. I went with my friend Hue Nguyen, fashion blogger, ace tattooist and star of MTV's Just Tattoo Of Us.
Hue is a woman who is never knowingly underdressed and, whilst lying captive under her tattoo needle over the years, she has always told me to go to Dynasty. She was a huge fan of the restaurant in its first incarnation and, at one point during our dinner, expressed dismay that the excellent staff were not in their previous garb, which was apparently a lot more ostentatious. I imagine that if they stood still long enough they were probably gilded.
The decision to simplify the menu and stick to food largely from one country is a wise one, although it still crosses continents with the inclusion of the very Western garlic fries. Border control purists look away; we ordered them and they were delicious.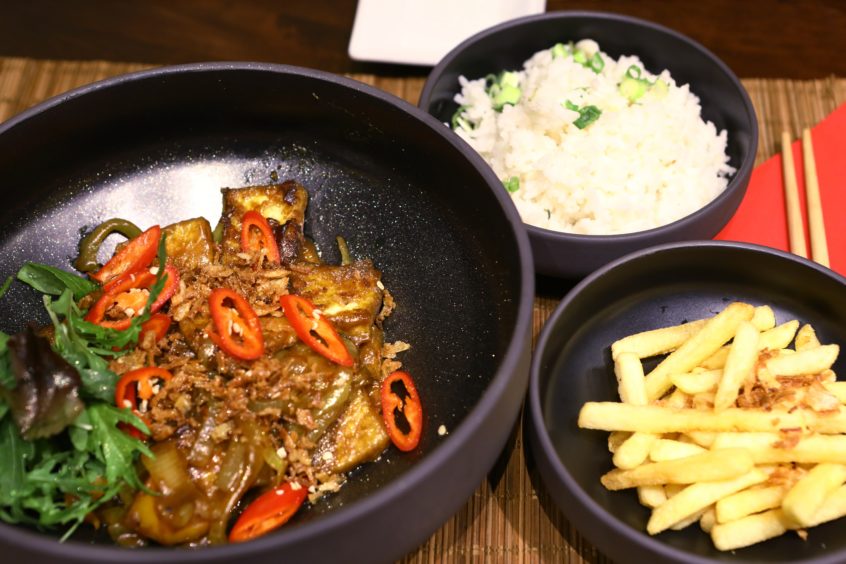 However, the online menus contain some absolute howlers of mistakes and I would advise a good spell-checker foodie be hired to correct this. Call me old-fashioned but, to me, being able to spell the dishes is a good indicator of being able to cook them.
Our starters of vegetable spring rolls (£5.95) and chicken wrap (£9.50) were good – fairly standard Chinese fare but nowt wrong with that. I asked the waiter what I should order for a main course and he immediately said to have the Asian duck (£19.95) – wise advice as it was completely delicious. Huge portion though, certainly too much for me to finish and I'm no Twiggy.
The wasabi dressed salad was great. Hue's main course was a vegetarian version of the gold chicken curry (£15.95) featuring the ubiquitous tofu instead of the clucker. One strange thing about this new condensed menu is that it seems to have no vegetarian main courses but the owner assured us that all mains could be made vegetarian and that more veggie options would soon be available.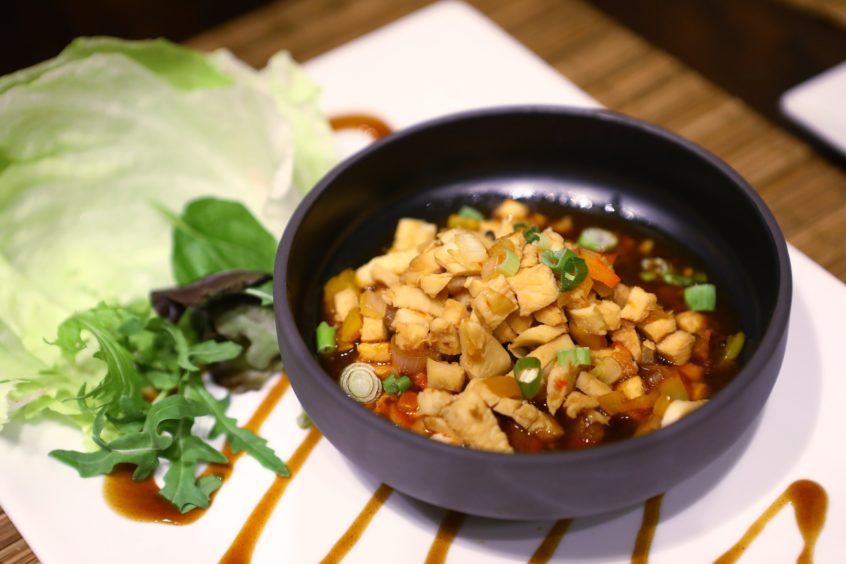 It's a bit weird to launch a new place in this way but nevertheless Hue told me that her tofu was one of the most flavoursome she had ever had, tofu being a bland conductor for more robust ingredients to enhance.
We also ordered rice (£4), noodles (£4) and garlic fries (£4) although I would advise checking with the waiters when you order – the size of the portions is huge and many come with accompaniments. As it was, we had carb overload. Two non- alcoholic Asian mojitos were brilliant although a bit steep at £7 each.
We had a great time here. If it was in London I'm sure it would be full of fashion people who would totally get the vagabond of Versailles camp glamour of this place.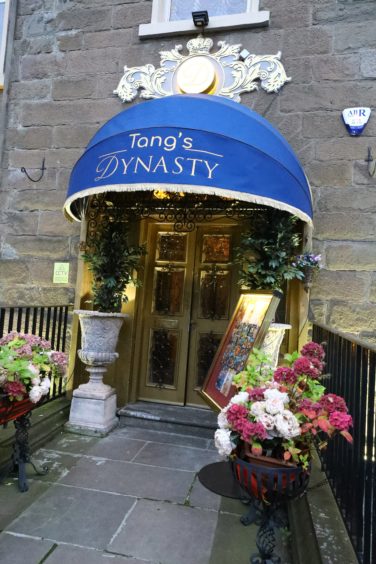 It's glitzy and glamorous in the way that Joan Collins attending a drag show off off Broadway would be; here the artifice and the conceit are displayed with such aplomb that you almost can't believe it exists.
The fact that the gilded glamour gets a bit gutsier as you traverse the stairs to the bathrooms is great, as is the fact the carpet needs nailing to the stairs. It's those chinks in the armour that stop a visit here becoming too precious and rarified.
Really, this place is about a rompingly good fun night out in surroundings that will make you feel good about life. And what's not to like about that?
Tang's Chinese Table
162 Nethergate
Dundee DD1 4EE
t: 01382 690590
w: tangsdynasty.co.uk
Prices: starters from £3.95; mains from £13.25; desserts from £5.50
Value: 8/10
Menu: 7/10
Atmosphere: 8/10
Service: 9/10
Food: 7/10
Total: 39/50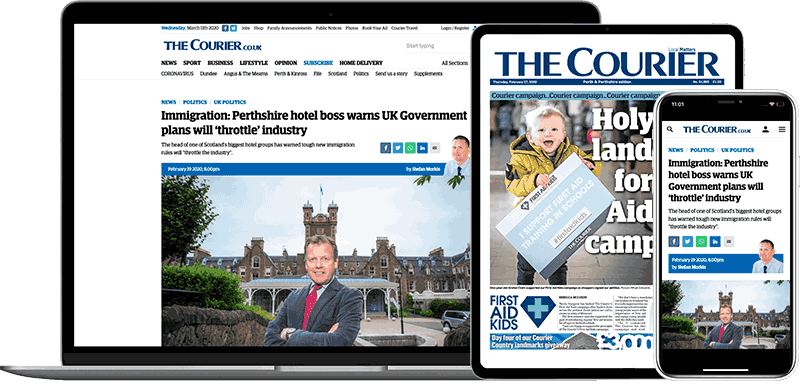 Help support quality local journalism … become a digital subscriber to The Courier
For as little as £5.99 a month you can access all of our content, including Premium articles.
Subscribe