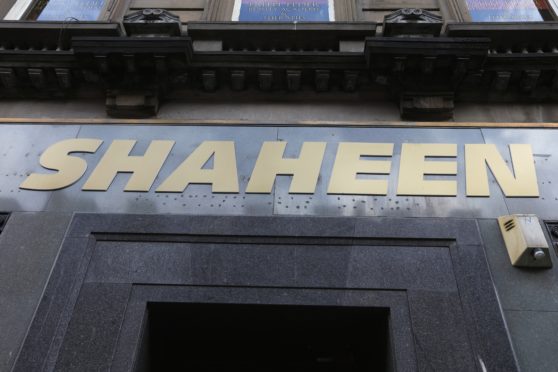 What a strange but interesting evening we had in Shaheen, Dundee's newest Indian restaurant.
I'd been tipped off about this place by a chef friend, whose taste in all things food-related is normally immaculate.
That the restaurant is situated in the municipal solidity of the old registrar's office on Commercial St made it even more alluring; many Dundonians will know these premises because it's where births, deaths and marriages were registered.
As such, whilst it's great to see it repurposed, to me it feels happysad – like a building full of ghosts.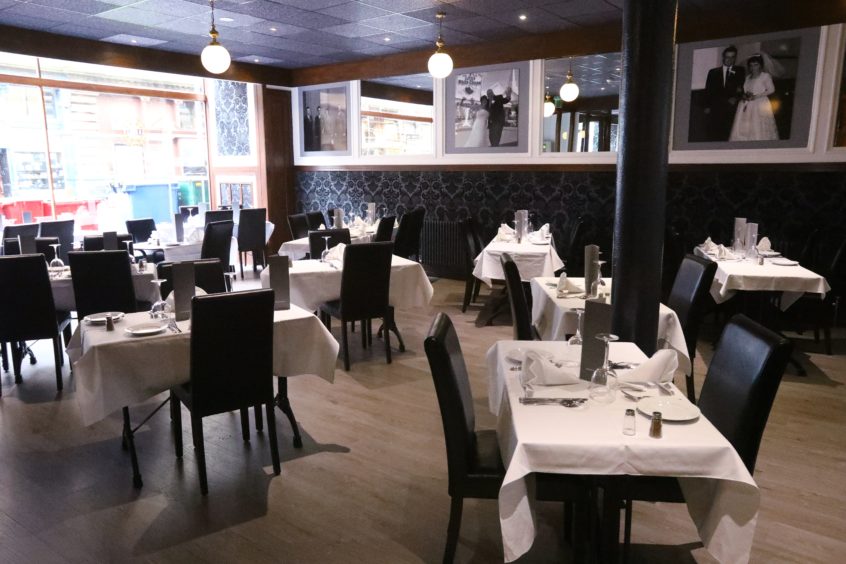 The night we went was certainly spectral; the walk to the restaurant was shrouded in a mist and driving rain that gave the empty streets of central Dundee a dank eeriness that I couldn't wait to escape. It was a Monday and we entered a completely empty restaurant, with the staff immediately outnumbering us. It would remain thus all night.
It has to be said that the décor is a bit mad. A suspended ceiling is covered in dark glittery tiles which immediately make it feel like a suburban disco. The walls are hung with giant photographs of the owner and his family, all either getting married in this space now serving prawn puri, or getting married SOMEWHERE.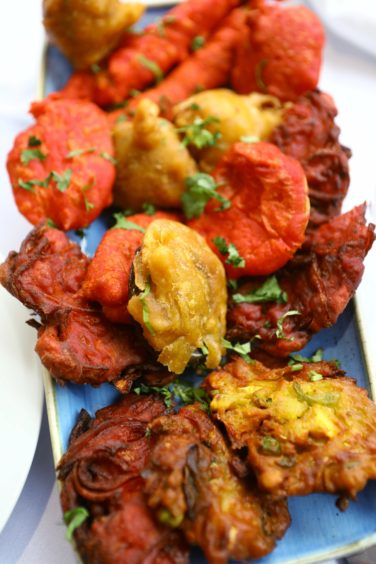 It's a very specific and very literal nod to the building's former life – really charming but I can't help but think the novelty would pall after a few visits. The flock wallpaper is either so retro or avant garde that if Timorous Beasties were to sell it for £200 a roll it would probably become a hipster thing.
The owner is so lovely, as are the waiting staff. But here's the thing: David ordered the vegetable pakora and verified that it was vegetarian at least twice – once with the waitress and once with the owner, both of whom we'd been chatting to for quite a while about the menu.
The owner then made a charming but seemingly gratuitous point of making sure that the waitress wrote it down properly.
I don't think we could have said the word vegetarian any more resoundingly without sounding like an advert for meat-free Mondays.
In my head I started to feel like we were in the classic Victoria Wood sketch '2 Soups' starring Julie Walters and Celia Imrie, where a simple order becomes hopelessly and haplessly confused, for no apparent reason.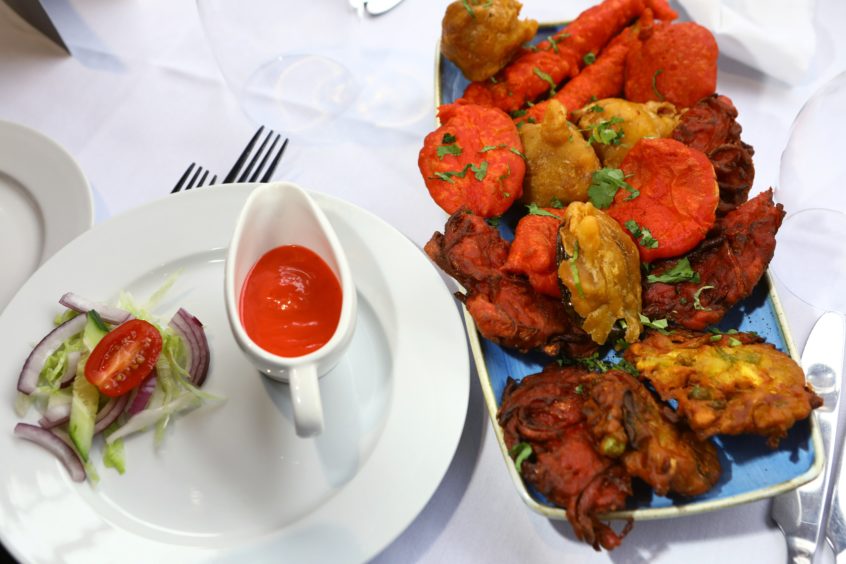 Well, our food arrived and we were chatting and David absent-mindedly speared a vegetable, only to recoil with the realisation that it was in fact chicken.
We called the owner over who at first said it was aubergine but then had to admit that this aubergine had once had two legs, feathers and made a clucking sound. It was an elementary mistake and really hard to fathom when we were the only customers.
How could they get it so wrong?! How could no one have noticed, from the chef to the waiting staff? We were the only order the kitchen had to cook! They did apologise but no effort was made to replace the dish or to knock it off the bill, which I think is odd.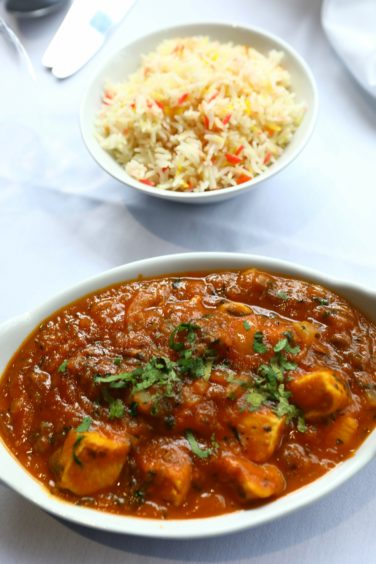 The rest of our food was great. My starter of fuska (£4.95) was something I've never had before: six small, crispy puri, filled with a potato and chickpea mix, served cold with the most deliciously tart tamarind sauce. David's mixed pakora, sans chicken, (£5.95) were also served with a sauce that was both complex and pungent – a real delight.
My chicken pathia (£10.95) was delicious, with real balance to the sweet and sour flavouring and spicing that gave it good depth of flavour. The pilau rice (£2.95) was excellent. My chef friend highly recommends the special curry £16.95), by the way. There's plenty of good things to choose from on this menu.
David had two vegetable side dishes as his main course – aloo gobi and saag paneer (both £3.95). Again, both were notably good with a lightness of touch to the spicing that set them apart from the herd, a herd which this time was definitely vegetarian.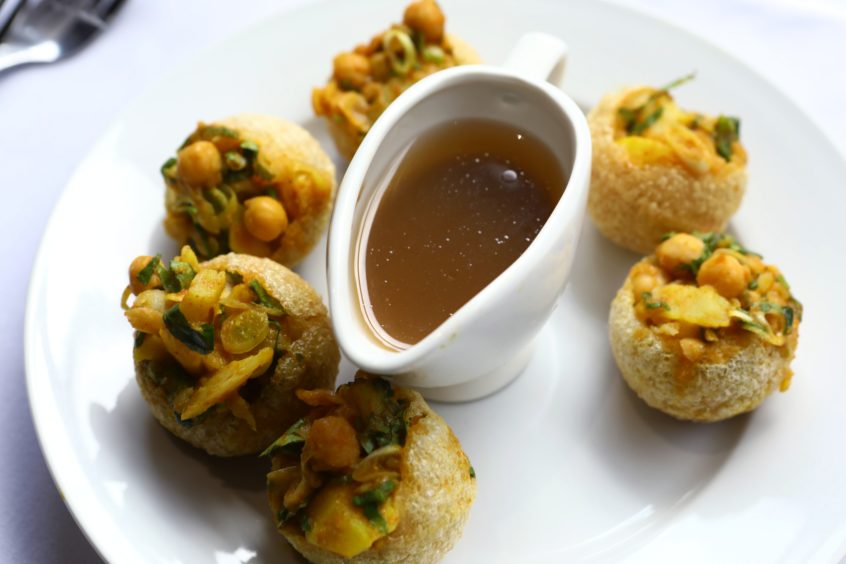 Of course, having consumed poppadums and chutneys (£6), we had little room for that bridesmaid of the Indian menu, the peshwari naan (£3.95) but it was good.
Bizarrely for an Indian restaurant, the only dessert was vanilla ice cream, which we skipped. We drank Cobra, although my alcohol- free version shows that sometimes non- drinkers are better sticking to tap water or, if you're feeling reckless and want 3am heartburn max, a Coke.
I really liked the food here and will definitely be making use of their home delivery options, which do extend into Fife.
But there was something not quite right about the experience of dining here. A rainy Monday night probably isn't the best time to expect a new restaurant to be heaving and Shaheen must be applauded for actually opening on a Monday, when many don't bother.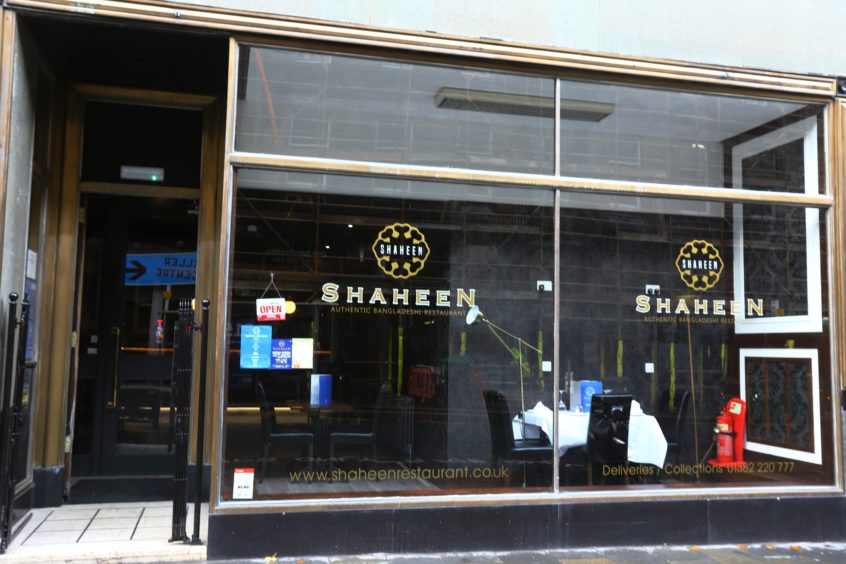 But being the only diners inevitably makes you focus on the room and focusing on this room did little to contain the squall outside the huge windows. I'd like to go back when it's busier to see if the ambience is a little less sombre. As it was, the two of us and three staff weren't really enough to get the party started. An easy change to add warmth would be softer, more ambient lighting.
What Shaheen does have in its favour is a very genial and lovely owner/host and some great food. Dundee has quite a few Indian restaurants and I'm sure each Dundonian has their favourite (I still miss Malabar on Perth Road but now am very much a Dil'Se man).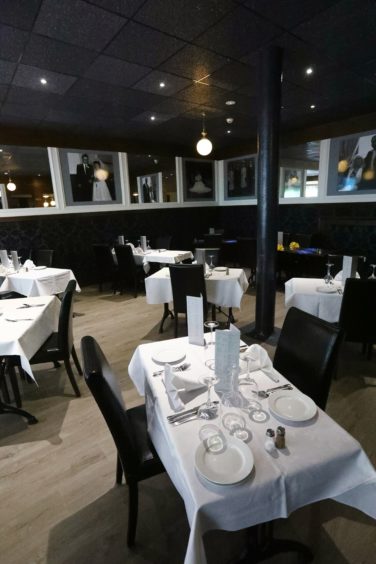 Shaheen could easily become a go-to place – it's central and the food is good – but I think they need to do something to change the feel of the place so that it feels more celebratory and joyous.
This might seem ironic given the dominance of wedding photos everywhere but somehow they add to the feeling of this being a municipal building and not the repurposed restaurant space of its new incarnation.
Good food though.
Shaheen Restaurant & Takeaway
89 Commercial St
Dundee DD1 2AF
t: 01382 220777
Prices: starters from £4.95; mains from £9.95.
Value: 7/10
Menu: 8/10
Atmosphere: 6/10
Service: 8/10
Food: 7/10
Total: 36/50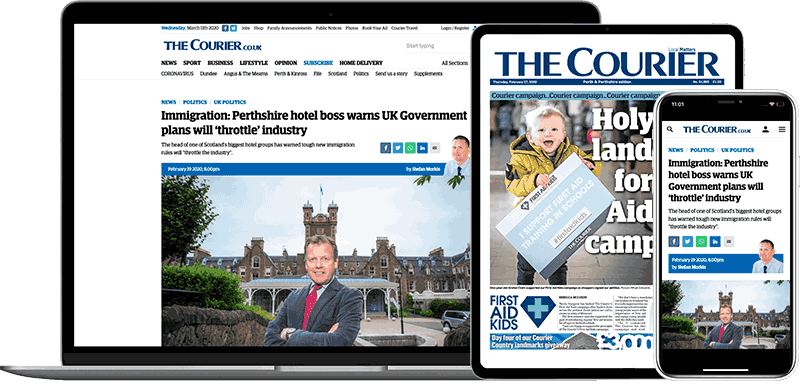 Help support quality local journalism … become a digital subscriber to The Courier
For as little as £5.99 a month you can access all of our content, including Premium articles.
Subscribe