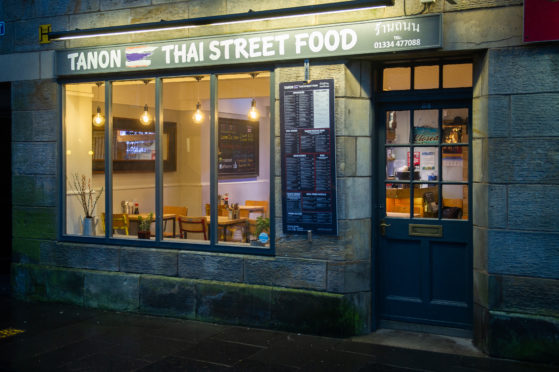 One of the hugely frustrating things about our local area – bounteous as it is for many of us in all the fundamental needs of life – is why there is no Wagamama within striking distance of the Tay.
Indeed, when gossip hit Wormit that a Wags was to open in St Andrews I cracked open a decent bottle of red from the coal cellar in anticipation of all that joyous, cheap and wonderful Eastern street-food nourishment to come our way.
We Fifers WILL have edamame, tofu and vegan eggs made of coconut! That the gossip was wrong and the St Andrews Wagamama was in fact in St Andrews SQUARE in Edinburgh was one of life's most crushing blows; from that disappointment and the fact I will never meet Stanley Baxter or Marc Bolan I have never truly recovered.
To Tanon on a frosty Sunday night. It's small in size (I'd say they could seat 30 maximum, but you'd have to love your neighbours enough) but large in vision. Their thing is Thai street food although, to me, that description belies the sophistication at the heart of good Thai cooking.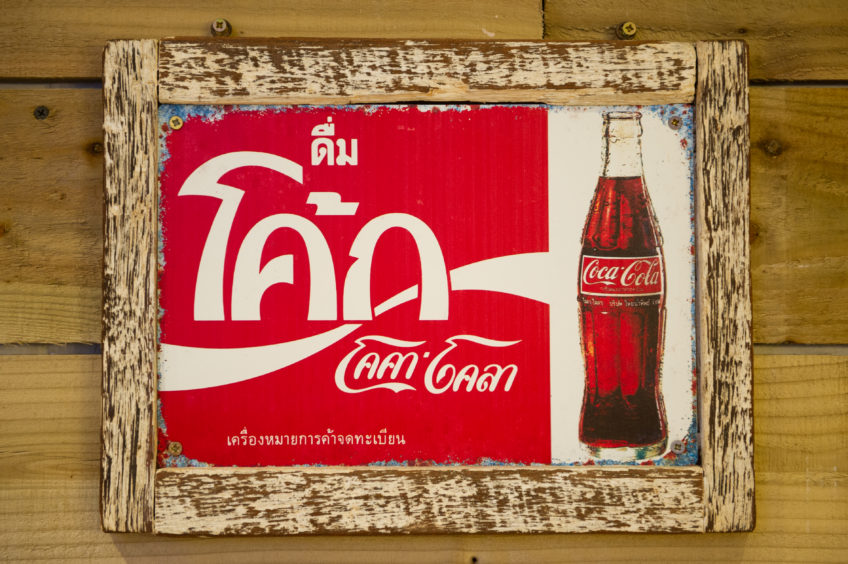 If you want to explore this further you really need David Thompson's exemplary "Thai Food" published in 2002 and still the seminal cookery book/ideas source for this miraculous cuisine.
Tanon is really good – punchily flavoured exuberant food cooked well and served simply. It's perhaps not the best Thai food you will ever eat but then again it's not attempting to win awards for sophistication or innovation. It's just damn good – the greatest hits of Thai and  then some more. That's good enough for me.
From a fairly extensive list of starters we chose chicken wings (£4.95), Taro rolls (£4.75), vegetable tempura (£4.75) and tom yum soup (£4.50). All were very good, especially the chicken wings which were deep fried, having been coated with the most wonderful concoction of Gochujang chilli paste (actually Korean, not Thai), honey, apple cider vinegar and sesame seeds. Deepest joy!
You have to abandon any hope of eating these bundles of sticky unctuousness with any suspicion of flair, precision or even implement; fingers only, fingers that will soon be stained a red as deep as the soil in the driest desert, a red that will soon be like lipstick drooling down your happy face, which no flimsy paper napkin can erase. The ridicule is worth it.
The taro rolls were also good, although a bit over-greasy. But who knew the alleged health benefits of this starchy root vegetable? Rich in fibre, might help to control blood sugar, might reduce your risk of heart disease…get in! Good spicy peanut sauce too. The tom yum soup was pungent with all the usual components but I think had more chilli than normal, which was a very welcome enhancement on such a dreich night. Delicious, pipe-cleaning stuff.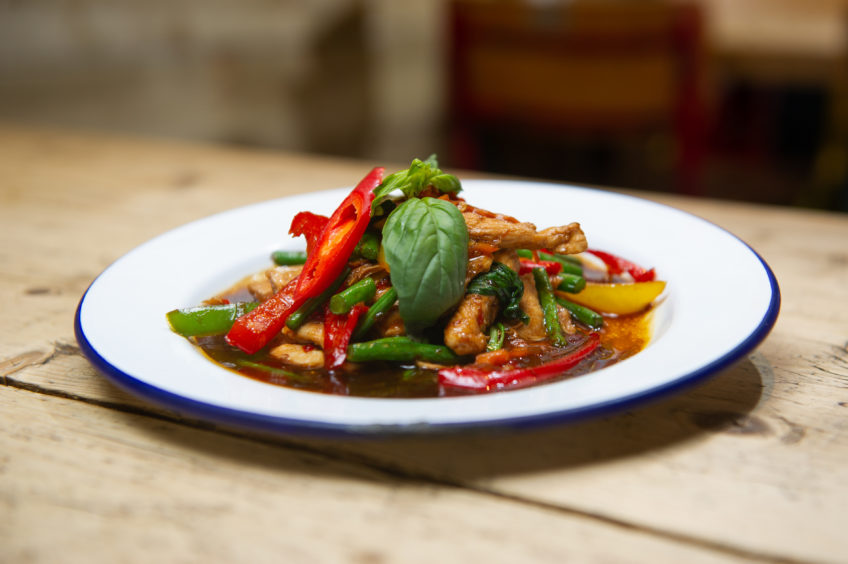 Food is served as basically as possible, with little enhancement. A huge sprig of curly parsley is yer lot in terms of cosmetic adornment; the plates are enamel, the chopsticks and napkins held in old tin cans. Ads for Thailand and Thai products, charmingly antiqued, cover one wall, along with a sign that says '£5 charge for moaning' – a warning we could all heed at times. Tables are basic and the chairs look like they came from old schools. I love it.
My main course was chilli chicken with Thai basil (£8.95) and it was perfect, so perfect I wish it had been bigger. Garlic rice (£3) was a great accompaniment to this and also to David's sweet and sour tofu (£8.95).
Whilst he very much enjoyed his tofu I felt it was cut into too small slices, rendering an already delicate protein slightly superfluous; the day before we'd had home-made tofu in Glasgow's 'Hanoi Bike Shop' which I preferred as it had a meatier texture, so much so I nearly sent the table across the room trying to cut into it with chopsticks.  As with so much in life, the tofu trial is yours to navigate.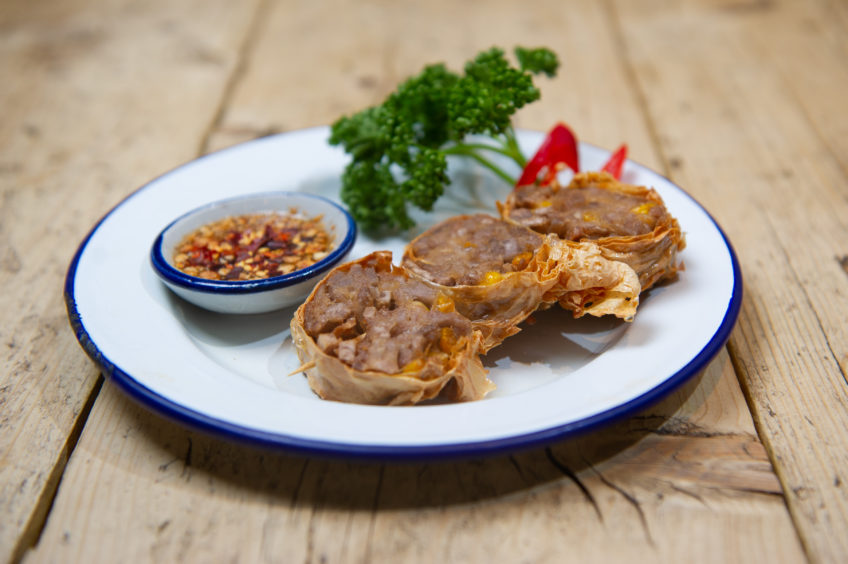 Again, we felt like the main course portion size was a small, especially when rice has to be ordered on top.
My only other criticism of the food here is that two dishes came with a huge wad of lollo rosso lettuce on the plate. I remember from my London life that the legendary doyenne of restaurant criticism Fay Maschler had declared war on this anaemic leaf as far back as the '80's and I have proudly followed Fay's teachings ever since. Lose the pointless, tasteless leaf garnish!
Lastly we had a Som Tum salad (£6.50) and pickled veg (£2.50) which were ordered as culinary fire extinguishers should the main courses prove too hot. Well, that wasn't my best idea ever. I hadn't read the ingredients of the Som Tum and had assumed it contained papaya which would have balanced any heat with cool, fruity sweetness.
This version had swede, carrot, fine beans and cherry tomatoes as the ballast to the palm sugar and Thai fish sauce. But the vagabond of the dish was the chilli, which blew my mouth so wide open that no Singha beer could put my flame out.
The tongue all but disappeared into the back of my eyes which were themselves like wells gushing water; only the wrinkles on my face diverted a flood of biblical proportions in St Andrews that night.
Puddings are chalked up on a board but we didn't bother; for one thing we were full and also the only one which would have conjured an air of Eastern exoticism, albeit retro, was a banana fritter served with Luvians ice-cream.
The service throughout was great. Friendly, knowledgeable and quick, all the staff here seem to have an immense pride in what they serve – and it shows. I've eaten here loads and it's always packed so they must be doing something right. In fact as we lingered finishing our beers Dean Banks, the chef from the fine dining restaurant Haar, came in to collect a takeaway.
This is a place to treasure: a feel-good place with food that is cooked with love and served with an abundance of charm.
Tanon
56-58 Market Street
St Andrews KY16 9NT
t: 01334 477088
w: facebook.com
Price: starters from £4.50; main courses from £9.95; dessert from £2.50
Value: 7/10
Menu: 7/10
Atmosphere: 8/10
Service: 9/10
Food: 8/10
Total: 39/50