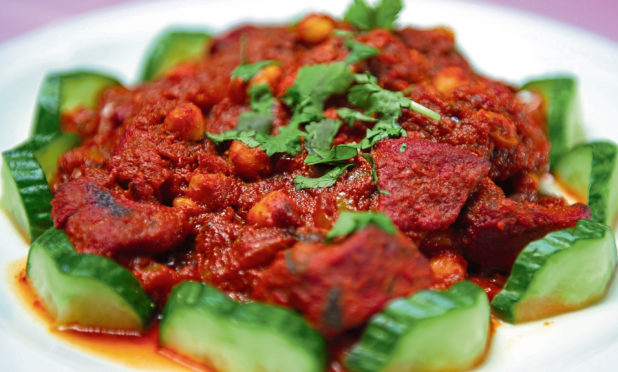 Murray Chalmers visits Dil'se Indian Restaurant in Dundee, to discover this family-owned business ticks all the right boxes for food, service, and that extra-special something.
In the quite brilliant interview by top food critic Marina O'Loughlin (google it from 'Noble Rot' magazine), the Goddess that is Nigella Lawson talks about her days as a restaurant critic and her subsequent career as a writer and broadcaster.
Asked if it gets harder as time goes on Nigella replies: "I don't think anything gets easier. Isn't that terrible? There are only so many ways you can describe the taste of cumin". Well, here goes in an attempt to conquer the unachievable and prove HRH Nigella wrong…
The pink neon exuberance of Dil'se's exterior shone like a beacon on the Friday night we went, when darkness seemed to have descended at midday.
Situated on that part of the Perth Road that feels strangely nomadic, the restaurant has in fact been there since 2003. It's always been my Indian restaurant of choice in Dundee, although the much-missed Malabar gave it a good run for its money. But Dil'se was always the best and, happily, it remains so.
Firstly, the room is a joy. Light, modern, well-designed and timeless, it's as welcoming and celebratory an interior as you can imagine on a bleak winter's night.
I've been eating here and collecting takeaways for so long and my abiding memories of the place are of good times and great staff – they're friendly without being obsequious, and they know their stuff inside out.
I mean, our excellent waitress even recommended a lamb dish to me and then confessed that she was vegetarian and she was basing her thoughts on customer feedback. That's great!
The food here is excellent. It's so far away from a regular Indian that it's in another league. For one thing the spicing is perfect; I won't attempt to describe the taste of cumin but only because the spices here are so perfectly and harmoniously married that nothing could capture or disrupt their balance.
You know how some Indian food can feel like an assault course, both on the taste buds and on the digestion? Not just that macho conceit about who can eat the hottest curry, but also sometimes it's like an orchestra all playing the same note. Anyway, Dil'se isn't that. Dil'se is light and shade and layers of flavour. And no grease!
As we looked through the long menu we had delicious warm poppadoms and pickles (£9.75) whilst drinking Cobra. I mean, that's a given, right? It's Friday night and certain rituals must be observed.
The pickles were so good and also came with an excellent raita; three of the five pickles were made in-house, which is not always the case (in the interests of full disclosure the lime pickle was also notable and that had been bought in).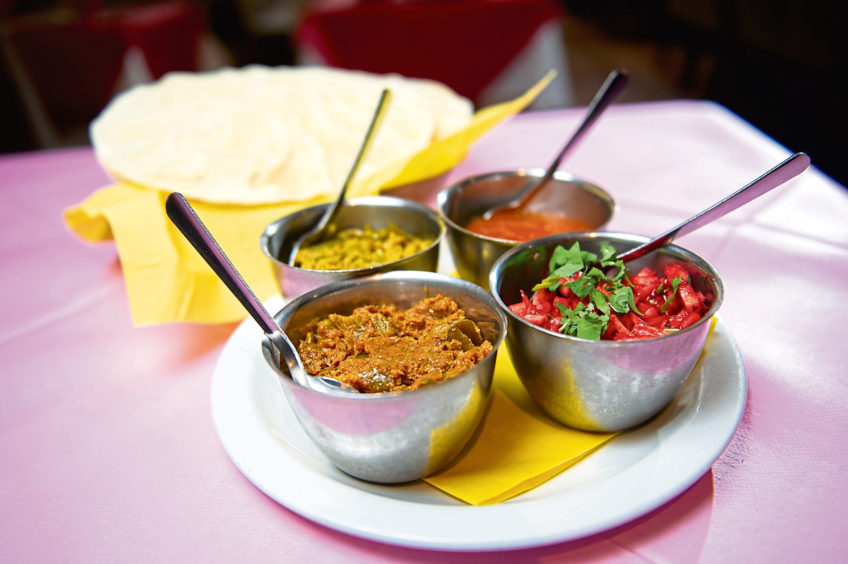 Starters were the mixed vegetable platter (£5.50) and tandoori chicken (5.95), both of which were excellent; the vegetable platter comes with two notably good sauces. Of course, we over-ordered and, by the time the main courses came, we were pretty engorged.
But, again, traditions must be observed and I do wonder if anyone ever goes to an Indian restaurant and thinks they have under-ordered? Is it that glory of the smell of pungent spices, the description of food that is so nuanced with flavour that eating it still feels like a new discovery? With us I think it's just greed….
So here's what two of us had: Afghani gosht (£12.95), tarka dal (£5.95), chana masala (£5.95), saag paneer (£6.95), cauliflower bhaji (£5.95) and pilau rice (£3.15). And then just incase the world might end that night and/or someone might inadvertently press the button on Trident, we ordered a garlic naan (£3.95).
This was then followed by the rhetorical question to the waiter "is that enough?". "It's quite a lot of food" he replied diplomatically.
It was all delicious. My lamb cut as softly as ghee, as tender as a bruise. The spicing was gorgeously pungent, mellowed as it was by my affectation of piling raita onto something hot.
That juxtaposition of hot and cold is such a good thing; I can't bear that modern platitude about life being full of simple pleasures but really, this was one of them.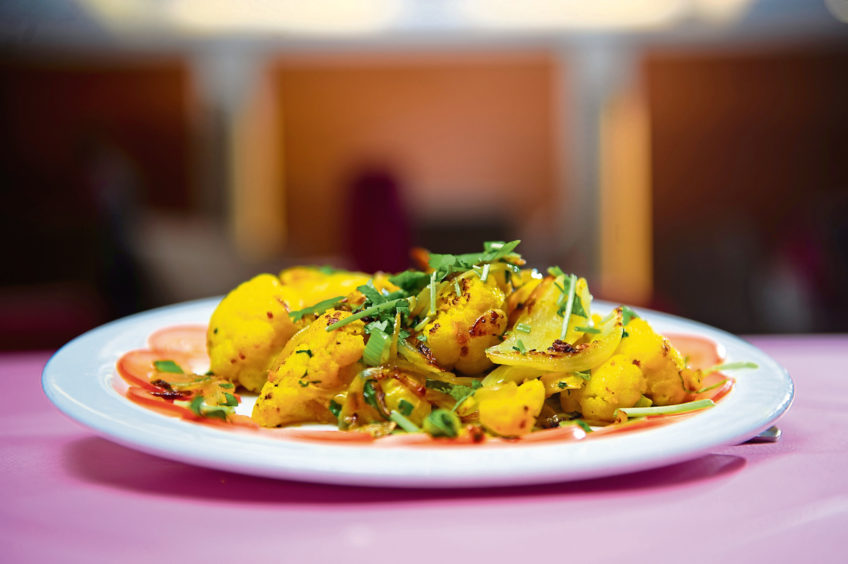 The vegetarian dishes were just as strong with all four tasting of their main component. The daal here is quite runny, the pulse completely broken down into a creamy bowl of comfort.
If you have a hangover this is really your best bet for a restorative cure. The simple pilau rice was cooked to perfection. As always we left most of the naan – not because it wasn't good but because it was an indulgence too many.
David pointed out that he preferred naan to be served as one whole piece – here it's cut into dainty triangles – and this is the one criticism I will allow of Dil'se.
We were looking forward to kulfi for dessert but they don't do it. They do regular ice cream as their only dessert but, really, who wants that in an Indian? If your tastebuds are on fire have another Cobra.
Also, at that point the carrier bag appeared at our table with the leftovers we had requested be packed up, so we could hardly claim to need a pudding. You might think this a bit scuzzy but we ate those leftovers a full two days later and I swear they were even better.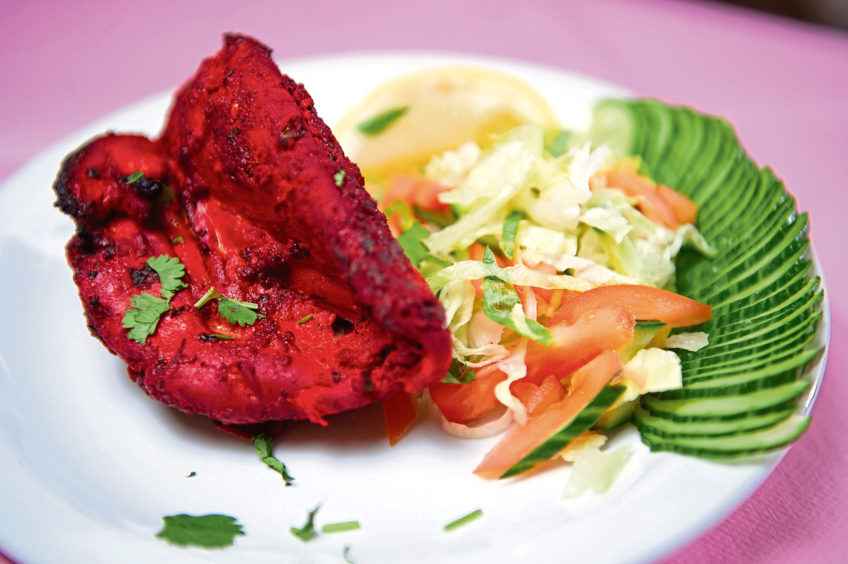 Dil'se has got it right. Their interpretation of what an Indian restaurant should look like is so on the money, in that it's everything you don't get elsewhere. It feels light and modern and doesn't pander to stereotypes. The food is the same, showing a lightness of touch that is so refreshing.
Throw in great service (they all notice you are leaving and say goodbye, a particular bugbear of mine) and you can see why this place remains top of the tree after 16 years. Long may it prosper. Oh, and they deliver… and the taste of their cumin is indescribable!
Dil'se Indian Restaurant
99-101 Perth Rd, Dundee DD1 4JA
t: 01382 221501
w: dilse-dundee.co.uk
Price: Early evening meal (5 -7pm). £16.95 per person
Starters from £4.95; Mains from £9.95; Dessert (ice-cream only) £3.95
Value: 8/10
Menu: 9/10
Atmosphere: 9/10
Service: 10/10
Food: 9/10