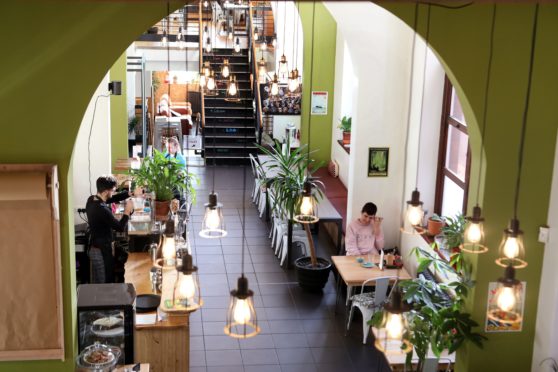 The Bach has come a long way from its low-key beginning in the wonderful old flour mill in Exchange Court.
These first premises weren't exactly humble; there was always something exciting about climbing the outside metal staircase of a Dundee building that still retained a sense of its industrial history – so much so that, with the right wind, it felt a bit like walking up some rusty old stairs to a loft in New York's Soho.
The Bach space itself was raw and attractive; that the whole building was ripe for renovation and reinterpretation has been proven by the fact that it is now sympathetically converted into offices and communal workspaces. It also meant that The Bach moved, a symbol of changing Dundee.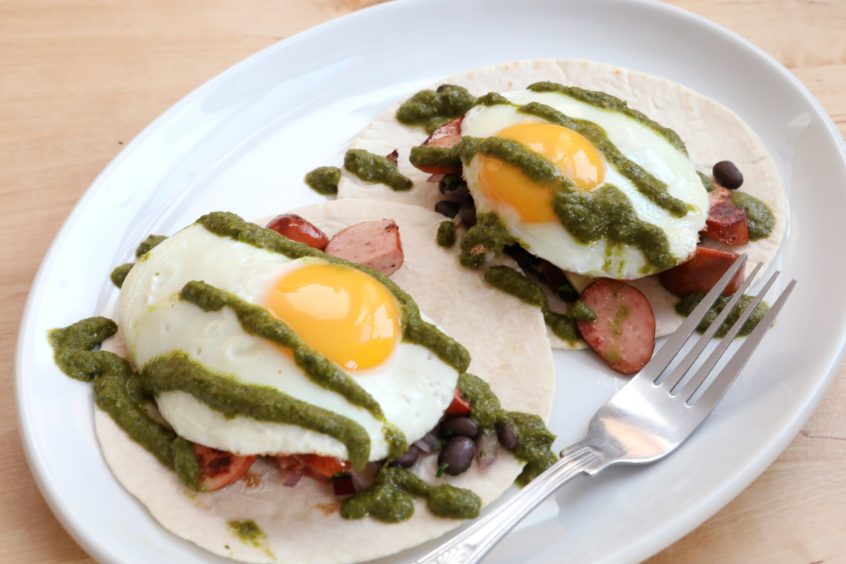 Now occupying the much larger site of the former Pizza Express (just opposite the McManus Galleries and Museum), inevitably there have been some changes but, for the most part, they are happy ones.
Certainly on three consecutive days I ate well here and discovered an atmosphere that was probably the most metropolitan and buzzy of all eateries in central Dundee, DCA excepted.
The space is lovely. Deceptively large, it seems to recede forever – and that's before you've noticed the mezzanine where, for once, solo diners at the counter actually have the best view looking outside.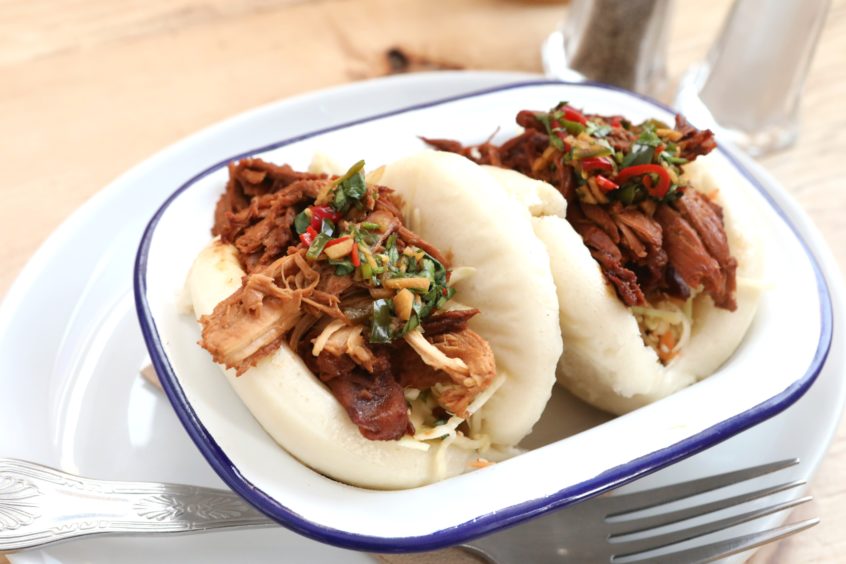 A series of tables tucked out of sight around the corner are discreet enough for business meetings or clandestine trysts; exciting as they were, none of my three visits fell into the latter category but it's good to know that racier options exist in life.
Over the three visits I sampled enough of the menu to feel that, right now, it's probably suited more to breakfast/brunch, although the same menu is served throughout the day, from 11 until 4.30pm on weekdays (earlier opening at the weekend). It's certainly heavy on breakfast type fare and is very different to the original Bach where I remember more salads and lunch-type dishes were served.
Here there is but one salad/lighter option, a spring salad (£7.50) which sounded a bit uninspiring – not to mention premature in the depths of a Scottish winter.
The rest is quite heavy eating like burgers, tacos, corn fritters, nachos and bao buns; there is one soup should you want a liquid lunch that doesn't involve the pub.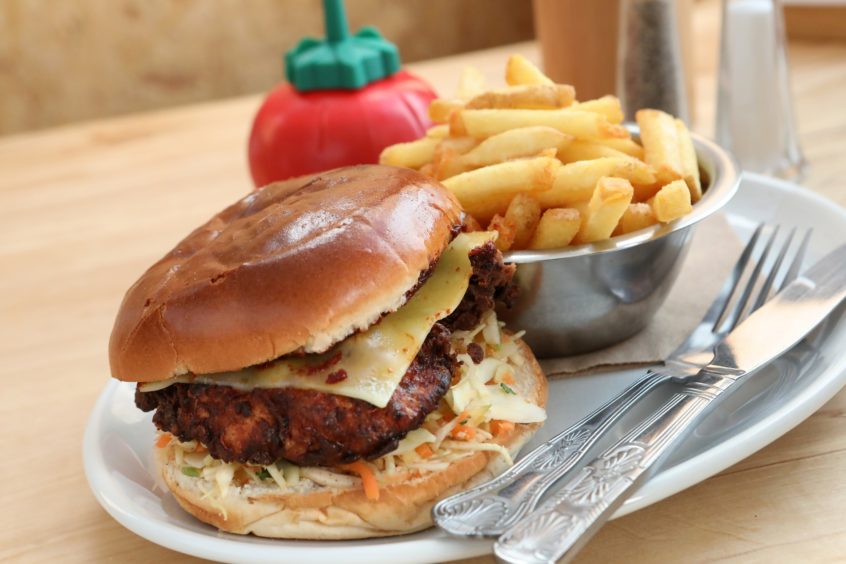 The prices are competitive, especially given the location and class interior.  There are plans to open imminently in the evenings, when new menus will be introduced.
My first visit was with David Clegg, the new-ish editor of this newspaper and thus my boss. Once my paranoia about dismissal abated it turned into a very convivial lunch where the chat flowed so well that, in truth, I didn't really notice much about the food.
My cluck burger (£11) was very nice, the chicken tenderised in buttermilk before being thrown into the ring with some very powerful flavourings and a basket of spicy chips. It was easy food in that it was all done well and there was nothing to scare anyone, except any passing militant vegetarian.
(Incidentally, any grumpy geezer annoyance about it being called a cluck burger subsided when I realised that I had used exactly the same jokey description of chicken at least twice before in this column.)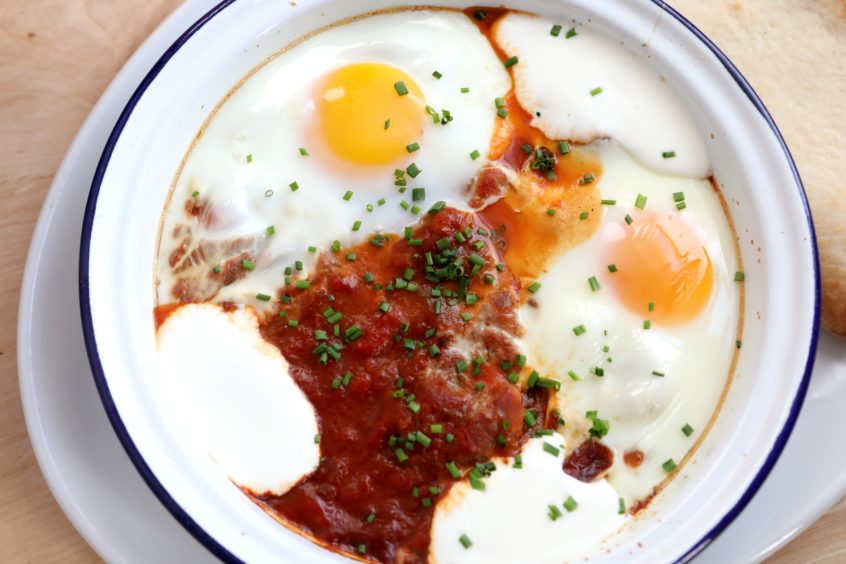 David's breakfast tacos contained smoked sausage, smoked cheddar, black bean and coriander salsa, served with a fried egg and chimichurri (£7.50). He pronounced them very good but lukewarm; because we were sitting upstairs I couldn't see how long they had been sitting on the pass so we have to hope this is an aberration.
One thing to say about The Bach is that the service has improved immeasurably. I've been here loads before and sometimes the service has been a little….tentative or grudging, neither of which are a good look in a service industry where the clue is in the name.
One time, thankfully a while ago, service was almost petulant in its attempt to be more Dalston than Downfield, but this cloak of coolness has been stripped off to reveal a friendly and warm staff who get the job done well.
In the interests of proper research I went back the day after and had a solo brunch of harissa eggs (£8). I think this is the thing to order, really – unless you hate eggs, Moroccan spicing and garlic, in which case you're probably in the wrong place.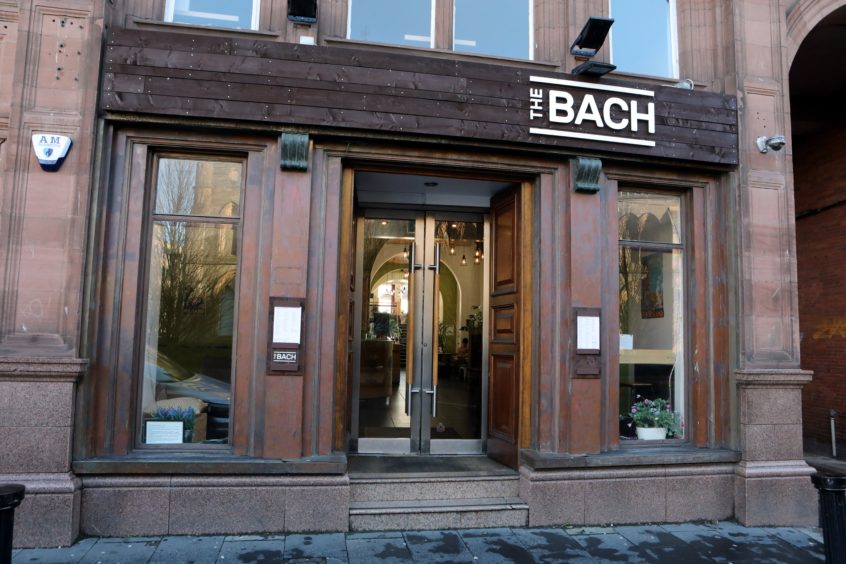 It's delicious and rivals the egg and cheese rolls at the fantastically authentic and defiantly unchanged Fortes Café on Dura St as the best breakfast in Dundee.
My final visit of the week was on a Friday and the place was rammed – which shows that if you get it right then people will come. By now I knew the menu off by heart and ordered the pulled chicken bao buns (£7.50) which were a treat.
Once again I was chatting so much that it took me a while to realise that the flavour of the chicken was unusual, so much so that, for a second, I wondered if I'd been served beef.
This was hard-core pulling; in fact I don't know what this chicken had pulled on its way to meet its maker but it had a flavour that was pleasingly, intensely bovine.
My lunch companion, the virtuoso Dundee musician and composer Andrew Wasylyk, ordered the corn fritters (£6.50) which are described as Kiwi-style sweetcorn and fresh herb fritters with Bach-made chilli jam and lemon crème fraiche – a New Zealand classic which Andrew said was very good.
Much more of a connoisseur of good coffee than I, Andrew also confirmed that the coffee served at The Bach is excellent. (Incidentally, should you be interested in the architecture of old Dundee, Andrew released an excellent album called "Themes for Buildings and Spaces" which transports landmark Dundee buildings into expansively beautiful aural form.)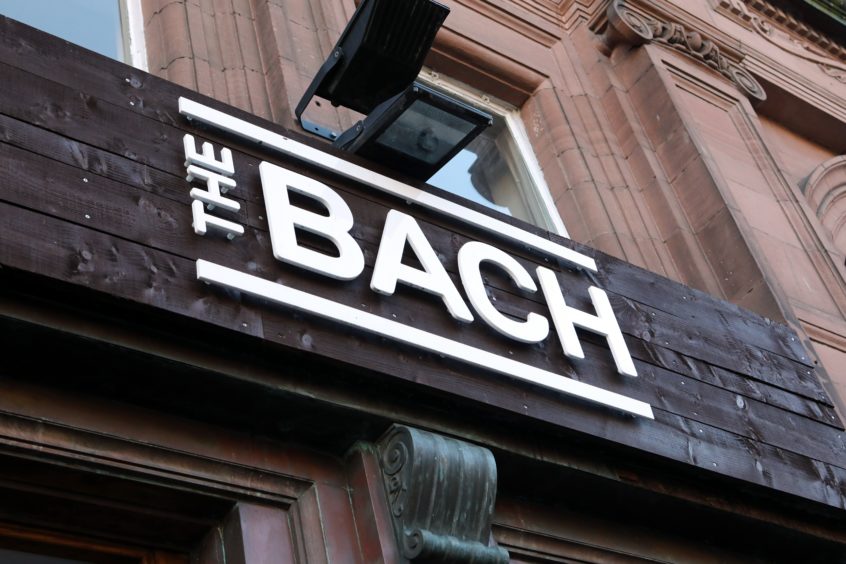 I really loved The Bach and will love it more when a separate menu is available in the evening. But for now it fills a real gap in the market in Dundee where there are way too many nondescript coffee shops and too few places to eat flavoursome, contemporary fusion-ish food, served in a cool setting; this place also won't drive you to penury or give you a full fat grease hangover hours later.
My only niggles are that parking round here is both expensive and needlessly draconian (many of the meters only allow 45 minutes, which is madness) – although of course this is outside the restaurant's control.
Another minor quibble is the extra charge for things like mayonnaise (20p), garlic mayonnaise (50p) and chilli jam (50p) which seems a little finger-waggingly, mean-spirited McConomy, even if they are home-made.
But, those minor criticisms aside, The Bach is pretty much out on its own. Along with the trailblazing classic Parlour Café which has the edge on vegetarian/vegan options, and a few newer places, The Bach shows a singular vision and impressive commitment to excellence that makes it somewhere to treasure in the city.
Also anywhere that serves mince on toast with optional additions of both black pudding and sausage has to be admired by everyone. Except vegetarians.
Price: food from £5 (BLT bagel) – £12.50 (Kiwi burger).
Value:  8/10
Menu: 7/10
Atmosphere: 9/10
Service: 8/10
Food:  7/10
Total 39/50