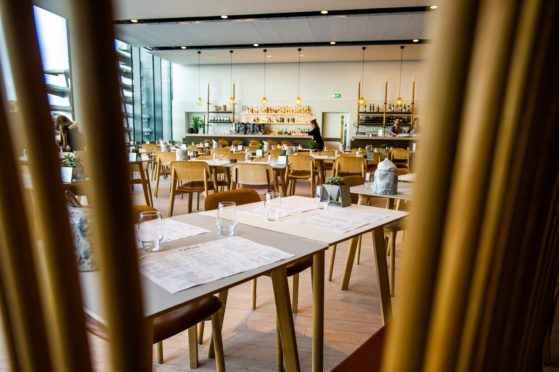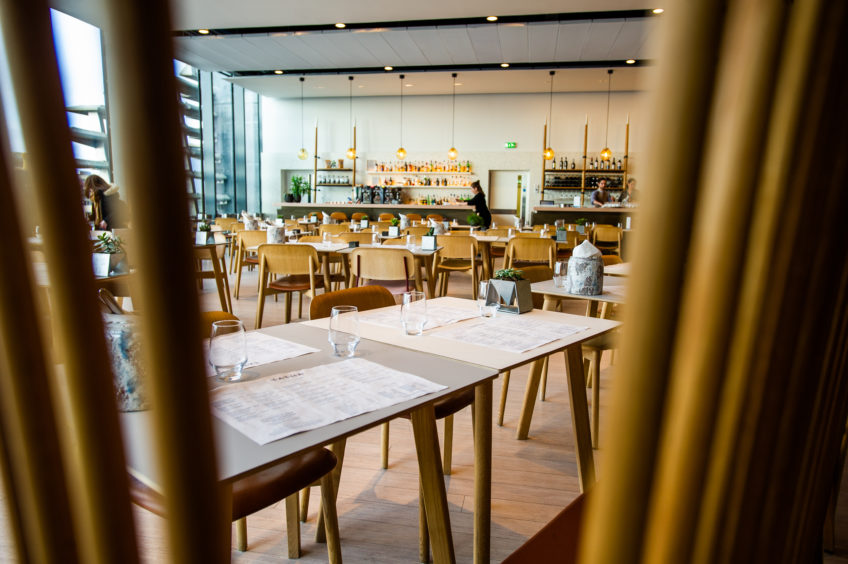 Kengo Kuma's world-class V&A in Dundee is remarkable in so many ways, not least for the fact that it actually got built here in the first place.
When you enter this work of extreme wonder you leave the real world behind, a transaction that, given the aesthetically illiterate madness of Dundee's civic "planning", is probably no bad thing. The buildings around Kuma's masterpiece are uninspiring, depressing behemoths, swine before this pearl of beauty rising from the river so life-affirmingly.
If anything, the interior of the V&A is even more pleasing than the uncompromisingly stark yet elegiac exterior; inside a quite brilliant use of materials, light,
texture and space means that each visit is continually awe-inspiring.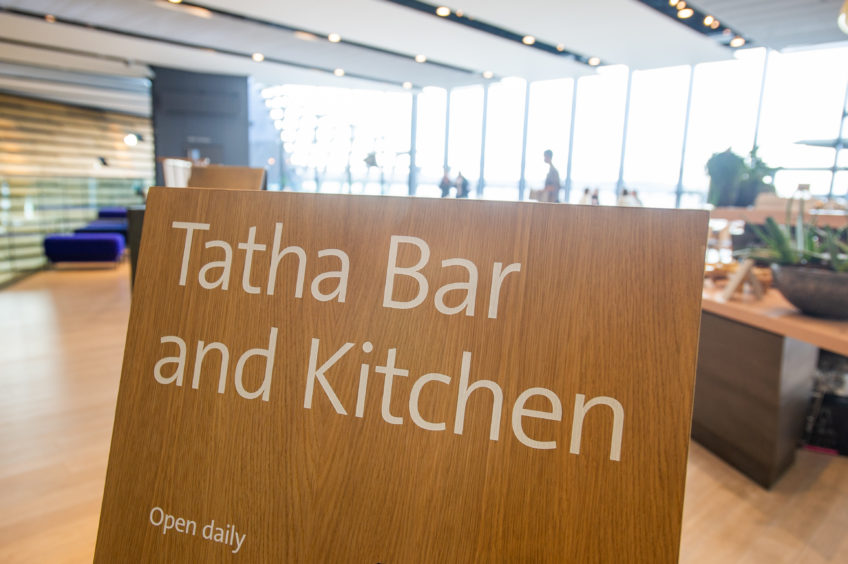 The staircase is one of the best bits and a thing of real spatial beauty, making every ascent and exit seem remarkably filmic. Just fantastic! These sweeping stairs lead to the galleries and meeting rooms plus, eventually, Tatha Bar and Kitchen, perched at the side with a view over to Fife.
It's a beautiful setting, easily the nicest dining room in Dundee, and to bag a window table (we didn't – most of them are for four people and it's first come, first served) on a crisp sunny day would be to experience the grandeur of the Tay at its finest.
It has to be said that this was our first reasonable dining experience here; after quite a few early disappointments with food and service, we left it many months before returning.
The older I get the more I operate the three strikes rule in everything including but not exclusive to relationships, restaurants, driving tests and high-jumping; one error is a mistake, two a pattern, three is an admission of defeat and a sign to move on. We had four disappointments here, which entails the equivalent of a 10-match ban and temporary relegation.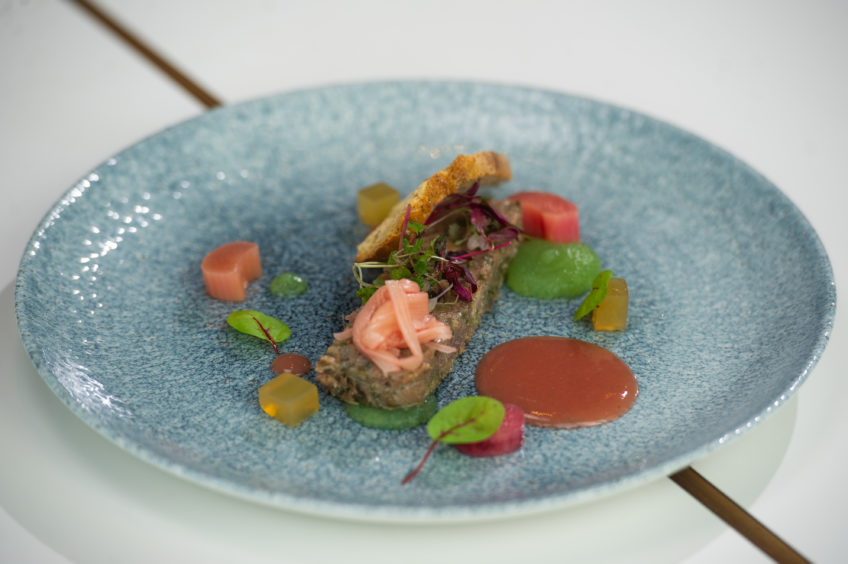 This time was better, although I do wish the food was more imaginative and didn't smack quite so much of contract catering. It's also expensive for the portion size and, again, the paucity and precision of the portions was redolent of the control of some central bureau number cruncher routinely determining uniformity for all, even the humble chip.
The good bits were good, though. The menu is small – too small, to my mind, in that it doesn't leave much room for actual cooking or flair. Much here is assembling; when they re-start a dinner service in April I expect the chef will be able to flex more culinary muscle. It will certainly be good to see a more
expansive palette.
The menu opens with a crime against words called Brunchy: Lunchy, a level of modern infantilism that makes me ever so crossy wossy and want to Kill Will the "wacky" copywriter.
Nine items feature here, served between 10am and 4pm. These include a smoked salmon bagel that surely must be the most expensive ever at £9.50; you could buy freshly cooked bagels for an entire family in the classic Beigel Shop on Brick Lane for that. I mean, really?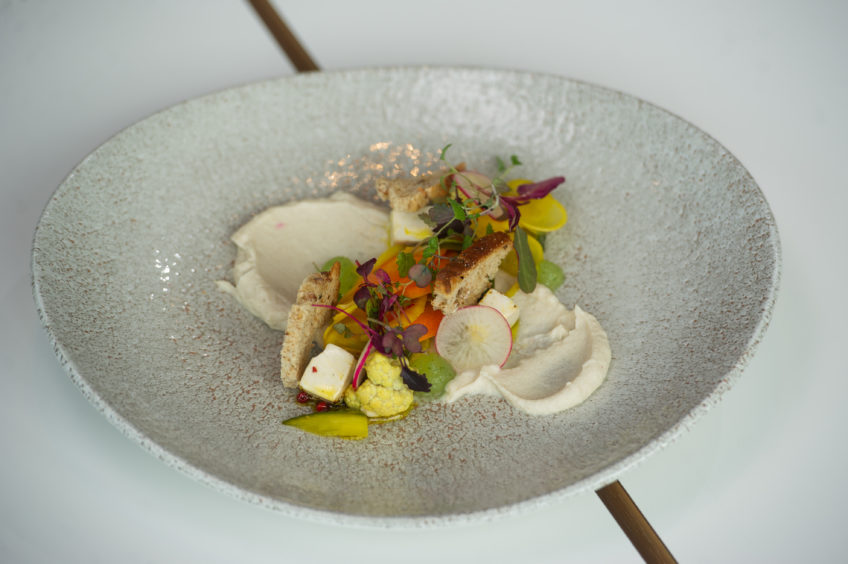 Fish and chips is £14.50. A tomato and olive flatbread (£9) had to be returned as it was uncooked, which is no mean feat for something that I can make with my eyes forced shut by a blinding Sunday morning hangover.
The charming waitress returned to say that the kitchen said it actually wasn't uncooked (it quite clearly was, as we could taste the sour fermenting raising agent of the raw batter); no, it was because it was cooked in oil that it tasted that way, apparently.
We agreed to differ as life's too short to fret over a flatbread but the day I can swallow raw, yeasty dough and pay for it with anything other than indigestion is the day my taste-buds and my gag reflex have died. It wasn't charged for.
My starter of duck rillette with flamed figs, carrot mousse, rosemary tea jelly, duck fried crouton and sherry dressing (£9) was the business, but there was just so little of it; at least the ultra-small crouton didn't have much to mop up and I have to say that the tiny portion of duck was wonderful. And it looked great. But, to use their rhyming parlance, why so small, doll?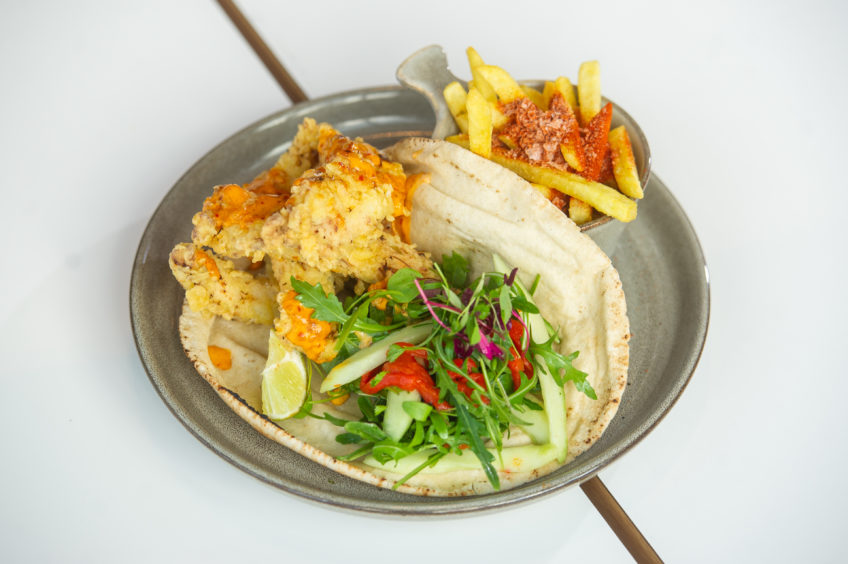 David's starter of celeriac tahini, saffron pickled vegetables, peppered tofu, tarragon and garlic crisps (£8.75) was delicious.
My main course of fried buttermilk chicken, charred pepper salad, harissa mayonnaise and paprika fries (£10.50) was hit and miss; the chicken was fine, although more like a chicklet in terms of quantity of nuggets, but the wrap it was served in managed to be raw and soggy at once, the charred pepper salad just a lump of slimy, claggy wetness to add to the damp base.
David just ordered cheese (£9) as a replacement for his uncooked flatbread main course.
He thought it was fine, although it was fridge cold and came with three small oatcakes and some bread that was 15 minutes more advanced in staleness than the stale offering I'd been served earlier for £1. I mean, I know it was a Monday, but serve fresh bread or none at all! The home-made pickles that came with the cheese were extremely good.
A winter fruit pudding for dessert (£7) was basically the flavours of Christmas but served at the fag-end of January. Perfectly nice but, as one of only four puddings, it could surely be replaced by something else that doesn't sing Jingle Bells quite so loudly.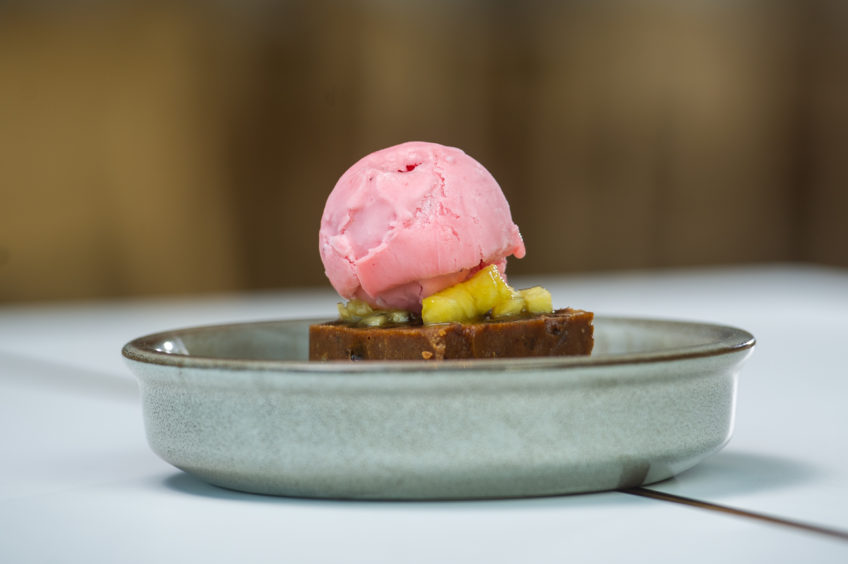 After all that I have to say this is a restaurant with fantastic potential. The room is beautiful. The view is awe-inspiring.
Tables are well spaced. Our waitress was brilliant, although service in general can be erratic and they need a proper greeter/maitre d. But they have to work on the food.
Of course they're not the only museum and gallery to serve disappointing food to a captive clientele – you go to a museum, wander round, do the gift shop and then have lunch. But if this place is to appeal to Dundonians and repeat customers as much as to visitors, then it has to raise its game somewhat.
Just up the road, in DCA, there is a bustling, buzzy restaurant serving much better food at more reasonable prices, from breakfast until late at night. It feels less corporate, less like an impersonal machine to just bleed you of cash.
Also DCA isn't quite so cut off from the centre of town by a maddening succession of main roads, a hideous and still unoccupied office block and endless pedestrian crossings so it feels more accessible.
But V&A Dundee has a landmark building, that view and, like at DCA with Beth Bate, a highly focused vision by director Philip Long. Tatha is the most wonderful space to eat in – I just feel that the food doesn't really live up to the beauty of the space and the setting.
The day it does will make it truly a place to savour for the food as well as the building, the exhibitions and events.
Tatha Bar and Kitchen
V&A Dundee
t: 01382 411633
w: vam.ac.uk
Price: Starters from £5; main courses from around £8.50; dessert from £6
Value: 5/10
Menu: 6/10
Atmosphere: 9/10
Service: 8/10
Food: 6/10
Total: 34/50