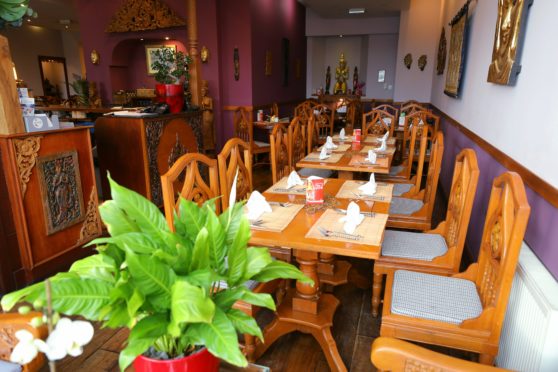 Rama Thai was such a lovely experience that I can't wait to go back.
There have been some changes here since our last visit – the menu seems more concise (although it still isn't short) and stuff like prawn crackers have gone but this means you don't fill up on empty calorie ballast before the proper good stuff arrives.
This is a plus because the good stuff really is worth waiting for and no one wants to peak early, especially over a bought-in prawn cracker and a bowl of chilli oil.
There's something so joyful about good Thai cooking and, during this interminable winter, coming here is a quick way to lift the spirits and transport yourself to hotter climates.
If basking on a beach seems an impossibly distant memory and an SAD lamp ramped up full just won't do it for you, then the zest and exuberance of Thai cooking can banish the winter blues quicker than Duran Duran's 'Rio' video or the sight of Judith Chalmers on a desert island in a one-piece.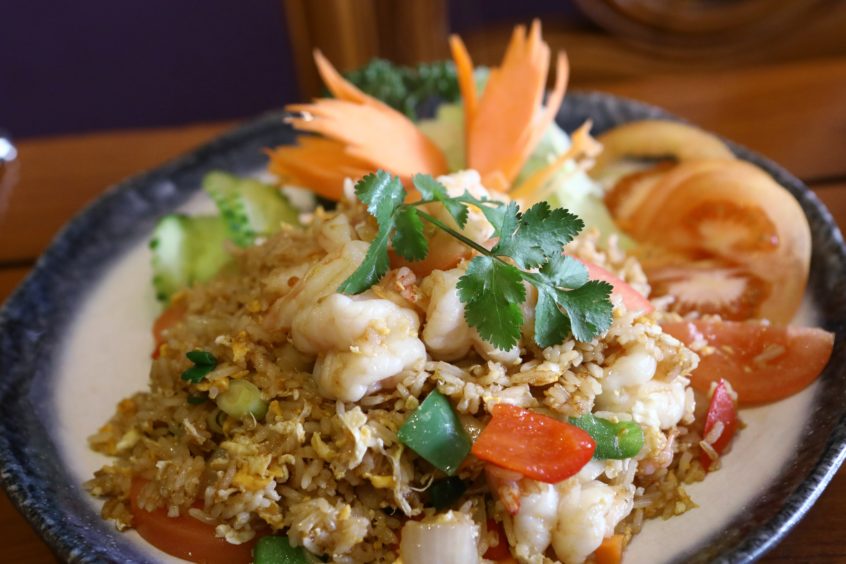 Rama is a big space and is decorated with big, heavy furniture in a kind of Thai teak vibe. It feels nice in the way that spaces do when they are distinctly redux and not filtered through a lens of modernity or irony.
This place looks good and it feels good and looks Thai enough and that's OK for me.  My only tip would be to lower the lighting which would make the space feel much more magical and conducive to relaxation; right now it's just too bright.
The food was great, and there was a lot of it. My starter of Sai Qua (£5.95) was totally delicious – home- made spicy sausages with lemongrass, coriander and chilli "served with choice of sweet chilli sauce or a taste surprise".
Now I'm really sorry I didn't pick up on the taste surprise but that's because I wasn't asked if I wanted it – maybe I just look more like a dreary-drawers who would prefer no surprises.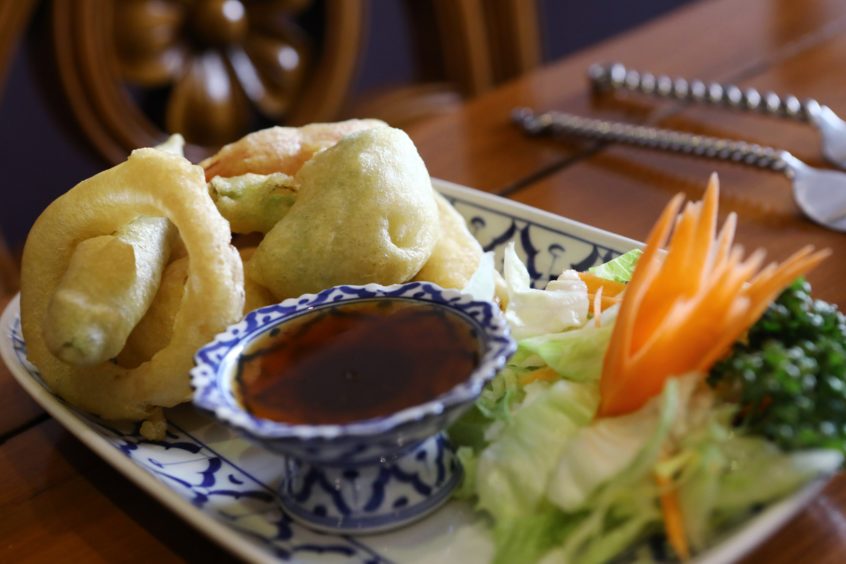 If you do go and risk a taste surprise then perhaps just quietly enjoy it – don't spoil it for the rest of us because I don't actually think the world can handle many more surprises right now, even gustatory ones on a dark Dock St on a winter's night.
David's Pak Chub Pang Tod, apart from sounding like an unreleased Cocteau Twins track, was £4.95 worth of the nicest, freshest vegetable tempura you could wish for, served with a sweet chilli dip.
There were no surprises here, scripted or otherwise, just a big portion of greaseless, crunchy tempura tasting of their respective vegetables, and wonderfully so. Good stuff.
We shared the somtum Thai salad (£4.95) which was basically a classic Thai papaya salad but – purists look away – without the papaya. I'm fine with this; you couldn't really expect a fresh papaya salad for this price and the substitution of root veg (swede and carrot) is both surprisingly common and also pretty successful.
And no one mentions papaya on the menu so there is no deception. This was spicy, fresh and good – very well- balanced flavours, and good to know that swede can be ramped up.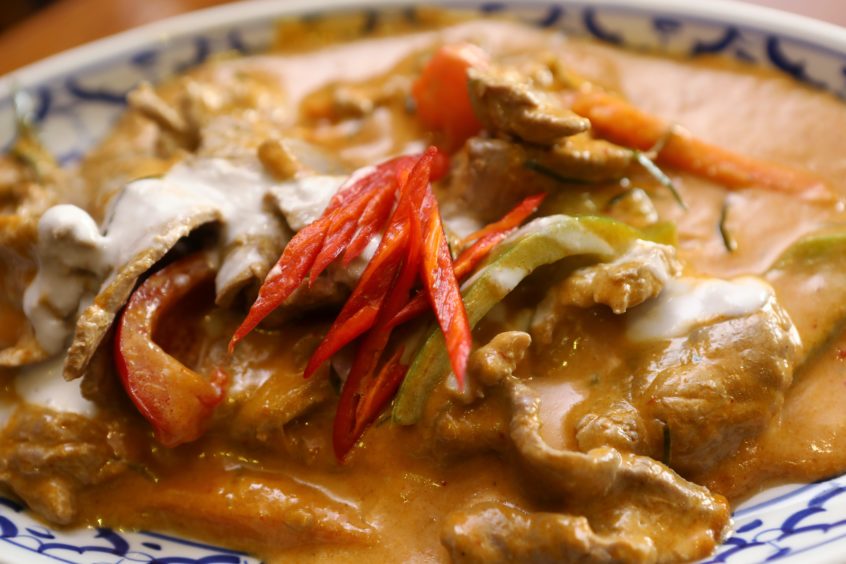 Next we each wanted the nasal blasting, throat purging citrus hit of the classic Tom Yum soup (£4.95), although I actually had the Tom Kah, which is pretty similar but mellowed by coconut milk (£5.60).
The Tom Yum was great, classic spice and lemongrass and galangal combining to make a heady brew which could easily see off a winter cold, a troublesome neighbour and possibly even an anarchist uprising.
Lifting the lids off the attractive bowls to unleash an aromatic, steamy hit is about as much excitement as you can expect on a Thursday in late January. My variation was a little over-sweet but still good.
Main courses were Gaeng Panang with king prawns (£14.95) for me and Koa Pad with tofu (£10.95) for David. Mine was the more successful, a very good Thai red curry with an excellent sauce with great depth of flavour.
The prawns were plentiful and delicious. David's tofu dish suffered because the tofu was a bit woolly so, whilst the rest of the dish was punchily flavoured, the star of the show was both predictably bland and texturally a bit unpleasant.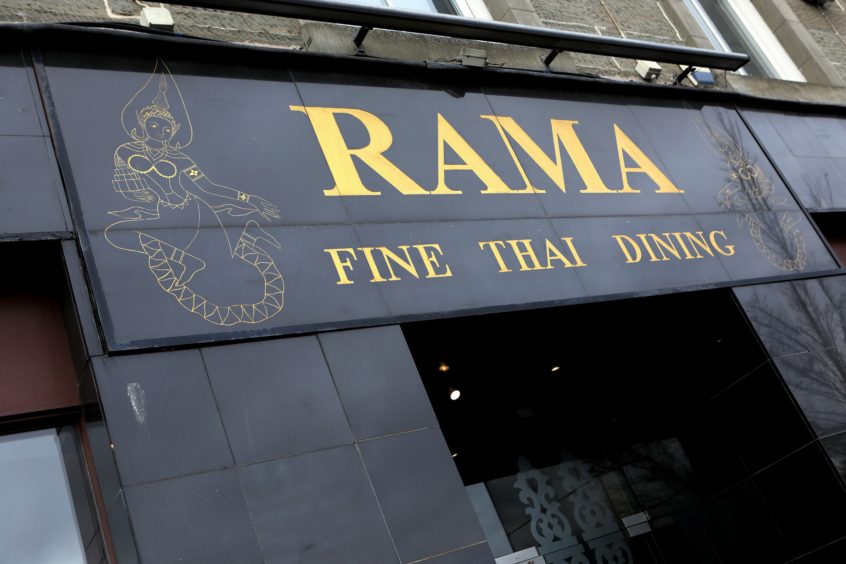 Tofu is at its best in a dish like this when it's crispy so that it has a bit of bite, otherwise you just rely on it as a neutral-tasting protein carrier of other flavours.
For dessert we shared banana fritters in coconut batter with coconut ice cream (£4.95) and I have to tell you that it was an experience beyond mere words. Dock St suddenly became a carnival of colour, light and sound – in more prosaic terms, I guess we had such a sugar rush that we were practically bouncing off the walls.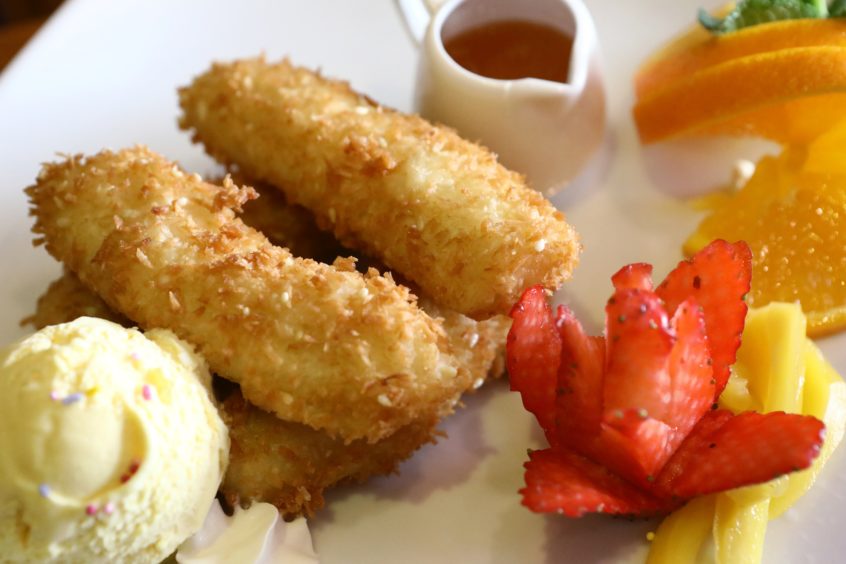 I haven't had a banana fritter since the Twelfth of Never and had forgotten what a joy they are, so much so that I fully intend to make my own as soon as I finish typing this review. The coconut ice-cream was delicious.
Rama is such a good place. Great food, great service and a nice room; plus they do a lunch deal that is practically a give-away.
They also do takeaway (but sadly, no delivery).  Another bonus is that you can park free nearby at night. This is one of Dundee's quiet gems to which we will return often.
Price: starters from £4.95; main courses from £10.95; dessert from £4.95.  Lunch special: one main course £6.45; set lunch £9.95.
Rama Thai
32-34 Dock Street
Dundee
DD1 3DR
t: 01382 223366
Value: 9/10
Menu: 9/10
Atmosphere: 7/10
Service: 8/10
Food: 8/10
Total: 41/50