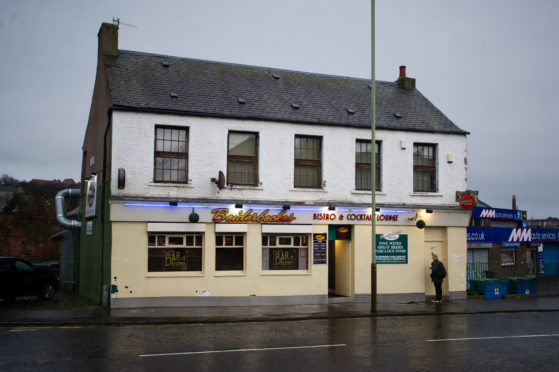 Beiderbeckes was actually something of a revelation, which I know will seem absurd to the legions of people who have been going there for many years. I just never knew!
Tucked away in an off-centre part of Dundee that feels a bit like you're heading to the wilderness, it makes finding the restaurant feel quite the triumph; at first you can't believe it would be here, not least somewhere serving such good food – but suddenly there it is, a beacon in the sodium saturated gloom.
And in truth it's not so far, not least from West Bell St; a former policewoman told me that she and her colleagues would regularly get takeaways from here whilst keeping us all safe on the streets, a fact that gives a peculiar sense of comfort to the notion that you could ask a policeman anything, possibly including (but not limited to) recommendations on where to have dinner.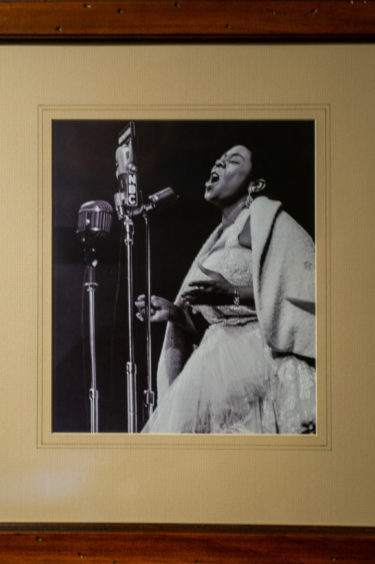 Driving here from the centre of town, suddenly the scenery becomes slightly dystopian or, more romantically, Hopper-esque (US realist painter).
It's the kind of slightly melancholic scene I love and unfailingly it reminds me of New York, given that the buildings around are mainly industrial or somehow repurposed for industrial use – should your car break down or someone slash your tyres, you'd be spoiled for choice round here, at least in the daytime.
It feels nomadic; there's an eerie light about the area that isn't just from the rather incongruous Pizza Hut across the road. Really, it somehow feels like Americana, but minutes from the centre of Dundee. And you can park for free!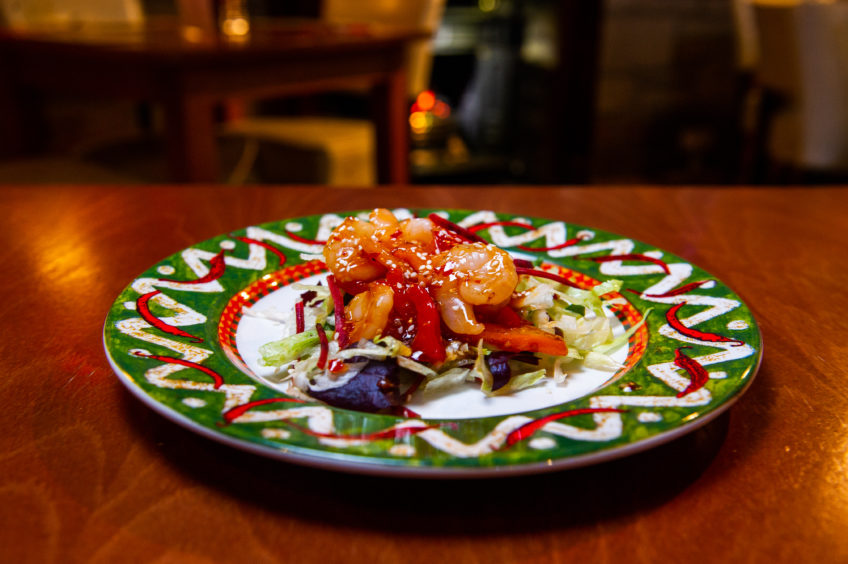 Fitting in with this idea, although it sells itself as a bistro and bar I would say Beiderbeckes is actually more like a classic US diner, serving food that is largely home-cooked, hearty and homely. Strangely, having returned from New York a few days before, I had been bemoaning the disappearance of old-school diners from Manhattan's now crazily gilded Trumped up streets – only to find the spirit of the diner alive and well here in Dundee.
First impressions are great once you get past the supremely unprepossessing entrance. For one thing the music is ace; Patti Smith's Because the Night, co-written with that master of American songwriting Bruce Springsteen, couldn't fit the feel of this place better and it was no happy accident that it was playing as we arrived. Instant euphoria!
Throughout the night the music choice showed consummate good taste, from the Waterboys to Monsoon's cult classic Ever So Lonely; David and I kept smiling as we acknowledged how important ambience is to the success of an evening.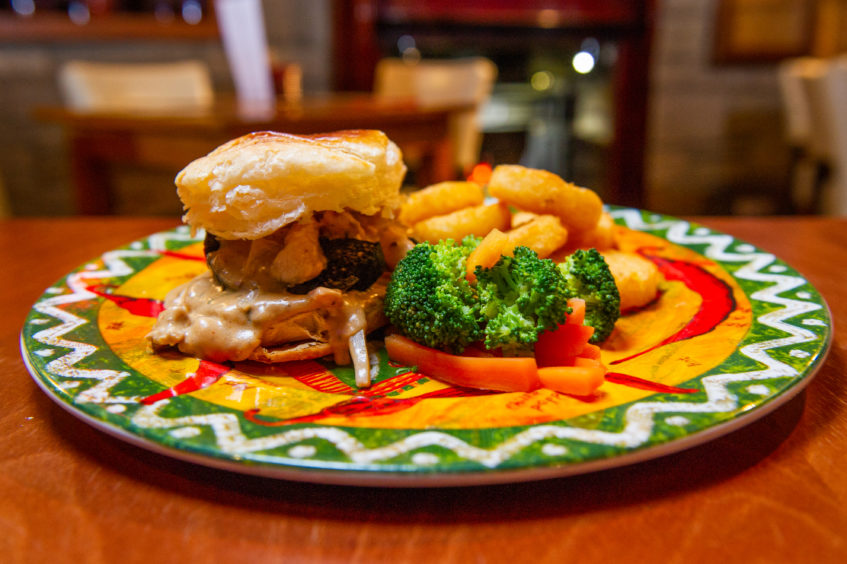 By the time The Creatures' fantastic cover of Mel Tormé's seminal Right Now blasted out I was putty in the hands of this wonderful idiosyncratic funhouse which did feel like looking out from an Edward Hopper painting.
The food was just what you want for a mid-week supper, which isn't to denigrate it at all or to say you shouldn't go at weekends.
It's just that there are very few places you can go in Dundee where you can get this kind of food – basically what we used to call great pub grub before the freezer and the microwave took over as head chefs – and sit in a lovely atmosphere and know you're not going to pay top dollar at the end.
This is a place built to please and one I would love to have near to my house. Dundee should be full of places like this, but the sad truth is that it isn't.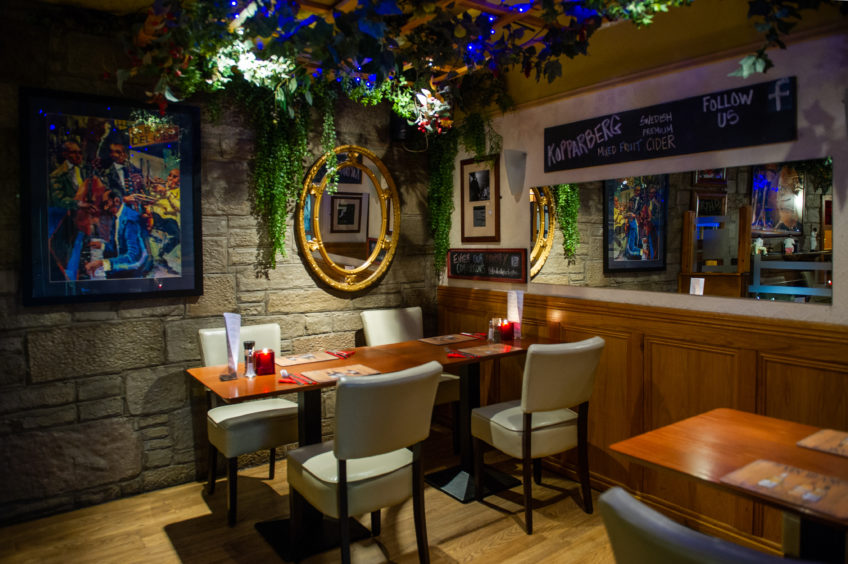 First bonus point is that vegetarians and vegans have a large and pretty impressive section of the menu to themselves. The second bonus point is that the superlative chicken pie is worth wading through swamps for and actually, it's so good that you just don't need any more bonus after that.
Our starters were santorini (£4.95) and sesame prawns (£5.45) and they were delicious. Santorini was the fanciful name for fried halloumi with a sweet chilli dip and it was just great, the texture of the cooked cheese rendered perfect by frying at a very hot temperature.
My sesame prawns were hot and spicy, having been cooked in a chilli sauce and served very simply on a bed of lettuce. Bread rolls were hot and delicious. Tap water is served in a jug.
You don't need to intellectualise anything here – you don't even really need to think. It's just simple good food and you order some wine and you have a great night, leaving the reinvention of the wheel, molecular gastronomy and worries about Armageddon for another day.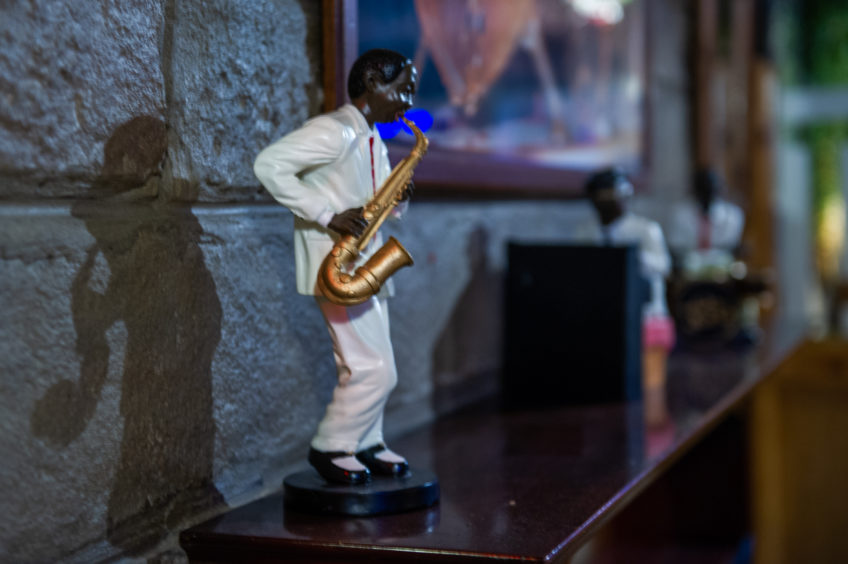 My chicken pie (£15.95) has already achieved such fame that it's called legendary on the menu. The addition of black pudding, bacon and onions, plus a wonderful cheesy pepper sauce made each mouthful a joy.
The potato rosti were, I think, too uniform to be home-made but I could be wrong and actually I don't much care when the pie was such a thing of delight. It was mildly over-salted but in an age of over caution, when you probably get a health warning on a cactus plant,  I welcome the odd bit of assertive seasoning, high blood pressure or not.
David's pizza (£10.95) was called Billie Holiday which seemed a tad random as we could find nothing relating to Lady Day either in its ingredients, construction or presentation – but it was delicious and rich and provided great comfort on a cold night, so maybe that's enough of an allusion to the voice of The Great One.
More prosaically, the chips (£3.95) were home-made and good, making an order of Billie Holiday and chips  not that weird after all.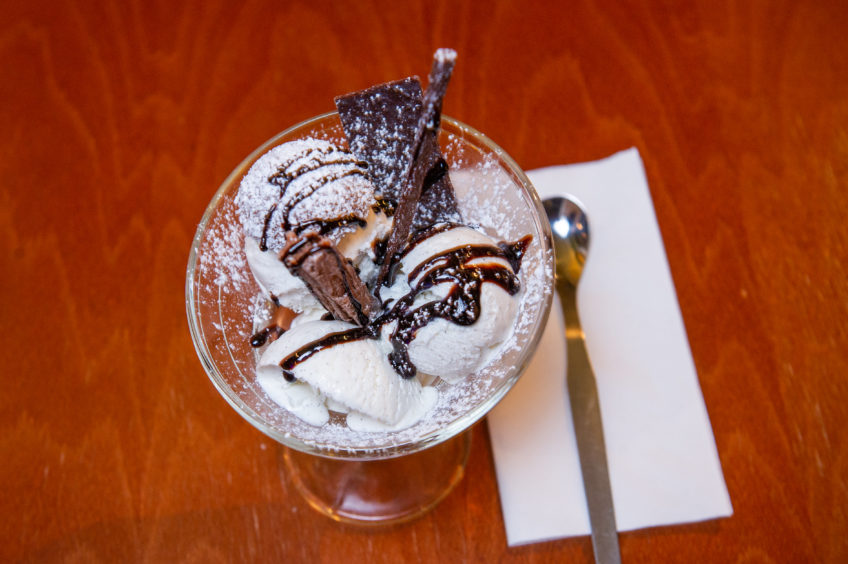 Desserts were seemingly assembled rather than made but, again, this fitted in with the idea of classic diner food. My vanilla junkyard (£5.95) was ice cream, snowball, Cadbury's Flake and chocolate sauce and was basically the taste of arteries hardening tempered by the sound of a body not caring.
David's Beiderbeckes '99' (£4.95) was the childhood thrill and reward of the ice cream van arriving on your street, but presented in a sundae glass. You could virtually hear the chimes as you ate it. We couldn't finish either dessert, perhaps proof enough that we have actually evolved in some small way from the gluttony of childhood.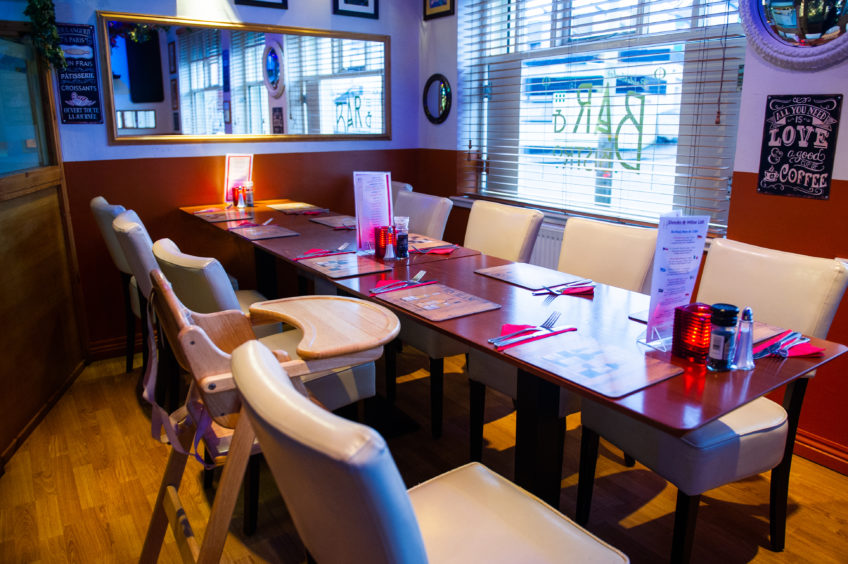 Beiderbeckes is a great place, imbued with real spirit. It feels independent, proud and caring. The food is never going to win awards but it's delicious and you will leave well-fed and happy. Service was wonderful. When I was paying I asked the waiter if they changed the menu very often, expecting him to say the usual stuff about seasonality and variety. "Oh no", he said, "we don't really change the menu much.
People like what we offer and they don't want it to change". And, you know, he's right. This is a place that has got it just right and has no intention of fixing something that isn't broken – and it's all the better for it.
Also anywhere that seats you under a very good drawing of David Bowie and within eyeline of John Lennon whilst eating the most wonderful chicken pie is always going to be fine by me.
Beiderbeckes Bistro
167 Brook St
Dundee DD1 5BJ
t: 01382 229440
Price: starters from £4.50; main courses from £10.95; dessert from £4.95
Value: 7/10
Menu: 8/10
Atmosphere: 9/10
Service: 9/10
Food: 8/10
Total: 41/50