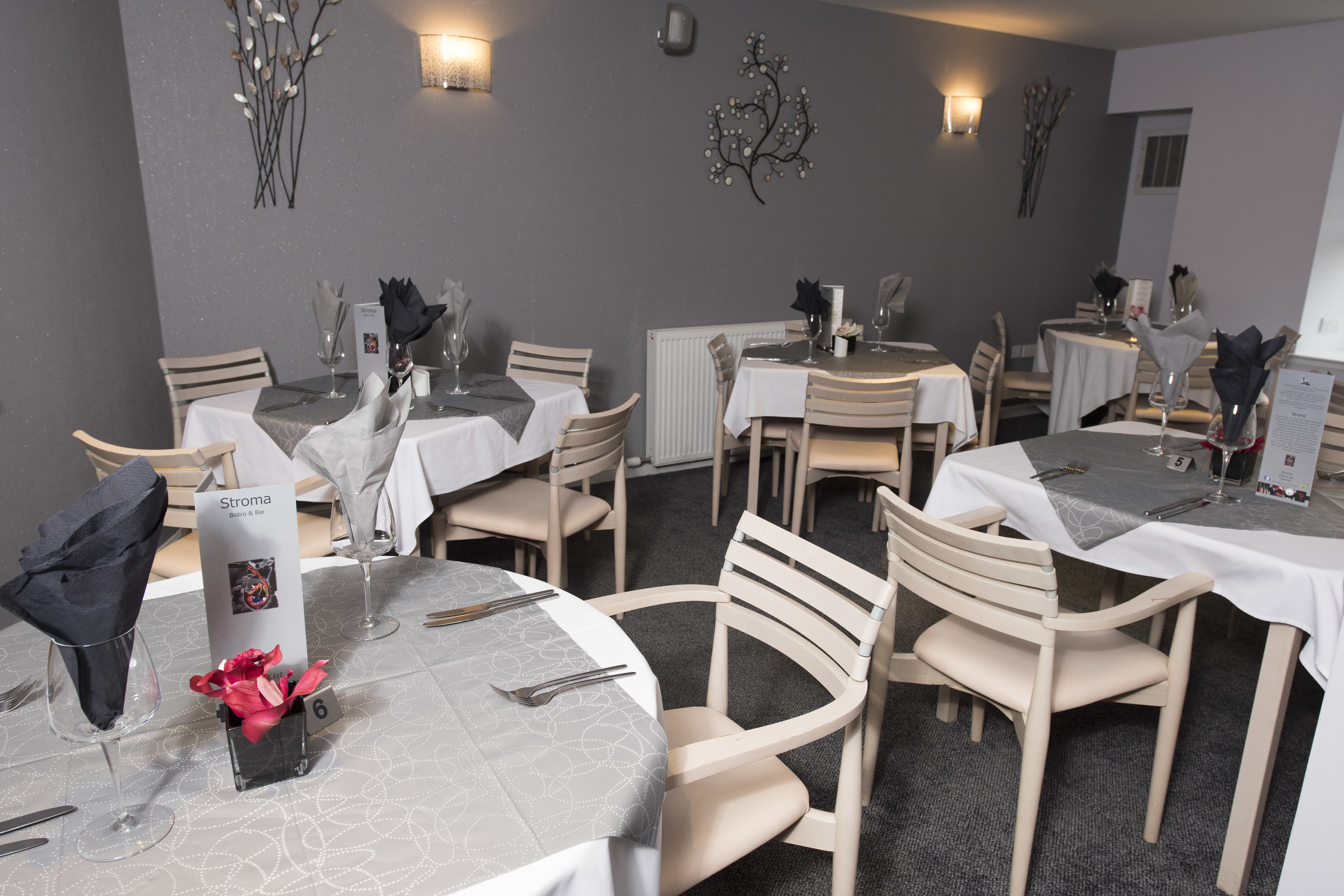 Formally established by charter by King David I in 1140, the Angus town of Montrose has existed for around 1,000 years – and the latest addition to its dining scene sets out to fuse elements of this heritage with modern tastes and flavours.
Once Scotland's cultural capital, harbouring key movers in the Scottish Renaissance of the 1920s, such as Hugh MacDiarmid, Violet Jacob and sculptor William Lamb, Montrose continues to boast a thriving cultural life.
Its newest attraction has opened at 1-4 Wharf Street in the shape of Stroma, the latest venture from Ali Rehmat and Audrey Smart, who also run several businesses in Forfar.
The restaurant sits beside a roundabout on the grand curve of the River South Esk, which bisects the one-time fishing community of Ferryden and Montrose proper. Ans, appropriately for its waterside setting, Stroma comes from the Old Norse word Straumr-øy which roughly translates as "island in the tidal stream".
The Viking Danes are said to have destroyed the first attempt at a Montrose settlement, on the other side of the Basin, in 980, and would have had to pass through the narrows here to attempt landfall.
There's no big sign outside the restaurant, although that's due to the necessarily fiddly conservation requirements rather than a desire to repel angry foes, but the longboats in the windows are a nod to what lies inside.
With a clean and modern interior, Stroma's calming colour scheme should put to rest any bellicose thoughts in the hungry invader and we could not have wished for a warmer welcome.
Unprompted, my partner and I were given an entrée to cushion our wait. We visited on a busy weekend and had expected a lengthy gap between ordering and service, but this wasn't the case. That said, the bite-size pakora and prawn cocktail was very flavoursome and got us ready for the main event.
To start, I settled on the beer-battered mushrooms, which delivered a happy crunch over a smooth earthy tone, counterpointed by the sharp vinaigrette on the side salad. My dining partner had red pepper and tomato soup, rosy in tone, roasted in flavour and really rather good.
So the the mains and I, for one, could not resist the steak diane. For years a staple of the showy, flame-at-the-table type of restaurant, there is still a place for the gutsy flavours of a rare steak with a quick-boil brandy cream sauce. The heating was left to the kitchen in this occasion but the steak, together with snappy green beans, melting onions and flathead mushroom added up to a decadent joy.
Ali turns his hand to all styles of cooking but has always kept a selection of homestyle curries on his menus. And with decades of experience in that area, we reckoned it would be rude not to try his reshmi.
This method of cooking chicken pieces gets its name from the marinade in which the meat is soaked before the grill. I sensed coriander, ginger and garlic from the nose alone, which complemented the pungent flavours introduced by jalfrezi style frying.
Buoyed by the starters and mains, we decided to push the boat out and go for desserts too.
The Malteser cheesecake was ho-hum, a bit dry with a relatively simple flavour and texture. But by contrast, the poached pear was a marvel.
Unless you happen to be standing by an unripe pear during the spectral hour ofthat one day when it is best to eat, the only way to really enjoy the fruit at its best is by cooking. Here, poached in red wine, the result was both dry and soft, and ably assisted by a dab of vanilla ice cream.
Sated, warmed and fortified against the nippy spring air, we said our goodbyes and took a walk along the wharf in the lengthening shadow of Bamse's statue – a tribute to Montrose's heroic wartime dog that still draws visitors – both feeling very pleased to have made the acquaintance of this new venture.
A place known for its artists and musicians, poets and ponderers should rightly have a number of places in which to lay one's thinking cap – and to fill up on some good food.
Info
Price: Starters from £3.95; mains from £9.95; desserts from £5.25; special dinner menu £13.95 for two courses and £17.95 for three.
Value: 8/10
Menu:  7/10
Atmosphere: 8/10
Service: 8/10
Food: 7/10
Total: 38/50
Address: Wharf Street, Montrose DD10 8BD
Tel: 01674 678411