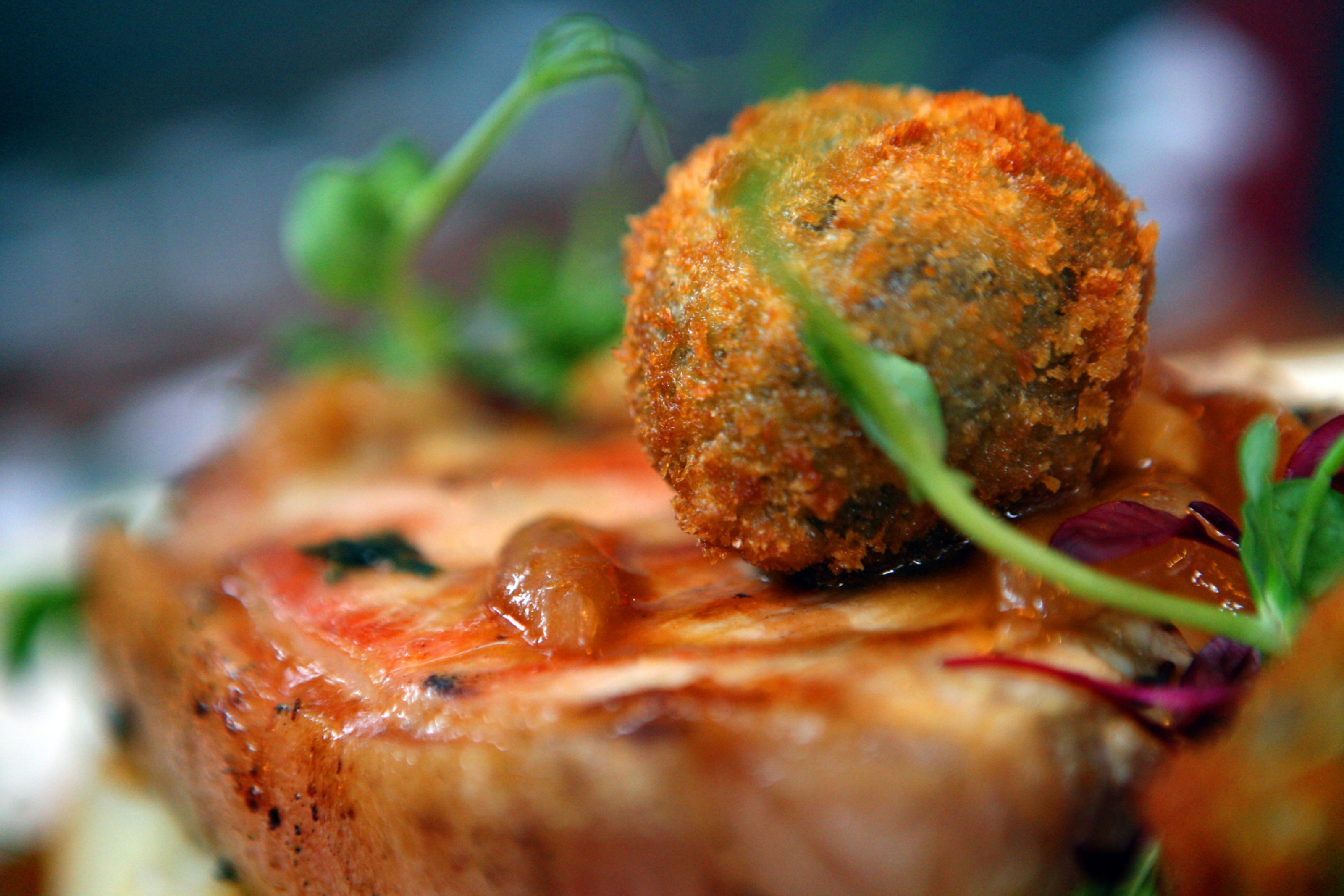 With lots of new places popping onto the foodie scene in Dundee, it becomes all too easy to forget the gems that have now been around for a while.
Whilst rejoicing in this problem, I paid a visit to True Kitchen (once called True Pizza) for a Friday night bite.
I must first mention the staff at this establishment. From the moment we arrived, we were welcomed like old friends. Our French/Irish waiter was utterly charming and we learned a lot about each other throughout the meal but without the service being intrusive of our family evening.
The setting is quirky yet cosy.  With industrial leather bar stools and bunting hanging over the tables, this place has a friendly and relaxed atmosphere.
The new menu, devised by the recently appointed resident chef who has been in place only a couple of weeks, has a lot to offer from bar snacks and burgers to more substantial gastro mains and with a section dedicated to pizza, staying to true to its original name.
Our table of three shared three of the bar snacks as starters. The baby back ribs (£4.50) were refreshingly not BBQ sauce coated but honey and mustard and although still satisfyingly sticky, the sauce did not overpower the dish and so the flavour of the tender meat could still be traced.
The confit duck wings (£6) were coated in a sweet and sour plum sauce which again, rather than being an out-of-a-catering-jar-sauce that is sugary but with little flavour, this coating was tangy and sour – a nice surprise.
Our last starter was the cauliflower pakora and Bombay potato (£3.50) which consisted of a generous cauliflower florette and baby new potatoes dressed in an Indian spiced coating which certainly had a kick.
On asking our waiter whether the bar snacks are all made on site, he returned from the kitchen apparently having offended the chef somewhat as "of course they are" – and it shows.
My other half fancied a burger for his main and not being able to choose from the selection of five on the menu, he asked our waiter to choose for him.  He was presented with the Chilli Burger, Beef Brisket and Smoked Kintyre Cheese (£13) and this choice apparently warranted a firm handshake for the waiter (I was relieved he didn't hug him). The beef patty was well cooked and the brisket added moisture and smokiness to the creation – the local cheese literally topped it off.
I went for the Four Seasons pizza (£11) – just to check that they were as good as I remembered and I was not disappointed. I only seem to eat artichokes when they are on a pizza but they just work, I am going to make it my mission to eat them in other circumstances.
Our guest went for the generously portioned Chargrilled Pork Chop, Celeriac Mash, Cider Gravy and Stornaway Bon Bon (£13.50). The hunk of pork was demolished in minutes and the accompaniments soon after. There was enough of the cider gravy to make this dish look and smell incredibly enticing and I think I will opt for this next time.
Despite our expanding bellies, we were contemplating dessert – with three choices on the menu and three people at our table, it seemed that fate had made the decision for us.
The Salted Caramel and Banana Parfait (£6) was well caramelised and on the verge of being bitter but the banana bread added a calming doughy sweetness.
The Rhubarb and Pink Pepper Cheesecake (£6) was lovely but I was disappointed with my White Chocolate and Cardamom Mousse (£6) as it had a slightly grainy texture. We had been gluttons for attempting another course and should have perhaps stopped after our main courses but we'll probably never learn.
For a Friday night, True Kitchen was not jam-packed which surprised me as the quality and value of the meal was first class. There is space for cosy and private tables for two as well as room for larger tables on the mezzanine level. Perhaps Dundonians are busy trying out all of the new hotspots and who could blame them, but I shall certainly be making an effort to remind myself of the old favourites.
Info
Price: Starters and bar snacks £3.50-£6.50; mains £9-£24.50; desserts all £6.
Value: 9/10
Menu: 8 /10
Atmosphere: 8/10
Service: 9/10
Food: 8/10
Total: 42/50
Info: Restaurant name
Address: True Kitchen, 2 Whitehall Cres, Dundee DD1 4AU
Tel: 01382 225023
Web: www.facebook.com/truekitchenbar/