Capitalising on fine Scottish fare
If you're taking yourself off to enjoy a bit of culture or comedy in Edinburgh this summer, sustaining the inner man or woman is something to factor into your day, as well as cramming in as many shows as you can stomach.
There are, of course, a host of city hostelries where you can grab a quick bite, often a very good one too. But if you fancy lingering a little bit longer over this part of your day oot, I would have no hesitation in recommending that you find your way to Field.
In spite of its bucolic name, it's in an urban side-street about equidistant between the Queen's Hall and the Festival Theatre and if you turn right out of the front door, you're a Fringe programme's throw from the university and the popular range of George Square venues.
Behind an unobtrusive frontage is a small venue – I counted 24 covers – plainly done out in sombre dark shades but very comfortable for all that. It goes for simplicity and straightforwardness at all levels although there is a stunning, whole wall-sized image of a rather fetching bull; symbol, no doubt, of the Scottishness and freshness on offer in this joint, rather than recalling the terse verse of McGonagall or the bovine version of the old farming joke whose punchline goes: "Ye dinna eat a guid pig like that a' at once!"
Field has been open for three years – it has a sister operation, Field Grill House, Stockbridge – under the eye of owners Gordon Craig, a chef who counts The Peat Inn amongst his credits and Richard and Rachel Conway, respectively maitre d'hotel and operations manager and formerly of The Wee Restaurant in North Queensferry. Its aim is to present Michelin standard food pared down to focus on the true essentials of seasonal Scottish produce.
The a la carte menu offers four choices each of starters, main course and dessert and while this might seem limited, there is no shortage of flavour and texture on each carefully assembled plate.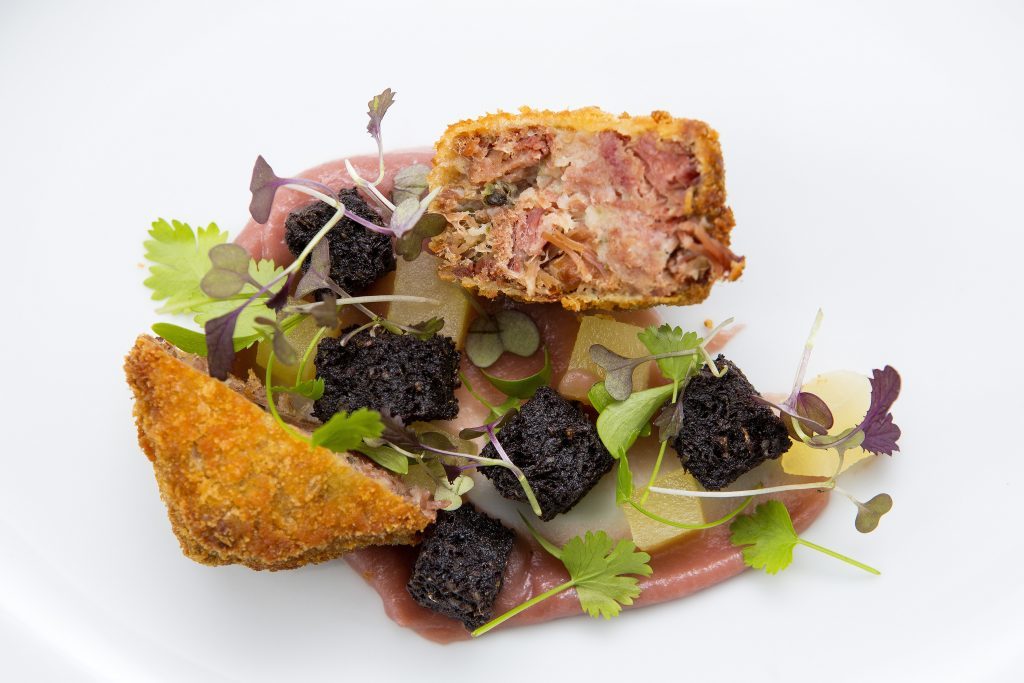 A jug of water, fresh bread (warm tomato and olive, scattered with sesame seeds) and pats of butter were brought as a matter of course and more was on offer if we wanted; all part of the service here.
I started with the delightfully retro-sounding ham hock rissole, presented with melting little cubes of black pudding, squares of cooked apple and a tart rhubarb puree (£6.50). This treatment brought this old favourite bang up to date with a punchy smokiness to the plentiful shredded ham and a lovely crunchy exterior. Himself opted for seared Scottish scallops with peas, black truffle and pine nuts, an inspired combination that was worth every penny of the £8.50 price tag. His main was roast fillet of cod with samphire, capers and a caper butter sauce, plus mussels (shell-less) encrusted with Japanese nori (or seaweed crumbs to you and me) at £14.95. This was a sea-borne spectacular and for someone who has often found cod a bit on the slimy side, this firm white fillet really took a trick, especially when combined with such interestingly textured extras. And for once, capers in a fish dish didn't overpower the main attraction.
My roast breast of Gressingham duck (£14.95) worked beautifully with an Asian style spring roll, packed with decidedly unmushy vegetables and given added depth by the addition of sweet potato puree and maple jus. Usually, you couldn't get me to look at the North American combination of bacon and maple syrup but somehow this duck dish fitted the bill (if you'll pardon the pun) perfectly.
The cheese board was lovely (£6.95), with fig and apple chutney, pickled grapes and oatcakes bringing out the best in generous wedges of Dunsyre Blue, Clava Brie, Anster, the Fife-made crumbly cheese that gives Mull cheddar a run for its money and a Bocage goat cheese. I couldn't resist stout ice cream, served with compressed apple and raisin crumble (£5.95); it was light and yeasty with a slight undercurrent of coffee about it.
This food is very good but it's also unpretentious which is not often something you can say about high-end Edinburgh. Each course has a completeness that goes to show the bigger picture has been thought about from the start – the vegetarian option of courgette and couscous cannelloni, for example, had the courgette standing in for the usual pasta, as the waiter explained to a nearby table, highlighting service that was quietly efficient and well-informed.
The wine list is a good one and there's some excellent value going on if you're in the mood to indulge a little. A glass of Ciello Blanco Unfiltered Cataratto at £5 looked like quaffable sunshine and we thoroughly enjoyed a bottle of Rioja Royal Tinto at £19.
Field could very definitely be the star of the show if you're out and about in the capital in August.
Price: a la carte from £4.95 to £24.95. The lunch and pre-theatre menu comes in at £10.95 for one course, £13.95 for two and £16.95 for three.
Food: 9/10
Menu:9 /10
Service: 8/10
Value: 9/10
Atmosphere: 8/10
Total: 43/50
Field
41 West Nicolson Street
Edinburgh
EH8 9DA
Tel: 0131 667 7010