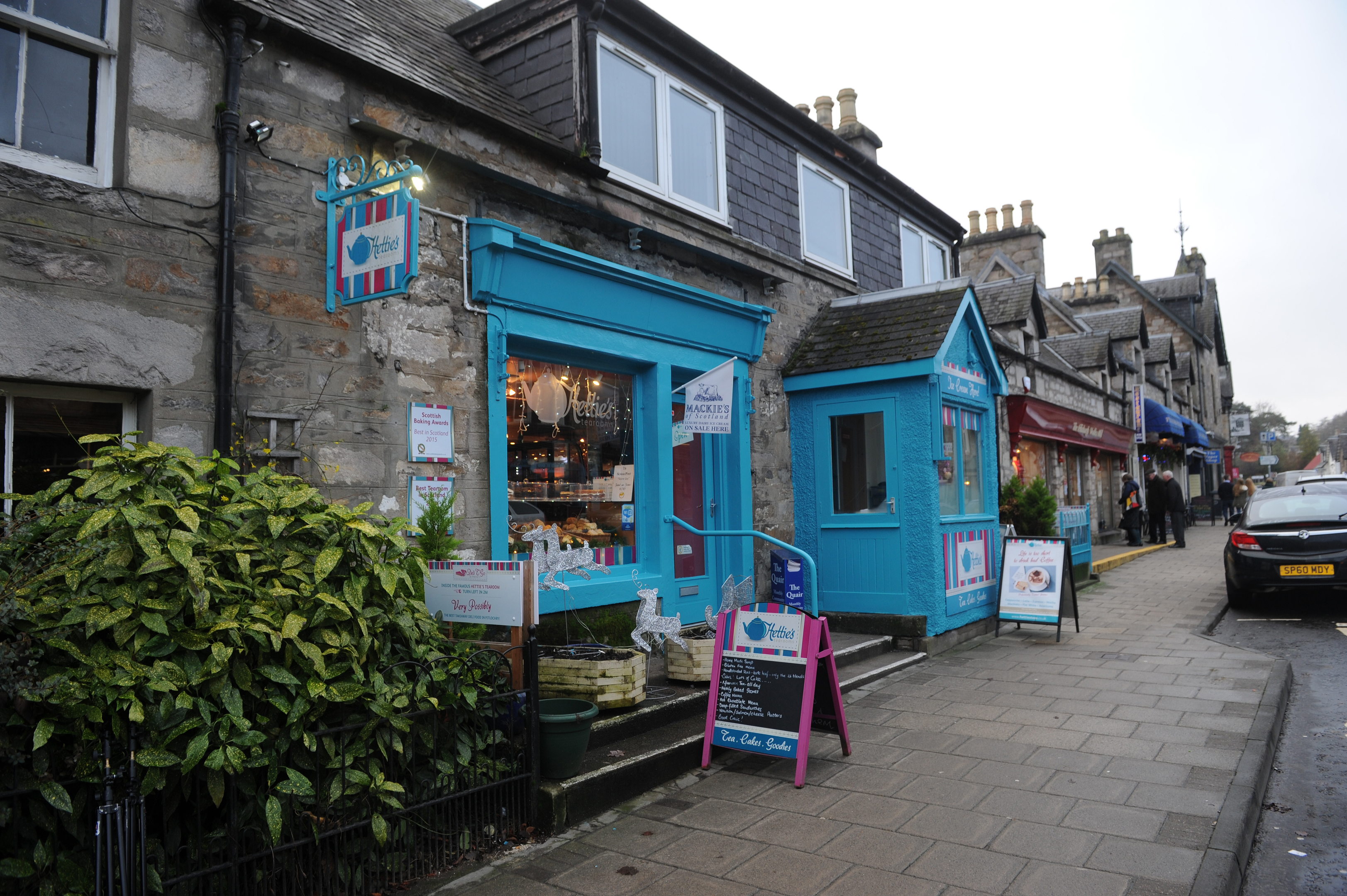 Having spent the last few weeks immersed in online Christmas shopping  I finally reached a point of being ready to leave my virtual world of bargain hunting and venture out into the wilderness of festive reality.
Not wanting to shock my system too much, we decided on a civilised and relaxed trip to Pitlochry to look around the quaint shops and have a spot of lunch. What better place to ease ourselves in gently than Hettie's Tea Rooms….strategically placed it would seem for Mr Kerry to override all of my frugal online savings as he purchased our combined body weight in boiled sweets from the the selection of traditional sweet shops in the town. Bah humbugs indeed.
Hettie's has a striking decor of bubblegum pink and aqua which brings its old fashioned style complete with mismatched china tea sets and cake stands more up to date. The few times I have been to Hettie's the tables have always been almost full but with just enough space for me which is the perfect balance in my opinion and a great advert when peering through the window.
Mr Kerry is a loose tea connoisseur and so the extensive beverage menu was right up his street. He chose the house blend which was served in a mini teapot along with an egg timer to let him know the optimum brew time. This was not strong enough for his liking so he left it longer but that's not to say he's not a heathen for liking it too stewed.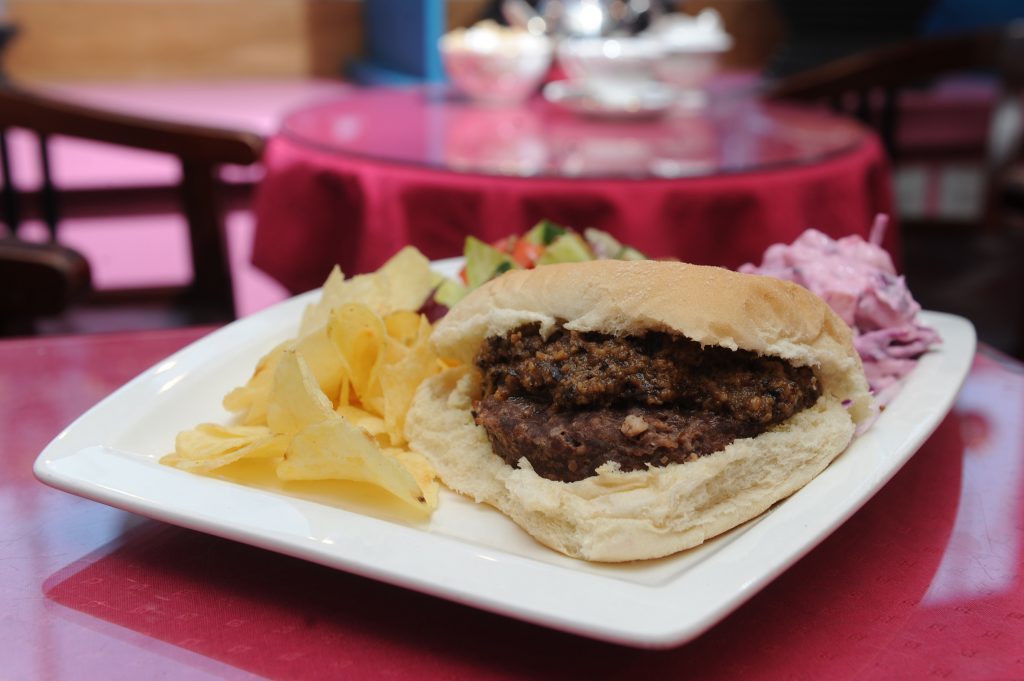 Although we knew that our afternoon would involve cake, we were hungry and so opted for savouries first. On the specials blackboard was one of my top three sandwiches of all time – the Christmas sandwich. I was sold without the need to browse any more of the lists of soups, salads, jacket potatoes or ciabattas. Served with house coleslaw, salad and crisps, my gastric juices were flowing at the thought of it.
I fear my expectations were just too high as I was imagining the Boxing Day sandwich I am so proud of making which evokes the need to lay on the cool kitchen floor tiles to overcome the gluttony. Hettie's version was made with incredibly fresh, soft bread but was sadly filled with processed turkey and stuffing and a smooth, syrupy, generically sweet sauce.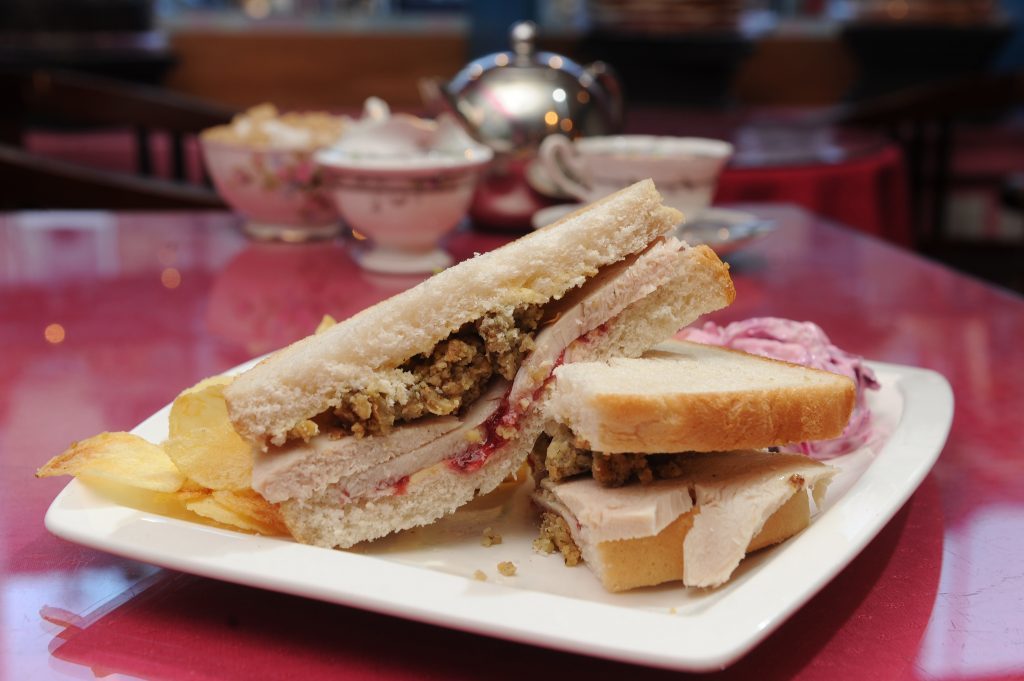 Mr Kerry's haggis-topped burger was fine. No charring or crispy bits but tasty all the same. The house coleslaw is bright purple as it is made with beetroot and has just enough of a vinegar kick.
The main event for us was the baking. We chose the cake slider which consisted of five "slithers" of the house varieties and to our joy, our waitress had a strange and very generous interpretation of a slither.
It is difficult to choose my favourite but at a push I would say either the lemon or the carrot. Inevitably we needed a box to take the majority home but this just extended our pleasure of eating them.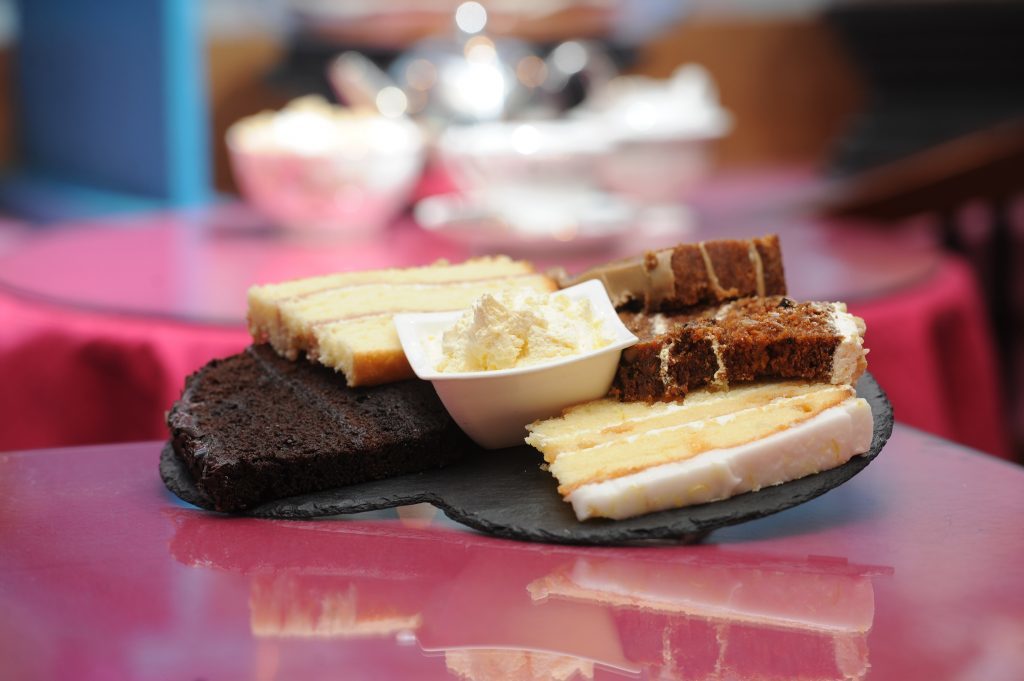 I can see how this place is such a popular favourite for so many – it is welcoming, friendly and seems familiar albeit slightly tired around the edges. Hettie's is a proper tearoom with delicious cakes, desserts and sundaes and that is how I will remember it. The savoury food was for me just an OK extra which delayed the enjoyment of the stars of the show.
Info
Price: Traybakes from £2.65, sandwiches from £5.95 and afternoon tea for two for £29.95
Value: 7/10
Menu:  6/10
Atmosphere: 7/10
Service: 8/10
Food: 6/10
Total: 34/50
Info: Hettie's Tearooms
Address: 93-95 Atholl Road, Pitlochry, PH16 5AB
Tel: 01796 473991