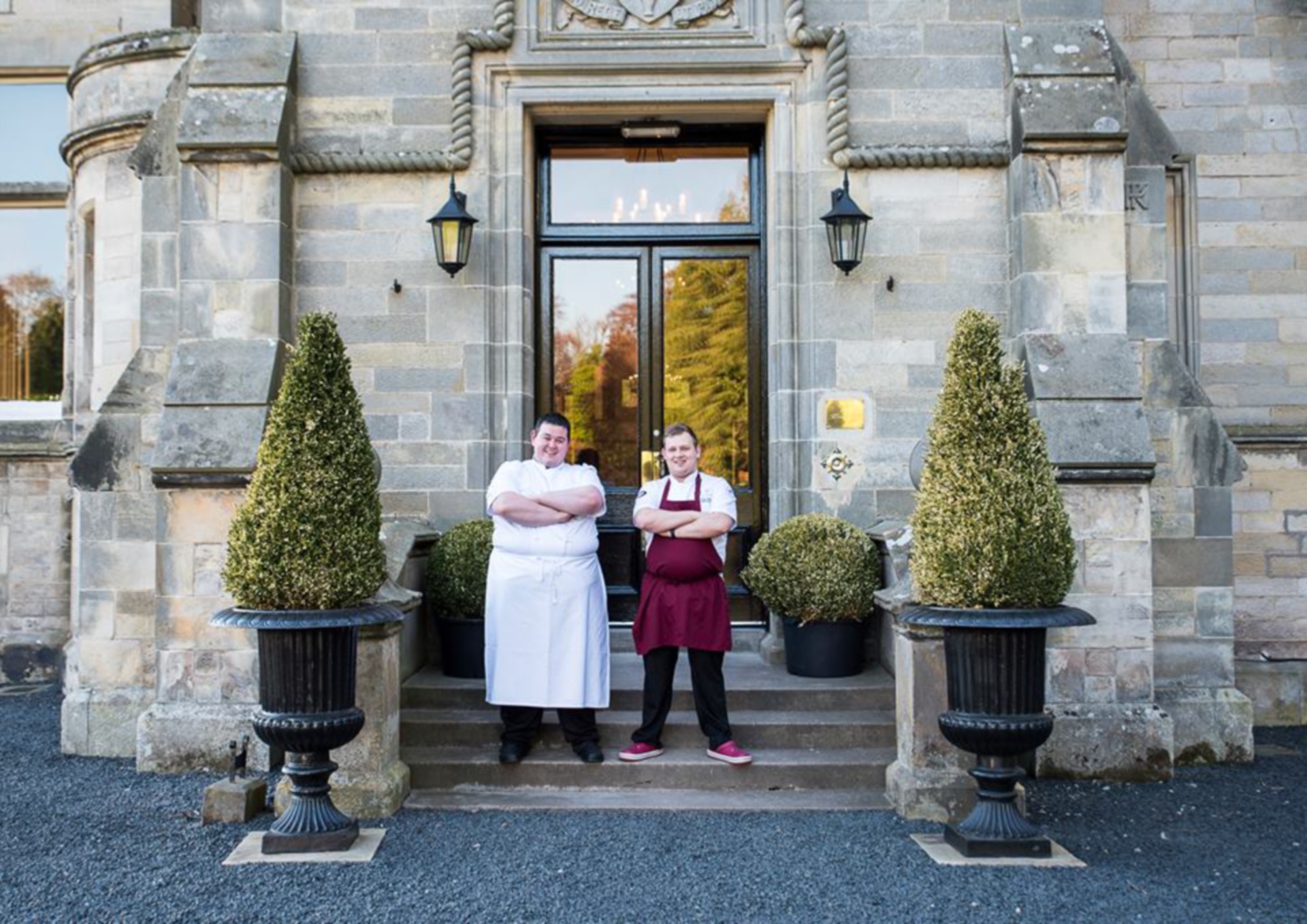 Living just a stone's throw from Kinnettles Castle, I've gazed longingly up at the stunning piece of Scottish baronial architecture every day for nearly five years, since I moved into my country cottage in the heart of Angus.
Perched high on a hill, it dominates the landscape for miles around and whether I'm walking the dog, pottering in the garden, or driving to work, I'm treated to a first class view of the imposing castle.
Discovering that the venue was hosting an evening with two of Scotland's top chefs – Adam Newth and Mark Heirs – I snapped up two places pronto.
The sun was dappling through the trees as we walked up to the boutique hotel and stood for a while, drinking in the marvellous views over the colourful patchwork of fields and hills.
Inside, we were ushered to the bar and offered a drink. Thursday night? It had to be prosecco.
Other diners were plumped down on comfy leather sofas and as we knocked back our glasses of fizz, we cast our eyes around.
The most surprising thing is perhaps the extent to which the 19th century castle has been modernised.
Yes there are grand fireplaces, ornate interiors and sweeping staircases, but it's been given an unexpected twist by way of decor and furnishings that are remarkably contemporary.
The website bills it as "a truly breathtaking baronial house steeped in character and charm" and that's a fairly accurate description.
There were 16 of us in the group and everyone was clamouring to explore the building, so we were treated to a tour, taking in the lavish wine cellar, roulette room, poker table and snooker room. Wow.
Then, the moment we had all been waiting for – dinner! And this wasn't just any old dinner – it was a SIX COURSE extravaganza created by two of the country's very best chefs.
First up was the Himalayan salt aged steak tartare, with black truffle emulsion and aged Parmesan, courtesy of multi-award-winning chef Adam of The Tayberry Restaurant in Broughty Ferry.
I'm usually a chicken and fish only kinda girl but this was not to be sniffed at!
Accompanied by aged Parmesan crackling, young rocket shoots and a quail's egg, the dish was a true work of art – a myriad of colours and textures, and a taste sensation.
Next up was Mark's offering – Arbikie Gin cured salmon with compressed cucumber and creme fraiche. The portion was dinky but bursting with flavour, the capers and lime relish adding a fiery kick.
Mark is a MasterChef finalist and a TV regular, and it really shows.
Onto the next course, oak smoked, pan fried coley fillet cooked by Adam – a dish which won an award in its own right.
Accompanied with crispy crab cannelloni, Jerusalem artichoke puree, lemon dressed pea shoots, sour compressed apple and some fancy greenery, this got the major thumbs up all round.
A bit of a break ensued while we drank more wine and loosened the belts. And then it was on to the fourth course – seared loin of roe deer with caramelised celeriac, cavolo nero (black kale), crowdie, beetroot and roasted hazelnuts, Mark's offering.
For someone who doesn't eat a lot of red meat, I loved this, and devoured every morsel.
Courses five and six, the lavish desserts, were out of this world.
Adam's poached rhubarb with lemon sable biscuit, rhubarb sorbet, ginger crumble and lemon balm cress kicked the backside out of any other rhubarb pudding I've ever eaten.
It helped that there was something that little bit special about the rhubarb – it had been force-grown which, as Adam explained: "It's been deprived of sunlight most of its life so when it's given sun, it shoots up quickly, giving a much more tender stem and a brighter colour."
The finale – Mark's chocolate dessert – was wickedly delicious.
His name for the dish was simply "80% chocolate" and I guess that pretty much nails it!
This indulgent pudding, with its luxurious mousse-like texture, consisted of a three tier chocolate delice, chocolate and Guinness ganache, blackberry puree, fresh and candied blackberries, and was topped off with a grating of 100% Peruvian black cocoa. Heaven on a plate.
Despite the fact we had consumed a staggering six courses and quaffed a fair bit of wine and prosecco, we didn't feel uncomfortably stuffed, which is either a sign that our waistlines are expanding, or, I prefer to think, a sign of perfect planning and portioning.
Thus, we were able to while away a few hours downstairs in the casino room, before staggering home with head torches.
The night was a roaring success and thank goodness, Kinnettles is planning to host more of these, with guest chefs coming in to tantalise the taste buds every four to six weeks.
The event is billed as Casino at the Castle.
For more information, see www.kinnettlescastle.com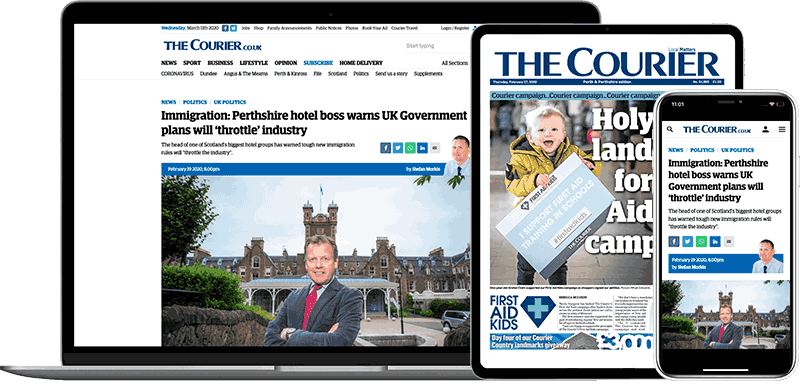 Help support quality local journalism … become a digital subscriber to The Courier
For as little as £5.99 a month you can access all of our content, including Premium articles.
Subscribe