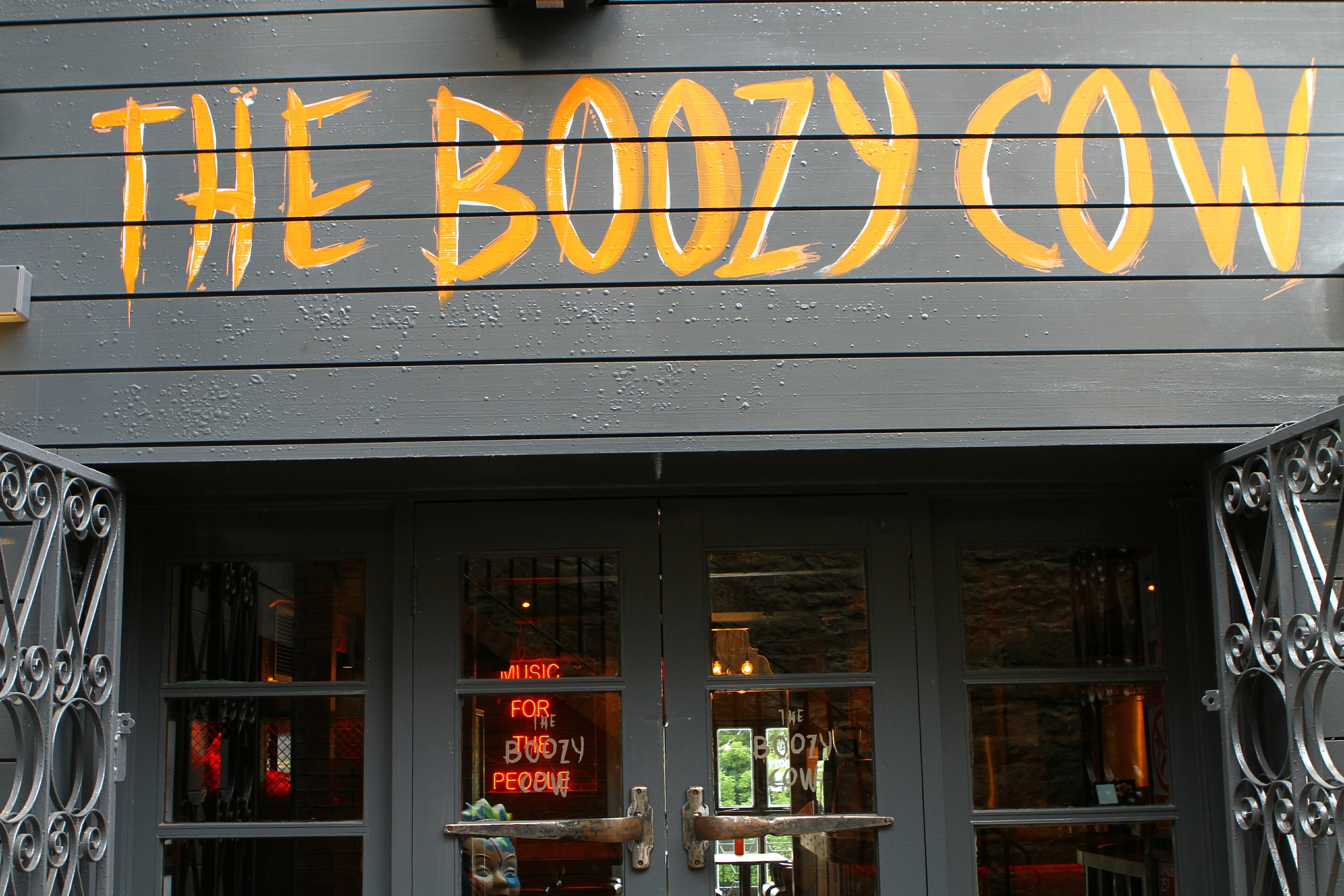 It's that time of year again when the sun gets higher and the layers of clothing get fewer.
Once, the only worry in dusting off last summer's wardrobe was checking everything still fitted after the winter hibernation. Now, with not just another year notched up but also a baby I'm increasingly asking myself 'Is this really age-appropriate?'.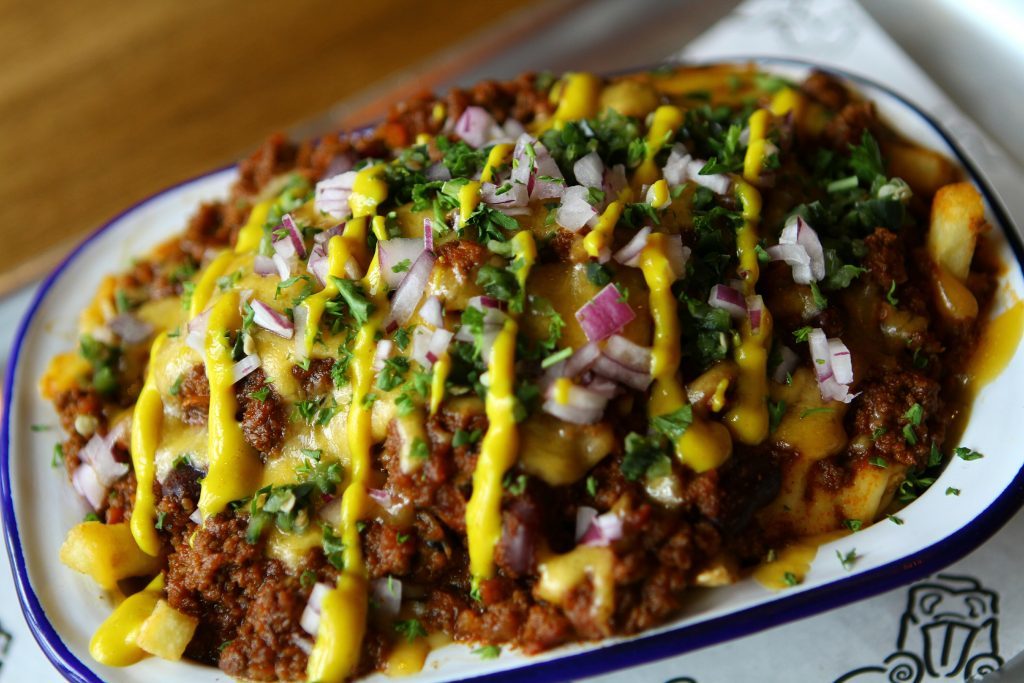 I approached this week's review from a similar position; the Boozy Cow has arrived in Dundee and despite Mr Kerry suggesting it was named for me, I couldn't help wondering if it was really my thing.
There's a twist in this Boozy Cow's tale that I'll save until later, but the formula for the franchise in Edinburgh and Aberdeen is to fuse cool, hipster chic with gorgeous staff serving an amazing array of cocktails from tin cans and other wacky glassware, alongside gourmet burgers with no cutlery.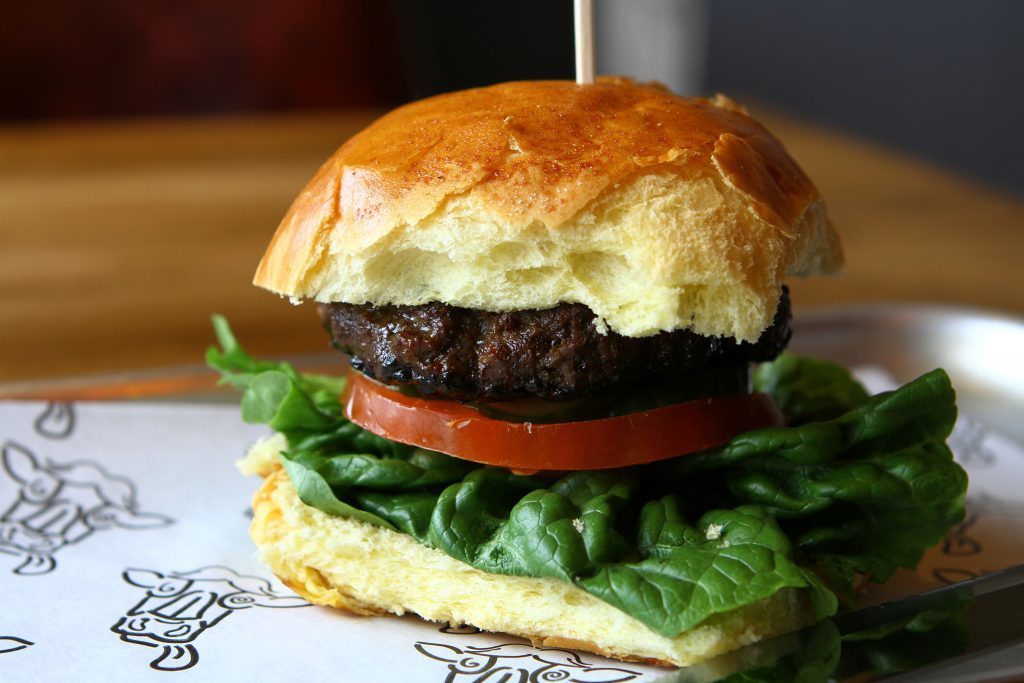 This one is slap bang opposite Dundee University so is clearly aimed at hungry and thirsty students and the rest of the cool crowd.
With this in mind, the virtually ancient Mr Kerry and I persuaded his son, a burger-mad 13-year-old, to come along and boost our street cred.
Just a short trot from the Perth Road on Roseangle, the Boozy Cow has taken over the building that used to be Laing's – the scene of many great nights in the past – and stepping through the doors, even early on a Tuesday evening, was like walking into a party in full swing. The clientele seemed to be largely in their early 20s, all looking happy and evidently free from any study-induced stress.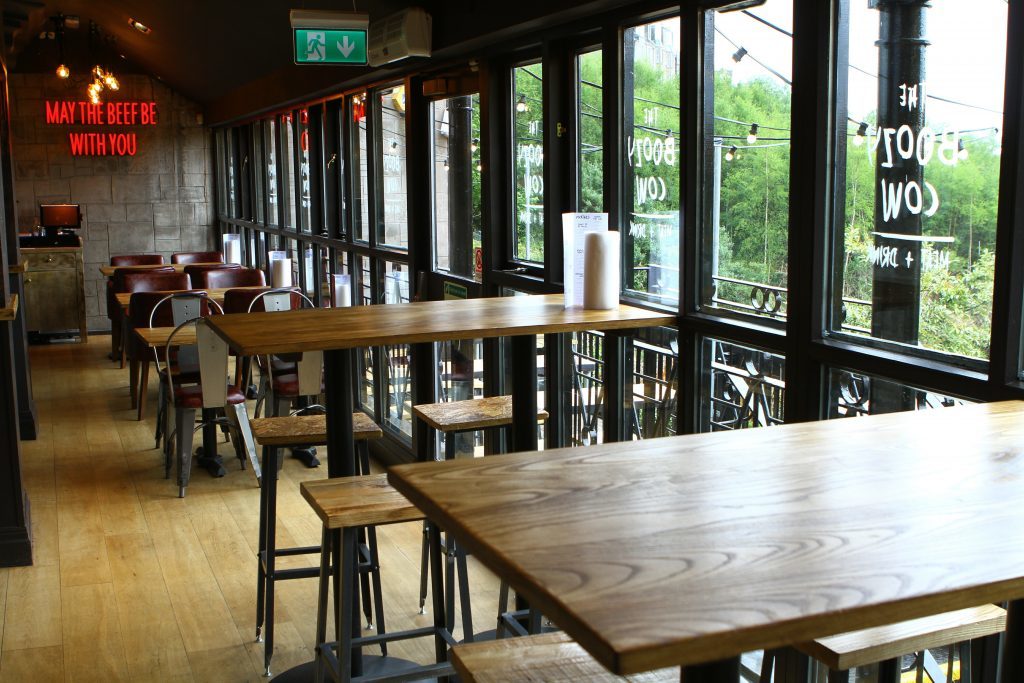 There are plenty of high stool tables and a huge bar area if you just want to enjoy a frivolous cocktail. Out the back there's an extensive balcony to tempt more than just the smokers and an amazing lower garden area, large enough to hold a whole herd of revellers.
The décor is unashamedly hipster; rough hued wooden floors, funky warehouse filament lighting, effortlessly authentic graffiti – heavy on the bovine imagery – and an eclectic mix of chairs pulled up to zinc-topped, wooded industrial tables.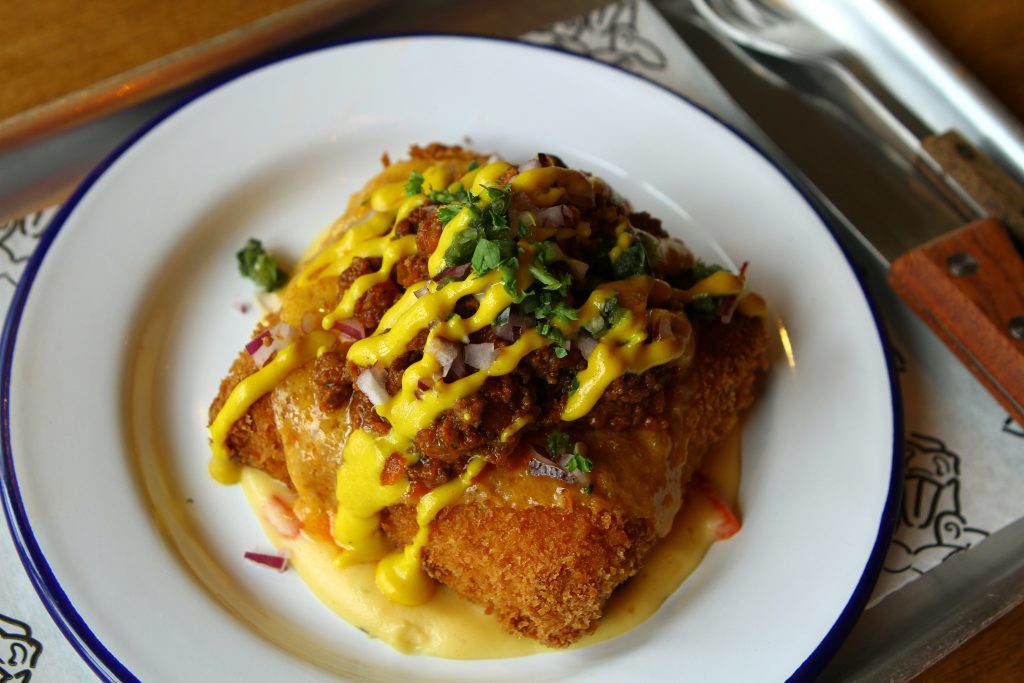 I loved the cocktails list and with close to 100 to choose from it will take me a while to get bored with it. Mr Kerry's mini-me pronounced the Oreo milkshake "like the best pudding you've ever tasted but in a glass" and the range of conventional and craft beers was superb.
As the place was still gearing up to being fully operational there was no pre-booking and, arriving at 6.30pm, we were told the wait for a table would take an hour. We took one of those buzzing discs to tell us when we could be seated and settled down for a spot of people watching and food envy.
Aside from three salads, the menu is a carnivorous carb-fest, right through to the smoked bacon ice cream, and it's clear they take their food very, very seriously here. All of the beef comes from the owners' own cattle in the Cairngorms National Park so by the time we placed our orders we were ready for a meaty feast.
Our teenage burger expert demolished the classic BC burger with a speed that made us wonder how he had even tasted it. He had, he insisted, and not only that, it was the best burger he had ever had. Quite an accolade.
The food was all served on metal trays and although cutlery was found for us when we asked for it, it seemed more appropriate to just dive in. It felt strangely liberating to unleash my inner cave woman as we all tucked in to the Katsu chicken burger.
Expertly cooked, it blended tang with a moist meaty flavour. Our sides – fries smothered in chilli and cheese and amazingly crispy onion rings – were served in portion sizes that would make Desperate Dan think twice, but these were also devoured.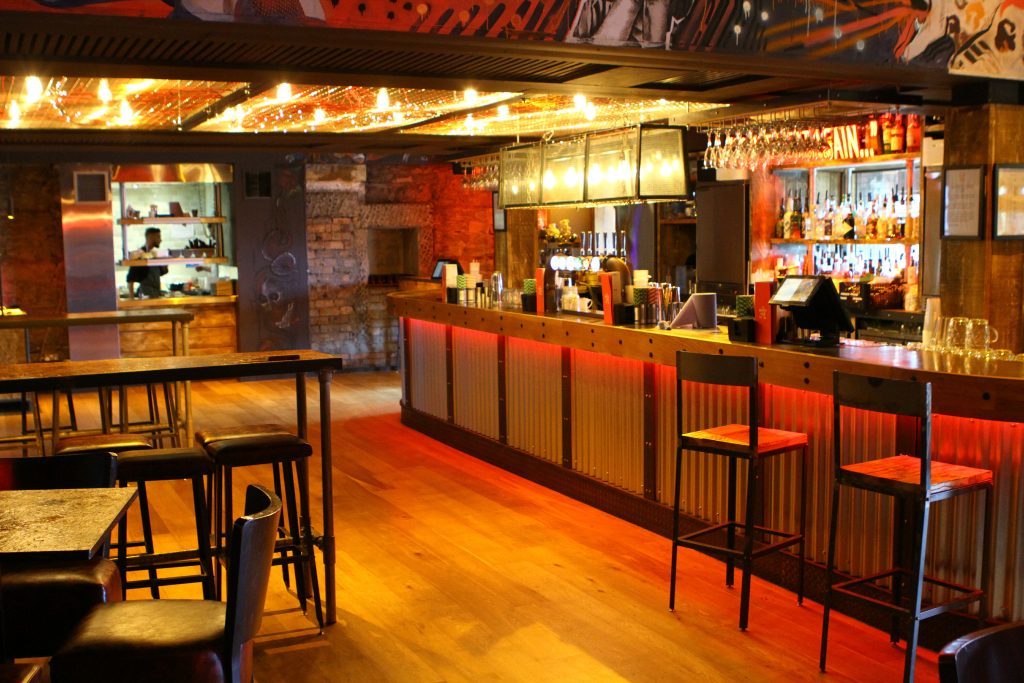 They do the conventional really well here but there's more substance than spin to the theatrical stuff too. I'm not sure I'll be repeating the mac 'n cheese waffle topped with chilli beef, onion mustard and diced jalapenos any time soon but that's the point of this place; take the everyday and be a bit more adventurous with it.
And on that note, if you go – and I really urge you to go – trust me, the smoked bacon ice cream actually works.
And that twist? Garreth Wood, the owner and inventor of the Boozy Cow formula, is as passionate about philanthropy as he is about hospitality so every penny of profit goes back to local charities.
He's raised a small fortune already in Edinburgh and Aberdeen so you can come here knowing that the cost of your amazing dining experience will find its way into the deserving pockets of five Dundee charities.
Boozy Cow is first and foremost a great bar and restaurant but that's quite an attraction on the side.
As we got up to go I realised I'd forgotten my great age almost from the moment we joined the party. It only occurred to me when we overheard the rowdy chorus of "Happy Birthday" from the family behind us. Nan was 70 and the delight on her face showed she felt just as much a part of the scene here as the students milling around her.
I might need to let the skirt out a bit after that meal but I'll leave the hem high for another year and wear it with pride on my next visit. At the Boozy Cow, you're as young as you feel.
Info
Price: Burgers: £7.50 – £9.25; sides and waffles: £3 – £6.25; shakes and floats: £4.50 – £6
Value: 9/10
Menu:  8/10
Atmosphere: 9/10
Service: 8/10
Food: 9/10
Total: 43/50
Address: 8 Roseangle, Dundee, DD1 4LR 
Tel: 01382 226222
Web: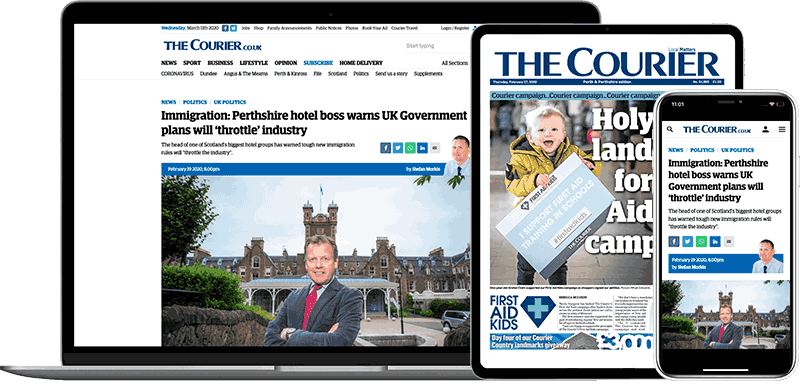 Help support quality local journalism … become a digital subscriber to The Courier
For as little as £5.99 a month you can access all of our content, including Premium articles.
Subscribe