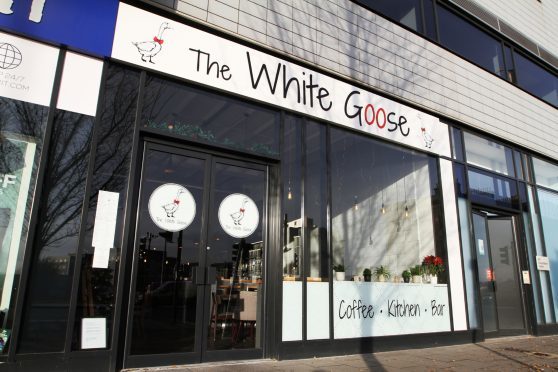 We tend to have favourite places to go, depending on our mood or the occasion. The cute cocktail bar for a night with the girls, the candlelit posh place for a romantic dinner, or the place with great pancakes for brunch with the kids.
It is rare to find a restaurant that caters for all situations, and that would be very high on the list of choices no matter who you were dining with and when. My friend and I had the great pleasure of having lunch in The White Goose this week and we discovered that this gem of a place does just that.
Recently opened and run by a young couple, Lauren and Calum, The White Goose sits on Dock Street, the perfect place to relax and watch the waterfront regeneration take place. They have years of experience in restaurants between them and have decided to go it alone with their own venture in Dundee. The all-in-one room bar and restaurant has a slightly edgy industrial feel, with the exposed warehouse-style vents and stripped wooden tables, but despite the high ceilings and cool metal, it is warm and relaxed and smells of fresh baking and coffee – a heady mix.
My first thought when I glanced at the menu was that I wished I'd left my car at home as the cocktails looked delicious. There were some lovely twists on classics and some I hadn't heard of. They have even recently teamed up with the locals at Ogilvie Vodka to create their very own White Goose cocktail, which sounds divine. Alas, I did take the car and so to punish myself, I ordered a Green Goose smoothie. I knew this would be health in a glass as the ingredients included kale and avocado but actually, it was creamy and rather pleasant.
I really, really liked the menus. We were given a smaller card with the brunch options and a larger main menu. There was nothing mundane on it aside from the steak and ale pie. Each dish had something about it that set it apart from others in its genre. One of the burgers, for example, is a chorizo and manchego burger with Mexican corn. The flat iron steak does not predictably come with fries and a roasted mushroom, but with udon noodles, chilli and garlic. Each dish was interesting and inviting and I couldn't wait to dive in.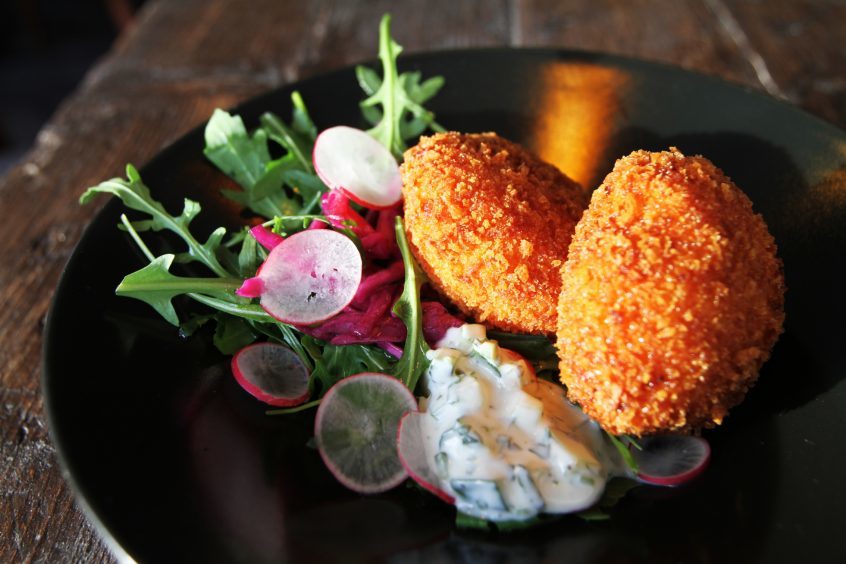 My friend and I chose to stick to the grazing section in order to sample more of the dishes. We knew we were bound to over-order as we were hungry but at our request, Lauren guided us in her bubbly and enthusiastic manner. We had to coax it out of her that actually this was her venture as she was incredibly modest but deservedly very proud.
Our delicate grazing plates soon arrived and we had chosen a great selection. First up were the oozy and sticky sweet potato and manchego bites which had been crumbed and fried an served with a jalapeño and mint dip which cut through the sweetness to add a zing.
The in-house rhubarb vodka cured salmon was sliced thickly like Gravadlax and had a lovely tangy yet sweet undertone. It was served with delicate, cooked rhubarb, intense ginger slices and rye bread. It could maybe have done with a dollop of something to top the bread stack but it was really tasty regardless.
I was particularly excited about the crab and mango taco, which didn't disappoint.  The shredded sweetness of the crab was not ruined by the addition of mayonnaise and the mango added to the freshness. Served with tzaziki in a crunchy taco shell, this was a lovely little lunch item or starter.
Our last plate was the corn frits which were a kind of thick pancake made with sweetcorn which made it feel wholesome and hearty. Although the sweetcorn had flavour, on its own it would be leaning towards bland but clever Calum had added an avocado salsa into the mix which turned it into a complete dish.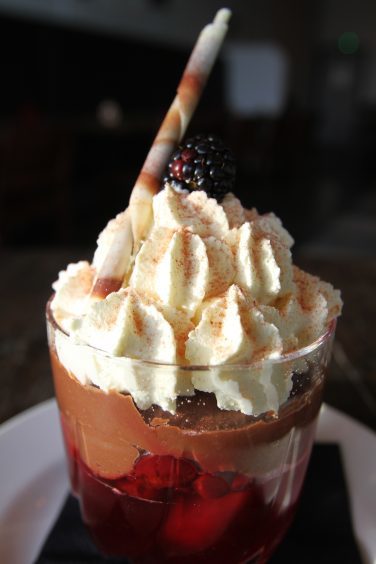 Having been afraid we had ordered too many dishes, in actual fact we hadn't and breezed through them without issue. We did also order the garlic hasselback potatoes which were the only slight disappointment as we should have just asked for another of the grazing plates.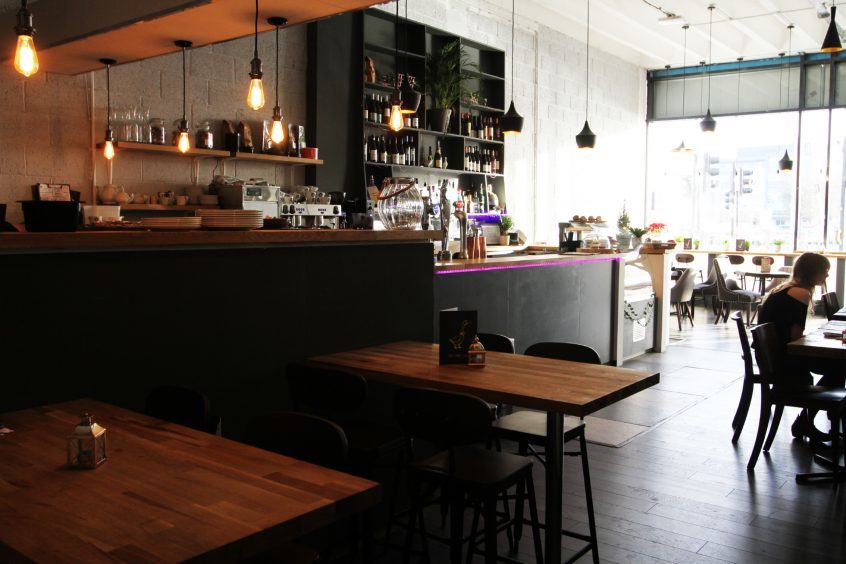 Obviously we had to sample the sweet stuff and so I went for the low calorie option of chocolate and cherry trifle. Now this I did only manage a few spoonfuls of as it was dense and rich and heavenly. My friend's chocolate tart wasn't half bad either.
The White Goose offers so much to Dundee. A place to go for great coffee and perhaps a pastry, a tasty brunch, lunch or dinner with cocktails and a fab wine list. This is one that can't be pigeon-holed into a specific genre as it is doing a fantastic job of excelling at them all. In fact, if I could, I would happily arrive for a coffee, be tempted by brunch, graze throughout the afternoon and hit the cocktails at six. Lauren and Calum are young and passionate and clearly have a great talent for what they do and I wish them every success with the fabulous White Goose.
Info
Price: Grazing plates: £4.95 – £11.95; Main courses: £7.25 – £19.95;
Value: 8/10
Menu:  8/10
Atmosphere: 8/10
Service: 9/10
Food: 8/10
Total: 41/50
Info: The White Goose
Address: 44 Dock Street, Dundee, DD4 7BE
Tel: 01382 221504
Web: www.facebook.com/thewhitegoosedundee/