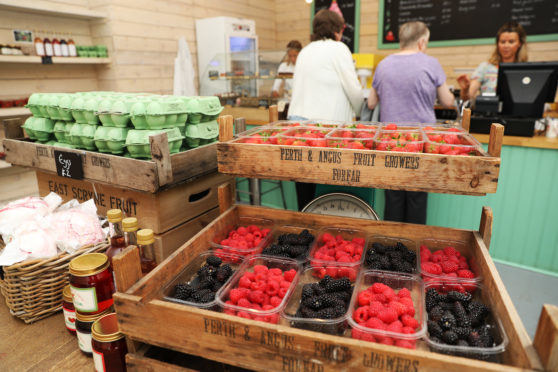 As we bask in the glory of the warm summer sunshine and admire Courier Country and all it has to offer, this week my little girl and I celebrated the strawberry. Of course she loves a chocolate biscuit, but given the choice, she'd reach for the juicy fruit every time.
Since becoming a  mum, I have been trying to see things through her eyes and nature seems to provide the biggest wonder. The strawberry is an exquisite example with its vibrant colour and plumpness ready to burst with sweetness. Even once it is smushed across chubby fingers and giggling chops, the berry red colour remains. I can absolutely understand what appeals to little ones, and indeed grown-ups, with these yellow-freckled, green pixie hat-wearing delights.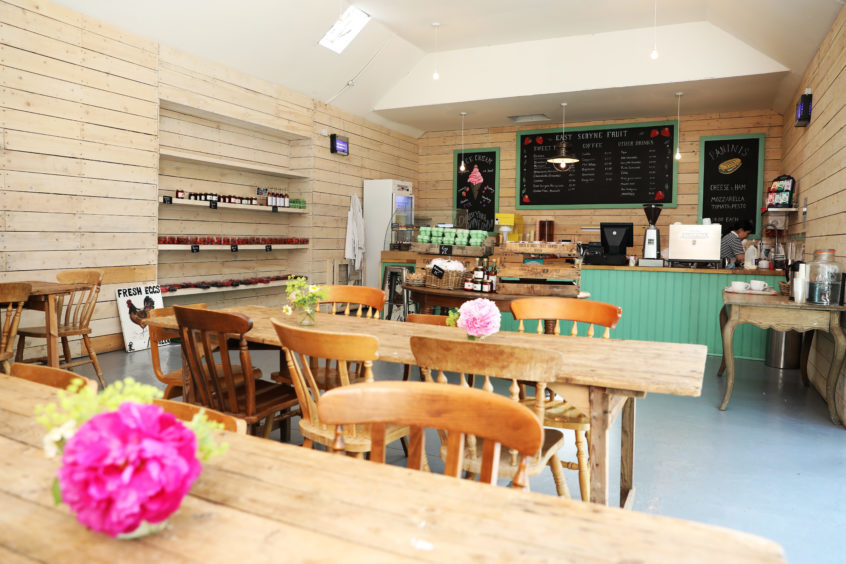 Clearly we are spoilt for choice when it comes to soft fruit in the area and all of it divine.  We took a wee trip this week though to East Scryne Fruit Farm just a little bit inland from East Haven, as they have a coffee shop where we could enjoy our treats in comfort.
The cafe is part of the fruit farm itself and so the outside is alive at this time of year and, I would imagine, any time of year with muddy boot-wearing workers and agricultural vehicles. The shop is the cutest little stone building at the end of a track with bright turquoise  doors and woodwork. There are benches for customers to sit on outside as well as a little play area for children.
Inside, the decor is simple, clean, rustic and quaint. The wooden tables and chairs are adorned with fresh flowers in jam jars and all eyes are drawn to the shelves of berries and counter displaying many other sweet treats. The smiles of the girls behind the counter were as sunny as the late June sky and staff were not only jolly and knowledgeable about their wares but also really interested in us and our customer experience.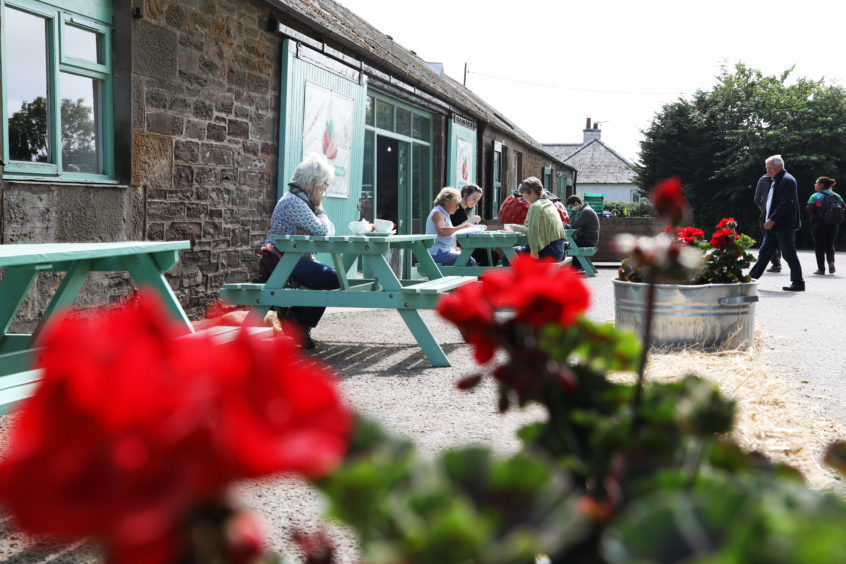 One may be forgiven for thinking that such a rural and rustic retreat may simply serve standard urn-style hot drinks – but not at East Scryne. Roasted whole beans are used to create lovely coffee served in simple mugs so even smart-phone addicted city dwellers can get their flat white fix here.
Although a choice of nice-looking paninis are on offer for those wanting a lead-up to their sugar fix, we were keen to get stuck in to the sweet stuff. Once we approached the counter, the versatility of soft fruit became apparent. The choice was agonising so I decided that we would simply order for the toy dog and his imaginary friend as well as ourselves.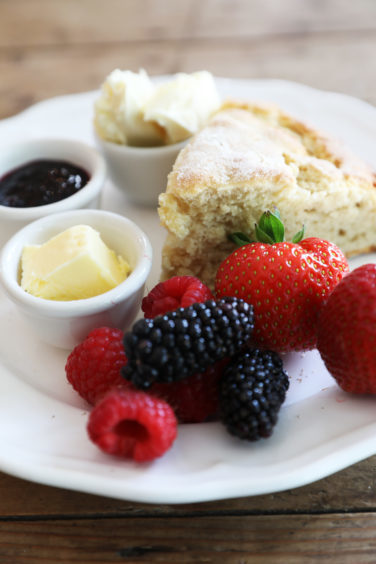 I had heard great things about the scones, which I had never seen in a triangular shape before. The recipe, I am told, is top secret and has been passed down through generations but whatever it is, it turns out crumbly yet not dry, doughy yet not stodgy vessels upon which to spread thick cream and, of course, home-made jam, although they would also be rather tasty on their own.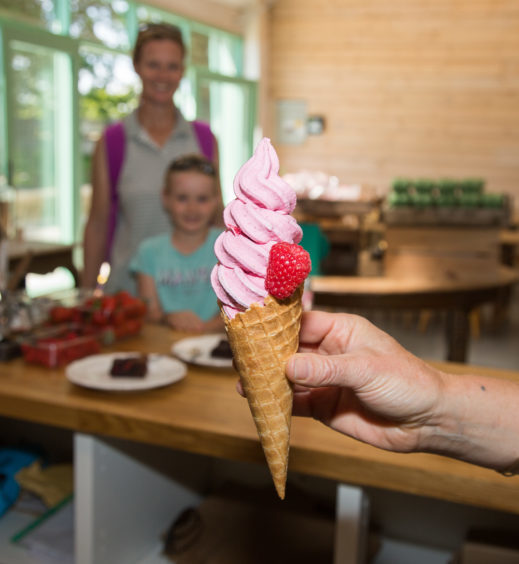 Next we turned our attention to the strawberry brownie. This deeply chocolatey square was so deliciously dense and gooey that I wasn't sure the strawberry would even be noticed but actually, although sticky and sweet, the swirls seemed to inject a bit of freshness to the bake. Fabulous.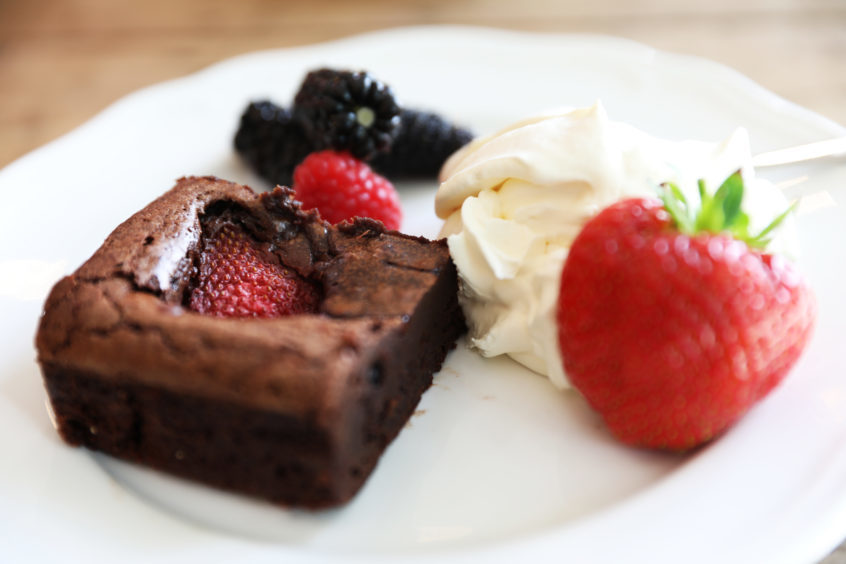 Now for the ice cream. The farm has a wonderful machine which takes in tubbed Mackie's vanilla, mixes it with a fruit of choice and tuns out a stream of lightly whipped wonder into either a tub or cone. It is so lovely to see each bespoke order being created right in front of the customer. I know some people who dislike strawberry ice cream but my instinct is that their hatred comes from the days of synthetic-tasting Neapolitan in a box. This is so very different as it actually tastes of strawberries and not just chemically enhanced flavouring. We loved it.
Now, to mention more desserts would make me seem gluttonous but nevertheless, the giant puff-ball meringues were certainly a sugar hit but with a pink swirly strawberry sheen that was hard to resist. We did manage to stop there although the fruit tarts looked particularly enticing too.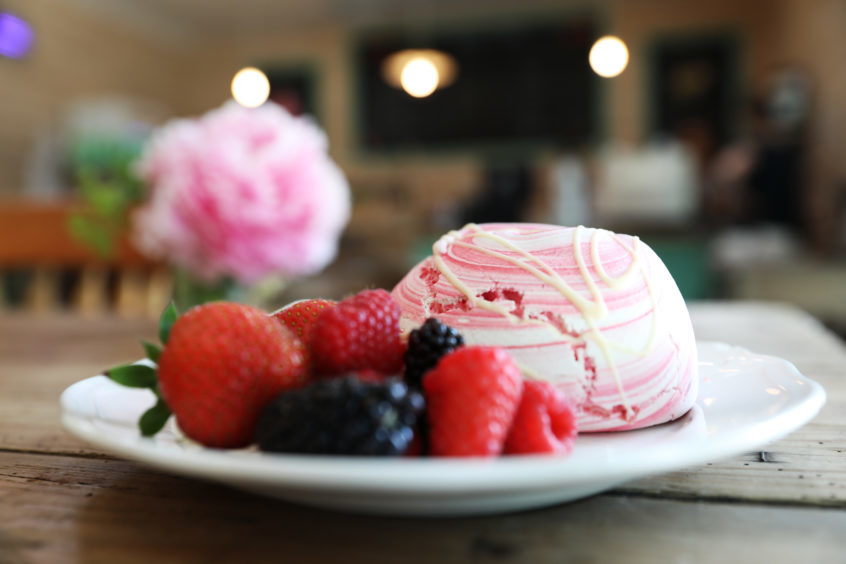 Family-run East Scryne and their artisan bakers have created wonderful things but of course, the strawberries themselves are the star of the show. We couldn't walk out of the door without buying a punnet and some wonderful Appley Ever After apple and strawberry juice, created just a couple of miles away, which tasted every bit as divine as I had hoped it would when I got it home.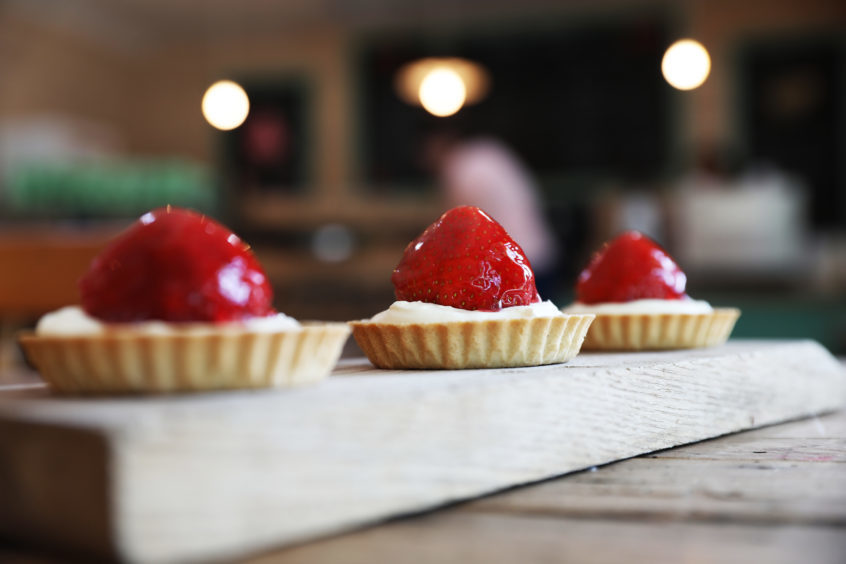 Although I had a child with me, the farm shop attracts everyone from groups of walkers and cyclists to couples having a quiet lunch. I loved our girly time and am looking forward to the days when my little one is big enough to play on the hay bales with the other children in the garden of the coffee shop, running back to me every so often for another slurp of strawberry smoothie. I felt like we had retreated to a place where life was natural and uncomplicated in a Darling Buds of May  way and I shall be taking Mr Kerry there soon to indulge further.
Info
Price: Paninis: £5; ice cream from £2; scones, cakes and bakes: £1 – £3
Value: 9/10
Menu:  8/10
Atmosphere: 10/10
Service: 10/10
Food: 9/10
Total: 46/50
Info: East Scryne Fruit Farm
Address: East Scryne Farm,Carnoustie, DD7 6LL
Tel: 01241 852895
Web: www.eastscrynefruit.co.uk