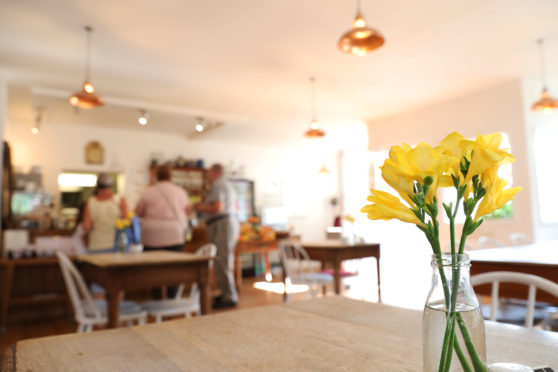 There are many places in Courier Country that I drive past regularly, wonder about, and never visit. This week, I didn't just gaze out of the window at the white building with the big tree painted on it on the A90, I actually stopped there for lunch.
The Chestnut Tree Coffee Shop can be seen from the main road from Dundee to Perth and is also conveniently located by a bus stop.  From the road, it is hard to tell what the cafe will be like and it was only once we pulled into the car park we got the feeling that we had stumbled upon a little gem.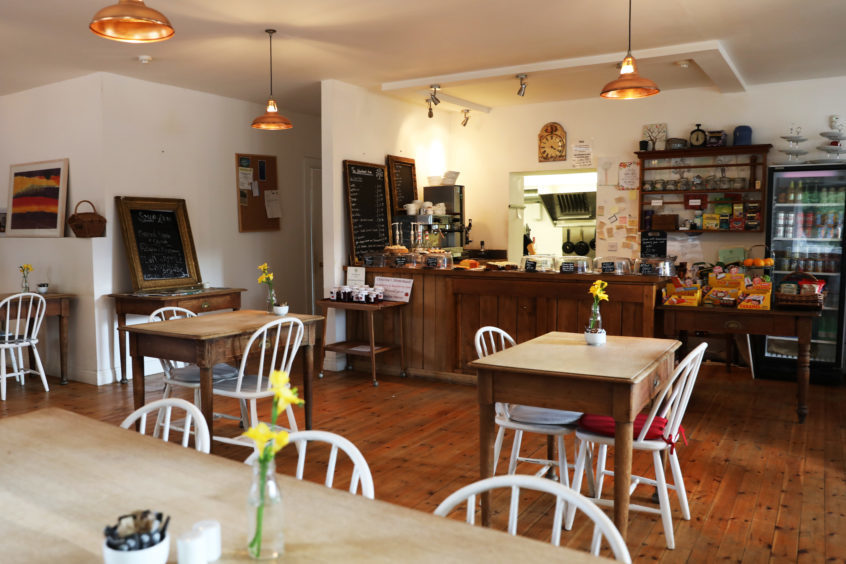 The cafe is a family-run affair and owned by the same family as the antiques centre next door. What a delightful afternoon could be spend browsing pretty things and eating even prettier ones. The interior of the tea room is really, really cute. Nothing particularly fancy, just stripped back wood and injections of character such as the quirky copper pendant lights and the teapot light hanging in the porchway.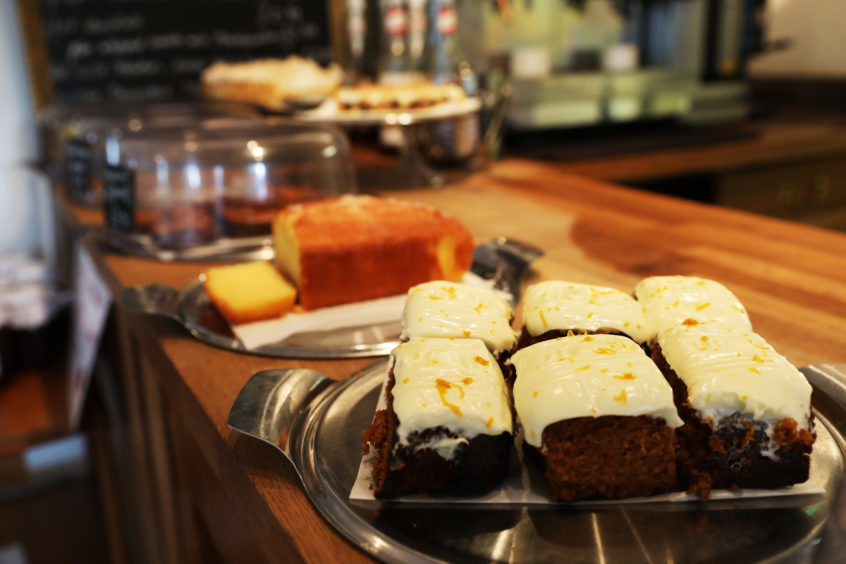 There is a box of toys for the younger visitors and bowls of water for the four-legged customers, and the whole place has a warm, cosy and inviting feel. It is simple but pretty with flowers on the tables and smiles on the faces of the staff. The main attraction for the eyes though is the row of incredibly enticing home made cakes sitting under glass domes on the counter.
Although there is a menu of items always available, the cakes are baked daily and change depending on the changing seasons and produce. They are available for one day only and once they're gone, they're gone. A whole new supply is then baked for the following day. There's no chance of a stale bake here, that's for sure.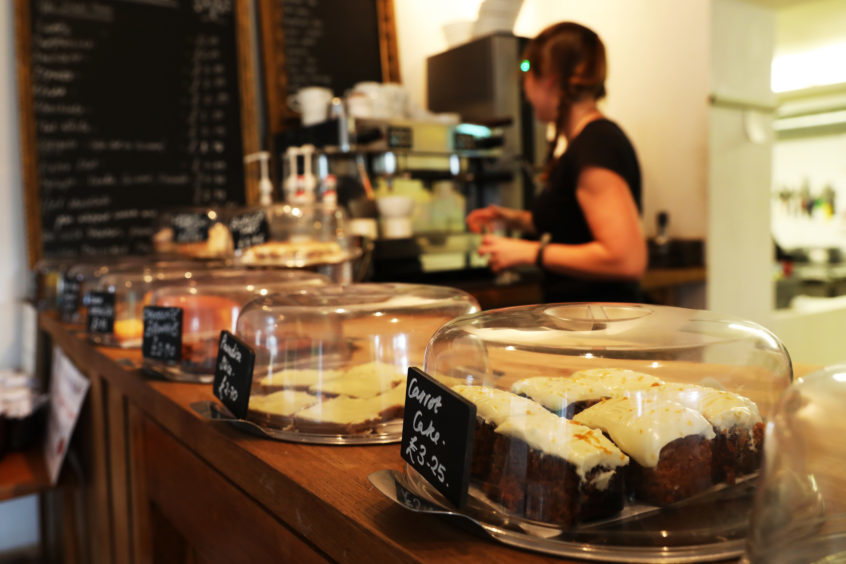 As we were standing at the counter, wondering how on earth we were going to be able to limit ourselves to just one slice each, we overheard (were eavesdropping on) an exchange between staff and a regular customer. It transpired that he often makes a journey from England to Scotland for work and, despite Glencarse being a significant detour, he stops by for their chicken, bacon and avocado sandwich. I can't think of higher praise than that for a cafe and so at least that was one decision made.
A supermarket chicken and bacon sandwich does absolutely nothing for me. Hard bread, anaemic chicken and floppy bacon smothered in a nondescript, mass produced white goo. No thanks. This version, however, bore absolutely no resemblance to that particular disappointment. The bacon was indeed crispy, the chicken had been pan fried giving it both colour and flavour and the mayonnaise had been spiked with chipotle, adding an extra punch of flavour. With the addition of a fresh avocado salsa, crisp lettuce and cherry tomatoes, this is a sandwich jam packed with quality ingredients, with each one being made to order.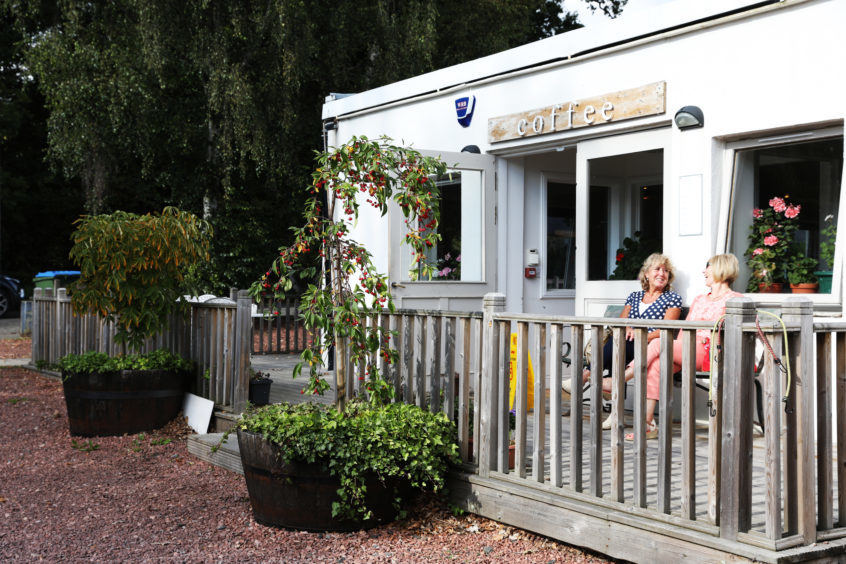 Other classic filings such as roast beef, with a choice of mustards and cheese and chutney, are also available as well as toasties and paninins and a home made soup. What caught our eye though, on this chilly Scottish day, was the "dippy" eggs and soldiers. This has to be comfort food at its best. I would agree that this could not be considered fine dining but I love the fact that it appears on the menu as sometimes, this hits the button perfectly.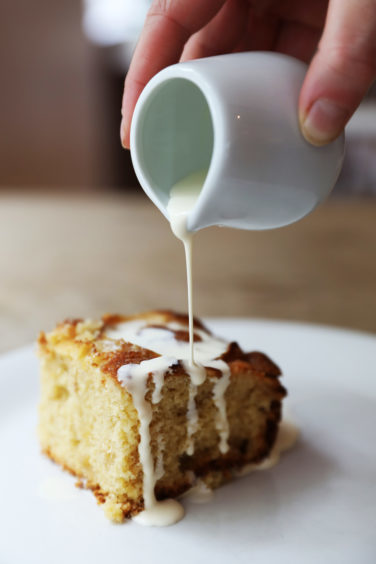 Having gazed lovingly at the apple cake, I asked for a slice and fully expected the glass dome to be lifted, the cake cut and plonked on a plate there and then but oh no, not here. This moist, sticky cake, made with Perthshire apples, was served warm with a squirt of cream for good measure and oh my was it heavenly. The sliced fruit kept the bake pudding-like, yet the sponge surrounding it was so light. This one should be winning prizes at local country fairs for sure.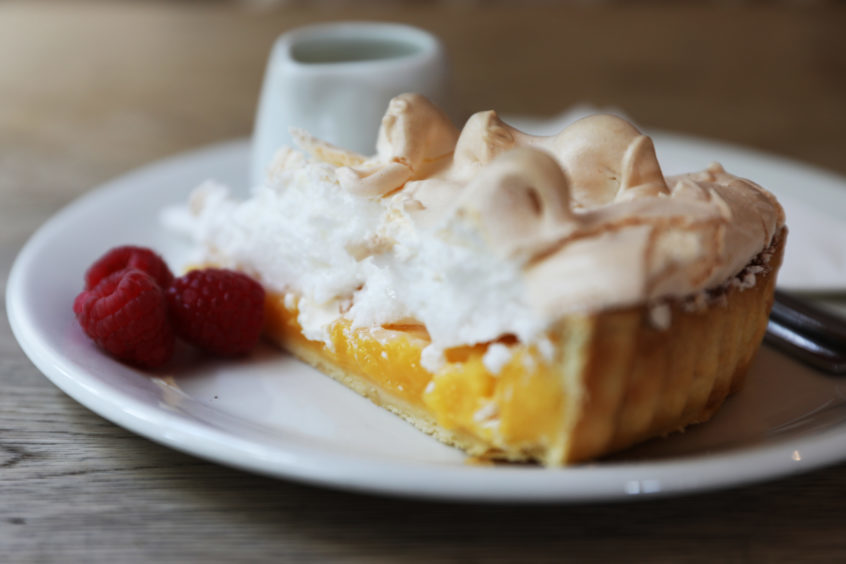 Our other choice was the lemon meringue pie as it sat proudly at the end of the counter just daring me to try it. Once again, I was blown away. The pastry was delicately thin yet held in all the deliciously sharp lemon filling. The pillow of marshmallowy meringue may as well have been floating on the top as it was so light but retained a lovely crackly crust. This was a fabulous pie and again served with a good dollop of cream for added naughtiness.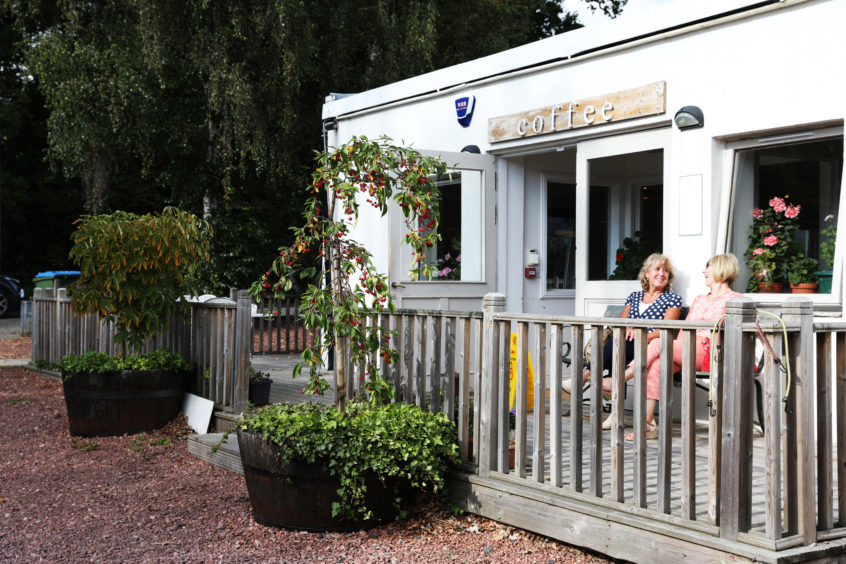 I had fully intended to not finish the pie so that I could try something else but it just didn't happen and I snaffled the lot. We both had coffee which was great and available to take-away as well as sit in. The cafe clearly has a wealth of loyal regulars as customers were greeted as friends and the comforting question of "your usual?" was heard several times during our visit.
The Chestnut Cafe is an honest, simple, family run coffee shop. It has warmth in abundance, a cheery disposition and a great selection of outstanding cakes and treats.  My only worry is that my journey to Perth will now take an awful lot longer if I give in to temptation every time I pass.
Info
Price: Breakfast: £2.35 – £7.95; sandwiches, toasties & paninis: £4.75 – £7.25
Value: 8/10
Menu:  8/10
Atmosphere: 9/10
Service: 9/10
Food: 9/10
Total: 43/50
Info: The Chestnut Tree
Address: Main Street, Glencarse, PH2 7LX
Tel: 01738 860504
Web: www.facebook.com/The-Chestnut-Tree-Coffeeshop-839045789524951/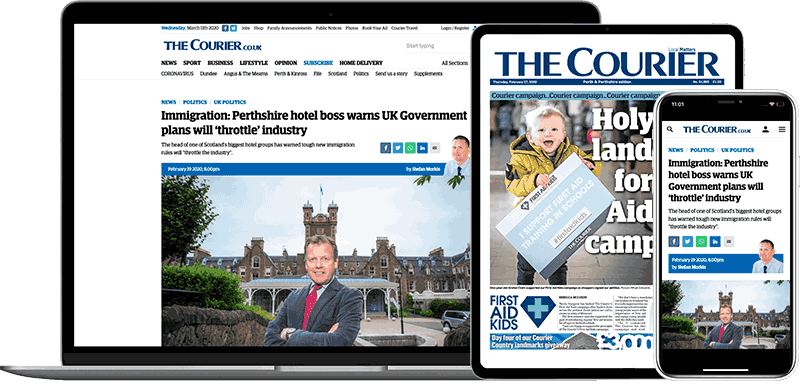 Help support quality local journalism … become a digital subscriber to The Courier
For as little as £5.99 a month you can access all of our content, including Premium articles.
Subscribe