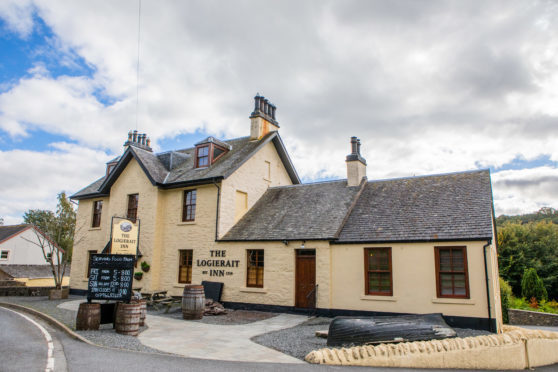 Many restaurants like to blow their own trumpets, and understandably so. They claim "the best scones in Scotland" or "winner of the best pie 2018" and I totally understand that.
I have driven past The Logierait Inn so many times and have always been intrigued by the sign outside which states "We do good fish and chips". Not the best, not even great, but good. Could their modesty be a clever way of enticing people in for a real treat? There was only one way to find out.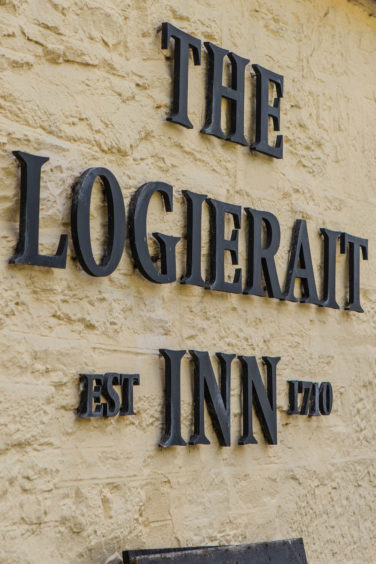 The Inn itself is a cavern of nooks and crannies. The feel of it reminded me of a lovely ski chalet with lots of warm woods and fabrics. A fire was lit in one of the rooms and there were interesting paintings, newspaper clippings and bric a brac adorning the walls. This feels like a family-run place and even the toilets have been designed with space and large mirrors to make customers feel relaxed and comfortable.
We were shown to our table and left to not only peruse the menu but take in the way the Inn operates. They have gone for a "pubby" approach as at the end of each table are buckets packed to the brim with cutlery, stacks of glasses and napkins.
What caught my eye though was the waiter call button. A small black plastic device was on each table with specific instructions to press one button should customers want to order anything or have their plates cleared, with a different button for requesting the bill. I have never seen this before. Anywhere.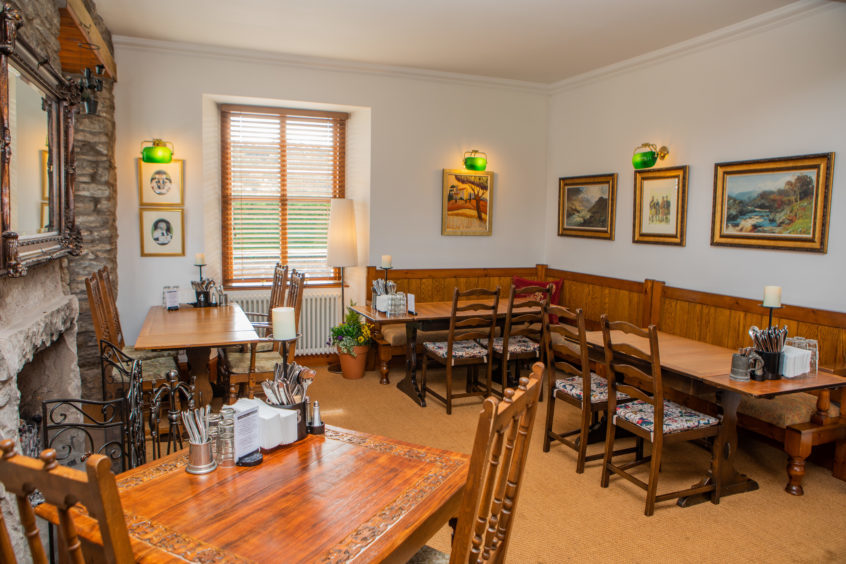 The younger waitress in me couldn't help but think of this as highly impersonal. Surely it is the job of the staff to know when plates need to be cleared. Building up an albeit brief repartee with customers was always the main source of joy for me when working in hospitality. Customers have questions and comments and want to get to know the personality of the place, and it is a large reason they will return again and again.
The menu was simply printed on standard white paper and the list of dishes was large. The Logierait Inn does not offer starters, just main courses and desserts. There are many notes letting customers know this but with no explanation. Something else that got us thinking.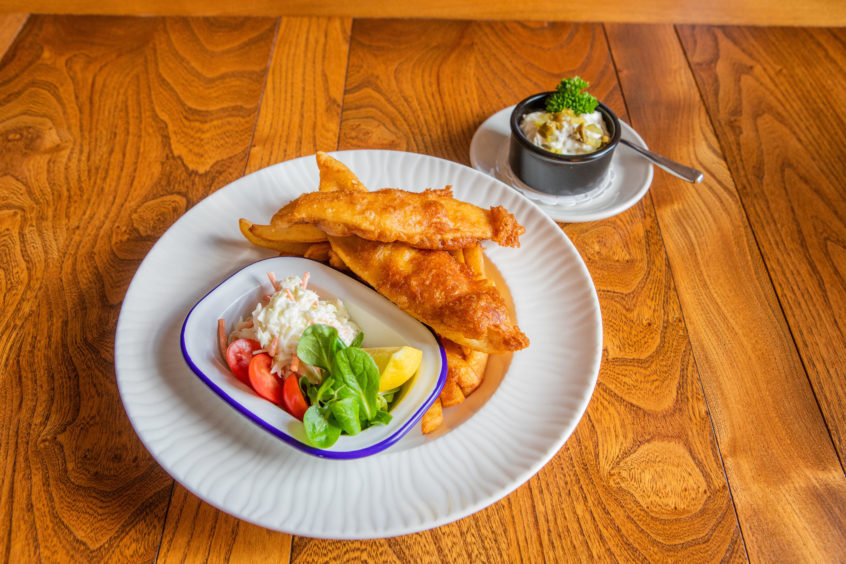 Mr Kerry just had to try the fish and chips and he proclaimed that it was indeed better than good. Two smaller fillets of haddock had been battered as opposed to one monster one that is often seen these days. The batter was very light and crisp with no stodgy middle. The fish was white and fresh and well cooked. The chips were homemade and dark golden. Sadly the advertised home made tartare sauce was missing but  as nobody checked back on us, we didn't like to press the call button just to ask for some as the effect was a very loud traditional "ding dong" heard throughout the dining rooms.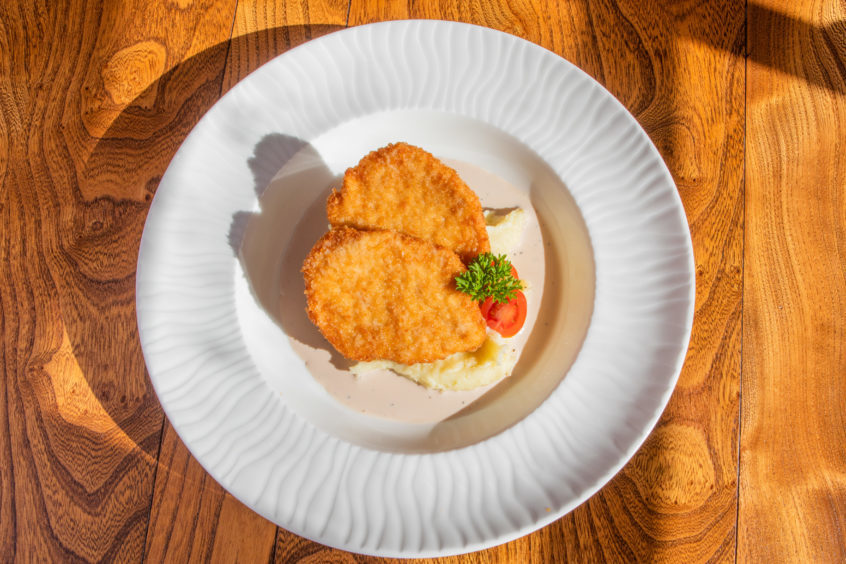 I took a long time to decide on my main course. A lot of the items were breaded and fried with chips, salad and coleslaw but there were alternatives such as pan fried king prawns with cherry tomatoes and basmati rice, and traditional mince and tatties. I was strangely drawn to the breaded slices of pork loin though and was really pleased I had.
The neat slices of lean meat were deliciously crunchy on the outside but lovely and juicy in the middle. They hadn't been bashed or thinned out like a schnitzel but had been left in their true form. The crumb was golden but not greasy and the pool of surrounding peppercorn sauce was creamy and, of course peppery, which really suited the dish. The mash was lovely and not overworked and shiny but more akin to home made. I was actually delighted with my lunch and the accompanying buttered vegetables were nicely al dente.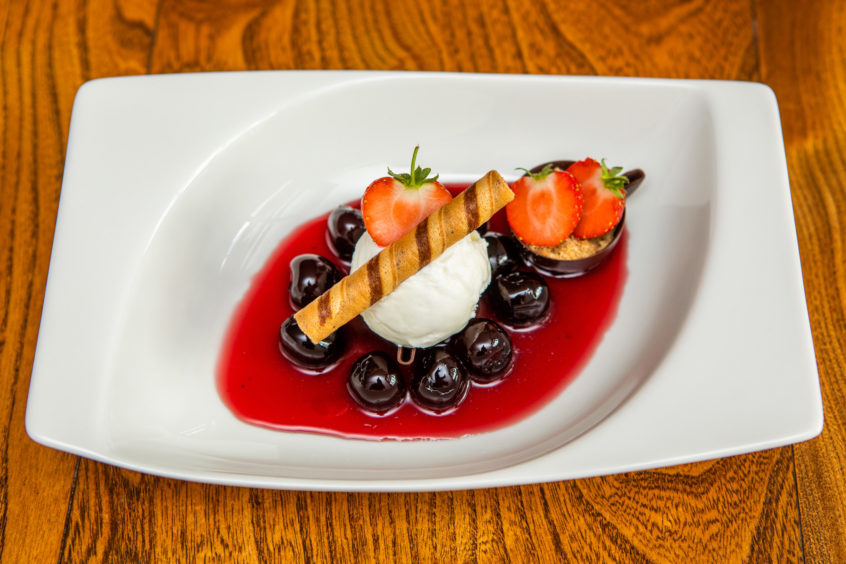 We had to go for dessert as, again, the menu was intriguing. I ordered breaded banana fritters and, I admit, I did so more out of interest than desire. The halved banana had a crispy coating that had to be satisfyingly broken to get to the warm, sticky fruit. It was served in a puddle of golden syrup with a ball of vanilla ice cream. There was something so familiar about this dessert. I don't remember ever having it before but the flavours made me think of my grandma, and a pudding I ordered to merely sample had soon disappeared.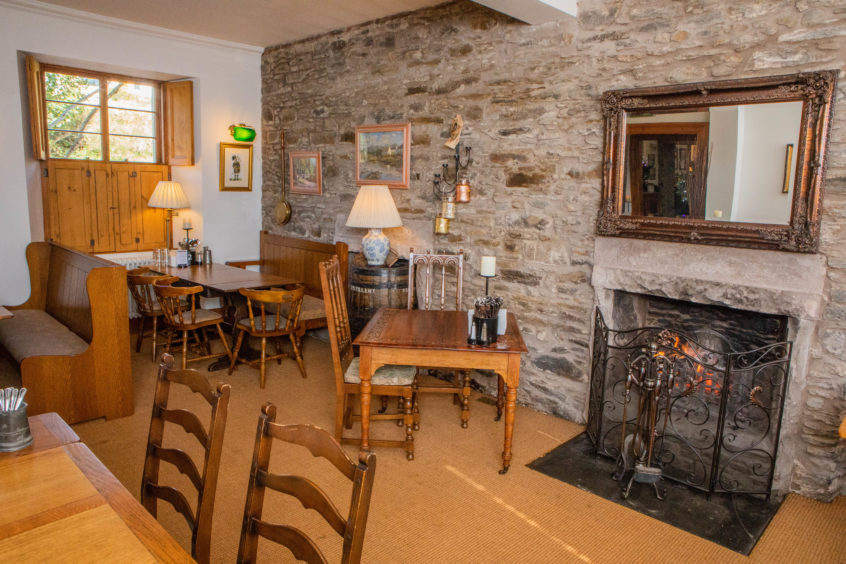 I have such mixed feelings about the Inn. The atmosphere felt warm, the menu was simple, almost kitsch and very comforting, and the food really well cooked. Our waitress was also smiley and helpful but I just couldn't get past the service call button. It seemed like an excuse to leave us alone and although that may appeal to some diners, we just didn't feel altogether welcome. On busy days, an extra way to attract attention is clearly helpful with so many rooms but shouldn't be necessary.
I would visit again if in the area and would order exactly the same things as I really did enjoy them. I know that my grandparents would love to visit for some pot roasted beef or a ham salad with chips.
Most of all though, we can finally testify that the fish and chips are indeed good.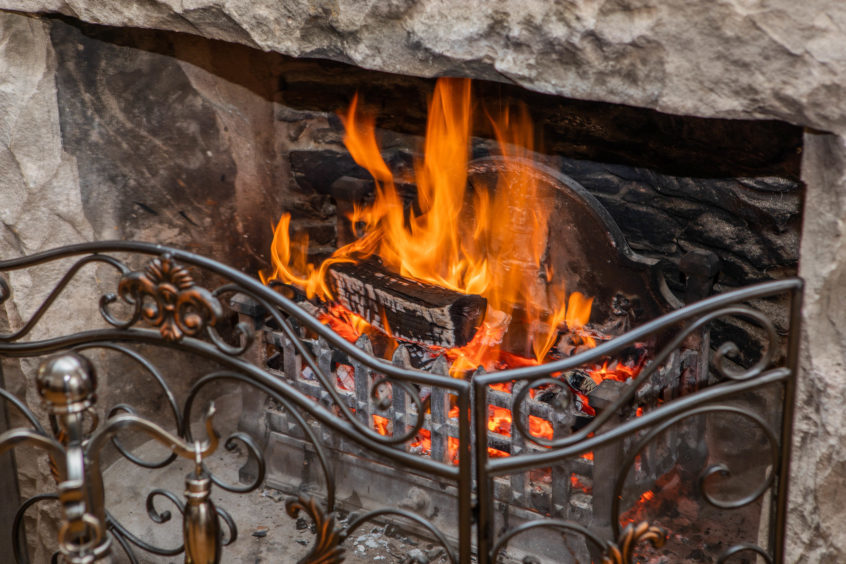 Info
Price: Main courses: £11.95 – £13.95; desserts: £5.95 – £7.95
Value: 8/10
Menu:  6/10
Atmosphere: 7/10
Service: 5/10
Food: 8/10
Total: 33/50
Info: The Logierait Inn
Address: Nr Ballinluig, Pitlochry, Perthshire, PH9 0LG
Tel: 01796 482423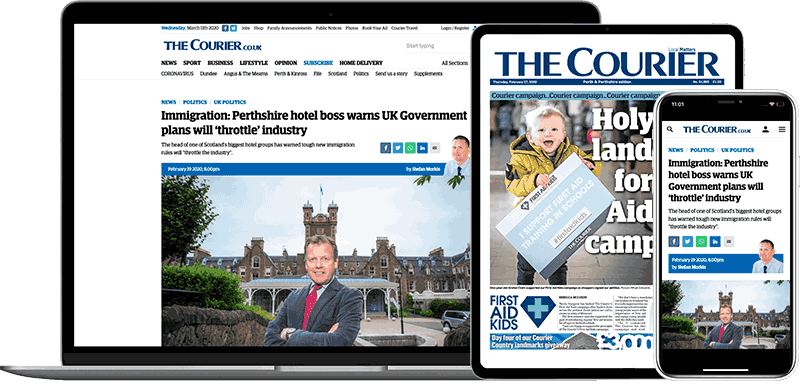 Help support quality local journalism … become a digital subscriber to The Courier
For as little as £5.99 a month you can access all of our content, including Premium articles.
Subscribe