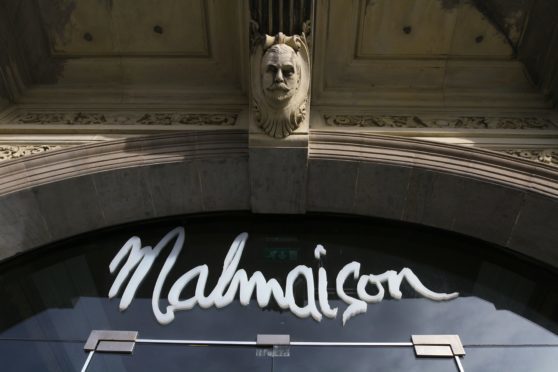 Whatever our opinion of them, hotels are popping up all over the place in Dundee and with them come new eating establishments. I love a hotel breakfast, especially a buffet, but when it come to an evening meal, they can sometimes be quite soulless.
The Malmaison in Dundee has now become part of the furniture and is no longer the new boy in town. Even on a weekday, I had to make sure to book a table as I knew they would be busy – and they were. The trusted brand has a definite character: dark and opulent with rich velvets and shimmering wallpaper.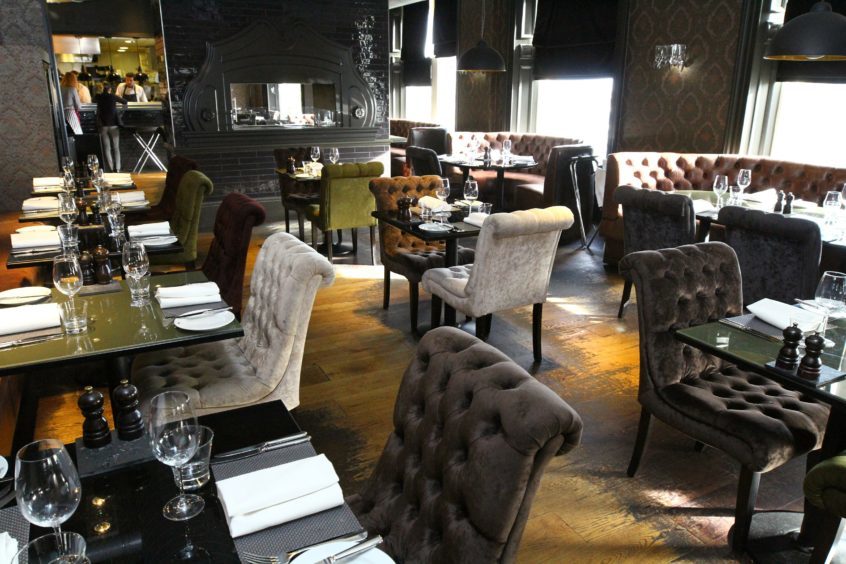 The downstairs bar was not open during our visit which was a shame but the bar off the main dining room also makes a nice spot to meet for an aperitif. I really like the atmosphere in the brasserie as the chefs in the open kitchen could be heard calling orders and making requests throughout our meal and this served as a reminder that there were people working really hard to create the dishes that were being presented to us.
We were lucky enough to be sat in a booth close to the fire which gave us plenty of space – we could gaze out of the window at the waterfront and also do some fabulous people watching in the restaurant itself. Our waiter was a medical student and utterly charming. He was chatty yet efficient, jokey yet professional and a credit to the team.
We were ravenous and I'd had a cocktail so we got stuck into the menu and I really like the new layout. There are appetite-whetting glossy pictures and hotel about the ethos and the head chef which all inject more personality into the restaurant. Once inside, we really forgot we were in a chain hotel at all.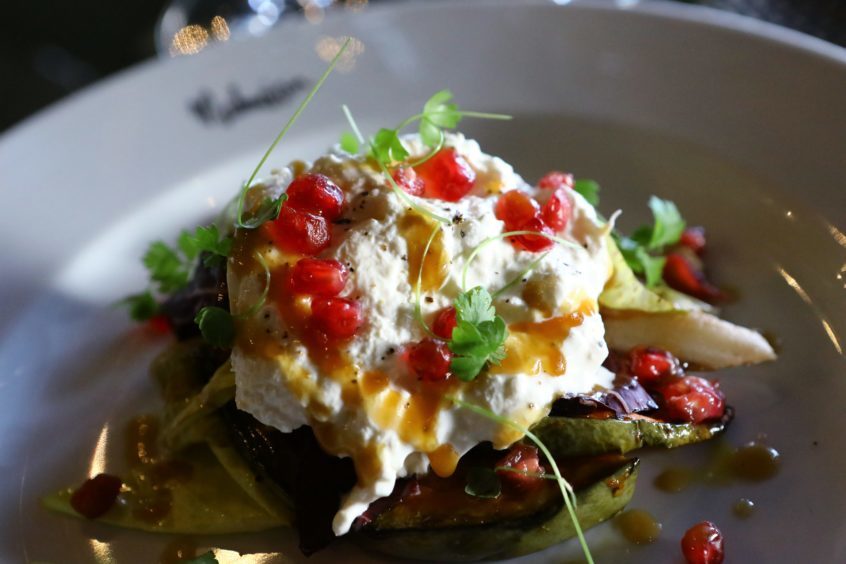 I started with the burrata, an oozy, milky, salty yet creamy ball of deliciousness. The good ones are fine and the amazing ones unforgettable and this was somewhere in the middle. It was served with butternut squash and pomegranate seeds which provided little pops of sweetness . This was a simple dish but used quality ingredients – evident in the flavours.
Mr Kerry opted for the special starter of french onion soup which was traditionally presented in a steeply rotund bowl bu, instead of chunky croutons smothered in cheese getting soggy in the soup, the cheese was melted in the hot broth and the bread on the side. This was a great change as although one could absolutely submerge the croutons in the soup, also – as Mr Kerry preferred – it could remain a crunchy accompaniment.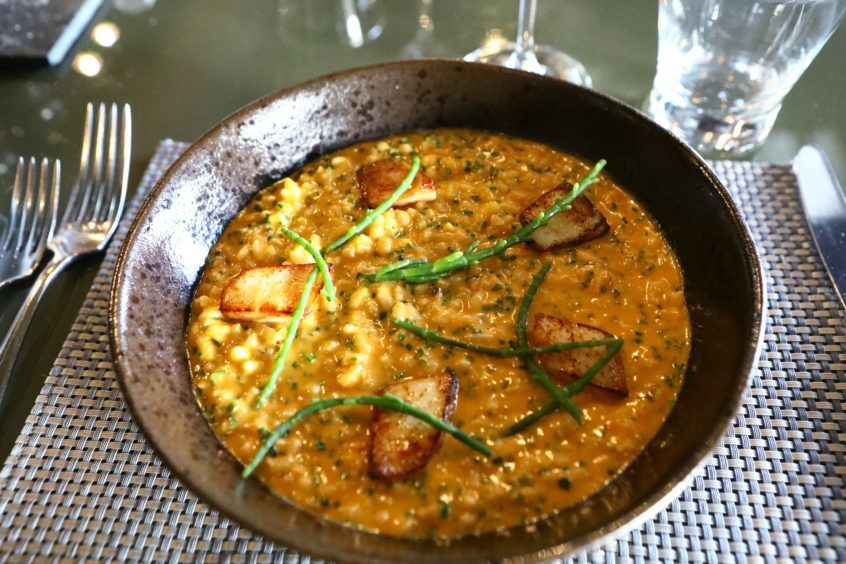 The chicken stock-based liquor was rich and earthy and the sweet onions balanced the flavour perfectly to complete a fabulous starter for Mr Kerry, the French onion soup connoisseur.
I struggled to choose a main course and really wanted the crab and scallop risotto but my other half had decided on it before me. Annoying. A steaming bowl arrived with a generous portion of the rice, which was cooked so al denté it was verging on crunchy. The bisque sauce was, instead of being too rich and heavy, delightfully citrussy and light. There were really large chucks of fresh crab meat littered throughout the risotto and overall this was a really lovely dish and I still wish I had ordered it.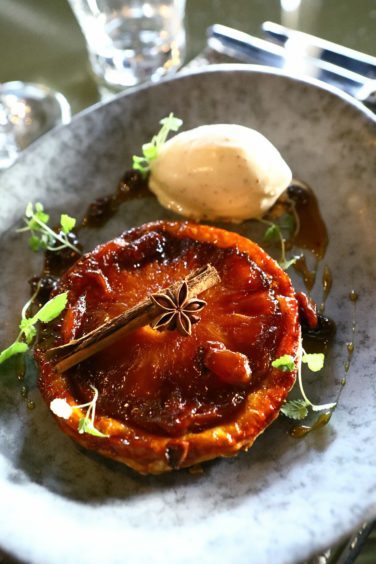 In the end, I chose the pork fillet as I liked the photo of it in the menu. The delicate discs of meat were certainly not overcooked and remained tender and juicy. They had been wrapped in salty Serrano ham which wasn't so overpowering it masked the flavour of the pork.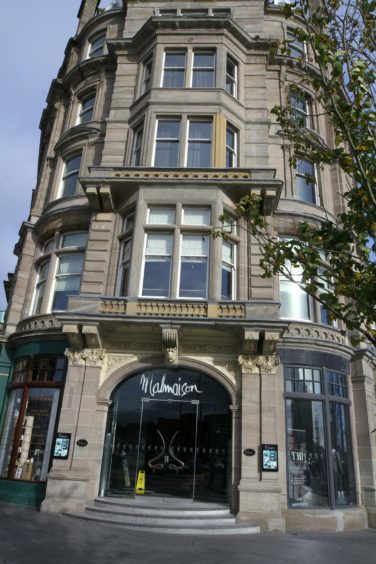 Creamy parmesan polenta was served with it, which was a really lovely smooth texture and a nice alternative to the mashed potato I often cook with pork fillet. The grilled tenderstem broccoli added a nice crunch and the sage an earthy edge of flavour. A cider vinegar noisette was advertised as being served with it, which was a lovely rich drizzle of dark sauce, but I would have loved a lot more of it to mop up with the rest.
I was sufficiently full as I finished my main course but Mr Kerry couldn't be dissuaded from ordering the pineapple tarte tatin, something I would never choose. I'm glad he did though as although it was incredibly sweet and sticky, the pineapple making a caramelised sauce just as well as the traditional apples. The accompanying rum and raisin ice cream with white chocolate was smooth, creamy and delicious.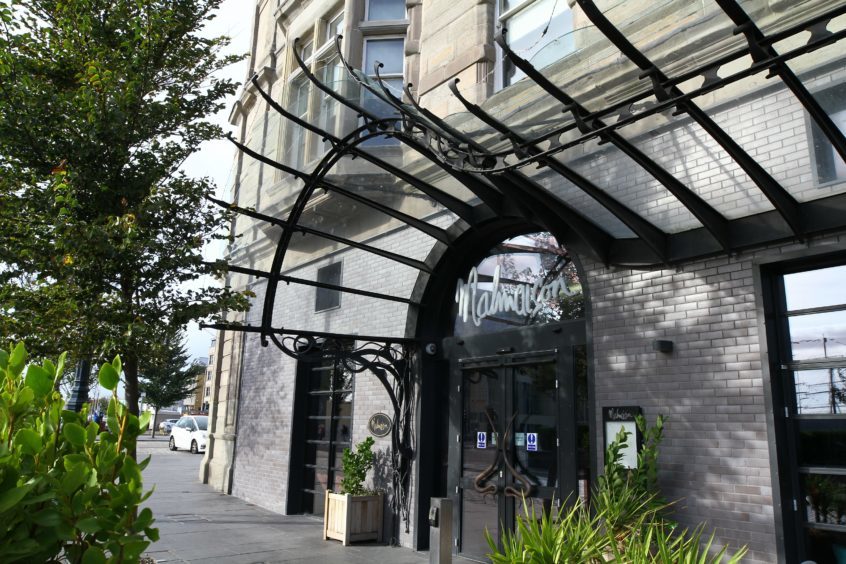 I have eaten at Malmaison a few times over the years and although I have always enjoyed it, I have never been blown away. I have to say this was the best meal I have ever had there. The Mal are clearly not resting on their laurels and are working hard to update the menus regularly across the venues. The atmosphere was intimate yet buzzy, the service great and the food high end. It's also incredibly convenient for popping into when in town and I look forward to working my way down the cocktail list again soon.
Info
Price: Starters: £5.50 – £13.50; main courses: £13.50 – £32.00; dessert: £2 – £6.50
Value: 8/10
Menu:  8/10
Atmosphere: 9/10
Service: 9/10
Food: 8/10
Total: 42/50
Info: Chez Mal Brasserie, Malmaison, Dundee
Address: 44 Whitehall Crescent, Dundee, DD1 4AY
Tel: 01382 339715
Web: www.malmaison.com/locations/dundee/chaez-mal-brasserie/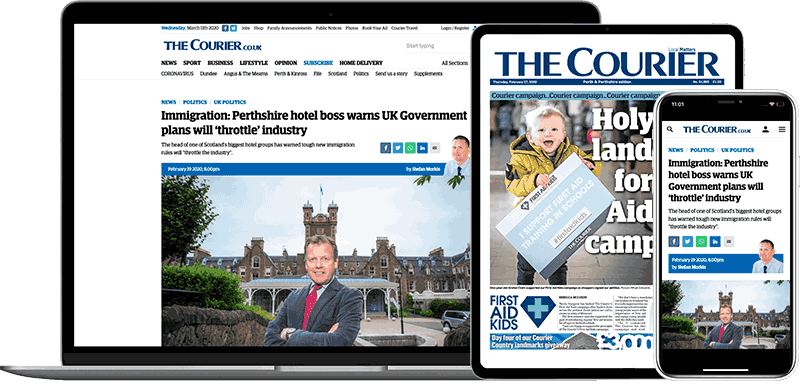 Help support quality local journalism … become a digital subscriber to The Courier
For as little as £5.99 a month you can access all of our content, including Premium articles.
Subscribe