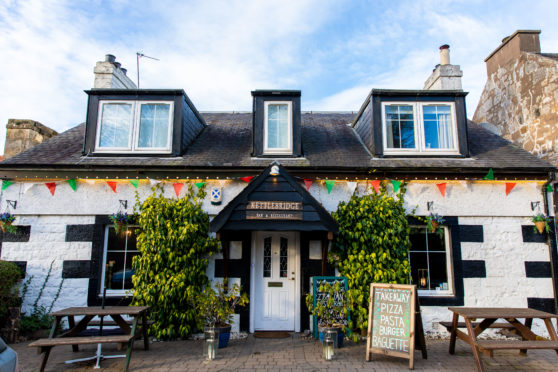 "A little taste of Italy in the heart of Fife" is how the Kettlebridge Inn presents itself and, to go by this particular diner's experience, it does what it says on the tin. This cosy little pub certainly does nestle right in the midst of the Kingdom but is easy to reach both off the A92 and from the road heading south from St Andrews and Cupar.
Having previously housed a Tex-Mex operation in its small (28 covers) but comfortable dining room, the changeover to Italian seems to have proved quite a success particularly with locals, with its mix of traditional favourites and big, honest tastes.
The menu isn't huge (there is also a specials board) but it covers a lot of ground. Much of it will be familiar but is none the worse for that. And there are some very nice individual touches that add greatly to the greater gaiety of nations when it comes to showcasing a national cuisine in a foreign country, with more than a touch of local flavour. A lot of ingredients here are sourced through producers and retailers from the surrounding area – the rib-eye steak, for example, which seemed to me a steal at under £20, comes from Fife's famous Buffalo Farm.
Having been very pleasantly welcomed and provided with drinks from the bar, we had a lot of fun deciding what to have for an early Friday dinner. I opted for the insalata caprese (£5.95), a dish that seems easy to assemble and present but that is deceptive as it calls for really good ingredients. Here, the mozzarella, so often bland and heavy, was delicious both in taste and texture, the little plum tomatoes tasted like plum tomatoes should and the basil garnish was fresh, with that almost meaty aroma that makes it the perfect accompaniment to the cheese and tomatoes. It was served on generous zig-zags of a very good balsamic reduction.
---
>> Keep up to date with the latest news with The Courier newsletter
---
Himself went for the wild mushroom and garlic crostini (£6.25) which he loved. The creamy sauce, laced with white wine, majored on the garlic element so no vampires ventured anywhere near us for the rest of the evening. He raved about the intense flavour, the interesting variety of mushrooms and the way the whole dish was put together. I don't know if they do it at lunchtime but with a glass of red, it would be a real mid-day treat.
I found it hard to choose between scaloppini saltimbocca – pan-fried pork fillet escalopes with mozzarella and parma ham in a white wine sauce (£13.95) – and the intriguing combination of chicken, smoked salmon and blue cheese that was offered up as pollo salmone (also £13.95). The latter won out and the melting mix, with the addition of properly crispy saute potatoes and sweet, caramelised carrots, showed some imagination and attention to detail.
Himself's king prawn tagliatelle (£13.95) had a lightness and freshness to the sauce that included lovely little cherry tomatoes and a very generous helping of seafood.
The pizzas, judging by what I saw going out to other diners, would have fed the 5,000 and looked and smelled just about perfect.
The list of desserts included tiramisu, lemon cheesecake, wild berry meringue, sticky toffee pudding and trifle inglese (all £5.95), plus an Italian cheeseboard at £7.95 and another great local favourite, Luvian's vanilla ice cream (with a choice of sauces), again at £5.95.
Eschewing the sauce options (my husband's ambition in life is to ask for and get plain vanilla ice cream without any of what he considers to be un-necessary frills and furbelows like wafers or sprinkles or fruit – or anything else for that matter), Himself could find no fault with this great local product, rightly renowned far beyond Fife itself and in his view, the choice of champions as a perfect pud. I
opted for trifle inglese which came in the form of a substantial chunk of light and chocolatey sponge with a creamy, custardy layer on the top and a few sharp berries to add zing. It was incredibly easy to eat and somehow managed to be sweet and trifle-y without being stodgy or cloying. No soggy bottoms here.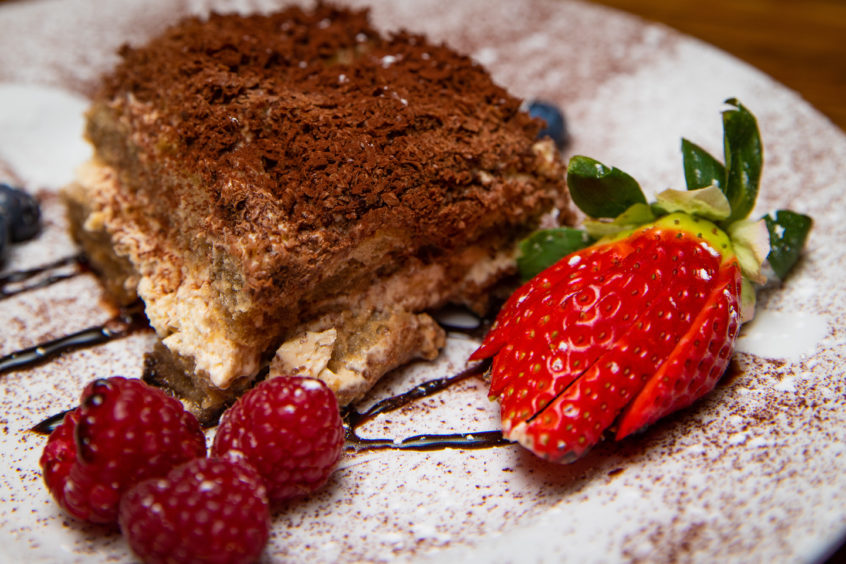 The wine list is small – four choices each of red and white plus a single rose – but very keenly priced for a bottle on the table; between £14.50 and £17.25 and all available by the glass. A 250ml measure of Antano Rioja came in at £5.25.
Service was excellent; informal, friendly and the young server went out of her way to try to accommodate a mushroom-hating vegetarian at a neighbouring table. Trouble was also taken on the printed menu itself where many dishes were clearly marked as vegetarian or gluten-free and local provenance (see above) highlighted.
Price: starters from £3.95 to £7.25; mains from £9.95 – £19.95; desserts around £6.
Value: 8/10
Menu:  7/10
Atmosphere: 8/10
Service: 9/10
Food: 8/10
Total: 40/50
Info: The Kettlebridge Inn
Address: 9 Cupar Road, Kettlebridge KY15 7QD
t: 01337 830232/ 07875 203461
w: www.thekettlebridgeinn.co.uk