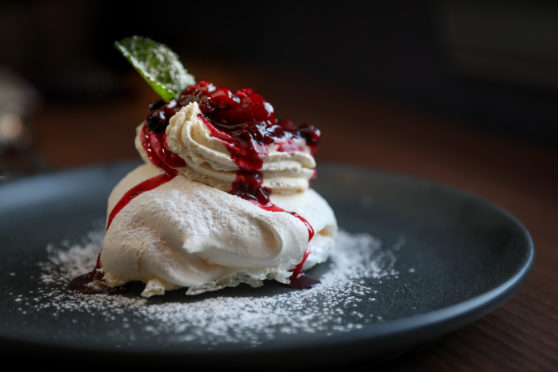 For years, I've driven through the tiny hamlet of Roundyhill (blink and you'll miss it), near Glamis, and noticed a sign flagging up Armstrongs.
Intrigued, I've often suggested to my partner that we should venture there for dinner, as it's just a few miles from where we live.
When I heard rave reviews about it from three independent diners, I decided the time had come for us to book a table.
It turned out we were both very glad we did as it was absolutely one of the best dining experiences we've had in a long time.
We booked in for a Wednesday evening early in January, which, as it happened, was "steak night".
On arrival, we were greeted by a smiling waitress and taken to a table in the cosy conservatory area.
The place was quite busy with couples and families dining and there was a pleasant buzz of chatter in the air, although it wasn't at all noisy.
Tasteful prints of stags adorned the walls and the lights were flatteringly dim.
It was quite different to what we had imagined – much classier than we had expected.
In our world, there's no such thing as Dry January, so we ordered a bottle of Pinot Grigio, a light and crisp Villa Rosella Tai, £16.95.
This arrived in a bucket with ice and tasted gorgeously fruity, floral and refreshing.
Presented with various menus, there was an abundance to choose from, from game, poultry and beef dishes to vegetarian options.
Not being a lover of red meat, I didn't peruse the steak menu, but my partner's jaw fell open when he saw the price – a mere £11 for a 10oz H-bone steak served with hand-cut chips, mushrooms, onion rings and tomatoes, with sauces an extra £2.50.
Given that the restaurant's online menu has a 10oz steak on it for £21.95, this looked like a darned fine deal.
I settled on the pan-seared garlic king prawns, £6.95, for starters, while my partner chose the smoked venison carpaccio, £6.50. Both dishes came out within 10 minutes – ideal timing.
Having been stuffing our faces with festive fare for the past month or so, it was nice to find these starters were quite small. Not too small – absolutely bang on. After all, there's nothing worse than filling your face and having no room for your main course, or God forbid, to be unable to sample a dessert.
My king prawns, drizzled with a sweet chilli sauce and sitting on a bed of mango and avocado salsa, looked – and tasted – divine. The prawns were cooked to perfection, the texture firm but not chewy, the taste fresh and lively.
My partner's venison, accompanied by shallot mousse, Stornoway black pudding and pan-seared pigeon breast, was a work of art and apparently tasted fantastic.
After a short break, our mains arrived.
My partner's succulent steak was cooked as instructed (he'd asked for medium) and full of flavour. Despite protesting that the dish, with chips and veg, was massive, he scoffed the lot.
I'd ordered pan-fried fillets of sea bass with West Coast clams, £15.95, and was delighted to find four fillets of tender fish atop new potatoes, green vegetables and drizzled with a touch of vanilla sauce.
The sea bass had its skin on, lending it a variety of textures – delicate one side and nice and crisp on the other. The tiny clams complemented the dish, as did the subtle vanilla dressing.
Suitably stuffed, my belt was straining, but luckily I'd had the wit to wear a roomy jumper. However, this didn't stop me from ordering dessert.
How could I not, given the mouthwatering array of treats on offer?
I plumped for the winter berry pavlola, £6.25, imagining it might be quite light (unlike the yummy-sounding dark chocolate and orange torte served with gingerbread ice cream or sherry trifle).
The pavlova, a soft-centred meringue filled with lightly whipped cream and topped with fresh berries – raspberries, strawberries and blueberries – was a feast for all the senses, and utterly scrumptious.
I wolfed down the lot before my partner could dare to ask for a spoonful.
We rounded off what had been an absolutely fantastic meal with two cappuccinos.
These didn't disappoint (thank goodness – good quality coffee in an eatery makes a big impact) and they even came with blocks of fudge, which, yes, I devoured.
The bill, which arrived with complimentary mint chocolates, came in at just under £75 – well worth it. We left a generous tip as everything about our experience was brilliant, from the polite, friendly staff to the delicious food and great surroundings.
As we got up to leave, we noticed a snug area with leather sofas in front of a roaring fire – perfect for a drink or two on a cold winter's day.
It's a shame we missed out on Armstrongs until now, but we will definitely be back again soon.
Info
Price: Starters from £4.95 to £6.95; main courses from £10.95 to £24.95;  desserts from £5.95 to £8.95.
Value: 8/10
Menu:  8/10
Atmosphere: 8/10
Service: 9/10
Food: 9/10
Total: 43/50
Info: Armstrongs Bar and Restaurant
Address: Roundyhill, Glamis, Angus, DD8 1QT
Tel: 01575 575503
Web: www.armstrongs-restaurant.com