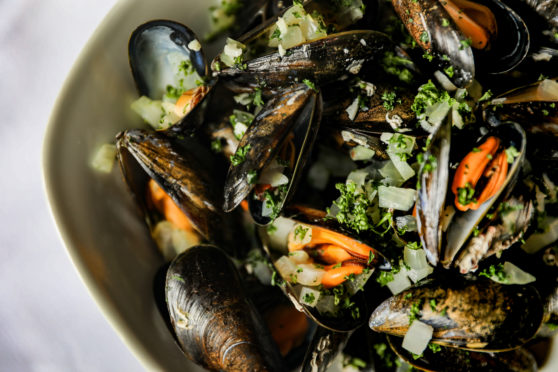 Set in a sunny row of cottages above the harbour in Auchmithie, this little Scottish treasure has, in a very gentle way, been introducing me to Scotland since 2011. It is here, for example, that I first tasted Scottish mussels.
I had never imagined their flavour could be so sweet and subtle, being born and raised with the warm seas and bold coastal flavours of the Southern Hemisphere. These delicate products of far colder waters whispered of the ocean rather than roared of the
seas. They had me hooked. And so the visits to But 'n' Ben began.
At first it looks like a family home in a whitewashed row set on the narrow road above the cliffs. You feel you should duck your head to step below the lintel and into the small, but perfectly formed, restaurant beyond. We were ushered to our table with the warm greeting we have come to expect here.
The sense of homeliness continues in the wood panelling and furniture, the constrained seaside theme in the decor and objects carefully dotted about, the seascapes on the walls (for sale), the cute little things to catch the eye.
A fire burned at the far end of the small dining room, but we opted for a table away, against the window, as it was a warm spring day. The happy murmer of relaxed diners surrounded us, although the tables are fairly tight. It's a bit too easy to eavesdrop, you do feel you should keep your voices down.
Drinks orders were swiftly taken – a Six Degrees North Chopper Stout from a separate beer menu featuring regional Scottish beers for him; a glass of blended South African shiraz for me. The wine list is small but well chosen, with wines from Italy, France, Spain and South Africa. You can get a perfectly good bottle of wine for £23, with quite a few varieties offered by the glass.
They say, with cooking, the secret to success is simple, fresh ingredients, some technical skill, and keeping to what you know without getting over-complicated. You will not find Ferran Adria's white bean foam at the Butt 'n' Ben – nor any of his other molecular gastronomy marvels. But 'n' Ben's menu is an honest reflection of what it is – a proud, traditional, family-run Scottish restaurant. The lunch menu is small and focussed, local seafood being firmly in the frame. The dinner menu is more expansive, but the philosophy remains. Fresh, local, simple and sincere. There is usually a dressed crab, and lobster, with both sourced locally. There are vegetarian choices in starters and mains (at lunch a choice of three in each) and simple traditional dishes like mince pie and mince and tatties. Aberdeen Angus steaks should satisfy the committed carnivore, the evening menu also features venison and a game pie with partridge, pheasant and wood pigeon. The philosophy of sourcing local and regional produce extends to their beef and game.
Of course there was no way I wasn't having mussels. Eight years after I first tasted those plump parcels from Shetland, steamed in a carefully balanced white wine, onion, garlic and parsley sauce, I have eaten mussels the length and breadth of Scotland – and I still think But'n' Bens are among the best. The starter portion (£9.95) is very generous too, probably essential as inevitably your dining companions will raid your plate.
After allowing the Mackerel Pate to tempt him (£6.50), a tasty dish he's enjoyed before, he settled for the Home-made Cream of Arbroath Smokie Soup (£5.95). Like the mussels, the triumph of this soup is in the showcasing of flavours. The robustly flavoured smokie is cossetted, contained, it's presented to be savoured – the double cream plays a hand in this. Not to forget the home-made cheese scones. They are, quite simply, delicious.
And so time passed, with the service attentive, very friendly and efficient.
He was so tempted by the lamb's fry as a main course. But who was he kidding? He'd have the Famous But 'n' Ben Smokie Pancake (£12.95), a house speciality, as a main. This is Arbroath Smokie flaked off the bone, steeped in double cream, and wrapped in a thin savoury pancake. I vacillated between the Kedgeree, made with a lightly curried, flaked, yellow haddock, and a Yellow Fillet on a bed of rice (both £11.95). The latter won out – it was the lightly smoked, succulent fillet of haddock that appealed. Meals are served with sides of seasonal vegetables and chips.
If you come to But 'n' Ben I defy you to resist the temptation of the dessert trolley (£5.95). This restaurant has been owned and run by the same family for 42 years and for 31 of those the same person has been baking privately for them. The trolley is a star of the show, as well it should be. Our choices were Clootie Dumpling and custard (him) and Sticky Toffee Pudding with ice cream (me). The choices were not easily made, but the results were quite memorable, with both a mastery of taste and texture. You could always walk down the steep path to the sea afterwards, if you felt guilty, or there are longer walks around – a few of the diners had walked there, we learned.
And so another pleasant meal passed at The But 'n' Ben. Fresh, simple, traditionally Scottish, It never disappoints.
Info
Price: Starters :£4.95 – £9.95 ; main courses:£11.95 – £27.95; desserts: £5.95 – £6.95
Value: 8/10
Menu: 8/10
Atmosphere: 8/10
Service: 9/10
Food: 9/10
Total: 42/50
Info: The But 'n' Ben
Address: No. 1 Auchmithie DD11 5SQ
Tel:01241 877223
Web: www.thebutnben.com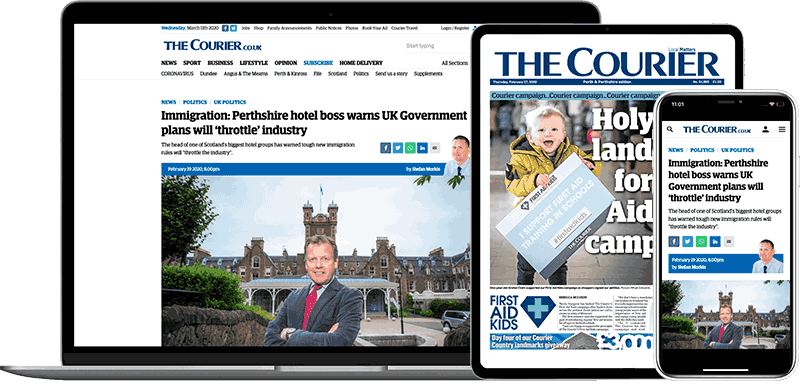 Help support quality local journalism … become a digital subscriber to The Courier
For as little as £5.99 a month you can access all of our content, including Premium articles.
Subscribe