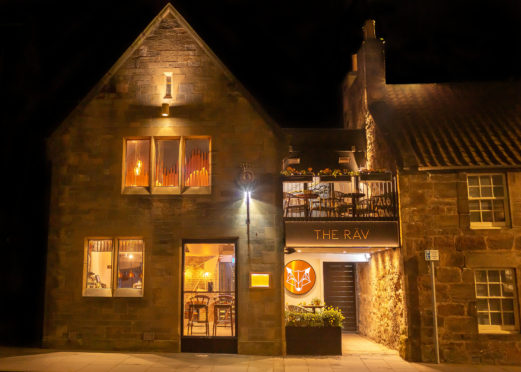 For anyone who enjoys eating out, it's always exciting when a brand new restaurant comes to town. So when The Rav, a Nordic bar and restaurant in North St in St Andrews, opened its doors a few weeks ago, we were keen to visit.
Atmospherically situated opposite St Salvator's Chapel in the premises formerly occupied by Innis & Gunn, the bijou eaterie has benefited from a stylish Scandi-style makeover, with quality wooden furniture and sparkling glassware set against deep blue walls – a 'floating' willow branch adorns one of the walls upstairs.
Although on two levels, The Rav (the old Norse word for fox) is a small restaurant so we booked a table in advance for a Tuesday evening. On arrival we were taken to the upper level and asked which table we would like, which we felt was a nice touch. We chose one that overlooks the bar and the attractive geometric fox head wall sculpture, which is the restaurant's logo.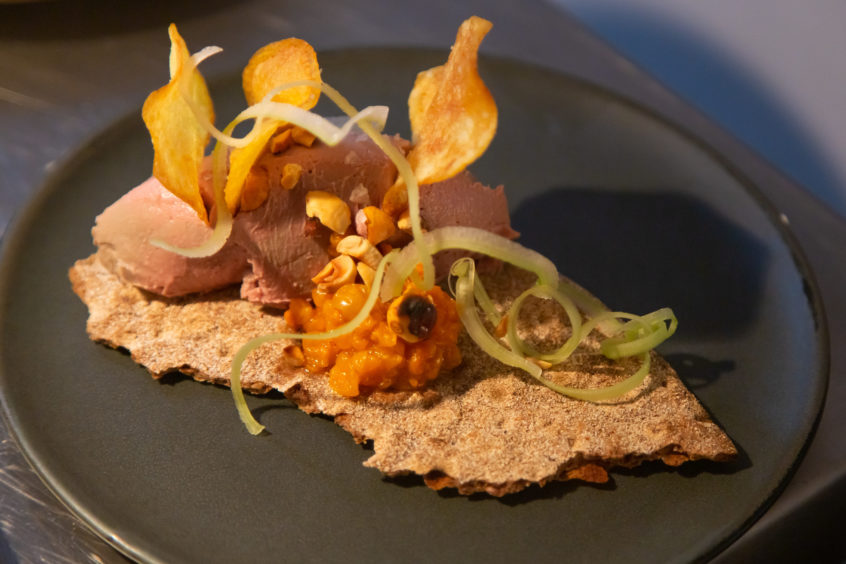 The waitress then took our drinks orders – they do a great range of cocktails and mocktails – while we considered the menu, which was separated into snack dishes, small plates and large plates.
My partner and I decided to choose something from each section between us, purely in the interests of research of course.
I opted for the mini smorrebrod selection at £6 (Scandi open sandwiches) from the snacks menu, and then a large plate of Swedish meatballs with mash, pickled cucumber and lingonberry at £14. My partner was tempted by the chicken liver parfait from the small plates selection (£6), and a main of mussels at £11.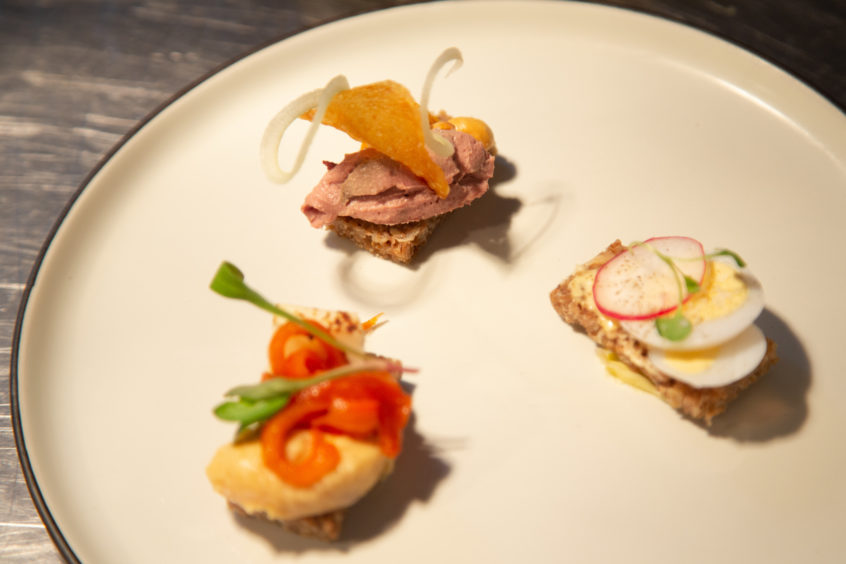 It took a little while for our server to return to take our order and then a good half an hour or more before the food arrived. We were in no rush and were aware that Scandinavians like to take their time over good food but we felt that a word of warning from our waitress that the food might take a while might have been advisable, just in case.
We had asked for the dishes to come out together so we dipped in and out of our snacks and small plate at the same time as our mains. The smorrebrod consisted of three tiny rectangles of rye bread, one topped with salmon and dill, another with herring, and the third with chicken liver parfait. They were each equally flavoursome and moreish, but, literally barely more than a mouthful each, we thought they were a tad overpriced at £2 each.
In contrast, my partner's chicken liver parfait, with cloudberry, hazelnut, and served on knackebrod (crispbread) was a generous portion. The parfait was delightfully smooth and rich – worth every penny.
While there is absolutely nothing wrong with a certain Swedish homeware store's meatballs – and indeed they are a must on any such shopping trip – I was pretty sure the meatballs at The Rav would be quite a different affair altogether. And how right I was. Three large luscious meatballs sat atop a pile of fluffy mash, accompanied by lingonberry sauce and thinly-sliced pickled cucumber.
I tucked in with gusto and found the meatballs to be densely packed and filling. I felt they could have withstood a slightly herbier seasoning – they weren't bland but the taste wasn't memorable, and oddly there was no salt or pepper on the table. But combined with the perfect mash and the opposing flavours of lingonberry and pickles, this was a hearty and ultimately enjoyable dish.
In the meantime, my partner was getting to grips with his mussels with Ardbeg smoked whisky, cream and croutons. He spent a blissful 20 minutes savouring every mussel morsel and pronounced the dish to be brilliant.
Our attentive server ensured we had plentiful supplies of bottled water and asked us if we were enjoying our meal – we were happy to assure her that we were.
It's an unwritten rule that you can't go to a new restaurant without trying the desserts so, with this in mind, my partner requested the lingonberry tart with spelt and almond at £5, while I opted for the selection of Scottish and Scandinavian cheeses, £10.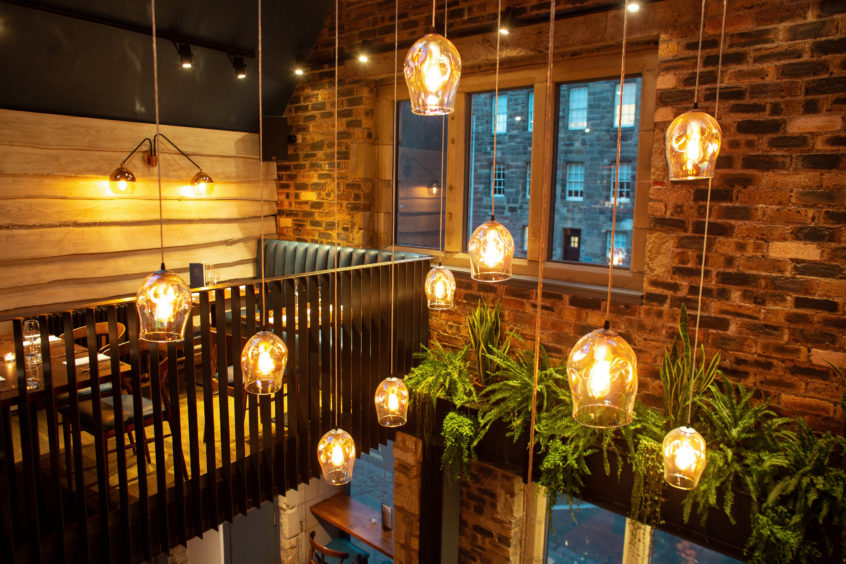 Our server came back to tell us that unfortunately the lingonberry tart was finished but that there was a blueberry tart instead. My partner was happy to go for the substitute and we waited with high hopes for our dishes. My selection of cheeses arrived – six dainty little slices, along with the ubiquitous knackebrod and home-made chutney.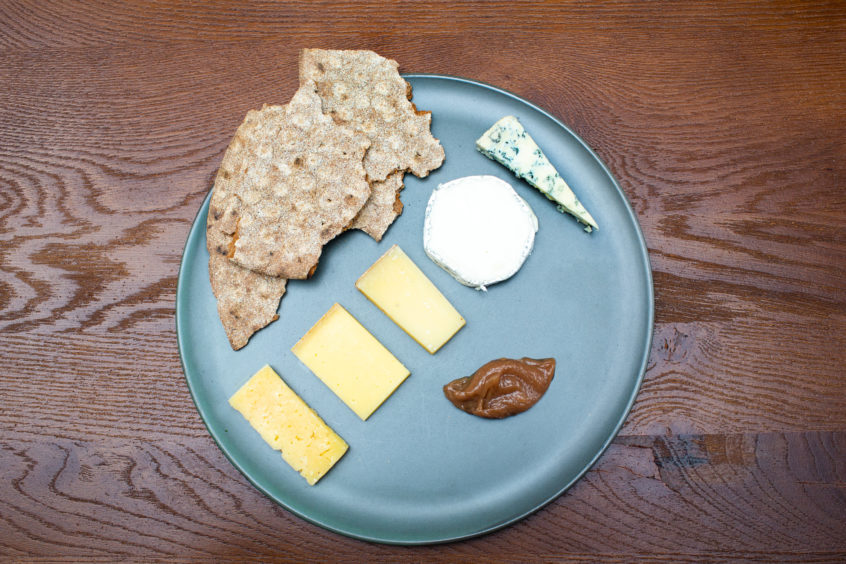 I was hoping the waitress might have told me what the cheeses were but no expalnation was forthcoming so I tucked in regardless. I now know that the cheeses were Västerbotten from Sweden, Westray Wife, Golden Cross ash goat cheese, Lanark Blue (all from Scotland), and a French Comte. They were all delicious although I would have liked to see a couple more Nordic cheeses in there. Knackebrod isn't to everyone's taste so perhaps a rye bread option is something to think about.
The blueberry tart, meanwhile, was a thing of beauty – full of berries, complemented by a crisp, sweet pastry. It was s lightly dry though and a small jug of cream would have helped with this.
The head chef at The Rav is Elina Makkonen, who hails from Finland. It's fair to say Elina and her team know their stuff – the dishes were attractively served and, for the most part, well flavoured. We would have liked a little more engagement from our server but, overall, we felt we'd enjoyed a night of delicious Nordic food created with flair and a Scottish twist.
And perhaps as befits somewhere called The Fox, dogs are welcome in the bar area so even your pooch can enjoy a touch of Scandi style.
---
Address
The Rav, 80 North Street, St Andrews, KY16 9AH
t: 01334 208 580
Price for dinner: Snacks from £2.50; small plates from £5; large plates from £11; desserts from £5.
Value: 8/10
Menu: 8/10
Atmosphere: 8/10
Service: 7/10
Food 9/10