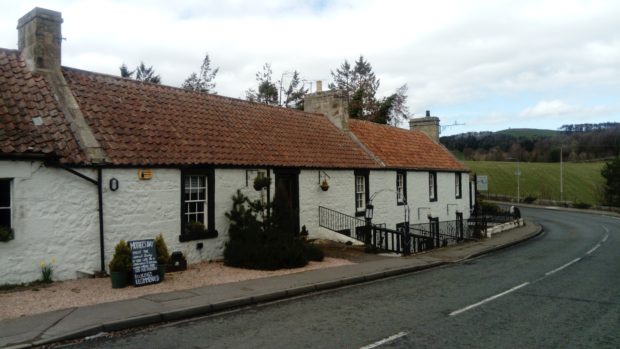 We are always on the lookout for restaurants that are child-friendly without compromising on grown-up ambience or the quality of the food. In our neck of the woods they are few and far between, without trekking to St Andrews or settling for fish and chips every time we want to go out for tea. Well, it turns out there was one on our doorstep all along and I didn't even know. Don't you just love it when you find a hidden gem?
I wasn't sure what to expect from the Kingarroch Inn but I was delightfully surprised in every way. This is such a gorgeous find. We were regular customers more than a few years ago, when the previous owners were shooting for the fine dining end of the market, before a serious fire closed it down for a long stretch. Then for no reason in particular, other than the arrival of two small children, we hadn't been back since.
This time it was my inept failure to organise a babysitter which led to a last-minute rescheduling of our dinner reservation, switching date night for two to a 5pm family table for four.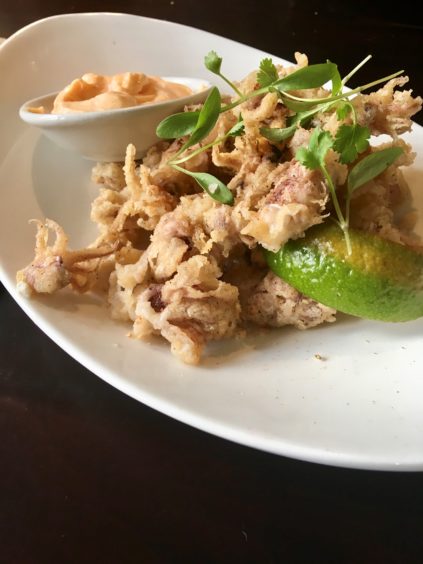 Nestled at the roadside, in the sleepy village of Craigrothie, the whitewashed stone-built inn looks traditional and gives little away. Stepping downstairs and through the glass doors it is inviting from the get-go. There's a rustic, relaxed vibe running through the place, with its stone walls, timber panelling and contemporary tartan fabrics.
A wooden sign pointed us in the direction of the garden, which sadly it was too cold to enjoy, but would be an idyllic spot on a summer's day. A sheltered spot overlooking the burn, it would be a joy to sit at one of the large wooden tables and watch the horses grazing in the next field. There's even a children's sandpit with toys.
With a husband and wife team at the helm, there are personal touches suggesting the Kingarroch has more than a little soul to it. There's the guitar case covered in band stickers, the occasional quirky print to catch the eye and – my favourite – the copy of Larousse Gastronomique on the windowsill next to our table.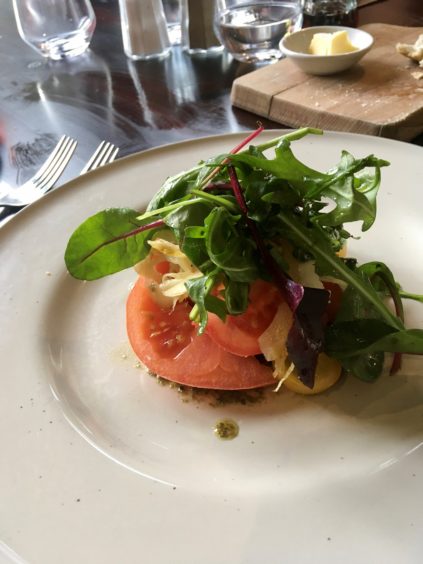 With modern teal side plates, no fussy table cloths or linen, menus on clipboards, staff wearing denim aprons and bread served on wooden boards this feels like a very successful fusion of bistro and country pub. The bar is also well stocked and inviting, with an interesting 'craft your gin' option, inviting guests to tailor their choice of gin, tonic and garnish. The restaurant is clearly doing a busy trade, a great sign of quality, with the front of house team gearing up for a full Saturday night service.
Also intriguing are the apparently gorgeous rooms, which we'll certainly be recommending to visiting family next time we need an overspill.
The food is gastropub, cooked from scratch, and downright delicious. And I'm not the only one who thinks so, this being the winner of the Good Food Award for Gastro Pubs 2019. It's not an extensive menu but I regard that as a sign of quality.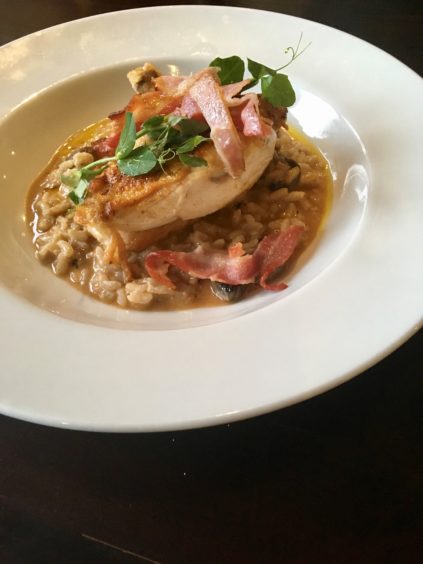 A smaller menu with an emphasis on fresh produce and daily specials is always a positive in my book and consistent with my impression that everything here is cooked to order with skill and confidence. The fish of the day was hake with romanesco; the chef's special was venison with potato gratin and – intriguingly – blueberries and a chocolate sauce.
At £28 for a three-course dinner it is also exceptional value. Sides of hand cut chips with rosemary and chilli and seasonal salad are £3 (tantalising but hardly necessary because the portion sizes are perfectly pitched). If I was being niggly I might ask for a little more in the way of seasonality in the menu – perhaps more could be made of provenance, given their Farm2Fork branding – but on the whole it's a lively, fresh menu where I could happily eat every dish. Also ticking all my boxes was their Little People's menu, with starters ranging from £1.50, a range of mains from £5 to £7 and ice cream and sauce for £2.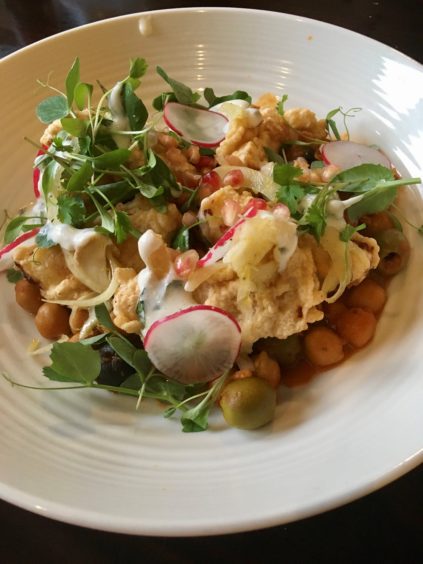 My starter of tomato, fennel, tapenade and herbs was a fresh concoction of well-balanced flavours. I adore fennel, shaved wafer thin as it was here, with a moreishly salty olive tapenade and surprisingly sweet and juicy tomatoes for the season. Mr H's salt and pepper squid, with a zingy charred wedge of lime for squeezing, was light, crispy and swiftly devoured with lashings of excellent sriracha mayonnaise. The kids were completely happy with generous portions of veg sticks and bread.
For the main event my halloumi fritters were a delight, not in the slightest rubbery (always a worry with halloumi) and somehow managing to avoid excessive saltiness. The batter was a light crispy triumph.
The accompanying chickpea stew was deliciously rich and mellow, combining a depth of tomato flavour and subtle spicing, the ideal counterpart for the dashes of minted yogurt and delicate slices of radish.
As someone who doesn't often choose the vegetarian option, this was a really lovely dish, fresh and satisfying. It was also a pretty dish, garnished with a light touch of radish and peashoots. I was so taken with it that Mr H had almost polished off his chicken supreme with mushroom risotto and truffle oil by the time I turned my attention to it. I swept in just in time to sample some of his deliciously moist chicken with a satisfyingly crispy golden skin, delicate pancetta and a rich umami punch of mushroom in the risotto.  If I had to quibble I would say I prefer my risotto more al dente, but Mr H was perfectly happy with it.
The kids meanwhile were blissfully well occupied with a very generous portion of sausages, creamy mash and peas. Yes, it's a simple, and perhaps safe, option for children but it's a winner every time and there were no complaints in our camp.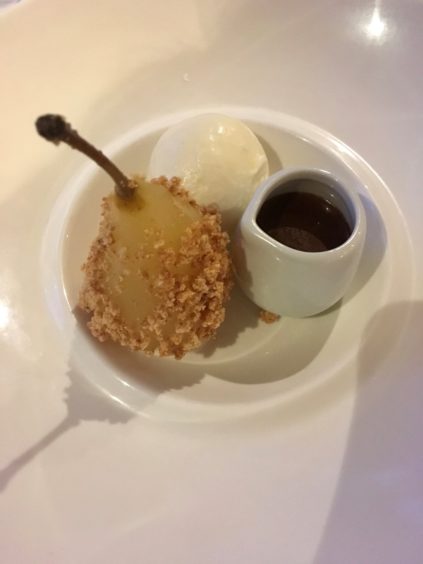 Surrounded by ice-cream lovers I was left splendidly alone with my spiced poached pear, coated in amaretti crumb, with my very own jug of silky and grown-up chocolate sauce. The small people opted predictably, and happily, for ice cream, while Mr H grumbled about the rhubarb in his Kingarroch Sundae. I must stress this was entirely a Mr H problem, who simply has an unfathomable dislike of rhubarb.
By all relevant standards the rhubarb was lovely, childishly pink and gorgeously tart without too much sugar to mask the flavour, served with chewy nuggets of French meringue, cream and lashings of ice cream. A sort of zippy seasonal Eton Mess.
On the odd occasion we have a really great meal out with the kids – and this was one of them – it's never just because of the food. It's all the little touches that add up.
Here it was the sackful of toys and books left tableside for the kids to rummage through, the colourful children's cutlery and cups and, above all, the fact that every single member of staff was positively friendly and lovely, treating them like little humans rather than the pea-smearing whirlwinds of chaos that they are.
There's a genuinely personal touch at the Kingarroch, which is such a successful combination of flavoursome food and relaxed yet, for the most part, efficient service. But best of all there's an unexpected vibrancy about it belied by the quaint country pub exterior. There's a younger vibe, a soundtrack of soul and fresh oranges on the bar. We will definitely return for that date night, as and when I manage to rustle up a babysitter. I might even be tempted to book myself into one of their gorgeous rooms for a little peace…
The Kingarroch Inn
Main St, Craigrothie, Cupar KY15 5QA
t: 01334 829301
w: www.kingarrochinngastropub.co.uk
Dinner price: 3 courses £28, 2 courses £23; Kid's menu: from £1.50-£8
Food: 9/10
Service: 9/10
Menu: 8/10
Value: 10/10
Atmosphere: 9/10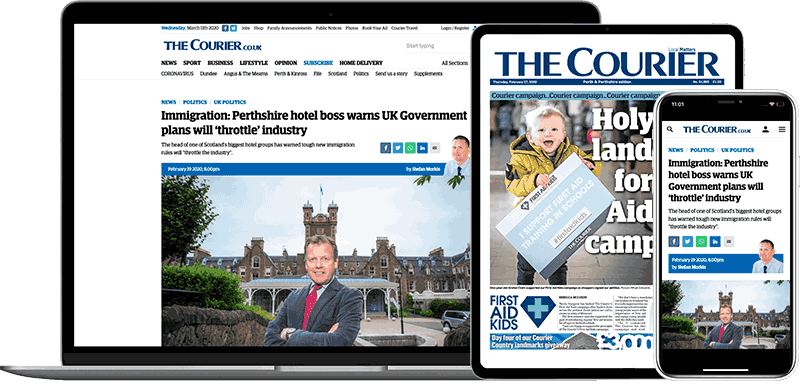 Help support quality local journalism … become a digital subscriber to The Courier
For as little as £5.99 a month you can access all of our content, including Premium articles.
Subscribe