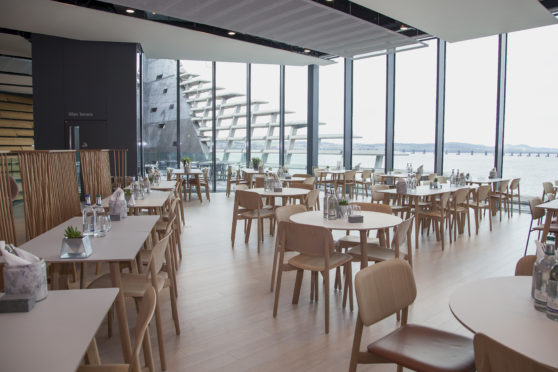 Having visited V&A Dundee several times without ever having tried the Tatha Bar & Kitchen, my partner and I decided to rectify that a week or so back by treating ourselves to lunch there.
The Tatha was reviewed by my colleague Mike Alexander back in September when the V&A had just opened. so I was interested to see if it had managed to maintain its first-class status over the intervening months.
The restaurant – not to be confused with the lovely cafe on ground level – is a gorgeous light-filled open space on the first floor. Almost triangular in shape it feels a bit like sitting in the prow of a ship, with fantastic views across the Tay.
We had booked a table and were shown to it by a friendly server, who soon returned to take our drinks order. Sipping at a house wine and an apple juice, which came in some of the most attractive glassware I've seen in a while, we considered the menu. Deciding to share a starter so we could each have a dessert, we opted for the devilled mushrooms at £8, followed by lemon and thyme chicken, and fish and chips (both £14.50).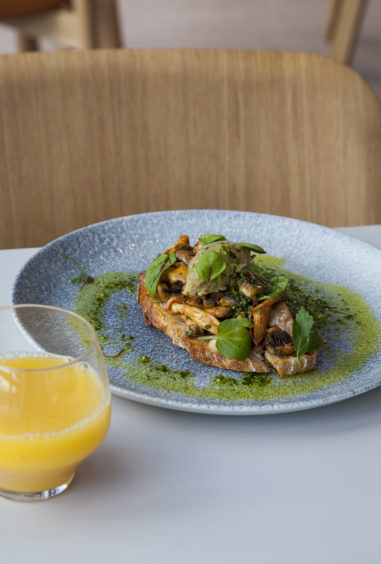 The restaurant was busy so we expected to wait a little while for our lunch but, in fact, our starter appeared in less than 10 minutes. Creamy forest mushrooms, served with crushed avocado and parsley pesto, sat atop toasted sourdough – not only was there more than enough for both of us but it also suggested that the rest of the meal would be of a similarly scrumptious high standard.
After another short wait our mains arrived. My lemon and thyme chicken came with truffled leek, fried polenta, pickled mushroom, a cheese and onion pastry, all finished off with tarragon butter sauce. It wasn't an enormous portion but the various elements added up to a satisfying dish. The chicken was meltingly tender and beautifully flavoured, and while not normally a pastry fan, I loved the little round puff pastry offering, which was as light as air, and a good foil, texture- and taste-wise to the chicken. This was also the first time I'd ever tried polenta which, I discovered, is made from a type of corn grains. Crispy on the outside and soft and yummy on the inside, I really enjoyed it.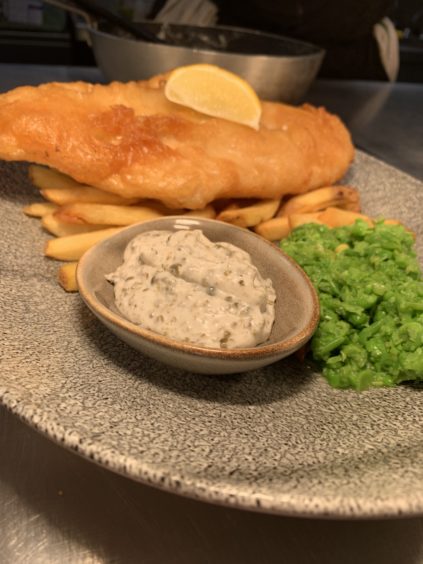 Meanwhile my partner was tucking into his fish and chips. This might seem like a mundane option when eating out but several people had told us that we must try the fish and chips at the Tatha because it was brilliant. And they weren't wrong. Served with skinny fries, mushy peas and a caper mayo, the fish was a golden battered delight, the flesh melt-in-the mouth. The only slight downside were the mushy peas which were more like posh petits pois that might have been mashed with a fork rather than "chippy-style" mushy peas.
Deciding to push the boat out properly, we asked to see the dessert menu and were thrilled to see some unusual options – a welcome change from the usual suspects like sticky toffee pudding and chocolate fudge cake. We plumped (and I use the word aptly) for the baked doughnut with orange curd, £7.50, and the salted caramel and tablet ice cream with apple custard at £6.50.
We were thrilled when our choices arrived as they looked moreish and a bit different from some restaurant puds. My partner's baked doughnut was a thing of beauty, adorned as it was with chocolate cream, orange marmalade and orange segments. The sweetness of the doughnut was offset by the marmalade tang and while a stolid choice, it nevertheless slipped down a treat.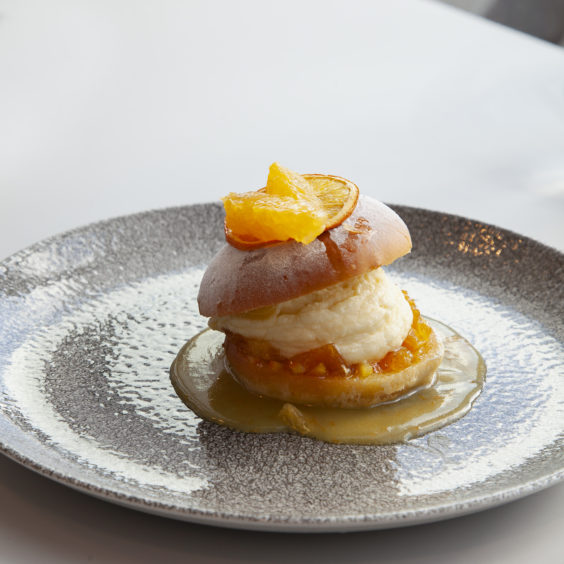 The ice cream, made by award-winning Jannettas Gelateria in St Andrews, was, as you'd expect, tip top. Creamy and rich, studded through with tiny pieces of tablet and enriched by the apple custard. It was also embellished with a little chunk of puff candy and a delicate piece of shortcake. Desserts can sometimes let a meal down but in this case, they only enhanced the experience.
The catering at Tatha (the Gaelic for Tay) is by Heritage Portfolio and they work with some fantastic local suppliers, including Dundee's own 71 Brewing, who won Best Craft Beer 2019 in the recent Courier Menu Awards. We felt our meal was slick, beautifully prepared and flavoured, with pleasant, efficient service. Whether you're there for a business lunch or a family lunch, Tatha manages to combine upmarket food with an informal, relaxing ambience and we're looking forward to going back to try some of the other goodies on the menu.
Tatha Bar & Kitchen
V&A Dundee
1 Riverside Esplanade
Dundee DD1 4EZ
t: 01382 411611
w: vam.ac.uk/Dundee
Starters from £5; mains from £12.50; sides from £3.50; desserts from £6.50.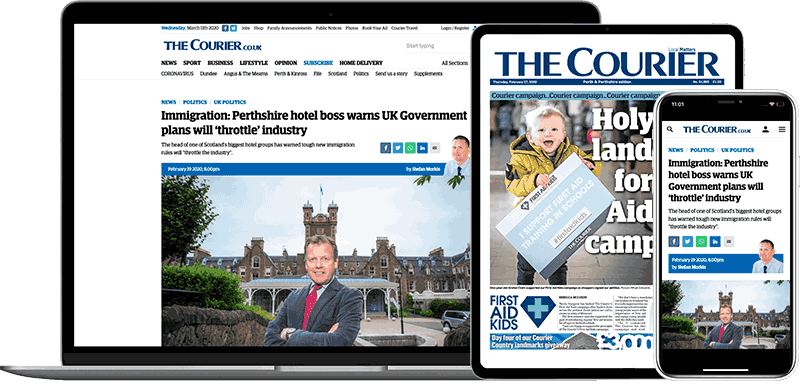 Help support quality local journalism … become a digital subscriber to The Courier
For as little as £5.99 a month you can access all of our content, including Premium articles.
Subscribe