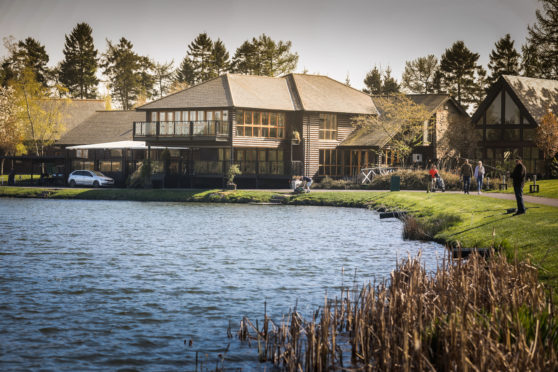 If, as US novelist and poet Gertrude Stein once said, we should forget grammar and think about potatoes then Forbes of Kingennie, a resort in a beautifully rural location mere moments outside Dundee, would be a very good place to let yourself come to a full stop and get back in tune with the land.
Firstly, don't let the word 'resort' put you off. My cursory research into the place had me tag it as a location where people of a certain age might go to fish and to play golf. Nothing wrong with that of course except sometimes in such places the food can be a corporate afterthought, dreamt up in the boardroom instead of in the fields or the kitchen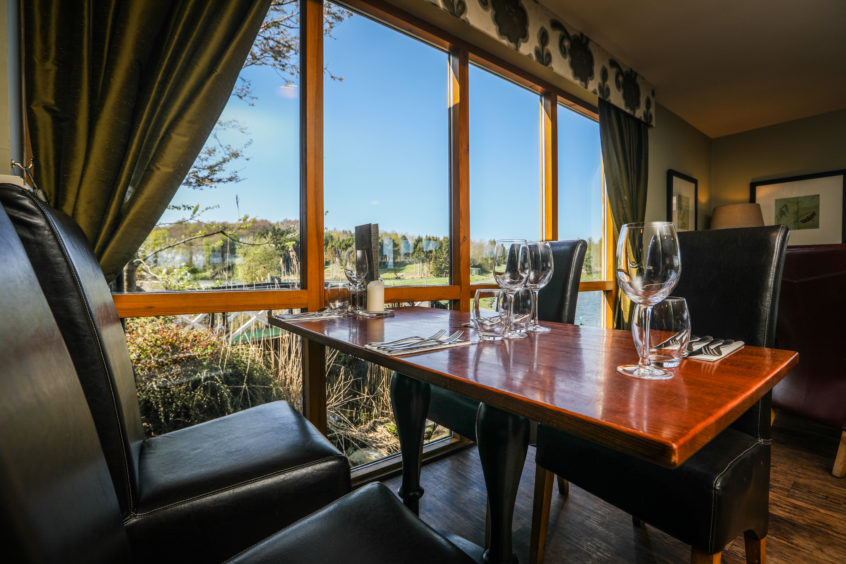 .
I couldn't have been more wrong. This place is a delight and, as far as I can tell, one that hasn't yet been discovered by too many people. That should change very soon.
Firstly, the sheer JOY of a website that tells you everything you need to know – clearly, concisely and cleverly. It explains the history and the ethos of the place so that you get a real sense of the care and attention that has gone into making your whole experience a pleasant one before you even sit down to eat. Suppliers are listed and local. The pork comes from the local farm, thereby explaining the daily pork dish of the day. In a time when provenance is king this stuff is important. Someone here cares enough to engage more than they have to.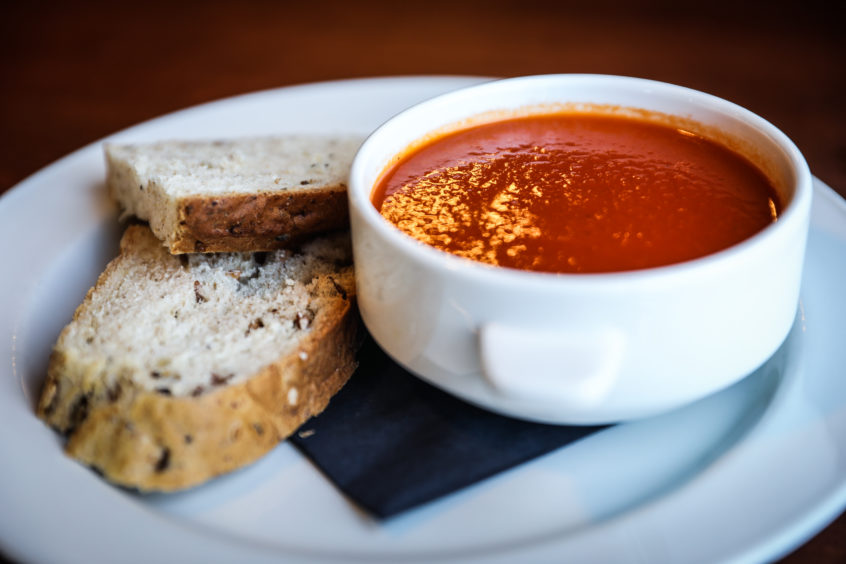 The main dining room is pleasant, with tables well spaced and a huge aquarium in the corner. If that sounds naff then I assure you it isn't. There's a fire pit in the adjoining bar, where you can also eat. The main draw of the room, though, is the view over the trout lakes, which is inspiringly beautiful. The day we went was the hottest day of the year so far and, sitting at our window table, gazing over the lake and watching the fishermen sit in a seemingly Zen-trance was a truly bucolic experience.
From a selection of menus – set, light bites/sandwiches/salads and a la carte, – I chose smoked trout (£6.50) whilst my friend, the impossibly glamorous India Fonda, chose the soup of the day (leek and potato, £4.25). Listen, a gal doesn't get that svelte by not eating soup of the day occasionally although it's a sacrifice I myself am not prepared to make.
The trout, as you might expect from a place where their piscine brethren were still swimming within yards of us, was delicious – served simply with a decent wodge of lemon, capers and brown bread. India said her soup was good if a little over-salted and, to be honest, I think it would be impossible to talk about a bowl of leek and potato soup for any longer than we did – what with the world melting around us and all.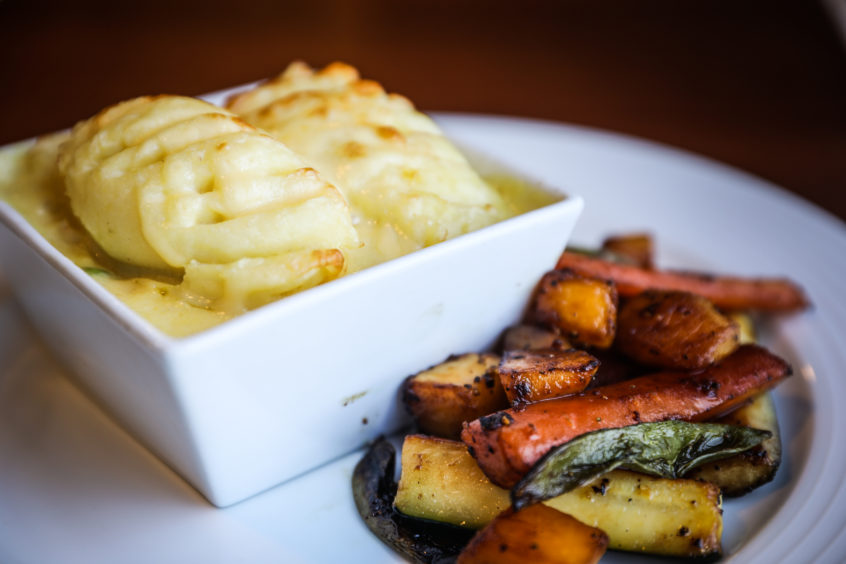 Main courses were fish pie (£12.95) for me and Butternut squash and feta parcel (£10.95) for India. The fish pie was sublime – salmon, haddock and prawns, the Mornay sauce not just binding them but also almost mutating their DNA. When done this well fish pie is like the culinary equivalent of an Hermes blanket – the simple constituent parts subsumed into something grand and deeply satisfying.
India's veggie main course was delicious, the parcel served with spicy couscous, broccoli and a rich tomato sauce. However the ubiquity of butternut squash as a vegetarian option on local menus is something I'd like to start a campaign against – that and the recent rediscovery of cauliflower are enough to make me run for the hills in a carnivorous frenzy – and so I hope that the fact we are in a new season will see butternut return to a mere bit part in the pantheon of delight that can be inspired vegetarian cooking.
We couldn't really do full justice to the shared pudding, an excellent lemon curd tart topped with toasted meringue and served with orange sorbet (£5.50) – but I would starve myself for days before my next visit to eat it again.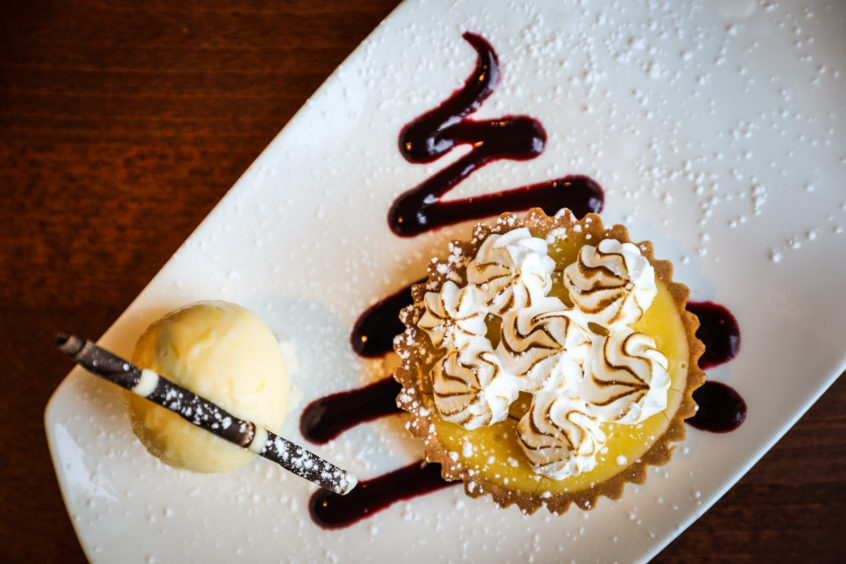 We had a glass of wine each with my French rose (£5.20) seemingly decanting the Angus sun beaming down on us into a medium glass of bonhomie. Life indeed seemed good. Two coffees brought the total bill to a very reasonable £59.55.
Service was assiduous and friendly although it collapsed a bit at the end when we wanted to pay. But it was Good Friday and the sun was dappling off the lake and the conversation was flowing so, hey, maybe the bill can wait?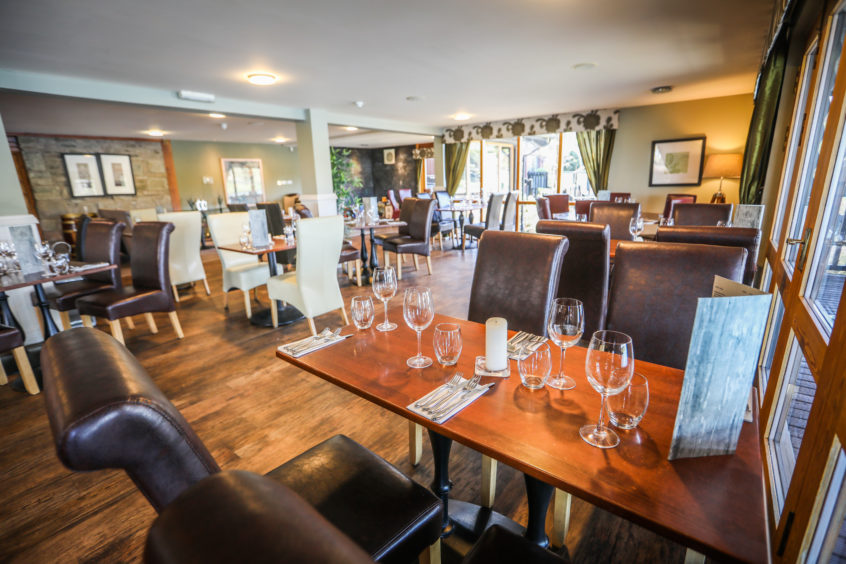 This magical place had truly made us forget the grammar and, in a location minutes from the city and yet so imbued with the idea and feel of the countryside, the transformative effect of a damn good lunch with a friend was palpable. Great stuff!
As a postscript to this, the next day I took friends for breakfast and the service was a bit haphazard with the food slow to arrive, toast coming late etc. The food was still good but my advice would be to let them tighten up their breakfast offerings (more veggie options, for one thing) and, for now, go for either lunch or dinner. There's also a terrace where you can eat alfresco.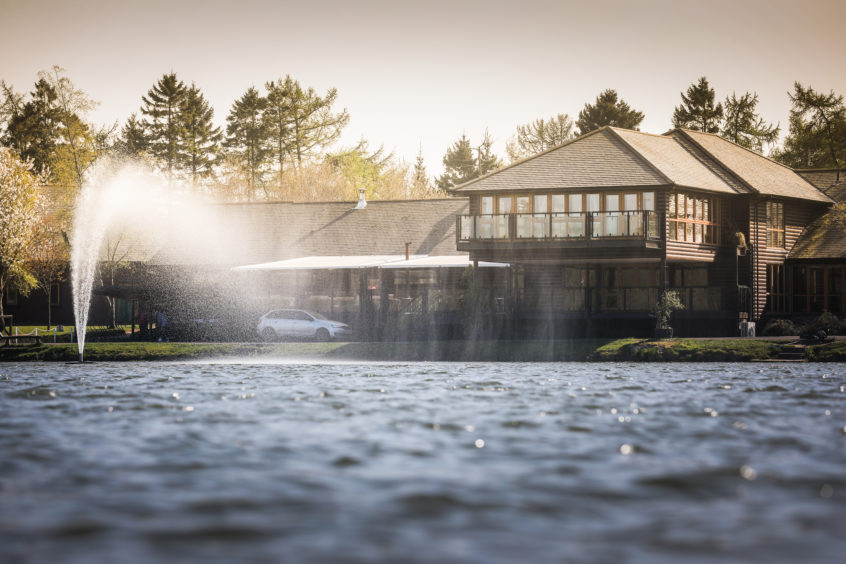 After your meal you can walk around the lakes and, in season, there seems to be a strawberry shack that I would hazard would be a good spot to get some local berries for the journey home. Or if you couldn't face the journey home then the lodges dotted around the grounds would be a good option to stay. Brian Cox must have thought so as he had his 60th birthday party here…
Forbes of Kingennie
Kingennie
Broughty Ferry
DD5 3RD
t: 01382 530777
w: forbesofkingennie.co.uk
Value: 10/10
Menu: 8/10
Atmosphere: 8/10
Service: 9/10
Food: 8/10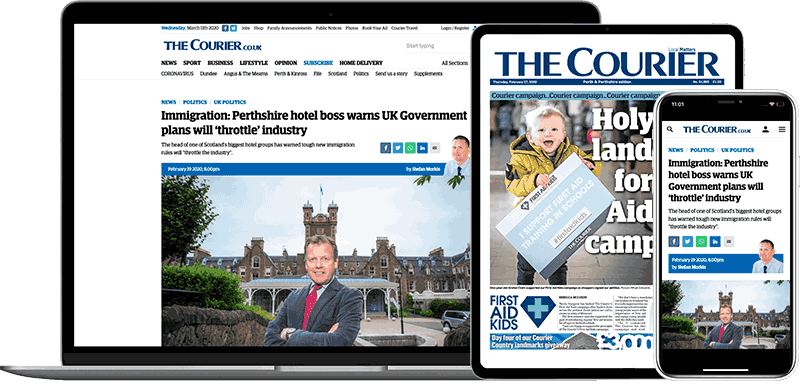 Help support quality local journalism … become a digital subscriber to The Courier
For as little as £5.99 a month you can access all of our content, including Premium articles.
Subscribe