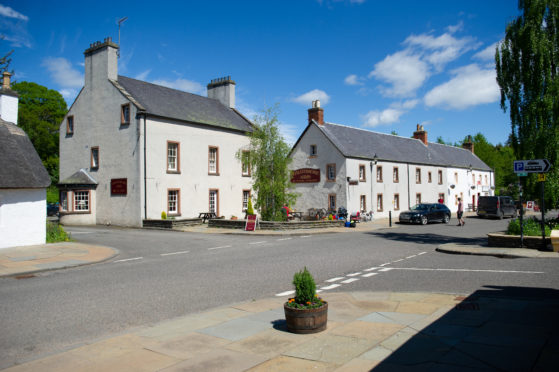 A trip to buy asparagus from the legendary Eassie Farm (rush there now before the very short season ends) led us to the beautiful conservation village of Glamis for lunch.
The Strathmore Arms is set in the heart of this splendid 18th Century village, whose natural focal point is Glamis Castle – erstwhile home of the late Queen Mother and birthplace of celebrated bon viveur and royal renegade Princess Margaret.
I have no idea if she ever frequented The Strathmore Arms but should she be looking down on it now from that great Mustique private beach in the sky I am sure she would approve of the atmosphere – which somehow transposes the louche, decadent interiors of fabled French designer Jacques Garcia (Hotel Costes in Paris, plus many more) to a tiny Scottish village 20 minutes from Dundee.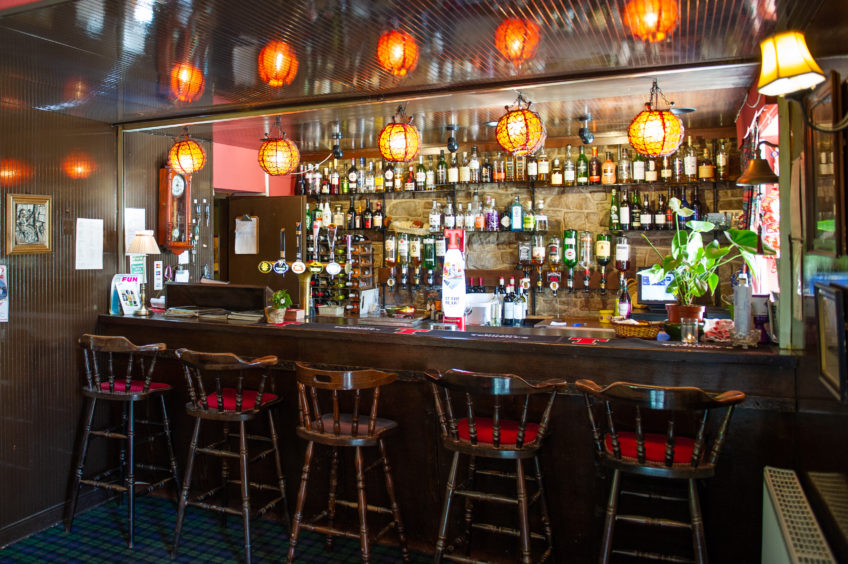 On a sunny bank holiday Monday The Strathmore Arms had a roaring log fire in a main room which appeared to be decorated for a tryst. Fires in restaurants are always a good thing – provided they're contained in a grate, of course. Nothing screams comfort and joy like an open flame. We hadn't booked and were lucky to be given the last free table in the house – and, to my mind, it was the best. A circular banquette in the window alcove proved cossetting, spacious and afforded a view of what everyone else was ordering. It was all good – even if the banquet-sized portions could ultimately have collapsed our own banquette. I swear we left two stone heavier – but immeasurably happier.  What price joy in this short life?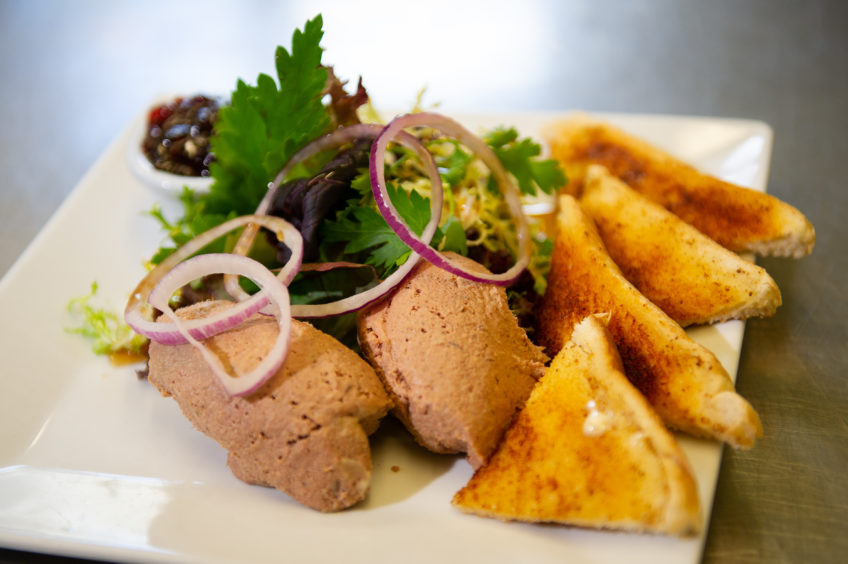 This was an unplanned lunch so we went somewhat off piste with ordering. I had a gutsy game pate to start whilst the two amigos David and Alvin ordered onion rings. Yes, onion rings! We'd seen them waft to another table and, emboldened by the sense of vicarious power which we commoners get from taking selfies at the entrance to Glamis Castle, they decided that if it was onion rings they wanted for a starter then onion rings they should darn well have.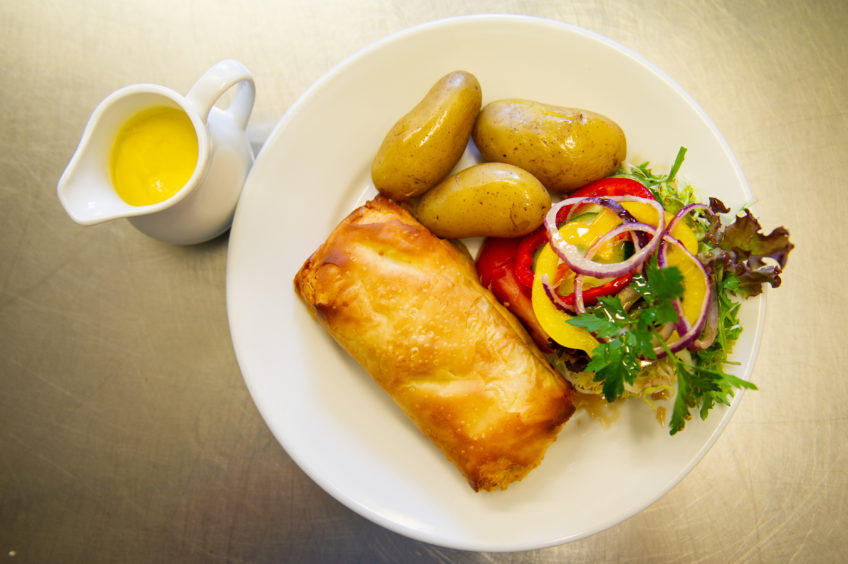 The charming waiter – it's worth saying that the service here is impeccable – didn't bat an eyelid at such oikish decadence. I don't really eat deep fried food but they were delicious. My local game pate (£6.25) was sublime, served with redcurrant jelly and toast. A massive portion, onto which the waitress had accidentally tipped two onion rings whilst serving, a happenstance/culture clash that was as if DH Lawrence had been mugged by Jackie Collins and decided it was the future.
Main courses were a joy. I had salmon with a toasted cheese and leek topping, served with a parsley cream sauce (£13.75). The salmon was beautifully cooked and the sauce a perfect complement although I felt the topping somewhat mugged the delicate flavour of the salmon and could have lived without it. Excellent potatoes.
Alvin had a chicken salad (£12.95) which was delicious, the chicken moist and flavoursome. David had the one vegetarian option – a vegetable strudel served with hollandaise sauce and potatoes and salad. He loved it but once again pointed out the lack of choice for vegetarians on Tayside. At the weekend we'd been to Edinburgh where the choices for non-carnivores are massive and somehow presented in a celebratory way rather than as a gesture. The chef here in Glamis can cook and I would urge her to explore more options for vegetarians.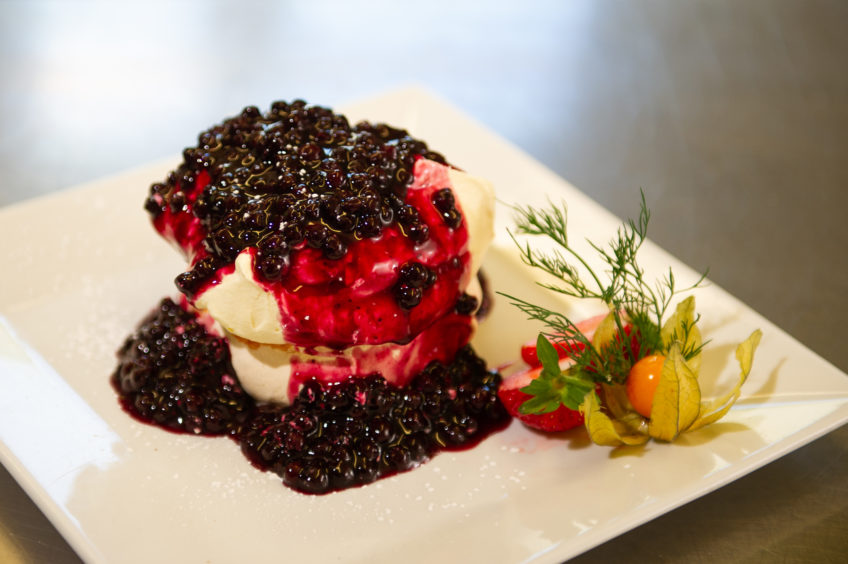 By now the portion size and the fire and the air of general bonhomie were catching and we felt like a dessert would be an unnecessary caprice before the short drive home and an afternoon nap. But we had seen our neighbours from Fife on another table order a pudding each and so we instantly felt we had to man up. Blueberry pavlova (£5.95) was a shared delight, so much so that I felt that if God was to claim me at that moment then I would go with a smile.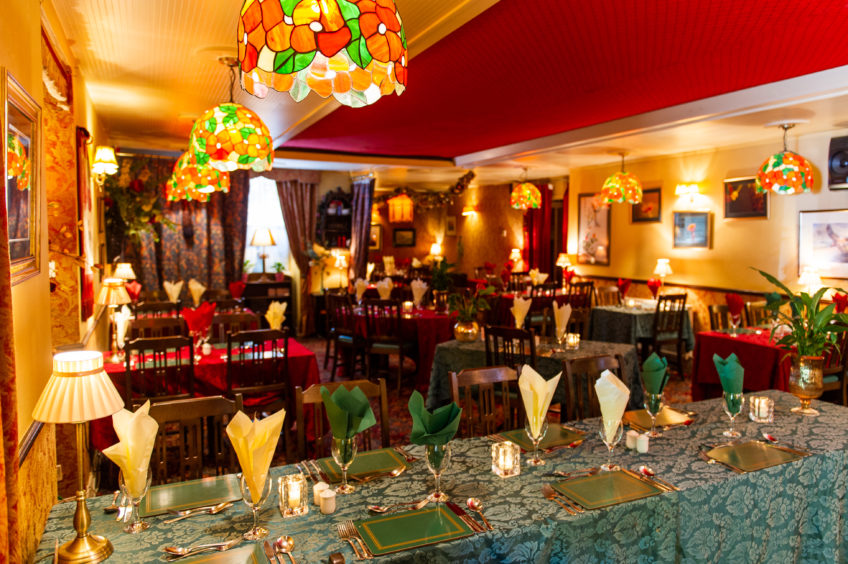 The total bill was an absurdly low £52, albeit without booze. Service was perfect.
Really this place is a joy. It's been in the same family for 25 years. They designed and decorated it themselves and did an excellent job. It's as far away from the pub dining cliché as its possible to be – here you get Tiffany lamps and William Morris fabrics, brown classic furniture, beautiful adornments that lift the spirits. I would guess that the last major overhaul was in the '60's and in fact the men's toilets are architectural classics of that time. It feels welcoming and real and doesn't pander to some spurious, ridiculous idea of change for the sake of progress. It was full when we went and I imagine the people who already know about it love it as they love an old friend or an old coat. As such, when I walked in I felt like I'd come home and immediately thought of that great Kate Bush lyric – "every old sock meets a new shoe". Great place to which we will return often.
The Strathmore Arms
1 Main Street
Glamis
Forfar
DD8 1RU
t: 01307 840248
Prices: Starters from £4.95; mains from £11.50; desserts £5.95
Value: 10/10
Menu: 8/10
Atmosphere: 9/10
Service: 10/10
Food: 8/10