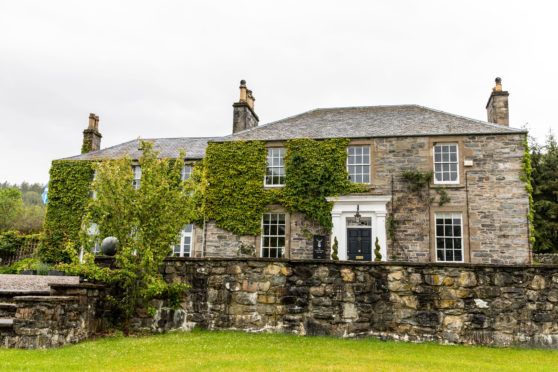 "Wherefore do ye spend money for that which is not bread? …..eat ye that which is good and let your soul delight itself in fatness".  Isaiah 55:2
The sybaritic Old Manse of Blair is situated in the heart of Highland Perthshire, close to the ambient thrum of the A9 and the magnetic pull of the behemoth House of Bruar – which my late father used to call the Harrods of the North.
Situated in beautiful gardens, this exemplary boutique hotel has been renovated with enough quirkiness to appeal to tourists who want a double dip of Caledonia without getting too weighed down in tartan or feeling they're in a theme park. It's contemporary and just Scottish enough.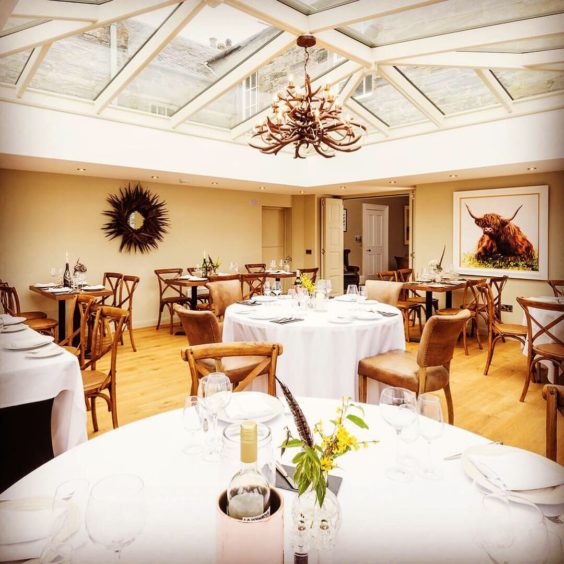 The Orangery is a new addition to the building and, at first, it seemed like we were the only people there for lunch. We three were seated at a huge table for 10, making me feel that perhaps I was going to chair a conference. A special mention to chef Jonathan Greer (ex-Gleneagles) who not only had taken our booking the day before but welcomed us so effusively on arrival before heading to the kitchen to prepare our lunch.
It should be noted that the table looked immaculate: starched linen tablecloths, proper napkins, plates by Sophie Conran (mine so new it still had the barcode underneath), good silverware, quality glasses – everything understated but nicely judged.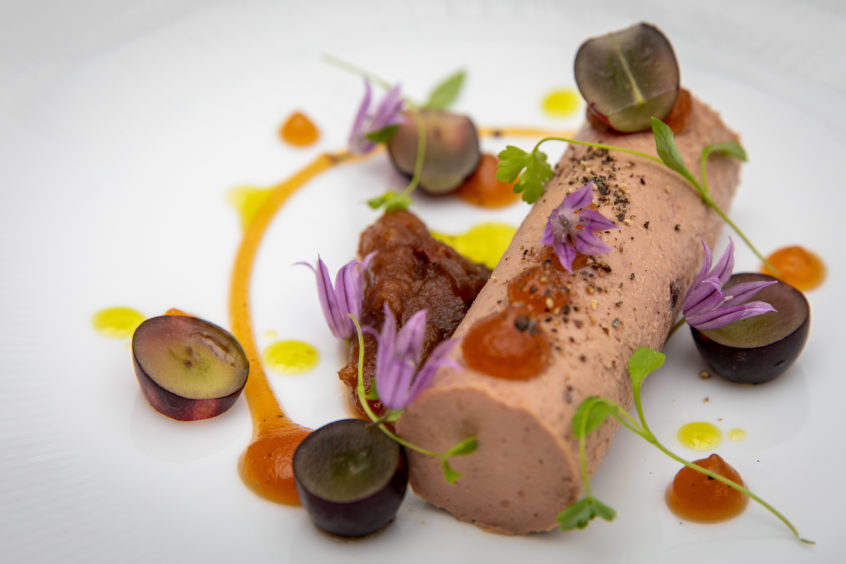 The lunch menu here in Blair Athol is a masterclass in simplicity, using fresh, seasonal produce – much of it local. Everything we ate was beautifully cooked and delicious.
Two of us had chicken and goose liver ballotine, burnt apple puree, chutney and oatcakes to start (£8.25). The meat was wonderful; rich, earthy and perfectly balanced. Everything on this plate was harmonious, singing from the same sheet. Our only criticism is that the oatcakes had been replaced by a brioche type bread and there just wasn't enough of it to scoop up the ballotine, which was so mousse-like in texture it really needed some ballast.
David had white onion soup (£5.25) which was enhanced by the addition of Scotty Dog, a local cider. I don't really order soup enough in restaurants but David said it was great, light and subtly flavoured.
Service was by Anne, the owner of the hotel and she was really the best. Friendly, knowledgeable, welcoming and warm, here was an example of how a brilliant host can completely enhance a dining experience. She exuded passion for her hotel and for the wellbeing of her guests, and that passion was soon to transfer to the whole room, where something happened that I've never witnessed before in a restaurant.
While we were dining, two people had sat at the next table, bringing the grand total of diners in the room to five. The hotel owner seemed a little nervous and, as it turned out, that's because she was in on the whole scenario now unfolding, where one of the men got down on bended knee with a ring in his hand and proposed to his partner. The owner filmed the whole thing on her phone whilst we sat feet away, feeling like we were extras in a film. We burst into applause at this unexpectedly joyous addition to our lunch.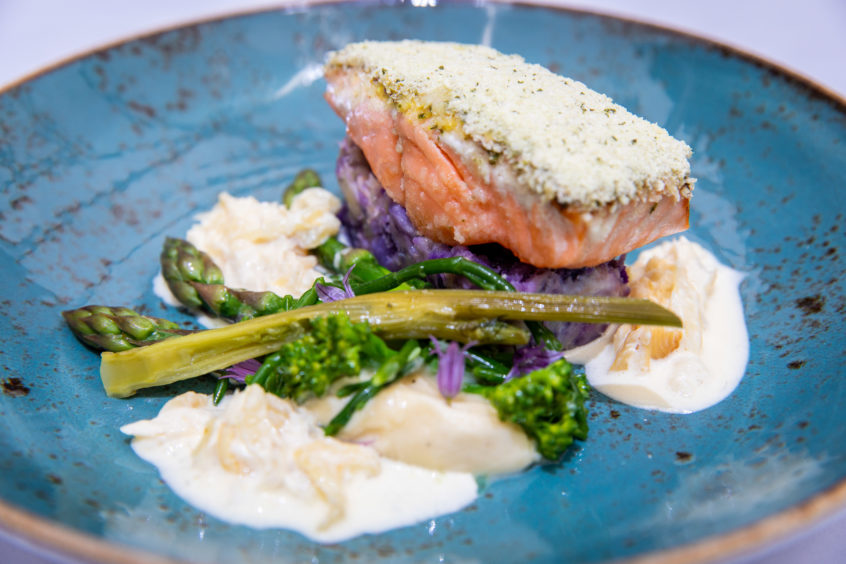 Main courses were spot on. Alvin had breast of chicken, new season asparagus, boiled potatoes, baby gem and mustard cream (£14.95). Now this isn't food that's aiming to reinvent the gastronomic experience or win awards for innovation BUT everything on the plate was there for a reason and the whole thing tasted as fresh as a spring morning. Perfectly cooked, moist chicken – a delight.
I had roast fillet of Shetland salmon, herb crust, crushed new potatoes, braised fennel and Arbroath smokie essence (18.95). It was wonderful with nothing extraneous on the plate although, in truth, I didn't get any sense of the Arbroath smokie essence which you'd expect to be a slightly pugilistic, bantamweight element to a very well-balanced dish.
David didn't fancy the one vegetarian option on the menu (gnocchi, which he always says is God's way of telling you it's time to pebble-dash your house) and thought he'd try to subvert his reputation as the awkward vegetarian by skipping the main course. This owner and chef were having none if it and quietly announced a few ad hoc off menu vegetarian options which the chef could prepare. What a delightful way to handle this situation; thus David very much enjoyed a 'tarte tatin' of heritage tomatoes (£12.95) as his main course, his only gripe being he would have liked some other vegetables as an accompaniment.
Pudding was a variation on Eton Mess as a cheesecake, with macerated berries and clotted cream ice cream (£6.95) which was as delicious as it sounds, although a bit cliched as an offering. If anything I think the puddings on the lunch menu could be expanded/enhanced a little as there were only two options and both were pretty standard (the other was sticky toffee pudding). I'm sure a chef of this stature could show more flair here.
Good coffee came with shortbread and ace home-made tablet which Alvin, being English, had never tasted. We all took great joy in telling him it was basically a cardiac arrest in a rectangle.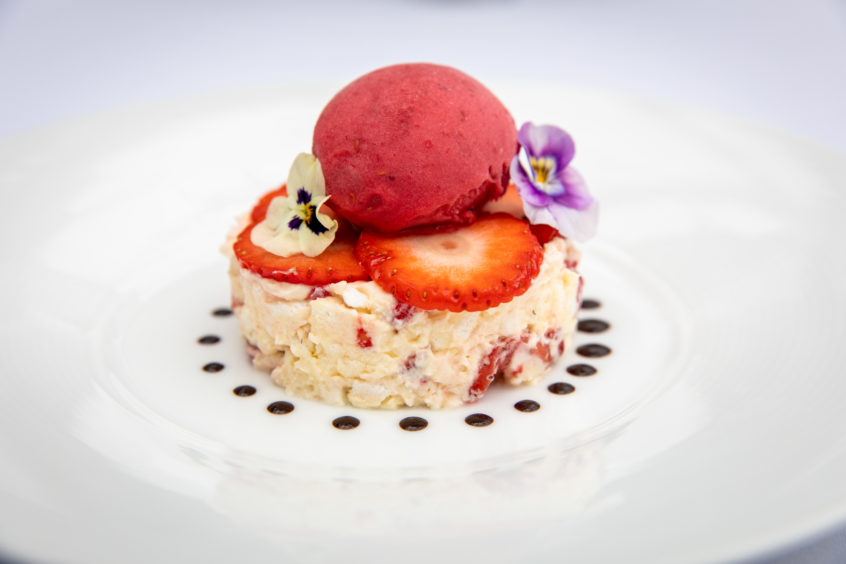 After all this joy, the minor gripes: a rather meagre glass of Chardonnay was £6.95 which seemed a little dour in terms of pricing and measure. The music was naff and too loud and should either be replaced or should go. But this truly is a place to savour and return to. The dinner menu is much more expansive and next time I will be going for that, to savour this great chef flexing his muscles with a wider menu. Drinks in front of the log fire in the reception room would be a perfect start to an evening at this very special location; a stay in one of the rooms after dinner would be a joyous end.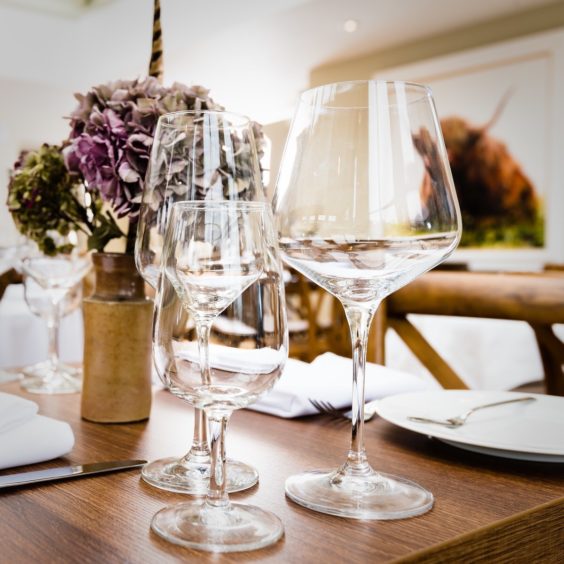 Restaurants and hotels – when they are done correctly, with passion and a purity of vision – should be transformative experiences. Many are not, preferring to cash in their chips for an offering appealing to the lowest common denominator. This place isn't cheap and of course value is in the bank statement of the beholder, but this is a venture built on love and conviction and I for one will be coming back again and again. It's an experience that simply makes you feel great. Top stuff.
The Old Manse of Blair
Blair Atholl
Perthshire PH18 5TN
t: 0844 884 3182
Prices: Starters from £5.25; mains from £13.95; desserts from £6.95.
Value: 7/10
Menu: 8/10
Atmosphere: 8/10
Service: 9/10
Food: 9/10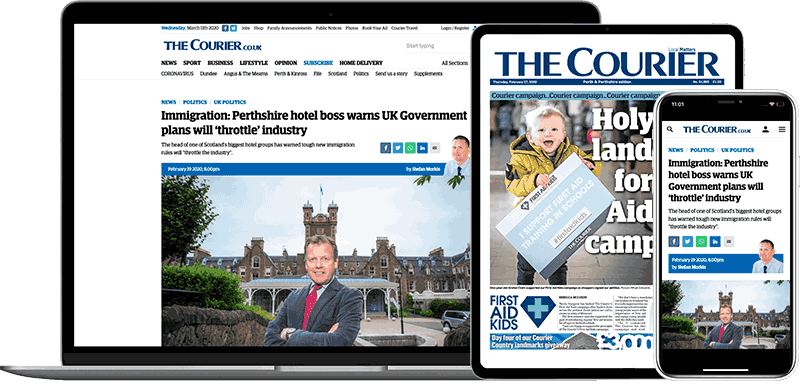 Help support quality local journalism … become a digital subscriber to The Courier
For as little as £5.99 a month you can access all of our content, including Premium articles.
Subscribe