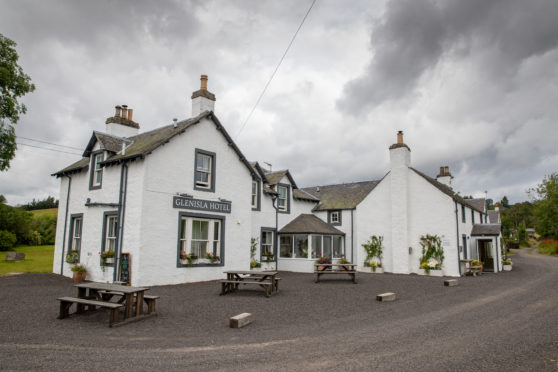 From whichever direction you come, the drive to the Glenisla Hotel is pretty magnificent, with the beautiful Angus Glens unfurling their dramatic grandeur as you drive deeper in. At this time of year it's especially moving to see the farmland being prepared for autumn and winter, a poignant reminder of the power of nature, the cycle of life – and possibly where your lunch is coming from.
An old coaching inn set on the famous Cateran Trail, the hotel sits in Kirkton of Glenisla, a small hamlet with an attractive church mere steps away. It's worth reading the hotel history for tales of subterfuge and bandits, illicit alcohol stills and cattle thieving, here in a land that feels wonderfully like time forgot. And you thought River City and EastEnders were gritty!
The bucolic setting for the hotel is matched by the effusive welcome guests and diners receive from a notably proud staff. We had Sunday lunch on a beautiful late summer's day; the dining room was light and pleasant, the sun streaming in through doors opened to a functional terrace. Paintings by local artists line the walls, the tables are well-spaced and the feel is relaxed. Two ultra-friendly women run the room with effortless ease.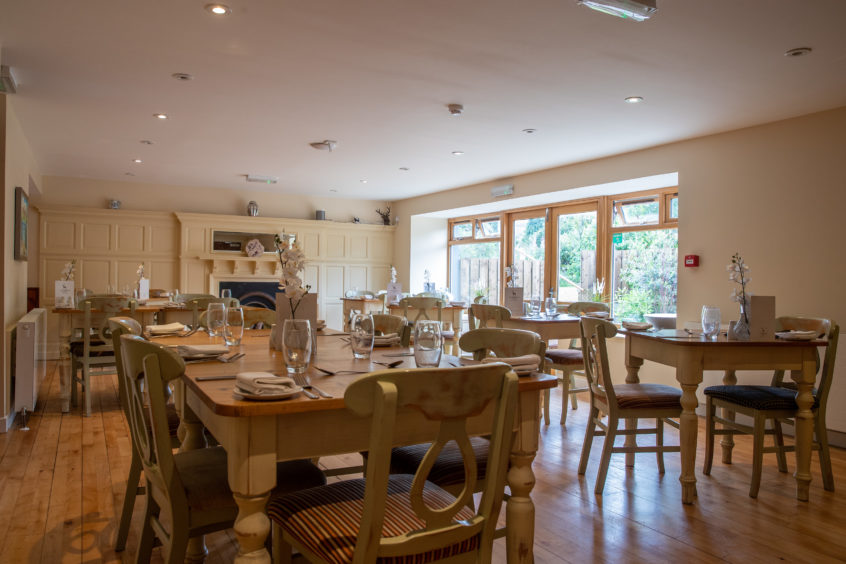 The food is good, and some of it wonderful. I would say that the chef Chris George has high aspirations which mean that most of the new fine dining a la carte menu – my perfect venison, for instance – punches way above its weight against more standard pub fare like deep fried scampi and macaroni cheese on the regular menu. I loved everything on the a la carte menu which featured dishes including grilled mackerel with crayfish and parsley sauce and locally foraged chanterelles on toasted brioche.
For my starter I had hand dived scallops, Stornoway black pudding, langoustine bisque and samphire (£7.25). Scallops and black pudding is a classic and the introduction of the langoustine bisque was an inspired one, although I thought the rich bisque had been reduced a little too much so that the intensity had a slight muddiness to it. But I polished off every drop so who's complaining?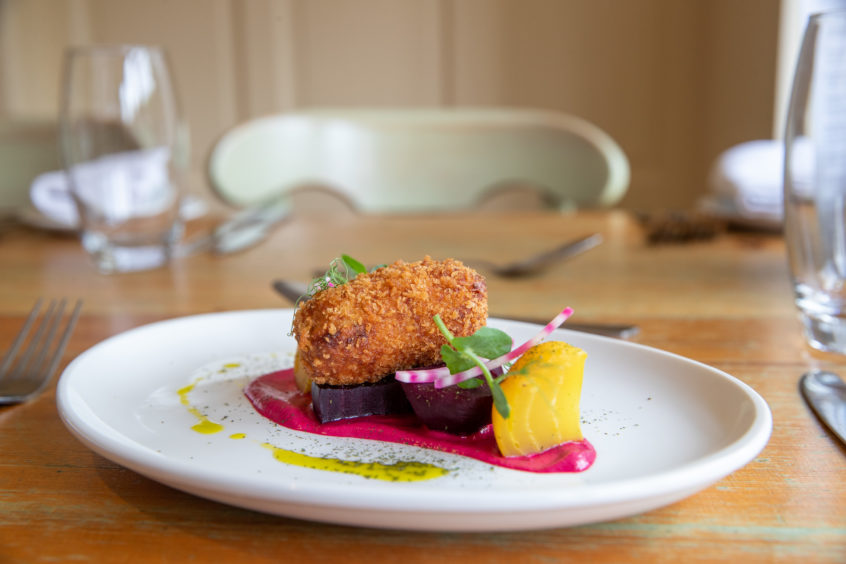 David had roasted baby beetroot, blue cheese croquette and herb dressing (£5.50) which he pronounced one of the best vegetarian starters he had sampled since giving up the sins of the flesh 5 years ago. High praise indeed!
Main courses were haunch of venison, roasted carrot, carrot puree, potato galette, seasonal greens and jus (£17.95) for me and the more prosaic macaroni cheese (£12.95) for David. Alvin ordered the roast chicken (£16), one of a number of roast dishes available on the Sunday.
My main course was perfect; pink venison atop unctuous creamy potato. What's not to like about that? Wonderful food cooked with respect for the ingredients. Loved it! However, David's macaroni cheese was odd, with an underlying taste of slightly tart sweetness that jarred. Was it gruyere that had been used? Surely not vinegar? It wasn't the worst thing in the world but really, when you order a basic like macaroni cheese you want that classic rich depth of flavour that comes from a good strong cheddar or similar. Experimentation and fluidity in most things are good but we must surely draw the line at mac' n' cheese!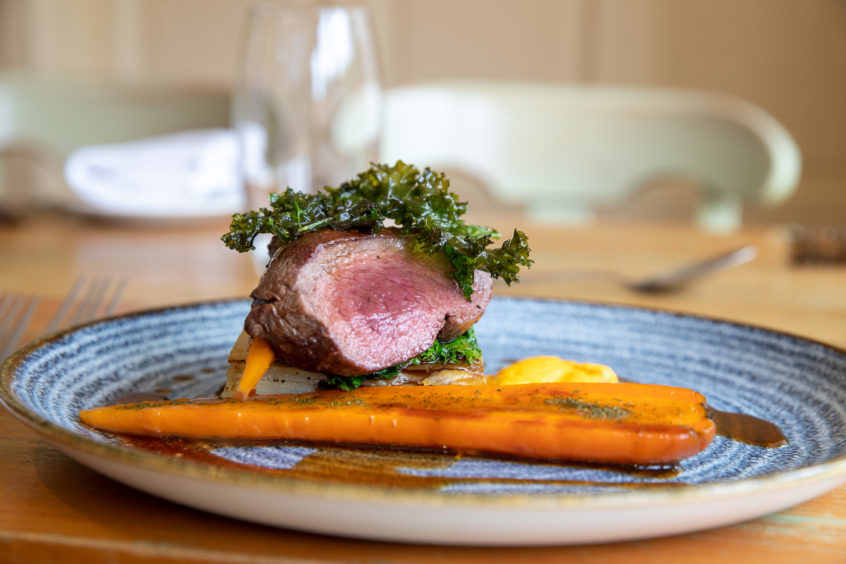 Alvin's roast chicken was pretty good but the portion could have been bigger and there definitely should have been more gravy – it was a bit dry and serving it with a jug of rich juice would have lifted it immensely. Now the chips/wedges. Well, the chips that came with it were like no chips I can remember! I ate three in an attempt to solve what had happened, like a culinary Miss Marple trying to apportion blame. But we never solved the mystery of these…. objects which, in texture and taste just were not chips but a weird amalgam of roast potato and cold rubber with vinegar on them. Conversely, David's chips were fine.
Desserts were good, with a few minor misfires.
The vanilla panna cotta with rhubarb compote, honeycomb and tarragon granita (£5.95) should have been great but the balance was skewed and it was just a little too sharp. And I like sharp in everything including wit! The Scottish strawberry soup, baked white chocolate , wood sorrel and lemon sorbet(£5.50) was a refreshing homage to  summer in a bowl whilst the Cranachan cheesecake with raspberry coulis(£5.50) was also very good.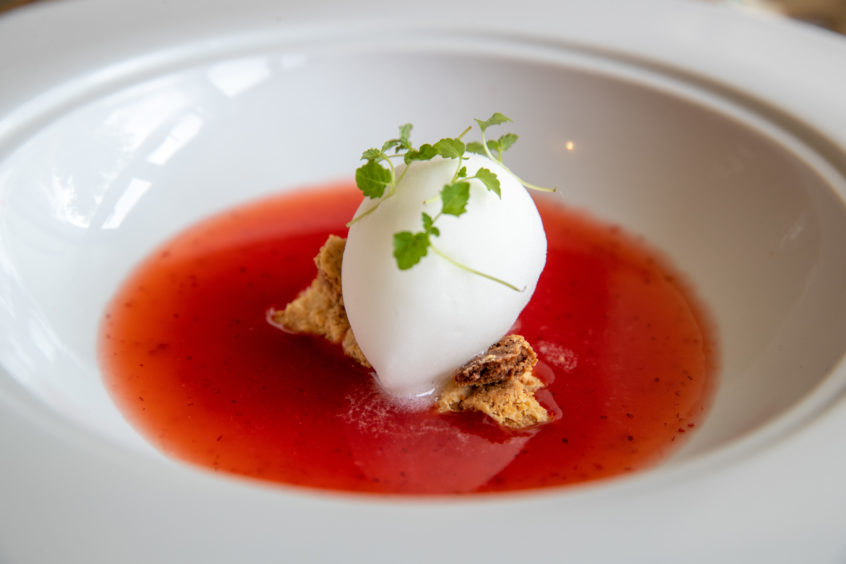 A reasonably priced wine-list is available. Soft drinks are served in the can, with the can left on the table. Pepper would be better in a grinder rather than pre-milled in a pot. Service is excellent – friendly, swift and courteous. It's worth noting and celebrating the importance of a friendly smile on arrival at a restaurant, a small gesture that instantly relaxes the guest. General manager Annemarie is an exemplary host.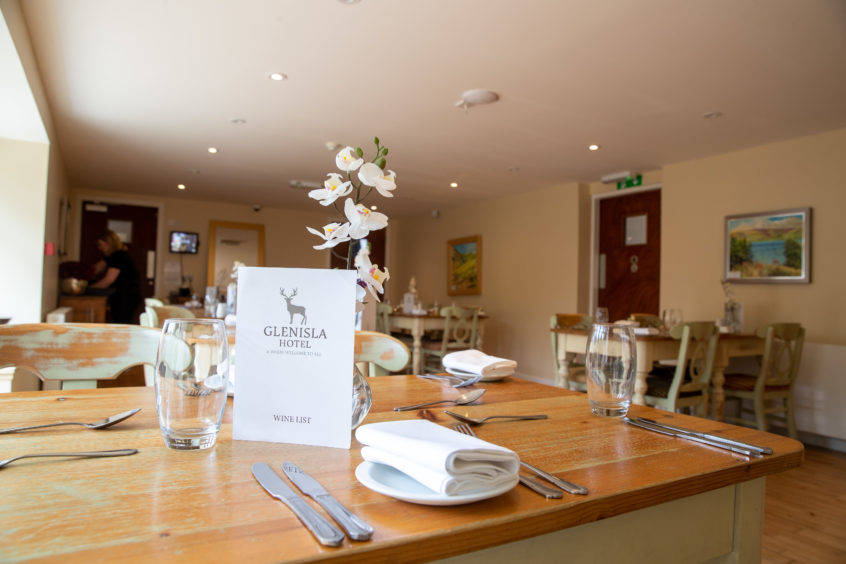 Places like the Glenisla Hotel are to be lauded because they really are continuing the great tradition of restaurants with rooms and vice versa.  For their captive audience of hotel guests they could choose to serve only very basic food – but they don't. They go the extra mile with a brilliant seasonal a la carte menu.
This is food devised and cooked by people who care and a charming hotel with a restaurant which deserves to be a destination in its own right.
Glenisla Hotel
Kirkton of Glenisla, Blairgowrie PH11 8PH
t: 01575 582223
w: glenisla-hotel.com
Prices: starters from £4.50; mains from £10.50; desserts from £5.50
Value: 8/10
Menu: 8/10
Atmosphere: 7/10
Service: 9/10
Food: 7/10
Total: 39/50