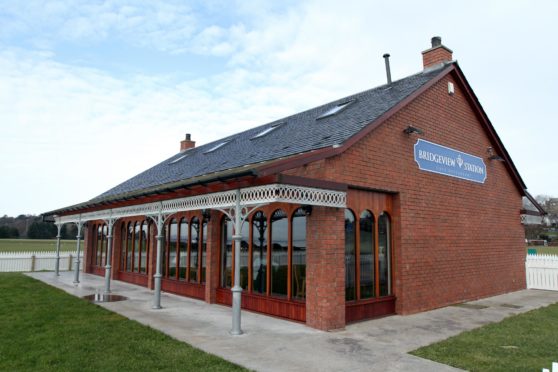 Despite frequently having breakfast there (the perfectly cooked, deliciously creamy scrambled eggs on toast is an absolute steal at £3.60), I have never really thought of Bridgeview Station as a place to go for lunch or dinner.
More fool me because I now realise that the menus for both fill a real gap in Dundee dining – well-sourced excellent ingredients cooked well, and at prices that mean eating here needn't break the bank.
Lunch is a fairly simple choice but I very much enjoyed my penne with a sauce of roasted red peppers, feta and chilli oil for £9 and a share of the ploughman's platter containing notably good salami, cheese and pork pie (£8). A soup and sandwich deal for £7.95 would be my way to go next time.
However it's at dinner that head chef Rory Lovie really gets to flex his muscles, with a monthly changing menu featuring  locally sourced ingredients and some surprising flavour combinations – and all for £20 for 2 courses and £25 for three. Cooking of this skill and ambition would normally carry a much higher price tag and, just as at breakfast and lunch, the family-owned and run Bridgeview station is to be congratulated for providing food of this quality at such competitive prices.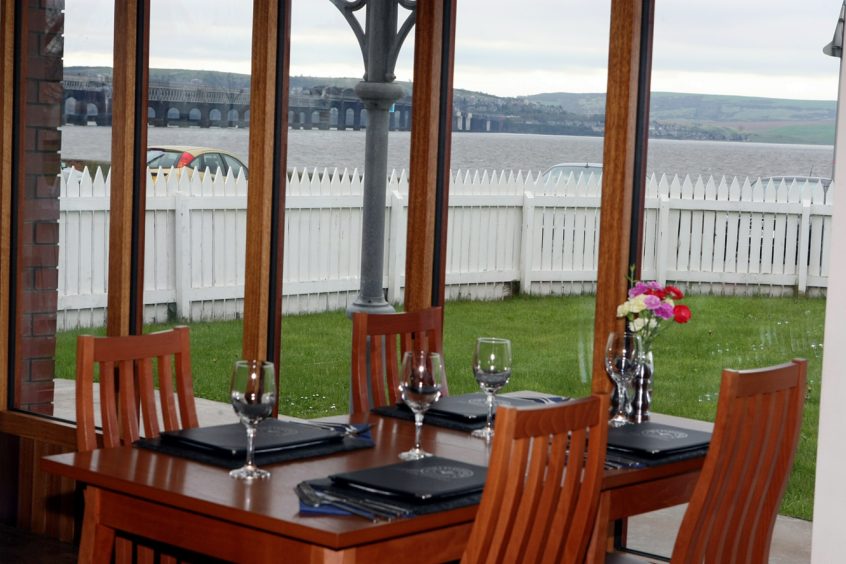 The room itself is a bit of an understated gem. At first it seems nothing remarkable although of course the view of the rail bridge and over the river to Fife is expansive and lovely. Sunsets in the big sky seen from these windows are magical. But as you look around you realise that smart minds were at work here on the design; first there's the old railway carriage outside, now repurposed as a venue to provide takeaway food but also effectively defining the feeling of being in a station – whilst also screening off the distinctly unromantic reality of the busy road beyond.
The windows in the restaurant itself are shaped like those of a train carriage but it's done with subtlety and flair; huge blown-up images of the bridge add to the visual appeal. The tables are well-spaced and as night falls the restaurant does take on the seductive feel of an old station. Lighting is low. It's a very clever visual palette that feels somehow un-designed but works brilliantly. Music is jazz, played at a pleasingly unobtrusive volume.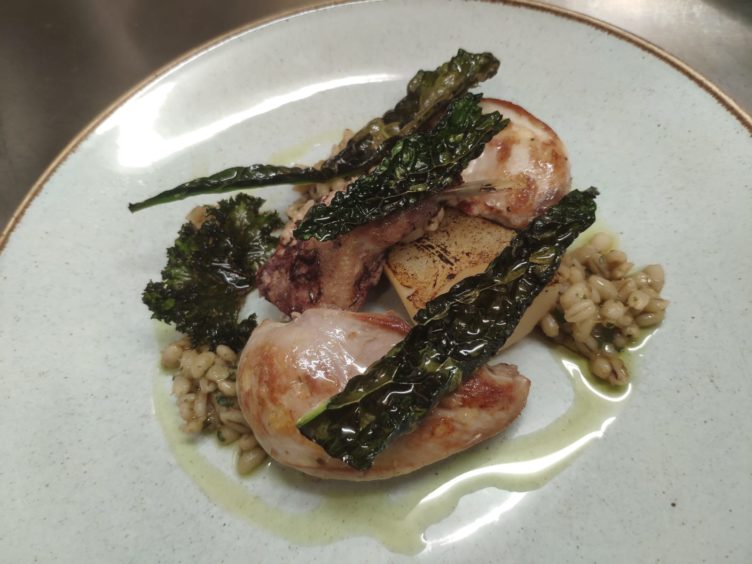 The waiting staff wear black and white uniforms, an inspired touch that is instantly nostalgic, even for a generation more at home in jeans and trainers. I myself am at the age where it reminded me of the wonderful Dundee tearooms of old, many within the department stores that themselves are now memories from another time.
My starter of Peterhead smoked haddock, creamed sweetcorn and Falkland kale was excellent, the flakes of moist fish perfectly merging with the ambrosia of the creamed corn – although the fish was mildly oversalted. David's starter of whipped feta, Falkland kitchen farm tomatoes and marjoram was delicious although I would urge caution with the frequent notes on provenance – much as they seem to be crowd-pleasers on a menu. I personally don't need to know where every lettuce leaf has come from to enjoy a salad.
My main course of Angus partridge, braised leg, pearl barley, scorched pear and Falkland cavolo nero (has poor Falkland been stripped bare of vegetables to provide tonight's menu?) was wonderful and a total bargain. Brilliant combination of flavours! David had the one vegetarian option on the main menu (my lunchtime pasta dish was also available in the evening on a classics menu) – Balmuir honey roast parsnips, hazelnut, pickled Dundee apples and truffle oil.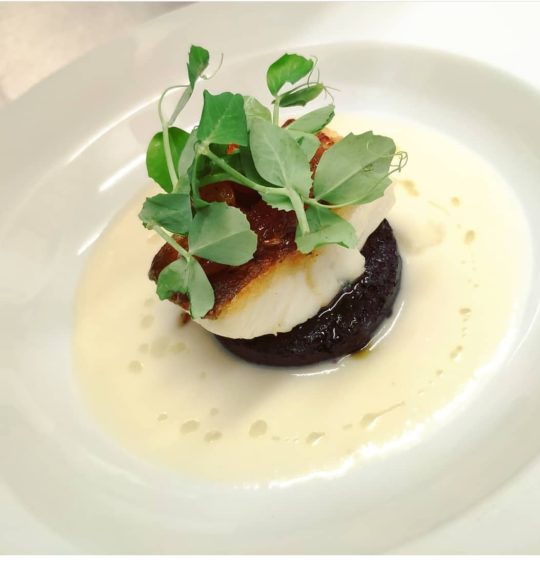 While I enjoyed it, he wasn't totally sold on the flavour combination and we both agreed that the pickled apple and truffle oil were ingredients which jarred rather than gelled. I think a few more vegetarian options or even a separate menu would be a very welcome addition. A side order of chips were pleasingly made from skin-on potatoes and tasted good although they weren't as gum-searingly hot as we like them.
My dessert of dark chocolate and plum cake, Katy Rodgers crème fraiche sorbet and chocolate soil was absolutely the business; perfection on a plate. David's cheese plate, sourced from The Cheese Byre in Perth, had an excellent selection including Anster and Blue Murder, plus a very good chutney and great oatcakes. There is no supplement for this plentiful cheese course, making it another real bargain in a night filled with them.
The meal was finished with excellent coffee and pistachio tiffin, all included in the set price.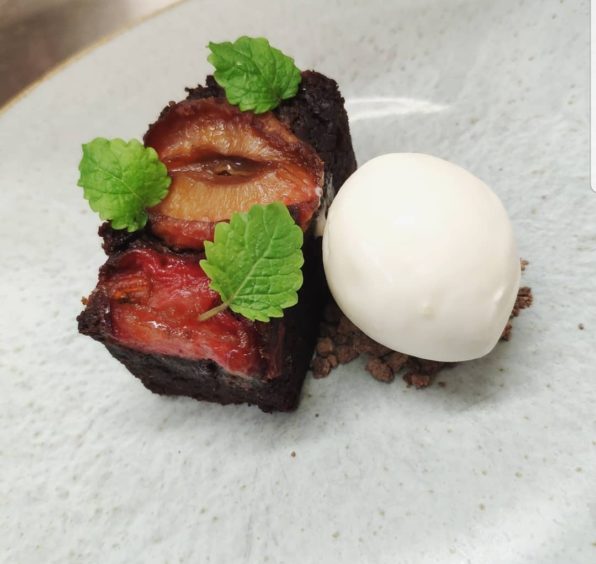 Sometimes it's easy to despair about eating out, when the bill can be stratospheric and the food is either too complicated or too basic. Bridgeview Station has got it just right. Dinner here is a true bargain for food of this ambition and quality. It's a lovely space with brilliant staff and a chef who has real skill, both in sourcing and in cooking.
The view is magical. There's free car parking outside which is such a boon in a city where car parking sometimes costs more than in London – although if you want to explore their competitive wine list then the staff will get you a taxi home, or you could walk off some calories on the lovely riverside path back into town.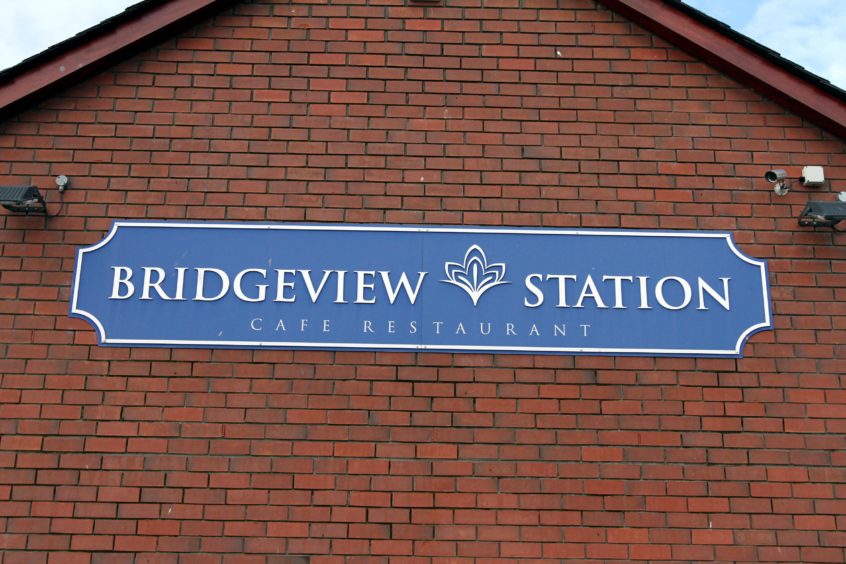 This is a gem of a place and one which deserves to thrive – which they must be doing as they are currently extending it. In a way it's out on its own in Dundee because here they have great food available morning, noon and night (dinner Wed-Sat only), cheap prices, a wonderful setting, great service and an inventive chef who exploits the wealth of ace local produce from our surrounding area. AND it's independent and family run. Really, what's not to like?
Bridgeview Station Restaurant
Riverside Drive
Dundee
DD1 4DB
t: 01382 660066
w: bridgeviewstation.com
Prices: lunch dishes from £5; dinner £20 for 2 courses; £25 for 3
Value: 10/10
Menu: 7/10
Atmosphere: 8/10
Service: 9/10
Food: 8/10
Total: 42/50