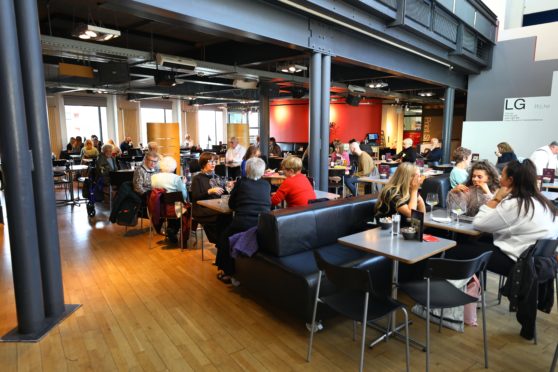 Twenty years after opening, Dundee Contemporary Arts remains a hugely important cultural beacon in the city.
Under the leadership of director Beth Bate, it's a true hub for the creative arts both within the city and far beyond.
An excellent broad-reaching curatorial vision has helped the organisation remain a powerful and influential presence in contemporary art whilst their cinema, print-making facilities and learning programmes have become intrinsic elements of city life for many, making the building somewhere that truly embodies the idea of art for all.
The building itself is beautiful. Designed by Richard Murphy, the interior is a perfect combination of boldness, pragmatism and assured design. In 2016 it was listed in the top 10 of Scotland's best buildings of the 20th Century.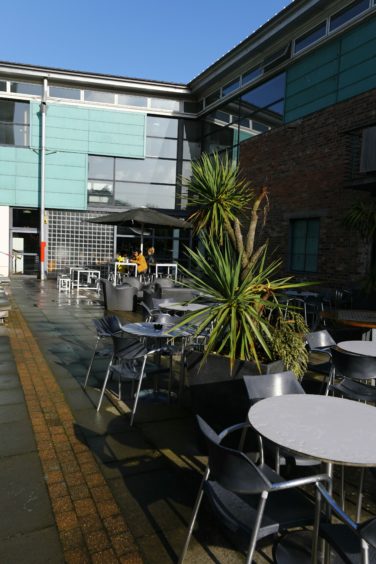 As the door slides open, even after 20 years, it seems to open our eyes to another world beyond our immediate surroundings. What more could you ask of a building?
You have to make an entrance to Jute because the deep staircase demands it; it's always quite thrilling to walk down these steps – the idea of eating out being part-theatre is hugely appealing and here it works in a way that is glamorous, understated and modern.
I've never had a bad meal at DCA – and I've eaten here many times at breakfast, lunch and dinner. So many places open to a huge fanfare and then can't sustain it – so to achieve this level of consistency is quite remarkable. It's also one of the very few restaurants in Dundee that opens late.
Tonight's dining partner India Fonda and I share a similar idea of what we expect from a good restaurant, and it's not only good food. It's something quite intangible but you know it when you find it.
There's a buzz here which is hugely alluring and conducive to a great night out. It feels properly metropolitan and glamorous and at the centre of things – and let's face it, no one wants to be dining with or within dreariness.
The menu is modish and quite in tune with the way we like to eat today. There's something for everyone and – this being the closest Dundee has to a true brasserie – you could happily come here regularly and never get bored. Vegetarian and vegan options are the widest I've seen in Dundee. The wine and cocktail list is good.
To start I had garlic and chive calamari with chipotle mayonnaise and coriander salad (£6.50). It was exemplary and I love it when herbs are used in abundance this way, instead of as a mere garnish.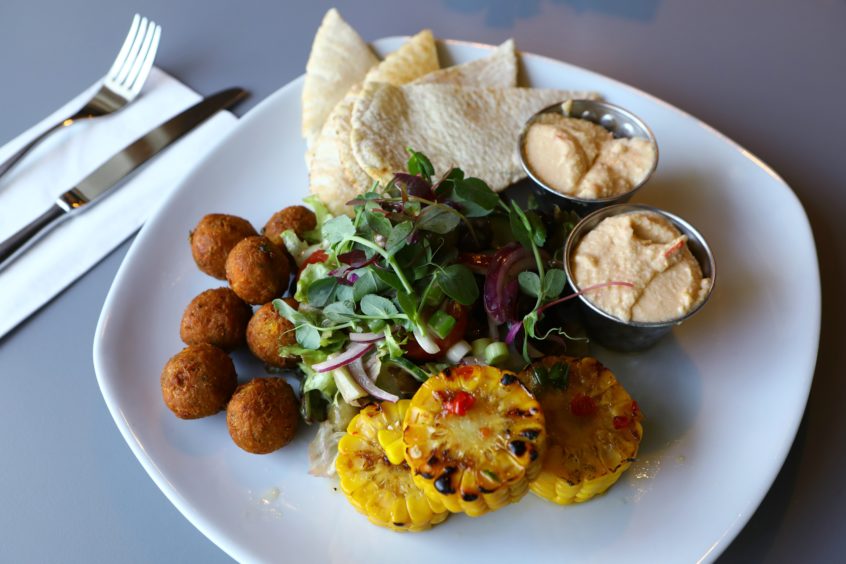 India had tempura broccoli and courgette fritters with guacamole dip (£5.25) – so we both did our bit to keep the home fryers burning.
My main course of honey lamb cutlets, braised lamb shank croquette with creamy Savoy cabbage and carrot (£16.95) was just delicious – the lamb perfectly pink and the cabbage a wonderful complement to the meat. The croquette was like the backing singer who almost becomes the star of the show, and I could have eaten another and possibly another after that.
India ordered the vegan plate (£11.50) which we waited for with huge anticipation since the menu heralded that it contained chic peas. As India is one of the most chic women in Dundee it seemed fitting – but alas, it was of course a mere chick rather than a slick chic pea.
The vegan plate is quite extensive and probably would be best shared but the coriander and pumpkin seed falafels, roast beetroot hummus and especially the chilli and maple corn on the cob all tasted delicious; these will also mean that your entry to Heaven is assured, especially if Paul McCartney and Chrissie Hynde are manning the guest list.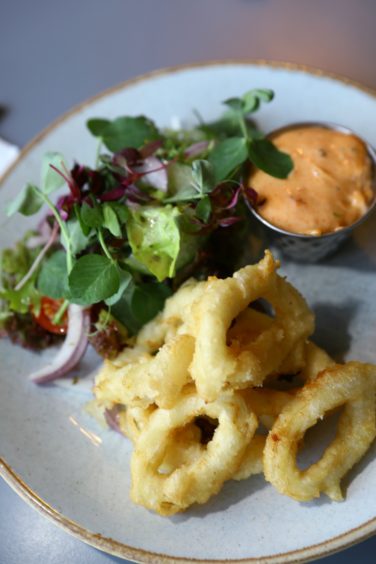 For dessert we shared a delicious lemon tart with raspberry sorbet (£5.95) which looked like a culinary work of art – quite appropriate to where we were eating, I guess.
The service was perfect – polite, friendly and knowing. A corked bottle of Merlot was acknowledged and speedily dealt with by a notably enthusiastic team of waiters. The room buzzed with an interesting cross section of people.
Next to us a woman dined alone, reading her book in an atmosphere that somehow managed to be relaxing, warm yet energised. India and I agreed that the best evenings are when everything comes together to create an experience where you don't even notice the time passing – and this was one of them.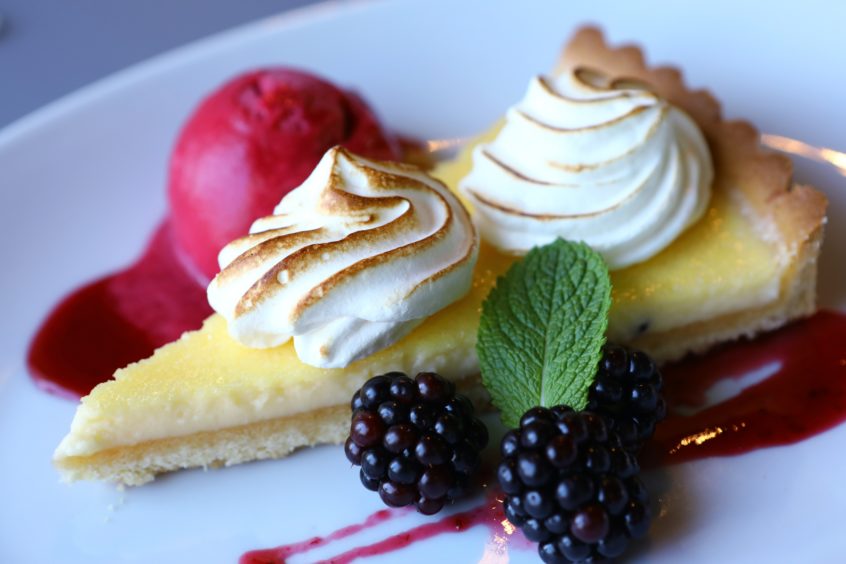 Jute at DCA is such an integral part of Dundee's dining and bar scene that it's hard to imagine life without it.
It means that you could spend most of the day within DCA, either at the excellent cinema or in the galleries ( their current Alberta Whittle show is a must-see), eat and drink well, and feel that you've been part of something that has been curated with care and respect.
I remember the famous quote by Kengo Kuma when the V&A opened – that he wanted the museum to be a living room for the city. Whether that has already happened or not at the V&A, 20 years later the different offerings up the road at DCA make it feel very much like home – and sometimes (chronic pun alert – I'm truly sorry!) home really is where the art is.
Jute Cafe & Bar
DCA
152 Nethergate
Dundee DD1 4DY
t: 01382 990900
w: dca.com
Prices: starters from £3.75; mains from £9.25; desserts from £4.95
Value: 9/10
Menu: 9/10
Atmosphere: 10/10
Service: 9/10
Food: 8/10
Total 45/50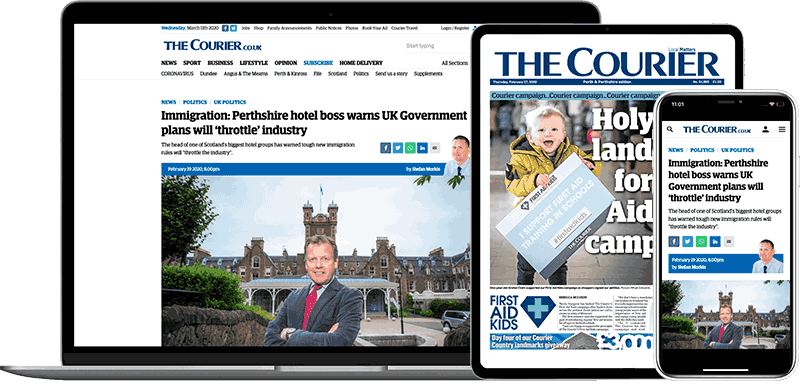 Help support quality local journalism … become a digital subscriber to The Courier
For as little as £5.99 a month you can access all of our content, including Premium articles.
Subscribe