With entries for the Menu Food and Drink Awards 2019 already pouring in, it's time to meet the judges who will be choosing the winners of the 11 categories.
These include Coffee Shop of the Year; Street Vendor of the Year; Restaurant of the Year; Chef of the Year; Farm to Fork Awards – Food and Drink; New Talent (Rising Star); Pub of the Year; and four new categories: Best Craft Beer; Best Craft Distiller; Cocktail Bar of the Year; and Best Newcomer.
The winners will be announced at a gala dinner at the Old Course Hotel, St Andrews, on March 28 2019. The closing date for entries is January 11 2019 – and don't forget, it's free to enter.
This year's judging panel includes Graeme Broom, Martha Bryce, Viv Collie, Mary-Jane Duncan, Ian MacDonald, Andrew Scott and The Courier's acting editor Catriona MacInnes.
Graeme Broom, wine development manager, Wine Importers
Graeme, who was on the panel for the inaugural Menu Awards, has been in the licenced trade all his life and, fascinated by flavour and origin, he is interested in all categories of drinks and in his spare time he runs his own business doing whisky tastings.
"I am looking forward to seeing even more evidence of the amazing work being done by inspired entrepreneurs, chefs and producers," says Graeme of 2019's awards.
"I was overwhelmed by the innovation of the entries we saw last year and am sure this year will be no different.
"The Menu Awards are a great opportunity to give recognition to these people who work hard serving their communities and reward all their achievements."
Martha Bryce, director of Soundbite PR, specialising in hospitality and food & drink businesses
Martha's life revolves around food and drink. She grew up in what was then one of the region's few artisan food producers (Fletchers of Auchtermuchty, the first deer farm in the world and venison pioneers), and from that time has worked to promote food, drink and hospitality businesses in Scotland and Southern Europe.  She now directs Soundbite PR, which specialises in hospitality and food & drink in Scotland and beyond. She also coordinates regional food group, Food from Fife.
Martha says: "I'm lucky enough to work with some amazing businesses: from food and drink producers, to restaurants, festivals and food writers but these awards bring out some wonderful stories. It's incredibly impressive to see the talent across all the categories: from innovative companies to inspiring individuals. I'm delighted to return to the judging panel this year and look forward to reading the entries and discovering these unsung heroes. The Menu Awards have really afforded the opportunity to celebrate this – and it's crucial that we do. There's so much to take a pride in in food, drink and hospitality in this region and it's great to see everyone come together in this way."
Viv Collie, Savour St Andrews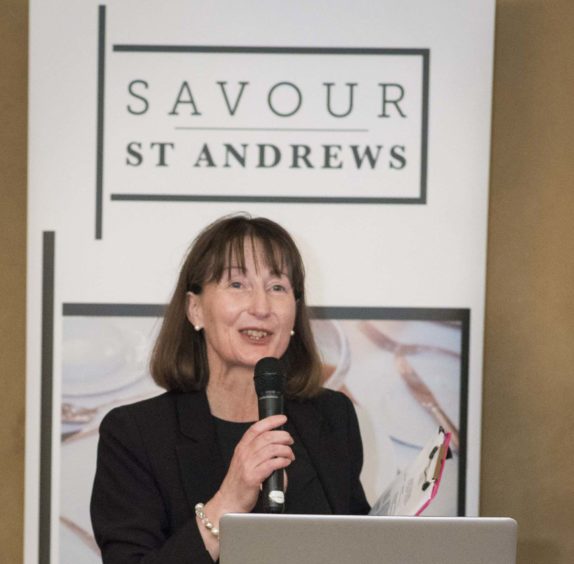 A well-known figure on the food scene on both sides of the Tay, Viv has co-ordinated the food marquee and demonstration kitchen at the Dundee Flower and Food Festival for many years, and organises the Savour St Andrews events – held in the run-up to St Andrew's Day – which showcase chefs and businesses in and around the town and help fund bursaries for hospitality students.
Viv is passionate about the food education sector and has built very close links with Dundee and Angus College, SRUC Elmwood Hospitality, and Fife College. She has previously been a judge at the Royal Highland Show, and for VisitScotland's Scottish Thistle Awards. She has spoken about the food scene at conferences at home and in Europe, and been invited to learning journeys in Iceland and northern Spain. She was a founder and director of the Food from Fife initiative, and was leader of Slow Food Fife.
"It is a great honour to join the judging panel for the Menu Awards," Viv says. "The Courier has filled a real gap by publicising the local food and drink scene and all it has to offer. There are some very talented and hard-working people working across the area in a huge variety of food related businesses. We also have a hugely dedicated and skilled education sector developing future careers in food, drink and hospitality."
Mary Jane Duncan, Kitschnbake in Newport-on-Tay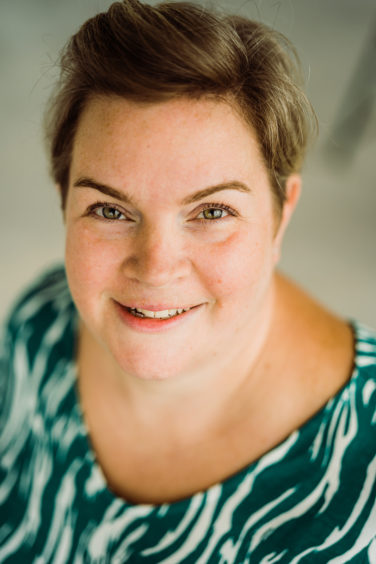 Mary-Jane (MJ) Duncan owns Kitchnbake coffee shop in the Fife village of Newport-on-Tay. Winner of the Menu Awards Coffee Shop of the Year 2018 and Scotsman Café of the Year 2017, MJ is a self taught baker and cook who can almost always be found in the kitchen feeding people.  The current Dundee Courier Menu Awards Food & Drink Ambassador, she is a massive fan of her staff, her customers and cake. She also enjoys new stationery and naps…
"Recognising that the North East of Scotland has an amazing concentration of local producers, wealth of passion and talent and fantastic concentration of produce, is the easy part," says MJ.
"The dedication shown by these folks to their chosen culinary adventure never fails to impress me. Collaboration is a huge key to success and it seems that the wonderful businesses in Courier Country embrace this, and allow their local products to shine through alongside others," she continues.
"I'm exceptionally proud to have been invited to be one of the judges and to get an insight into the quality of applications.
"I am looking forward to visiting the establishments and learning about their staff, beliefs and goals as well as their final products.
"Also a new note book to help take notes – who doesn't love some new stationery!"
Ian MacDonald, food and beverage manager, St Andrews Links Trust, "The Home of Golf."
Ian is responsible for the culinary experience in all three clubhouses that service the seven links courses in St Andrews.
He is former president of the Federation of Chefs Scotland representing more than 800 members and is also a former team member and manager of the Scottish culinary team, who are rated in the top 20 in the world culinary championships.
Having competed successfully in numerous culinary competitions both at home and abroad, Ian judges culinary competitions at home and abroad, especially Scot Hot where he is one of the senior judges in the live theatre and cold display at the Scottish Culinary Championships.
He is also passionate about training and mentoring young chefs as well as seasonality, sustainability and provenance of the produce used at the Links Trust.
"I am honoured to have been asked to join the judging panel once again," he says. "I am very humbled to have the opportunity to give my opinions of fellow industry colleagues and what they are achieving.
"It is great that The Courier is recognising the efforts of everybody who has a passion to deliver excellence, no matter which category they are finalists in.
"Scottish hospitality has always been acknowledged as the best in the world, and now we are getting the chance to showcase our great produce at its best and in the best environment."
"I was delighted to be asked to be a part of the judging team for the inaugural awards. I found the level of entries to be excellent and it's good to see so many established and start-up companies, so obviously proud of their products, and the use of so much home-grown produce."
Andrew Scott, director, Victus Consultancy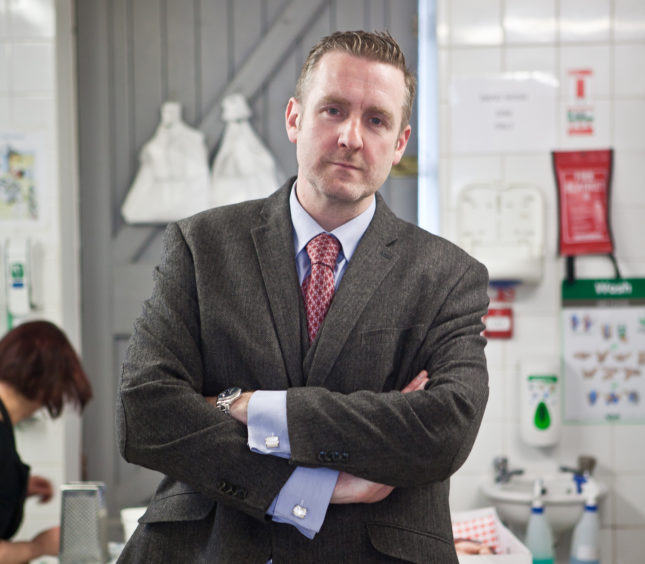 Andrew Scott has lived and breathed catering and hospitality since the tender age of 13, when he started out as a humble kitchen porter. He earned his stripes in the industry by working for 15 years in a variety of hotels and restaurants throughout Scotland and further afield.
Today Andrew owns a number of award-winning catering companies, as well as Victus, a specialist catering and hospitality consultancy, and is fast becoming a popular figure on the speaking, presenting and judging circuit. If that weren't enough, he also has his own hospitality radio show, and is a regular guest presenter on STV's Live at 5.
With provenance and quality being key values of his Heaven Scent catering business, Andrew has long shone a light on the very best food and drink that Scotland has to offer. He makes abundant use of Scotland's larder, with many of the products and suppliers he uses coming from Tayside.
Through Victus, Andrew helps, supports and guides catering and hospitality companies achieve excellence through their people, food and beverage offering and customer service. Eminently qualified and delighted to be invited to judge the Menu Food and Drink Awards, he says: "I am absolutely delighted to be involved in the second Menu Food and Drink Awards.
"I couldn't believe the quality of entries last year for our first year and I am confident that this year will be even stronger," he continues.
"It is so refreshing to see what is on our doorstep and we have without doubt the best larder in the world. I can't wait to get started and good luck to everyone taking part this year.
"The Menu Awards will strengthen our already amazing reputation for having some incredible suppliers and businesses and I can't wait to see what's new and exciting from our region."
Catriona MacInnes, editor of The Courier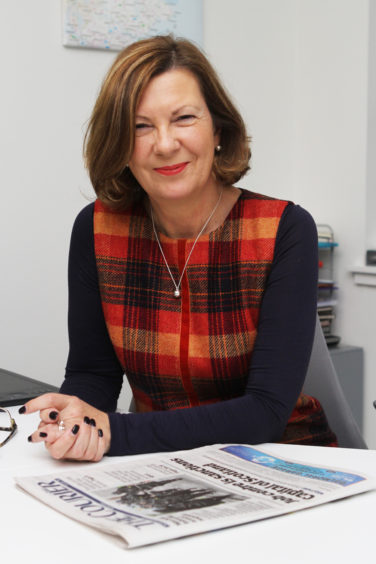 Catriona is looking forward to working with Graeme, Martha, Ian and Andrew again, and welcoming Viv and MJ to the panel.
"The inaugural Menu Awards proved the talent and passion that exists across the food and drink sector in Tayside, Fife, Perthshire and Angus and I'm sure that 2019's event will showcase this once again," she says.
"With 11 categories, including four brand new ones, there's something for everyone and my fellow judges and I look forward to discovering more hidden gems in the very best of our local food and drink scene."