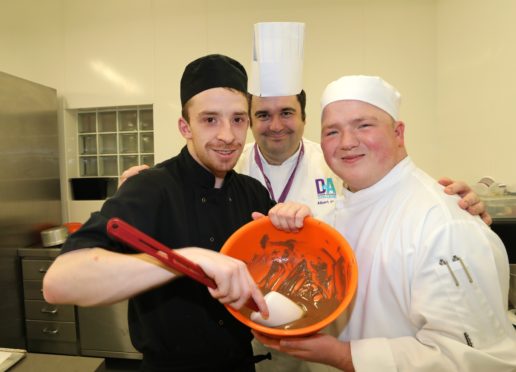 To make the perfect petits fours for the Menu Awards 2019 – that's the challenge facing 14 students at D&A College. Caroline Lindsay finds out more.
With the Menu Food and Drink Awards only a few weeks away, excitement levels are rising, not least in the bakery at Dundee and Angus College (D&A). Course leader Albert Close has challenged his class of 14 Level 3 professional confectionery and patisserie students to come up with recipes for petits fours and the winning confectioneries will be served at the awards dinner on March 28 at the Old Course St Andrews.
"When I told my students about the project they were keen to get started," says Albert. "Working in teams of two, each team will produce two petits fours which must be chocolate based so they could be truffles, fudge, or even solid chocolate. The key element is I want them to come up with ways to incorporate local produce and flavours. Whether that's using berries, spices, fruit juices, liqueurs or spirits from Courier Country, it will be a great opportunity for them to work with local producers and suppliers."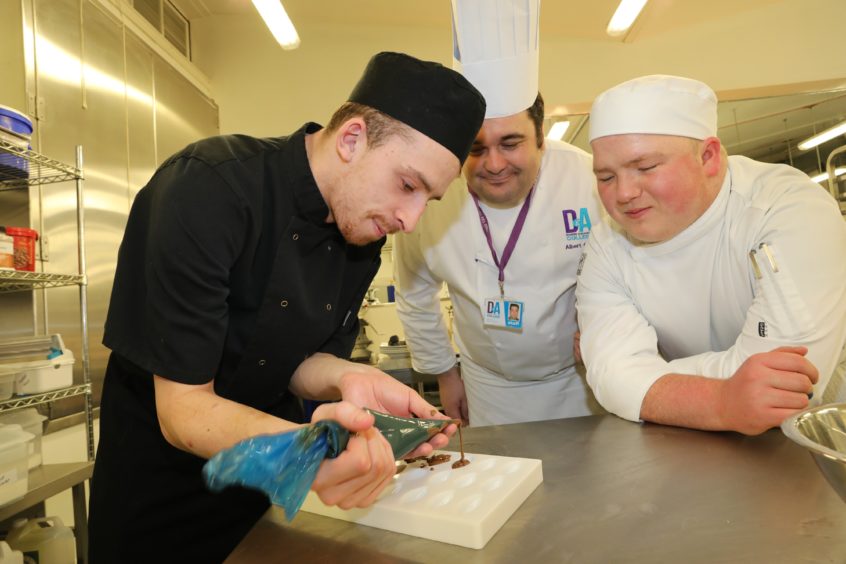 Albert will be joined on the judging panel by Graham Paulley, head chef at the Apex City Quay Dundee, and chocolatier Craig Mackenzie, owner of Tempered chocolate shop in Invergowrie.
"Craig is a former student of mine and his success story is a great example to set to the students – just look at what he has gone on to do," smiles Albert.
The first round of judging will take place in early March when Albert, Graham and Craig will get together to inspect the students' sketches and ideas.
"We'll be looking for innovative ideas, pairing unusual flavours like herbs and spices with the chocolate, evidence they've been thinking about our area and incorporating aspects like the V&A and different cultural influences. So – imagination, innovation, flavours and a local feel."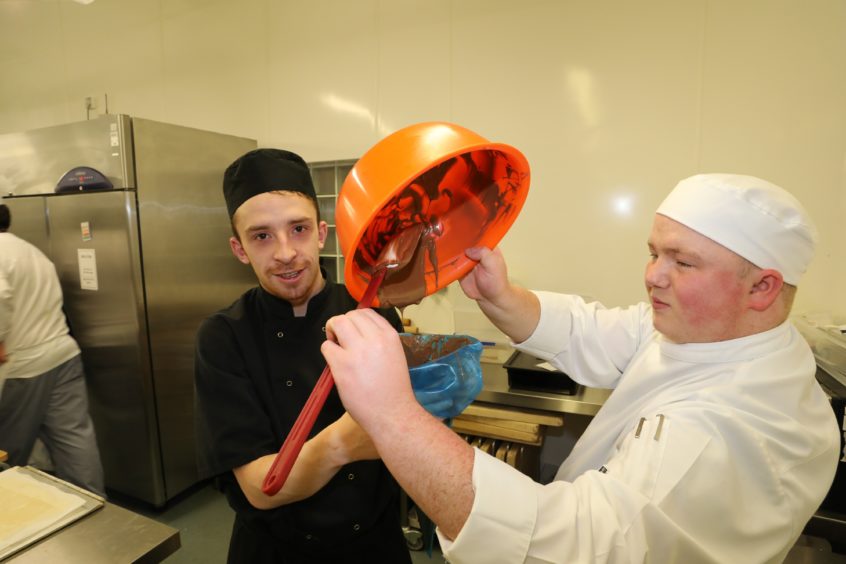 The final stage of the judging will be the all-important taste test.
"Obviously, the flavour is the key thing here," says Albert. "The taste of the chocolate itself needs to be the first thing to come through. For example, if they've used chilli as a flavouring, it mustn't overpower the taste of the chocolate."
As well as being served at the awards night, the winning duo's petits fours – which will be prepared by the whole class – will also be sold in Craig's shop.
"I am absolutely delighted to be invited to judge the competition and really excited to see what the students come up with," says Craig.
"The Menu Awards is such a prestigious event, with the very best of the region's hospitality industry attending, so it's such an honour to be involved.
"I'm anticipating some fantastic ideas from Albert's students and hoping they will showcase some local produce and exciting flavour combinations."
Graham Paulley – who is cooking one of the courses for the five-star gala dinner – was just as enthusiastic. "It's great to be involved with D&A College and their petits fours competition for the Menu Awards.
"I've known Albert for a long time and I'm sure his students will produce a really high quality chocolate."
Albert's students are no strangers to success in the public arena – last year they created a show-stopping chocolate dessert for another prestigious awards dinner at the Old Course.
"We try to do a fair bit of this kind of event," says Albert. "It's so good to see our students getting out there, holding their own and gaining confidence and experience – it's invaluable.
"That's why I've created this project – there's nothing wrong with a bit of healthy competition!"
www.themenufoodanddrinkawards.co.uk