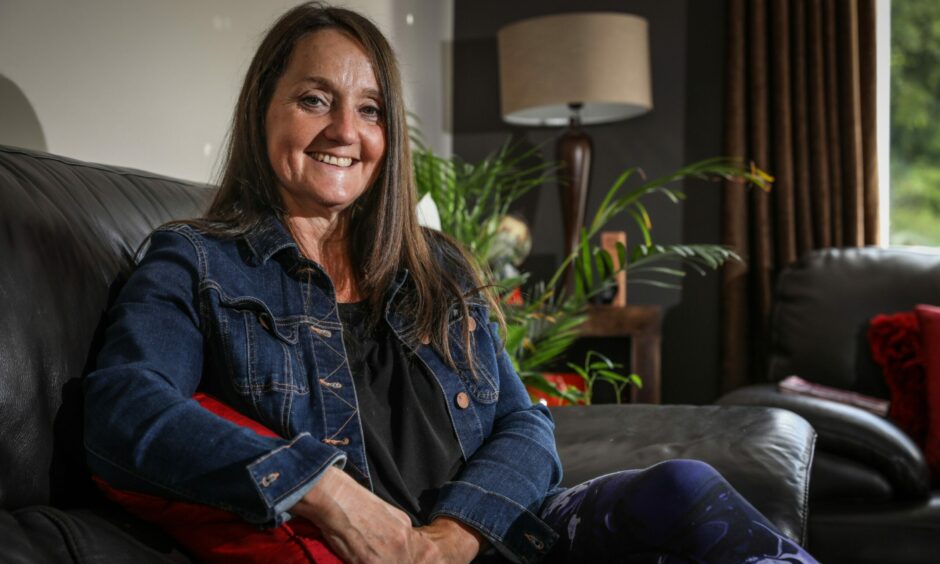 A Fife gran has proved she is willing to push herself to the limit by cycling to Barcelona to raise much-needed funds for Parkinson's disease research.
Earlier this month Janet Kerr cycled 826 miles from France to Barcelona, Spain to volunteer at the World Parkinson Congress for a cause close to her heart.
The 54-year-old from Glenrothes was diagnosed with the condition herself eight years ago –  at the age of 46.
And since then, she has been on a mission to challenge the perception that only older people have Parkinson's disease.
We spoke to her after she completed her epic fundraising adventure.
What is Parkinson's disease?
Parkinson's disease is the fastest growing neurological condition in the world and it affects around 12,500 people in Scotland.
Parkinson's is a condition which sees parts of the brain become progressively damaged over many years.
It is caused by a loss of dopamine in a part of the brain which affects a person's movement, thoughts and feelings.
It is estimated there are 1,752 people with Parkinson's under the age of 50, in the UK.
World Parkinson Congress in Barcelona
The former primary school teacher is just one of thousands of members of the global Parkinson's community who came together for the 6th World Parkinson Congress, which takes place every three years.
This year it was held in the International Barcelona Convention Center, Spain over four days from July 4 to 7.
Around 5,000 delegates from 60 countries attended, including members of the charity, Parkinson's UK.
The congress is a forum for people to learn about the latest scientific discoveries, medical and care practices related to Parkinson's.
When did Janet start to experience Parkinson's symptoms?
Janet said her first Parkinson's disease symptom was nerve pain and she started experiencing this in her early 40s.
She explained: "It was a hot, stabbing pain, like I had an electric current running from my hip to the bottom of my leg, Janet said.
"It affected my right side.
"My right leg felt wooden, my foot felt heavy and it wasn't flexing properly.
"It was exhausting trying to walk because my right foot would drag."
She also found herself struggling to brush her teeth with her right hand.
"I just didn't have the strength in my right hand to hold the toothbrush," Janet said.
"Holding things was becoming trickier and then I started getting the tremor which was intermittent.
"I was 41 when I started to notice these little, subtle, changes."
It took a long time to diagnose that Janet had Parkinson's because she had fallen off a horse a few years earlier.
And she said doctors assumed her difficulties were associated with that accident.
Diagnosed with Parkinson's
Eventually Janet, who has four grown-up children and five grand-children, self-diagnosed Parkinson's when she was 46.
She explained: "In December 2015 I was at a cottage with the family for New Year and there was a story on the news about people with Parkinson's benefitting from ballet lessons.
"The camera homed in on the woman's hand and I thought: 'That's what my hand does'.
"So I went on to the Parkinson's UK website and read the symptoms, that's when I realised I had a lot of them.
"It took another six months to see a consultant at Queen Margaret Hospital, Dunfermline.
"The consultant said to me: 'What do you think it is?'
"I said, 'I know what it is – I have Parkinson's, don't I?' She said 'yes that's what I believe as well'.
"She sent me for a DAT scan, which measures dopamine levels, and that confirmed it.
"This was in June 2016."
Reaction to the Parkinson's diagnosis
But while she was expecting it, Janet said the diagnosis still came as a shock.
"Although I was 99% sure that's what the diagnosis would be, I still had this one per cent hope they had got it wrong.
"Once it was confirmed, I went through a phase of mourning, it's like a grieving process.
"But in the end I realised every second of my life is precious because I don't know how long I will have before my symptoms really progress.
"So I decided to live life to the full."
Embarrassment at having Parkinson's
Initially Janet struggled to tell people she had Parkinson's.
"You automatically think it is an old man's condition," she said.
"It was eight months before I started telling people I had Parkinson's because I was embarrassed by it.
"It wasn't until someone said to me they didn't know women got it!
"This made me realise it is such a misunderstood condition.
"I then thought how am I going to educate people if I don't talk about it?"
Cycling fundraiser for Parkinson's disease
It was this realisation, coupled with her love of cycling, that inspired her to fulfil her dream of biking to Barcelona.
Originally Janet had been part of a Spanish team cycling to Barcelona but she wanted to set herself a bigger challenge by setting off from France.
She pulled out of the Spanish team after getting in touch with a woman from Wiltshire, Gill Shaw – through a Parkinson's group on Facebook – who also wanted to do the longer cycle.
Instead Janet's friend Gillian Sharpe, 55, took her place in the Spanish team, joining up with Janet's husband Gary, who had already signed up.
The 10-day cycling fundraiser from France to Spain
Janet travelled to England to meet up with Gill and the pair crossed over from Plymouth to Roscoff, France, ready to start their journey on June 12.
The plan was for them to follow the Atlantic coast route to Barcelona.
But the women ended up separating shortly after arriving in France.
Janet then ended up cycling solo for ten days through the country, covering an average of around 50 miles a day.
"She and I had different symptoms and different cycling techniques so it ended up becoming very much a solo ride.
"However, we did have the opportunity in the evenings to meet up in accommodation booked along the route," Janet said.
"France is an amazing place to cycle and I felt very safe on my own."
Cycling to Barcelona for Parkinson's
She met up with her husband, Gary, 62, and friend Gillian in Valencia.
Gillian, who lives near Alloa, was diagnosed with Parkinson's in 2020.
The three of them, who are all raising funds for Parkinson's UK, then continued cycling on to Barcelona arriving on June 30.
Gary, Janet and Gillian all volunteered at the Congress, working around five hours each day.
Janet was involved in helping out at the first aid station, answering general enquiries and directing people to where their conferences were being held.
World Parkinson Congress 'incredible'
Janet, who is a volunteer with the Dundee Research Interest Group which is a group of people affected directly or indirectly by Parkinson's, said it was a memorable experience.
She said: "The congress was absolutely incredible.
"There were talks for scientists as well as talks on the latest research along with exercise and nutrition.
"There were researchers and professors mixing with people in the Parkinson's community.
"In our eyes these people are rock stars because they have dedicated their life's work to finding better treatments for people with Parkinson's."
Would Janet do a cycling fundraiser again?
But as well as raising awareness, the trio have raised around £3,400 for Parkinson's research through a joint Just Giving page.
But would she do the same trip again in the future?
"It was fantastic to meet so many lovely people from the Parkinson's scientific world and the general Parkinson's community.
"Doing the cycle gave me a lot of confidence because I never thought I could do anything like that.
"The whole experience was wonderful – I would definitely do it again."