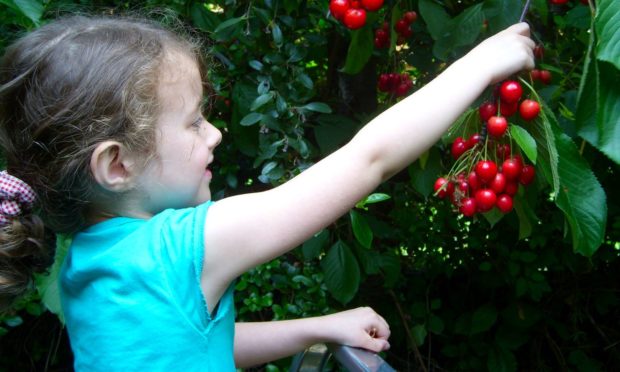 When you reach a certain age you are able to look back to your childhood and compare it to today's kids growing up in a technological age.
We all played outdoors as there was no television, no phones and no-one had heard about paedophiles so outdoor activities for kids was safe.
We also lived in a time when there were very few cars so we played football in the streets and ice hockey in winter and got extremely annoyed when some rich bloke with a car drove up the street and disturbed our game.
I have a vivid memory looking down St. Fillans Road during the seven weeks holiday and feeling great to see over fifty kids all playing on the streets.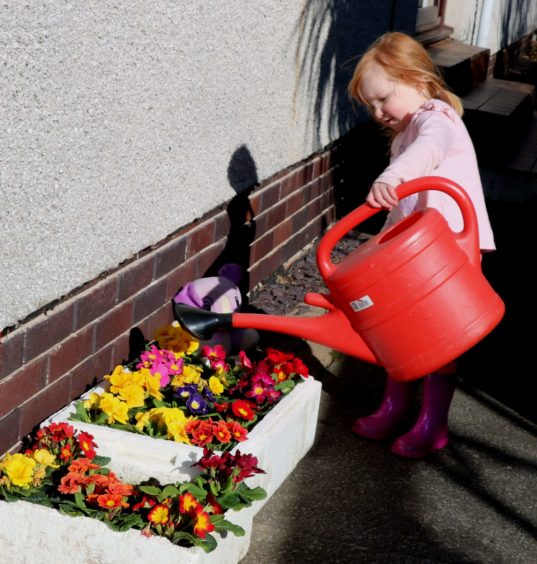 Living in St. Mary's in the early sixties we had fields and woods to play in and often walked up to the Sidlaw Hills as I needed to know what lay beyond those hills.
My only knowledge of Scotland came from reading the Broons and Black Bob.
We learned to climb trees, roast potatoes on a bonfire and holidays were a bus trip to the Trossachs with a tent, or a day on the sands at Broughty Ferry.
Life has moved on, we now all have cars so streets are out of bounds, open spaces are plentiful, but devoid of kids as parents are not too happy to set them free.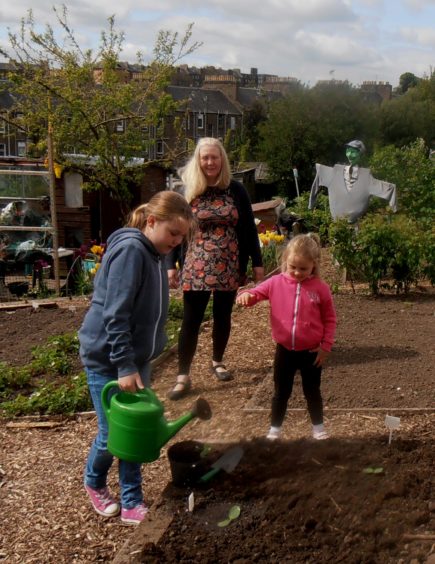 However kids now have mobile phones, play stations, television and holidays abroad, so no need to venture outdoors.
Very few houses come with any garden as space is needed for the cars and to save work garden space is covered over with slabs, sets, gravel and tarmac.
Many people live in flats so kids never see where their food comes from.
I never forget a few years ago when one of the kids was playing on the allotment next to mine.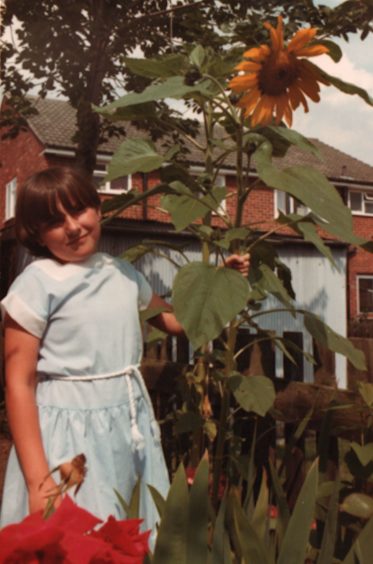 I had a cracking crop of strawberries so picked a large one and offered it the wee fellow.
He ran off in a panic to his mum: "That man wanted me to put THIS into my mouth!!!"
He never knew that strawberries in a packet on a supermarket shelf had at one time been grown outdoors in the ground.
This case is not isolated and it is now recognised that the kids of today need educating with gardening to let them see where food comes from, together with the benefits of fresh food free from chemicals.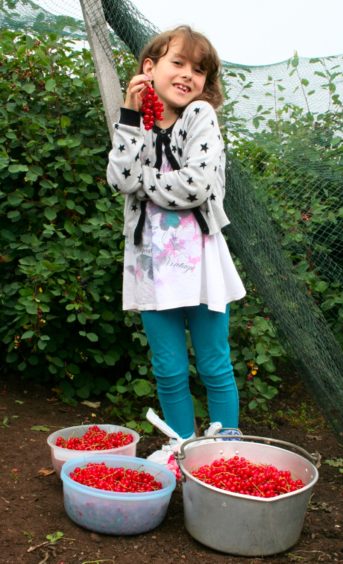 Many schools, such as Kingspark School in Dundee are creating garden plots to grow food and other plants for education.
Allotment sites are also very helpful as we can all encourage our kids to do a bit of planting and looking after their wee bit of garden.
It helps if you can interest them in growing something that will catch attention, like a huge pumpkin or a tall sunflower.
Another long-term plan is to get them to sow the seeds from the core of an apple after they have eaten it.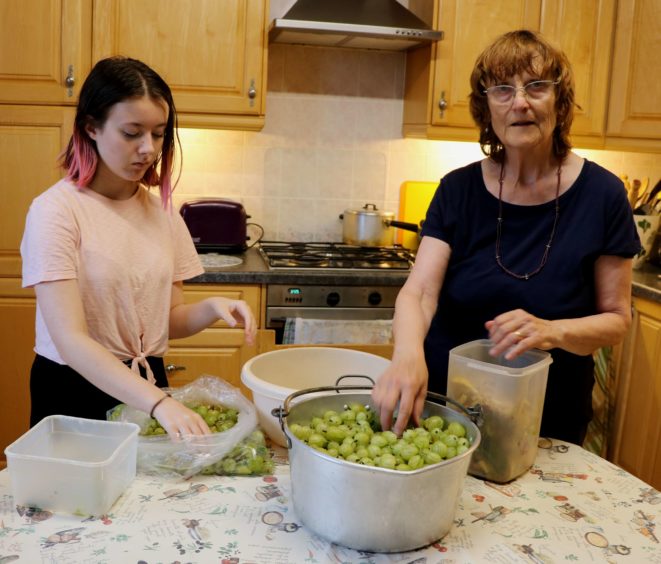 They grow quite easily on a windowsill, but then need potting up and planting outside in spring.
As these young plants are juvenile, they won't bear fruits till they become adult after about 15 years.
You can get round this problem by grafting a shoot onto the young apple seedling using a shoot of Discovery, Fiesta, Red Devil or others.
Plenty information on grafting on the internet, but it is a task for the adults as you need a very sharp knife.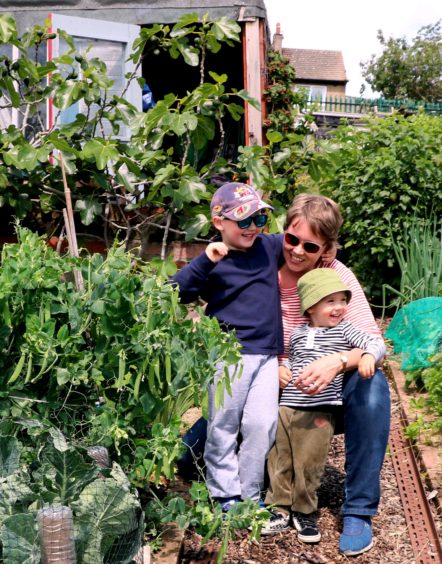 It is quite simple and the grafts grow readily and will fruit in a couple of years.
Sowing annual flowers from seed is another wee job for the kids, then they can learn how to thin and in hot weather they can water the young plants, but when you give kids the hose stand well back as a wee bit of fun is inevitable.
Harvesting crops such onions, then after drying them out they can pleat them up for drying.
Picking peas, beans and sweet corn is also interesting as is picking raspberries and strawberries, though crop weights seem to shrink on the journey home much to the amusement of the young labour force.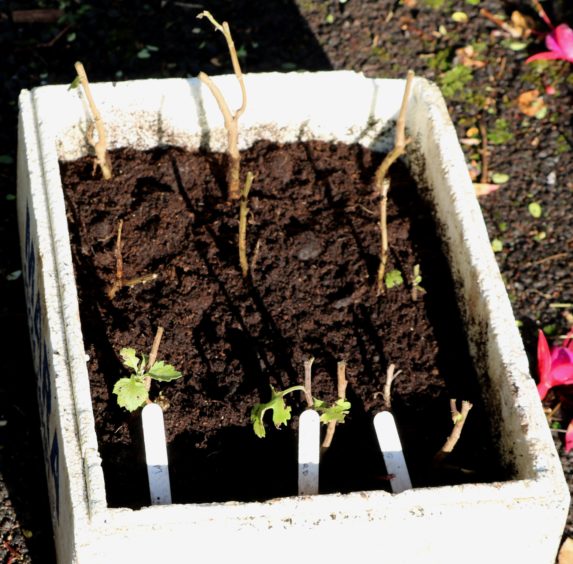 Wee jobs to do this week
Early outdoor chrysanthemums will now have finished flowering, though the season was late and some were still in bloom in November.
Cut back all growth leaving about six inches of stem, then attach a label to each stem before digging up and replanting into boxes.
These can be over wintered in a cold greenhouse or frame.
However, it is best to start each season with fresh stock taken from cuttings in spring in the greenhouse.