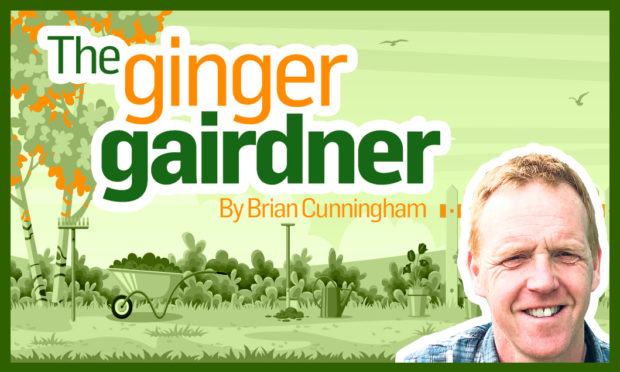 When you've lived or worked in the same garden for a period of time, its easy for us to stop noticing things.
Every day we routinely follow the same path to the car or garden gate, maybe spotting a simple job such as a bit of edging needing repaired or just enjoying a favourite plant.
Eventually this walk becomes routine and gets to a point where we fail to really see these things and they slowly evolve to being part of the scenery.
I know I'm guilty of this and that's why I ensure every now and again that I go and make myself a cup of tea and taking it with me, enjoy a simple wee stroll around my garden.
I like looking close-up at every bed and individual plant to see how they are doing, how well or not they look beside their neighbour. I then like taking a look over my shoulder to assess how the other side of the garden is looking from a distance to see if I've got a nice balance of heights in my border or if a branch needs nipped on a shrub so to keep it in a nice shape.
As I was walking around the gardens recently, taking in the colourful autumn display from the foliage of the plants around me, I noticed, or maybe more accurately I hadn't noticed, just how many plants we have that show an equally fine 'berry' display at this time of year.
Most of us will be familiar with the red berries from one of our Scottish native plants, the Rowan. Also known as the 'Mountain Ash' it is just one tree of many Rowans out there perfect for our gardens which feature a good selection of different coloured fruits.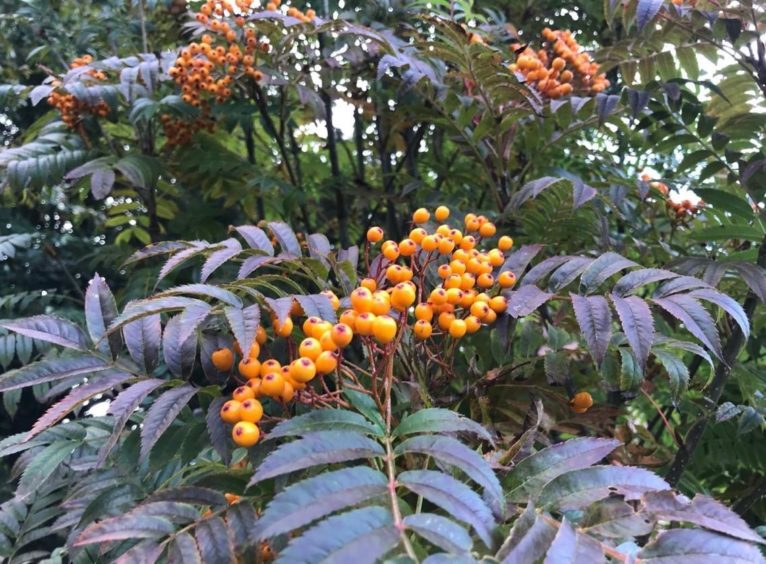 My taste used to be for those bearing the pink coloured fruits but lately I've veered towards the likes of Sorbus 'Jospeh Rock' which has creamy yellow berries at first before fading to amber-yellow, showing up perfectly against foliage of orange and red. The perfect autumn colour combination in my eyes.
A few years ago I planted a seedling of this plant called 'Autumn Spire' which has the same display but is a slightly more narrower version which would be ideal for a smaller garden at home.
Another native plant is the common hawthorn, the white flowers of this plant in May being the traditional signal to the start of summer. Just now a tree in the Palace grounds is displaying the red autumn berries also known as 'Haws', which like those of the Rowan are favourites of the birds.
I also use this plant to form part of a hedge in my own garden which sadly never seems to fruit. A wee tip – as the second part of the name suggests, this does have thorny branches and I would recommend a thick pair of gardening gloves when picking up the clippings from this hedge. I never learn…
I never disguise the fact that there's more chance of a moth coming out of my wallet than a fiver so if I'm choosing to pay good money for a plant then it's got to be good value and earn it's keep, definitely having more than one season of interest.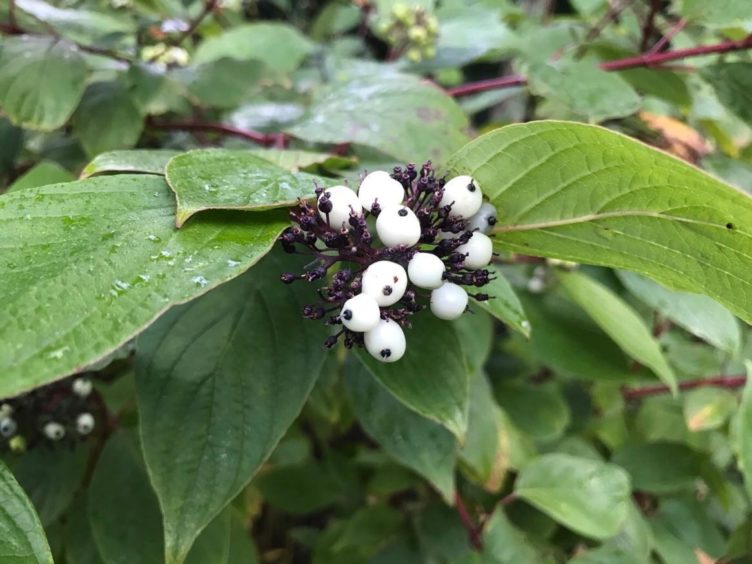 Certain dogwoods are predominantly grown for their coloured stems which warm up our gardens in winter. This display is enhanced when under-planted with spring flower bulbs and once fully clothed with foliage, provides a backdrop for summer perennials to flower against in the border. The red-osier dogwood growing at Scone grows next to a path where the purple-white fruits can be easily viewed.
This week's plant mouthful is Viburnum opulus 'Xanthocarpum'. We could simply call it the 'Guelder rose' but if the botanists hadn't given us an added explanation, we wouldn't be able to separate this from the red-berried plants- in Latin 'Xantho' meaning yellow and 'carpum' fruit.
I love the difference this shrub makes to a bed, growing up to 3m in height and full of clear, yellow fruits you just cant fail to notice it. I watch visitors stop to admire as they reach this plant so if you are ever looking for a tough specimen plant for your garden, then this is a good one.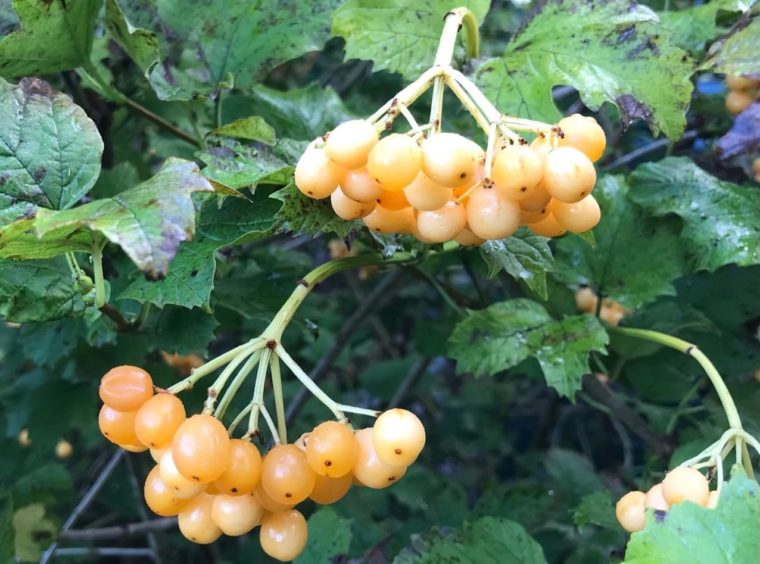 On top of these plants there's the fruits of Honeysuckle and Cotoneaster plus the 'Hips' from roses all expanding the autumn display we can have in our gardens.
Give it a go- propagating from seed can be cheap and fun way to increase your plant stock. To extract the fruit from fleshy seeds collect a handful of berries and place in a sieve (not the same one you will be rinsing your cooking rice in!). Run under cold water squashing with your thumb, putting the resulting pulp in a clean jar and carefully filling with water. Once settled empty the contents out through the sieve again where those seeds left in the jar will be the viable ones and good for sowing.
Only species plants like a native Rowan will come true when grown this way. Plants produced from seed collected from a cultivar will likely be different from it's parent but who knows, you may just create the next 'must have' plant.
Brian Cunningham is a presenter on BBC Beechgrove Garden and head gardener at Scone Palace. Follow him on Twitter @gingergairdner