The driveway is the first thing you, your guests and potential buyers will see.
A tremendous number of properties looked unloved and remain unsold because of a shabby initial appearance. A neat, stylish and lasting PatternPave driveway will beautify your home instantly.
Driveways, pathways and patios are normally the most neglected areas of properties as they are simply overlooked with their old-fashioned slabs, tarmac, blocks or stone chippings, yet these are the very areas that complete the overall picture of your home, so with careful thought you can enhance your home while creating real tangible value.
Pattern imprinted concrete arrived in the UK in 1985 and since then has superseded its rivals such as tarmac and block paving and with its hard-wearing, durable and decorative surface. There are varied selections of colours, patterns and styles that will suit any buildings' character.
So why not choose a 21st century specialist surfacing company based in Invergowrie which has an innovative product that can be shaped to suit any area, large or small?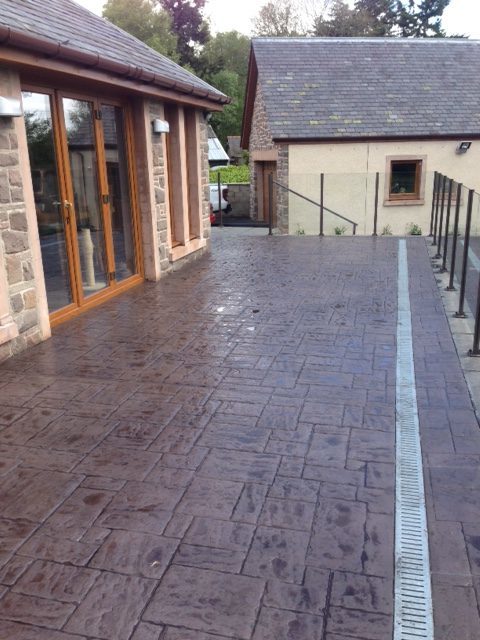 PatternPave has been professionally installing innovative surfaces around homes and offices in the Dundee area and throughout Scotland during their impressive 26-year history. Their track record and experience in the field of hard landscaping make-overs have elevated them to one of the most successful companies of its kind in Scotland.
Traditional paving disadvantages such as movement, sinking, staining, spreading, weeds and serious algae growth are ongoing issues for other paving – just look at many of the driveways in your area. PatternPave will eliminate these disadvantages.
Driveways and forecourts from PatternPave create a stunning first impression and add prestige to your home or business premises. Options for driveways used to be pretty simple – asphalt, concrete or blocks – but with PatternPave the possibilities are practically limitless, plus it offers a number of benefits:
No sinking: Over time, many driveway solutions, such as block paving, are prone to sinkage. For example, where a car is regularly parked in one spot, its weight is pushing down on just a handful of blocks, eventually leading to grooves or dips in your driveway. As PatternPave forms a solid base with fibre-mesh reinforcement, there is no risk of this.
No weeds: Within a short time, the gaps within block paving attract unsightly moss and weeds, requiring regular treatment. With nowhere for weeds to get a foothold, PatternPave can be kept weed-free with just a simple brush and/or wash with a hosepipe or pressure washer.
Low maintenance: PatternPave is ideal for residential properties, leaving the owner with more free time and is perfect for business as it offers lower ongoing overheads than other solutions.
Authentic look and feel: PatternPave can be coloured and textured to resemble other more expensive materials such as brick, cobblestone, slate, granite and flagstone.
Incredibly versatile: Let your imagination run wild with sweeping curves, embedded circles and cobbled edges because wherever you can lay concrete, you can pattern imprint it in a mix of colours and patterns.
Added style/features: Add a touch of style by incorporating lighting cabling to enhance the overall landscape effect. The PatternPave system transforms plain concrete into a virtually limitless variety of styles and colour
PatternPave is the cost effective answer to your paving requirements. With rapid installation, stain resistance and low maintenance, pattern imprinted concrete offers many advantages over conventional paving products. Permanent colour and texture turn hard landscaping into more than just paving.
Unlike larger nationwide companies, PatternPave deals with you on a personal level and offers a very competitive price.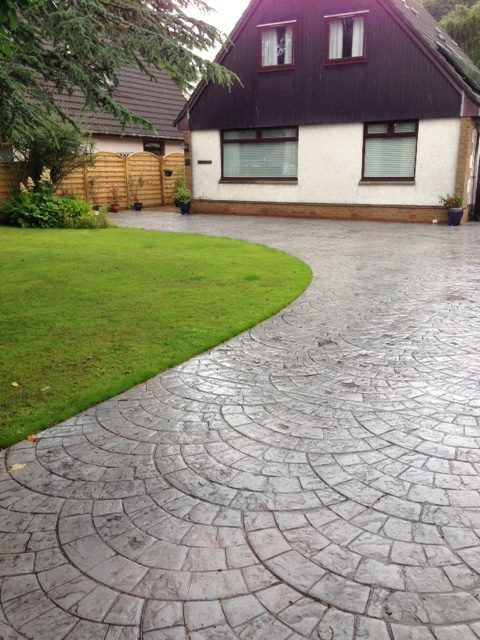 During the consultation, they will give you all the information and advice on your project so that you can achieve the pattern imprinted concrete installation you dreamed of. They will then supply you with a free no obligation quotation outlining the details of your project and cost. Then the decision is all yours…. there is no hard sell.
PatternPave is a family-run business whose reputation has been built from creating some of the finest Pattern Imprinted Concrete installations to both homeowners and commercial businesses in Scotland.
Simply visit their website or call 01382 561262 to find out more or get a free quotation.