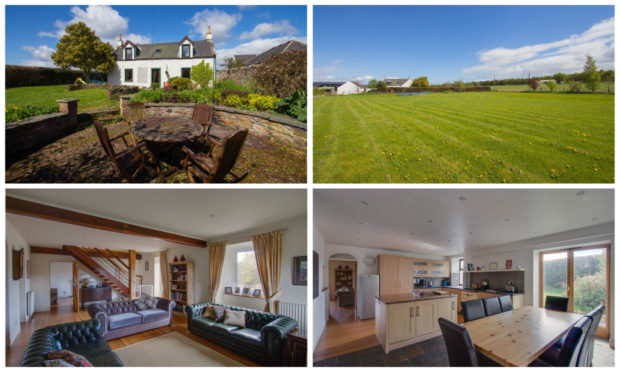 A traditional farmhouse in a stunning area of Angus has been beautifully updated for contemporary living, as Gayle Ritchie discovers…
Gazing up at the gorgeous whitewashed walls of 120-year-old Tobees Farmhouse, Karen Paterson has a look of wistfulness in her eyes.
"This was going to be my forever home," she reflects. "It's a shame that circumstances have changed things."
Karen and her husband Charlie bought Tobees, around six miles from Forfar in an idyllic rural setting near Oathlaw, in 2011.
It was the perfect home in which to bring up their three young children.
"Charlie worked in the oil and gas industry in Aberdeen while I was based at Ninewells in Dundee, so commuting was easy for both of us from Tobees," explains Karen, 42.
"However, when Charlie's work moved to Grangemouth and I got a job as a GP in Perth, there was just too much driving around. It was a tough decision but we moved to Auchterarder, which is handy for both of us."
Their reluctance to part with Tobees has seen the Patersons hire out the farmhouse as a successful holiday rental for the past three years.
The four bedroom property is a brilliant space for entertaining friends and family, as Karen testifies.
"I used to love throwing big dinner parties – it's an amazing social home," she says.
"There's lots of space for kids, too, with plenty of opportunities for playing outside."
Anyone who dreams of having a pony could have one (or more) at Tobees as the property boasts four stables, a loose box and a big paddock.
Tobees, which was built around 1900, was a working farm until the 1980s, and it boasts many stunning, original features.
The previous owners refurbished the utility room and study, renewed the kitchen and installed a wood burning stove in the living room.
The Patersons continued to enhance the property, putting in solar panels and air source heating and adding Icynene spray foam insulation (a natural, renewable product which hails from castor oil) to external walls.
"We've made a concerted effort to make it as eco-friendly as possible while retaining the rusticity," says Karen.
"It's really well insulated and has the thermal envelope of a new build home."
Double glazing has been renewed and much of the ground floor has hardwood or slate tiled flooring.
While it feels as if it's in the middle of the wilderness – the views of the distant Angus hills and glens are stupendous – Tobees is less than two miles from the A90, so you get the best of both worlds.
"It has a proper traditional farmhouse feel about it and has loads of character," muses Karen.
A glazed front door opens to the impressive living room which has a traditional beamed ceiling, fireplace with slate hearth and wood burning stove, staircase to the first floor and doors to the kitchen, playroom and living room.
The playroom links to a lobby which has a walk-in cupboard while the fully-fitted dining kitchen has tiled splashbacks with granite and marble worktops, a gas hob, traditional Rayburn cooker and a central island unit.
The dining area has French doors which open to the garden while a utility room houses the air source indoor unit and controls.
Upstairs are four bedrooms with the master bedroom having an en-suite shower room with washbasin and toilet.
The extensive gardens, enclosed by fencing and hedges, boast flower borders and a small orchard with plum, apple and pear trees, and what Karen describes as a "sunken" dining area.
Perhaps one of the most exciting aspects of Tobees is the huge U-shaped stone built steading next door, which boasts lighting and electricity.
There was previously planning consent in place to convert the steading into two four bedroom houses and while this has lapsed, it has huge potential.
"It's wind and waterproof and has had a range of uses in the recent past – as a blacksmith's workshop and more recently, as a garage for car repair," says Karen.
As well as stables and loose boxes, there's a barn incorporating former grain bins and a brick-built store with steps up to a former hay loft.
An old blacksmith's forge is currently used as a store but could easily be transformed into a focal feature.
There's also a double garage which is big enough to turn into a one bedroom flat.
Lovers of the outdoors will find themselves spoiled for walks if they move into Tobees, with an old railway line leading down to the River South Esk nearby.
The Angus Glens are only a ten minute drive away, with Munros aplenty to bag, should you wish.
A question on the lips of many a visitor is why is the property called Tobees?
Karen laughs: "There are a few theories but nobody seems entirely sure. Some think it might have meant 'two bees' because bees were kept here. Another theory is that it's a misinterpretation of the word, 'dobbies'."
For anyone worried about amenities, the bustling town of Forfar isn't far and boasts plenty of shops and supermarkets.
In terms of schools, there's Webster's High in Kirriemuir, or Forfar High, while Tannadice Primary is just a couple of miles away.
What Karen loves most about the setting of Tobees is the peace and quiet it affords.
"On a summer's night, I come outside and just stand listening to the silence," she says.
"You're totally in the middle of nature here.
"If I could pick up Tobees and take it with me to Perthshire, I'd do it. It just ticks so many boxes.
"I'd love to be able to pass it on to people who would enjoy it as much as we have."
info
Tobees Farmhouse, Oathlaw, by Forfar, is on sale with Savills for o/o £425,000. savills.com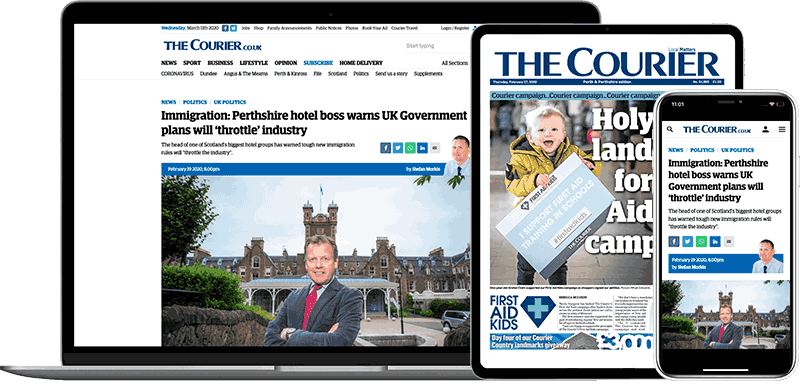 Help support quality local journalism … become a digital subscriber to The Courier
For as little as £5.99 a month you can access all of our content, including Premium articles.
Subscribe