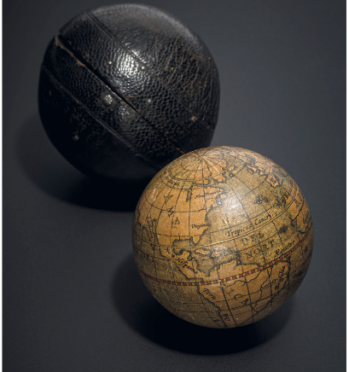 Ancient maps have been in the news, with Lyon & Turnbull of Edinburgh selling last month a book containing a map thought to be the oldest accurate chart of Scotland.
The historic document, known as The Nicolay Rutter, is believed to have been drawn up from the voyage taken by King James V around Scotland in 1540.
Expected to fetch between £15,000 and £20,000, the map sold for a multi-estimate £70,000.
Now, I was about to claim one-upmanship over Dundee for my home town of Perth by stating that our first map – Timothy Pont's scratchy depiction of c1593 – was earlier than Dundee's first map by Johannes Slezer in the early 1600s.
Then I recalled that the introduction to my Dundee: A Short History proudly pointed out that Dundee had appeared prominently on William Paris's c1250 hand-drawn map of Great Britain, one of only a handful of correctly positioned towns.
From maps to globes. Auctioneers Christie's have just sold the earliest globe in the world.
A Dutch pocket globe, attributed to Willem Blaeu around 1618, it had 12 hand-coloured engraved panels. The tropics and polar circles were highlighted in gilt, the Equator coloured red, the names and coastlines of the Continents and oceans marked, and some countries and rivers given – but the supposed southern Continent absent and unmarked.
Just 2¼ inches in diameter, in a contemporary leather case, the globe sold for an astonishing £287,250, three times its pre-sale estimate.
And from globes to an atlas. When Willem Blaeu's son Johannes published his famous Atlas Novus in Amsterdam in 1654, it included the first proper atlas of Scotland.
So a triple of 'firsts' for you.
Picture: Pocket globe, £287,250 (Christie's, New York).