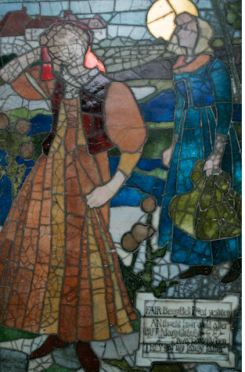 In relation to the current pandemic the Craigie Column has featured several contributions on the story of Bessie Bell and Mary Gray.
To avoid an outbreak of the plague in Perth in 1645, Bessie and Mary built a bower, or shelter, by the banks of the River Almond, but the plague eventually spread even to this haven, and they succumbed to it.
I follow up with a mosaic panel featuring the two brave lasses by one of the greats of Scottish architecture – George Henry Walton.
Titled Two Maidens in Landscape, the panel was produced in 1898 by the Glasgow firm Guthrie & Wells. The plaque is inscribed Fair Bessie Bell Ho'ed yestreen/And thoucht I ne'er could alter/But Mary Gray's/twa pawkey een/They gar my fancy falter.
The lines refer to a traditional Scottish ballad.
Mounted on a concrete slab, measuring 40 x 28 inches, the panel was originally housed in the Ferry Inn, Roseneath, by Helensburgh.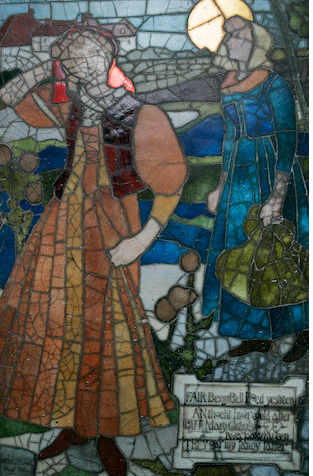 G. H. Walton (1867-1933) is regarded as one of Scotland's foremost architects and designers and was a brother of the painter Edward Arthur Walton of the Glasgow School. George also attended Glasgow School of Art and was later commissioned  to redesign Miss Cranston's tea rooms at Argyle Street and Buchanan Street.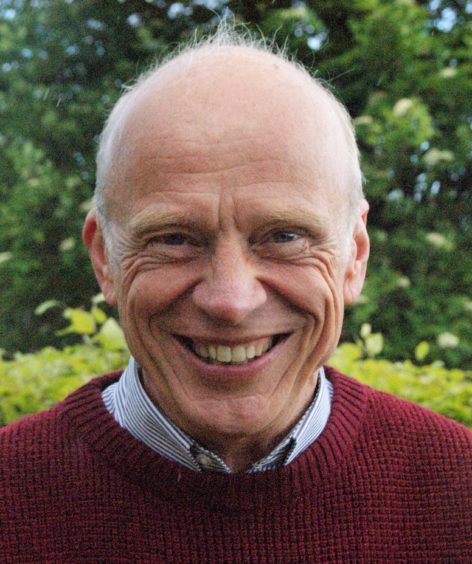 He launched his own decorating company and his Arts and Crafts style of decoration helped to pioneer the distinctive Glasgow Style. The company became known for its stained glass and Walton was one of the pioneers in the use of domestic stained glass in Glasgow.
The panel appeared at Bonham's Edinburgh in January, where it fetched £700.
Picture: Bessie Bell and Mary Gray mosaic panel, £700 (Bonham's).