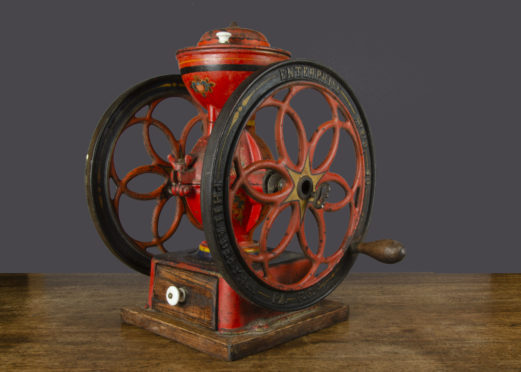 The Italian genes in me twitch as each day begins with some of my favourite coffee beans in a Krups electric grinder from Lakeland.
A clever little thing, it measures out two cups and grinds to my preferred grade – all in a matter of seconds while yours truly surfaces for another day.
Talking of measurements, it is only nine by four inches, so takes up no space while I am preparing my morning porridge ration.
Now look at the contraption in my illustration to see how times have changed. This wonderful, late 19th Century coffee grinder topped off at 18 inches and a foot wide.
An Enterprise Manufacturing Company of Philadelphia cast-iron shop counter-top grinder, it was finished in red and gold with black lining.
It worked, of course, by using the wooden handles to turn the two large flywheels which operated the grinding mechanism. It was cast, or incised, on the wheels with patent and manufacturing details, and dated to c1898.
Kitchenalia is an ever-popular collecting theme. People look to furnish modern homes with classic food cupboards and tables from the 1940s or 1950s, or early mechanical machines for a range of functions.
Others collect cooking vessels, milk jugs, tea caddies, marmalade pots, nutcrackers, egg cups, juice squeezers – even rolling pins!
The coffee grinder came from the stock of the late Joan Dunk, a long-time stall-holder at Portobello Road Market in London, who helped to popularise kitchenalia as a collecting interest.
The grinder appeared at Special Auction Services of Newbury with pre-sale hopes of £200-£300, and duly made a tenner short of its higher estimate.
Picture: Victorian coffee grinder, £290 (Special Auction Services).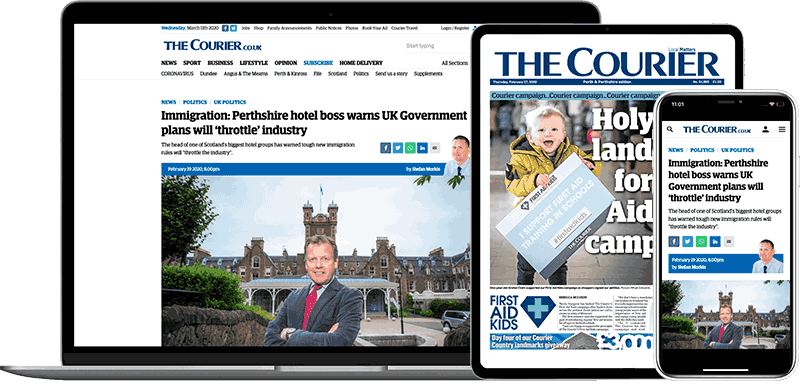 Help support quality local journalism … become a digital subscriber to The Courier
For as little as £5.99 a month you can access all of our content, including Premium articles.
Subscribe