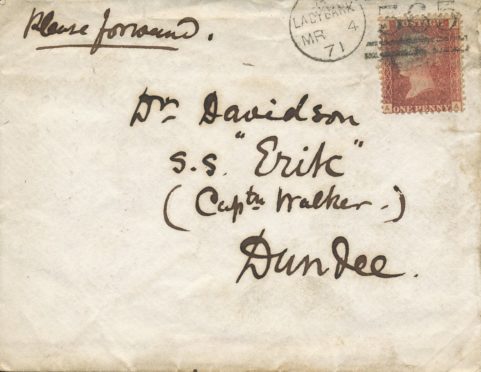 Fascinating to read Michael Alexander's piece a week or two back on the discovery of the Dundee whaler Nova Zembla off the coast of Greenland.
Despite writing a book on the local whaling industry, I had never seen a letter addressed to one of the Arctic whaling fleet in Dundee until the envelope illustrated above was purchased recently from Norway and returned to the city, where it has found a home in an important collection of postal history.
The letter was sent to the whaling ship Erik from Ladybank in 1871. It is addressed to 'Dr Davidson, SS 'Erik', (Captn Walker), Dundee', and endorsed in manuscript 'Please forward.' A Penny Red stamp is struck with the Ladybank postmark for 4 March 1871.
Presumably the letter was sorted at Dundee Post Office and a clerk then scampered down Reform Street and through one of the angled, wind-deflecting wynds which led to the town's Earl Grey Dock, where the fleet tied up.
The Erik had quite a sea-going career. Built by Stephen's yard in Dundee in 1865, she was commanded by the veteran master Thomas Walker. His first season in the Davis Straits in 1869 returned 17 whales, 32 walruses and four bears.
On a happier note, Walker took the vessel to Smith Sound, lying 79 degrees North between West Greenland and Ellesmere Island. Few ships had ever ventured to such latitudes. Of course, Dundee whaling ships were the choice of many explorers – including Scott, Shackleton, Nansen, Amundsen, Peary, Mawson and Byrd.
Erik would continue her career at sea for a further 45 years. In August 1918, with the crew having left the ship, she was sunk by a German U-Boat off Newfoundland.
Picture: Letter to Dundee whale ship (Private Collection).