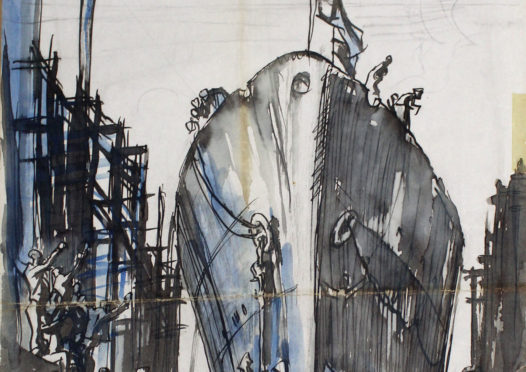 This dramatic sketch of a ship leaving port appeared at Keys summer Art & Design sale in Norfolk.
It shows the launch of the Sopwith in a pen, ink and watercolour illustration by Sir Frank Brangwyn (1867-1956).
Some 12 x 10 inches, unframed on paper, an autographed pencil note by the artist on the reverse included the intriguing words, "I thought this might interest the Nicholsons."
Dundee, of course, has a huge collection of Brangwyn works. There are no fewer than 17 oils, about 50 pastels, 200-plus watercolours, and dozens of sketches and prints – in all, a remarkable collection.
That such a man, born in Belgium, of Welsh extraction, and lauded around the capitals of Europe, should have many of his greatest works in Dundee deserves explanation.
In pre-war days, no tax-payers' money went to the acquisition of pictures in Dundee. They were donated, bequeathed or purchased through the Morris Trust Fund, established with money left by John Morris in 1896.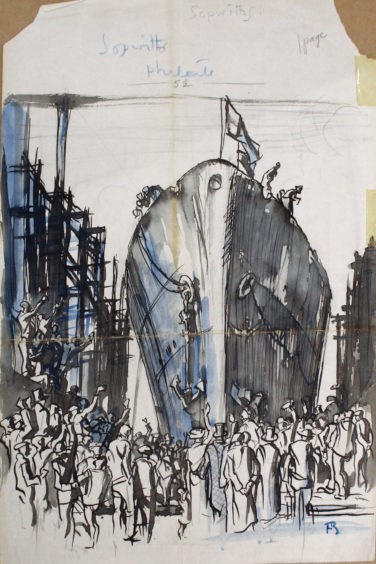 Two major Brangwyn works were bought from the Dundee fine art dealers Robertson & Bruce using Morris funds in 1932.
Brangwyn was clearly delighted that Dundee had taken an interest in his work and, in 1939, two years before he was knighted, he presented the city with a further 15 oil paintings and around 50 smaller works.
In 1965 the city captured another outstanding collection of his output, when over 200 watercolours and drawings were purchased.
After lively bidding, Launch of the Sopwith sold at £900 to a private buyer – a price probably reflecting the fact that it was on a scrap of paper. Other Brangwyn works have fetched multiple thousands.
Picture: Launch of the Sopwith, £900 (Keys Auctions).