An unusual ceremonial rock crystal and gold mounted staff of office, or tipstaff, appeared at medal and coin specialists Dix Noonan Webb on September 15.
Dating to the first half of the 19th Century, and of possible historical importance to Scotland, the 10-inch long ivory shaft was topped with a rock crystal sphere, beneath an impressive gold crown bearing an engraving of a crowned lion passant upon a crown.
The tapering shaft was encircled by bands of gold, and the bottom knop applied with gold overlapping leaves.
The gold mounts, together with the engraved 'crowned lion on crown,' (which is consistent with the style of engraving used on coinage during the reign of George IV) suggested a royal association.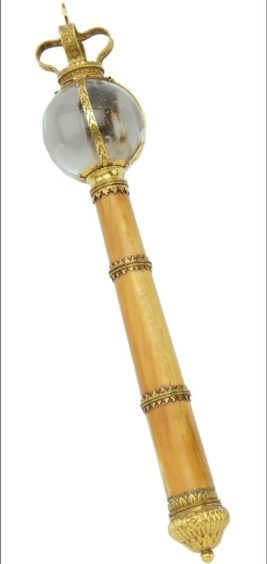 One theory was that it may have had a connection with the coronation of King George IV on 19 July 1821. This was an extremely lavish and fabulously expensive occasion. The robed dignitaries and courtiers who attended the service carried staves of office on entry to Westminster Abbey.
A second theory takes the story north of the border. In August 1822, following the coronation, George IV undertook a state visit to Scotland, the first royal visit of a reigning sovereign since King Charles II in 1651.
The visit culminated in a grand procession to restore the recently rediscovered Scottish Crown Jewels to Edinburgh Castle (the Honours of Scotland0 in which richly attired guests carried appropriate staves of office.
References to the talismanic and prophetic powers of 'magic' crystal balls appears to be widespread in history, but particularly in Scotland. The Scots even took magic crystals into battle in the hope that they would ensure victory.
The staff sold for £6500.
Picture: Ornamental staff, £6500 (Dix Noonan Webb).
More in this series:
The day 40,000 people packed Dundee Harbour to mark the formal opening of Victoria Dock in 1875
COLLECTING: Scottish surgeon's journals offer a fascinating insight into the Great War