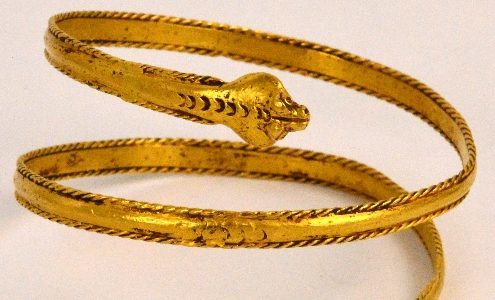 From Adam Partridge's auction at their Cheshire saleroom in Macclesfield I illustrate the oldest item to grace this column for a considerable time.
This is an exceptionally rare Ptolemaic period Egyptian gold bangle, c332-30BC, from a Hellenistic dynasty which began after the death of Alexander the Great in 323BC and which ended with the death of Cleopatra VII and the Roman conquest in 30BC.
The bangle is modelled as an entwined double-headed serpent, and is accompanied by two letters from recognised specialists authenticating its age and origins.
Serpents were favourite emblems of the ancients and proved well-suited to jewellery. They were often portrayed as biting their own tails, a powerful symbol of eternity and cyclicality.
Come the Christian era snakes and serpents were identified with the devil and jewellery such as this was not seen in public, for obvious reasons.
It was not until fabulous grave goods began to be discovered by archaeologists in ancient Egypt and Greece that their time came again and exhumed jewels were copied into replicas to sell to an eager public.
Indeed, the "great taste-maker of her time" Queen Victoria wore a coiled serpent bracelet to her first state opening of Parliament in 1837. She was also presented with a serpent-styled emerald ring on her betrothal to Prince Albert two years later. By now the snake was a symbol of eternal love and emerald was Victoria's birthstone.
It was, I suppose, the first Victorian engagement ring ever made!
Such bracelets by then often had ruby or garnet eyes and were found in the most fashionable and eminent retailers. The most renowned archaeological-revivalist jewellers were the Castellani family, who specialised in recreating the jewellery of ancient craftsmen, particularly the Etruscans.
Its Italian founder Allesandro Castellani based many designs on archaeological evidence and often incorporated intaglios, cameos and micromosaics into his jewellery. His work became very fashionable throughout 19th century Europe and his Paris shop was frequented by grand tourists and the aristocracy.
I hope we will see the V&A's spectacular Castellani collection in Dundee one day.
The Adam Partridge bangle will be sold this weekend with hopes of £6000-£8000. It looks as if it has just come out of a retailer's box, yet probably spent two millennia buried in the ground.