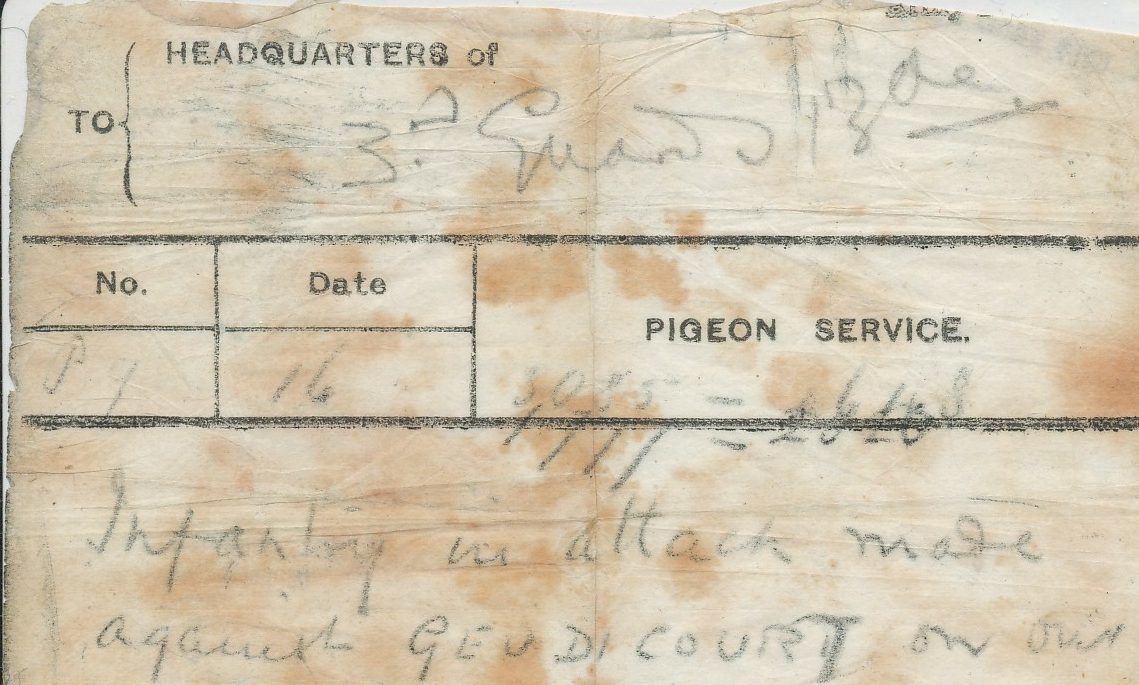 ILLUSTRATED from a local private collection is a flimsy letter written by a VC hero and carried from the Somme battlefield 100 years ago – by a homing pigeon.
From 1915 commanders on the Western Front were issued with Carrier Pigeon Service message-sending kits contained in small metal boxes fastened by leather straps. The kits included two pencils, a message pad and six message carrying canisters.
This pigeon message was written in September 1916 by Colonel John Vaughn Campbell only hours after he had carried out the extraordinary feat of bravery at the Somme which won him Britain's highest honour for gallantry.
Campbell, the son of the Earl of Cawdor, was 39 years old and a temporary lieutenant-colonel commanding the 3rd Battalion, Coldstream Guards when he won his Victoria Cross.
On September 15 1916 he took command when the first two waves of his battalion were cut down by German machine-gun fire. He rallied his men, led them against the enemy positions and captured the guns. According to his citation, his gallantry enabled the Allies to capture objectives of the highest tactical importance.
The following day, Colonel Campbell scribbled the historic note from the Somme – which was rolled up and transported in a tiny aluminium cylinder attached to a pigeon trained to fly back to the two mobile lofts at Brigade Headquarters, 10 miles distant near Carnoy.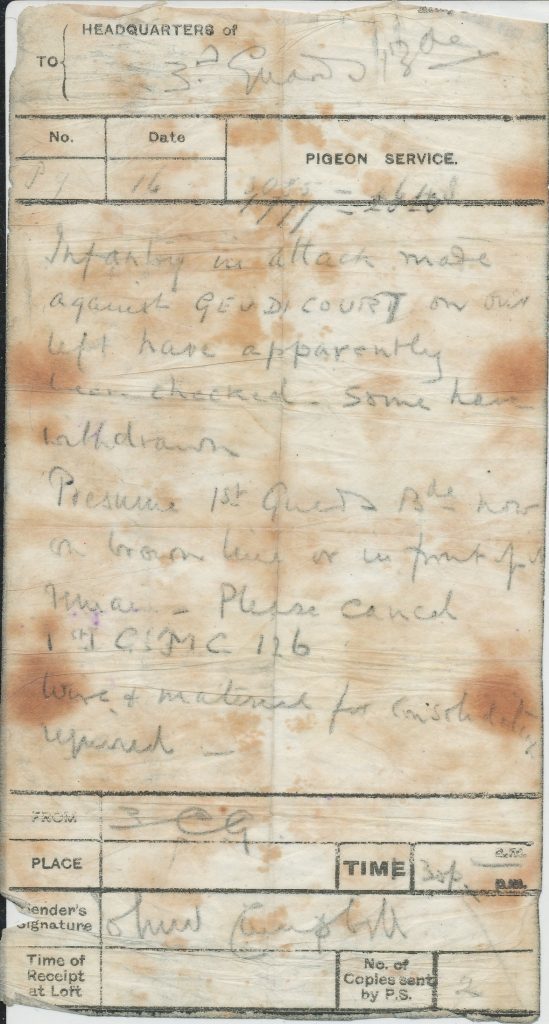 On a tissue-like British Army Pigeon Service form, annotated "16" for September 16, he reported, "Infantry in attack made against Geudicourt on our left have apparently been checked. Some have withdrawn" – a reference to the British offensive at Gueudecourt the previous day, an attack repulsed by the Germans after furious fighting.
Addressed to the HQ of the 3rd Guards, the colonel requests information about the position of the 1st Guards Brigade and ends his message with a plea for material to restore his defences: "Wire material for consolidating required" – the duckboards, coils of barbed wire, corrugated iron, stakes and sandbags necessary for trench warfare.
The message is signed 'John Campbell,' from the '3 CG' [3rd Coldstream Guards].
Such letters have been described by worldwide philatelists and postal historians as "brutally rare." Even the Imperial War Museum's vast collection of 800,000 documents includes only a handful of pigeon messages.