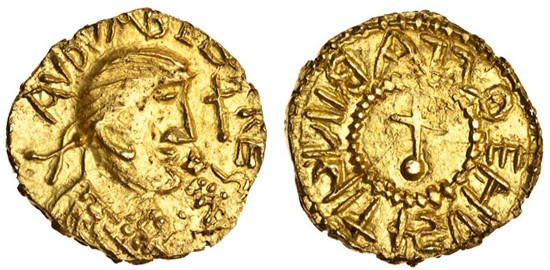 THE ACADEMIC collection of English coins assembled by Lord Stewartby over a long and very active lifetime is being dispersed by Spink in a series of auctions, with the final instalment due next month.
The first part containing Anglo-Saxon and Norman coins took place in the summer and I thought I should bring you the highlight of the sale – which required a quadruple-estimate bid of £50,000.
Firstly a word about Lord Stewartby, who served as a minister under Mrs Thatcher.
Ian Stewart (b1935) developed an interest in coinage at a young age when, as a small boy, clinging to his mother's hand in war-torn Barnet, he noticed a copper coin in a jar on the counter of a grocer's shop with two heads on it and recognised it as being from the late 18th century reign of William and Mary. Thus began his lifelong interest in, and contribution to, numismatics.
The highlight of the sale was a superb gold Thrymsa of Eadbald of Kent, the first gold coin issued in the name of any English king.
In 1998, new finds enabled the obverse inscription on the coin to be confirmed as 'AVDVARLD REGES' – translated as 'of King Audvarld.' The name 'auduarldus' appears in Bede's Historia Ecclesiastica completed in 731, in which he wrote about King Eadbald of Kent.
Eadbald succeeded Aethelberht as King of Kent in 616. According to Bede, after his accession Eadbald fell foul of the young Christian Church by ejecting its bishops.
He subsequently repented and was baptised, and thereafter favoured the Church within his kingdom. These events reflect the conflict and confusion amongst the Anglo-Saxon elite at this time as Christianity sought to assert itself.
This struggle is best known from the mix of Pagan and Christian artefacts in the wonderful Sutton Hoo ship burial (on show at the British Museum), which is contemporaneous to Eadbald and this coin.
As to the date of these named Thrymsas or Shillings of Eadbald, the presence of Christian iconography (the cross on the coin's reverse) dates them to after his conversion, and a date to between 620 and 635 is thought appropriate.
It took £50,000 to provide a new home for this remarkable survivor of English coinage, one of only seven examples known.