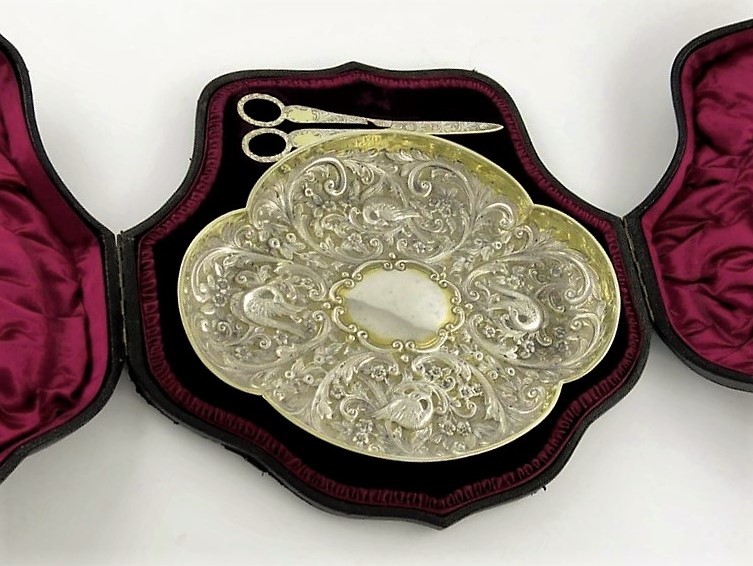 THE SCONE PALACE Antiques & Fine Art Fair takes place next weekend (November 11-13) and tying in my notes to the information supplied by Galloway Antiques Fairs, which runs the event, this is the 41st time the palace has hosted the fair.
Given the ups and downs of the market (several antique shops in Perth have bitten the dust since the fair's first visit in 1995) full credit must go to Susan Galloway and her team for retaining Scone on her prestigious list of venues and for attracting nationally-known dealers from across the UK.
The usual mix of antiques and decorative works of art will be offered in the Palace state rooms, including silver, porcelain and pottery, jewellery, clocks, furniture and antiquarian books.
From the stock of silver specialists Highland Antiques of Aberdeen, I illustrate a Victorian silver and gilt cased grape set consisting of a pair of grape scissors and tray.
Grape shears, or scissors, were designed for cutting grape stalks and are smaller and daintier than normal scissors – usually no more than six to seven inches in length. The handles were often ornately decorated and longer than the blades, so that the blades could be thrust deeply into a bunch of grapes. And most of the scissor ends had blunt tips to ensure the fruit would not be damaged.
Table-top grape stands sometimes accompanied scissors, but the embossed tray offered by Highland Antiques is more practical, and would look fine in a modern home.
The earliest grape scissors date from the Regency period – c1830 – and these are rare now. The dining etiquette of the period encouraged the development of specific utensils for serving foods such as grapes, which, like tea and coffee, were expensive commodities.
So scissors for grapes were showy and were reserved for use during the dessert course.
By the late 19th Century, some grape scissors included a flange, so that once the grapes had been trimmed they could be placed on the diner's plate, limiting the possibility of a few rolling into the four corners of the room. Yet their decoration became so ostentatious that some scissors became, conversely, difficult to use.
Made in London in 1889, this decorative pair will be available from Highland Antiques for £1995.
Admission to the fair is £5.