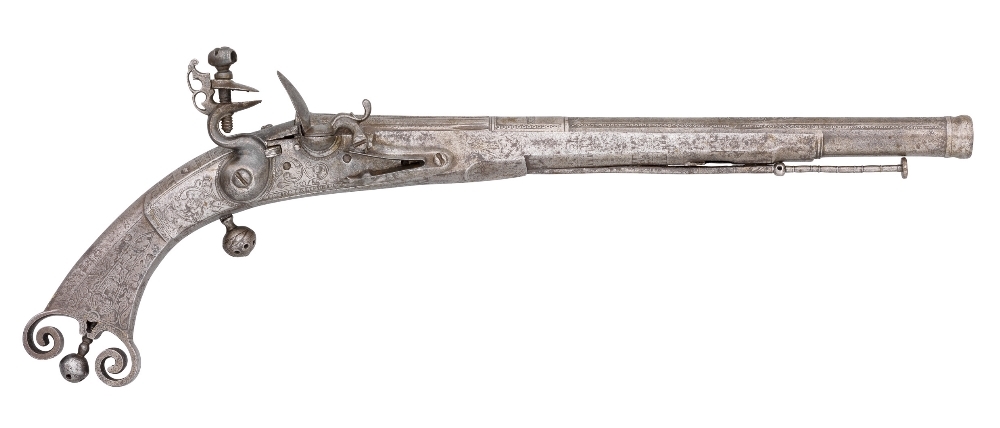 "SEND ME my pistolls…"
This from a letter I have at home dated December 1680 and addressed to 'Davie Drummond, Clerke to the Garisone off Dumbartone' – the promontory fortress overlooking Dumbarton, which has the longest recorded history of any stronghold in Scotland.
Pistols were important weaponry in the Scotland of three centuries ago – and a surviving inventory from Dumbarton Castle in 1644 shows the fortress still armed to the teeth with an armoury which included "33 corslets, 105 helmets, and 43 swords."
Pistols of the period were made in towns such as Edinburgh, Glasgow and Dundee – but the most famous were crafted in the Perthshire village of Doune. The great makers there included John Murdoch, whose guns are said to have fired the first shots in the American War of Independence at the Battle of Lexington.
Arms and armour specialist Thomas del Mar featured a distinguished Doune pistol in its London sale last month.
This was a Scottish flintlock belt pistol formed entirely of steel by John Campbell and crafted in Doune around 1710 – at the time, I suppose, a certain Rob Rob was roaming glens nearby.
Campbell was the first in his family of three generations of gunmakers in Doune and was apprenticed to Thomas Caddell, another famous maker.
Signed by Campbell, the pistol was exquisitely engraved with scrolling foliage and traditional Celtic ornament.
Such pistols were generally worn on the left, hooked into a belt to allow a 'quick draw'. That's why this example has a long belt hook and no trigger guard. The 'ball' seen at the base of the handle is a pricker, a round-headed spike screwed into the butt and used to clean the touch-hole.
Eighteenth Century Scottish pistols were almost unique in being predominantly steel, bypassing brass. They were works of art, made to look elegant, with the best specimens boasting fine silver inlay and engraved designs. The Celtic ornament on the Thomas del Mar example is characteristic of the type. The scrolling ram's-horn handle is also a Scottish feature.
No doubt the Dumbarton defenders were well aware that, once fired, the barrel could be swapped around by deft handling, allowing the pistol's butt to become a lethal club!
Estimated at £7000-£9000, the pistol exceeded hopes to take £10,500.