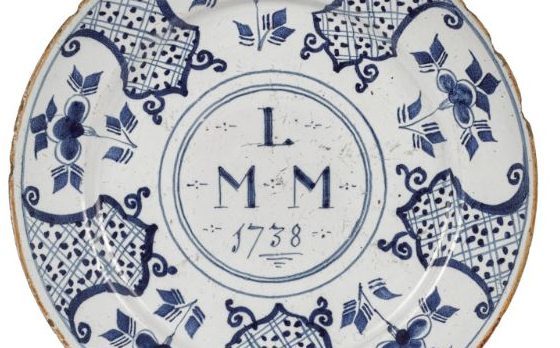 WE'RE NOT short of humorous or daft names in the collecting world, but I suspect the American auction house Pook & Pook takes some beating.
Pook & Pook Inc was founded by Ronald and Debra Pook in 1984 and is located in an old stone inn built in 1761 in Chester County, Pennsylvania, about 35 minutes west of Philadelphia.
Its latest international sale disposed of 500 lots from collections from Missouri, Kansas, Ohio, and of course, its own backyard in Pennsylvania, where it specialises in all things Pennsylvanian German.
Rarities in the British section included the plate illustrated. This was an important Liverpool delft – not daft – plate of Chester County, Pennsylvania interest.
The plate was dated 1738 and initialled 'MML' for Michael and Mary Lightfoot, members of a Quaker family who lived in Chester County.
Liverpool delft is the name of the tin-glazed earthenware made from about 1710 to 1760 in Liverpool, which, along with Bristol and London (Southwark and Lambeth), was one of the three main centres of English delftware. North of the border, the Delftfield Pottery of Glasgow, the first in Scotland, was also producing tin-glazed ware at this time, with products shipped to North America through Virginia ports. It had been set up in 1748 by brothers Laurence and Robert Dinwiddie, prosperous tobacco merchants.
There were certainly Quaker potters working in Liverpool in the eighteenth century – and possibly the Pook & Pook plate was taken across the Atlantic aboard an emigration clipper. One can imagine the God-fearing family clutching it among precious goods as waves crashed over the vessel's bows. That it survived such a crossing is remarkable in itself.
Thus combining Old and New Worlds, and a considerable rarity, the plate had passed by descent from the original Lightfoot family to the vendor.
It belongs to a small number of recorded tableware made for Quaker families. Another plate, made for William and Elizabeth Levis, was sold by Pook & Pook in 2008 for $32,000.
Despite rim chips and some wear, the Lightfoot example sold for a similar sum, taking a double estimate $29,280, or approximately £22,000.